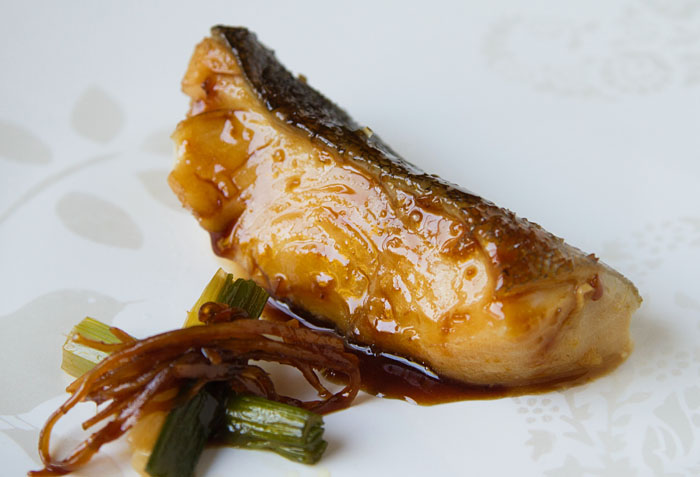 Alaska love has been flowing strong this year on American television, with Andrew Zimmern visiting Alaska's Inside Passage on an episode of his show Bizarre Foods, and the most recent season of Top Chef drawing to a close with the final four contestants earning the chance to visit Juneau, Alaska and competing using seafood from Alaska's waters.  All of the love has me wanting to go on my own Alaska culinary adventure.  But for now I'll have to settle for having a mini adventure from my kitchen by cooking some of the wild, natural and sustainable seafood from Alaska.  Alaska is doing amazing things in the world of seafood sustainability thanks to the state's ban on finfish farming and a constitutional mandate for responsible fisheries management.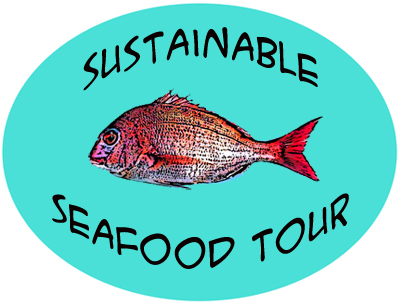 I was recently sent some black cod to experiment with by the Alaska Seafood Marketing Institute.  Black cod is especially high in omega-3 fatty acids, which provides health benefits ranging from improved heart health and brain function to increased longevity. In fact, crucial long-chain fatty acids EPA and DHA (eicosapentaenoic acid and docosahexaenoic acid, respectively) occur almost exclusively in seafood, and cannot be substituted by the single ALA (alpha-linolenic acid) found in plants.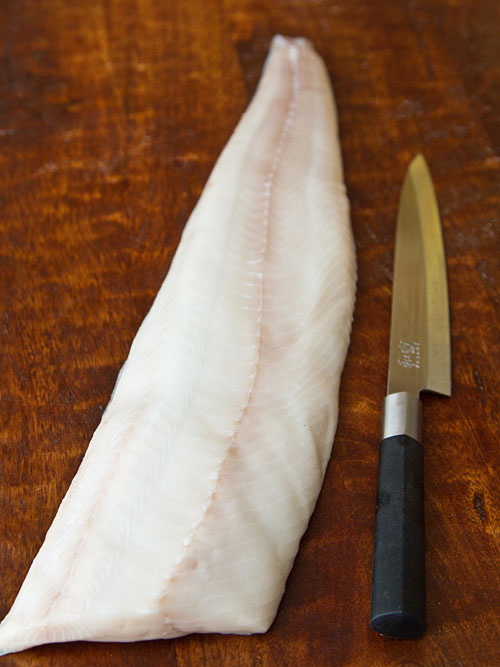 Not only is it very good for you, but when caught in Alaska it's a fantastic sustainable choice as well.  Alaskan wild-caught black cod has a Best Choice rating from the Monterey Bay Aquarium Seafood Watch and is certified sustainable to the standard of the Marine Stewardship Council.  Black cod is available fresh from Mid-March through November, and available frozen year round.  It's a fabulous fish to cook to celebrate springtime!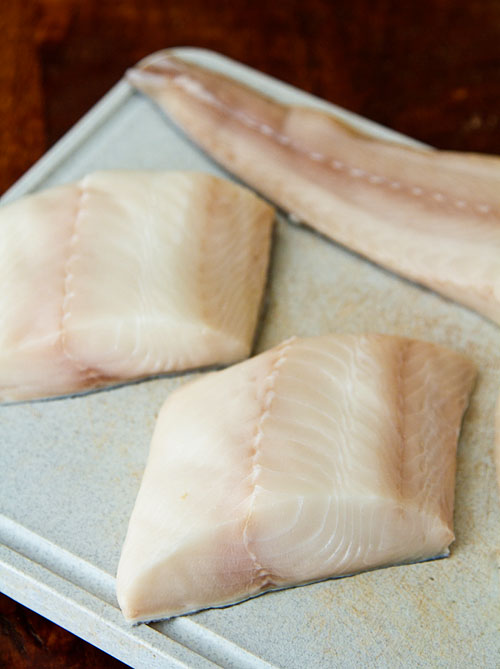 Black cod, also known as butterfish and sablefish, has juicy white flesh, and is one of the easiest fish to cook in my opinion.  One of my favorite ways to cook it is to make gindara no nitsuke, or braised black cod.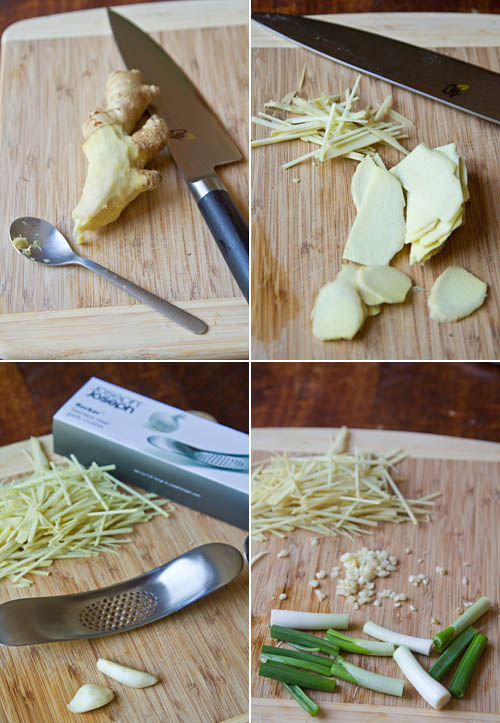 I julienne ginger, cut lengths of scallions, and mince garlic, all of which go into a large saucepan with some dashi (Japanese sea stock) and some black cod fillets.  After simmering the fillets for a few minutes I add some sugar, and then some soy sauce, which cooks down into a dark, sweet and savory liquid which I use to glaze the fish as it finishes cooking.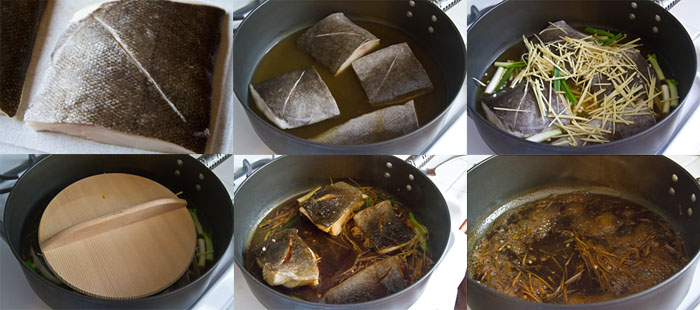 Butterfish is a better descriptor than black cod, as the cooked fish is rich and buttery, with a punch of umami and sweetness from the braising liquid.  If you're nervous about cooking seafood, this is the dish to make!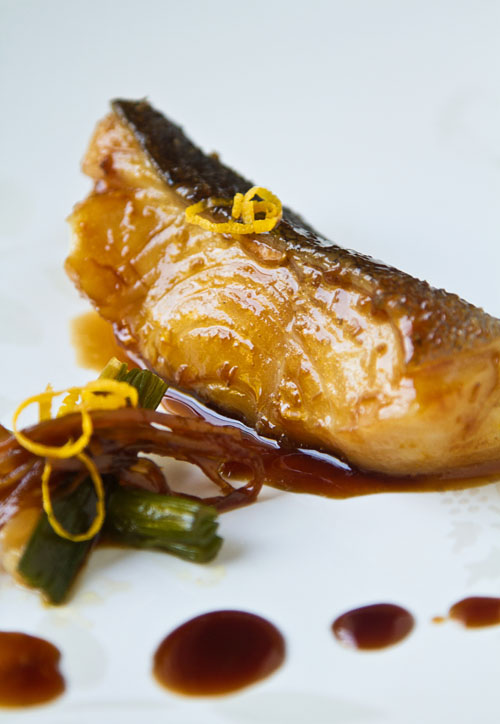 Print This Recipe
Braised Alaskan Black Cod
Makes 4 servings
4 black cod fillets with skin on (approximately 7 ounces each)
1 2/3 cup dashi (Japanese sea stock)
4-inch piece (about 2 ounces) fresh ginger, peeled and julienned
1/4 cup sugar
1/4 cup soy sauce
2 tablespoons mirin
6 scallions, ends trimmed and cut into 3-inch lengths
2 cloves garlic, minced
Lemon zest, to garnish
1. Make a small diagonal cut across each fillet on the scale side (this allows the fish to absorb flavor better).
2. Pour the dashi into a large, deep saucepan. Add the fish fillets skin side up and the ginger, garlic, and scallions. Cover the fish with a drop-lid* and cook over high heat for 3 minutes. Then sprinkle the sugar over the contents of the saucepan, reduce the heat to medium-high and continue cooking for 3 more minutes.
3. Pour the soy sauce over the fish fillets, replace the drop lid, and continue cooking over medium-high heat for 5 minutes. Add the mirin and cook for 3 minutes longer. After adding the mirin, while the fish is cooking, repeatedly pour the thickening sauce over the fish fillets to glaze them and prevent them from burning.
4. Carefully transfer the fish fillets to a plate with a slotted spatula and check the fish to make sure it has no residual bones. If the braising liquid is not thick enough, keep cooking it over high heat until it becomes caramelized (but be careful not to burn it).
5. Garnish the fish fillets with the braised ginger and scallions and drizzle with the braising liquid, then top with a bit of lemon zest and serve.
*Note: Japanese-style drop-lids, called otoshibuta, float on top of the liquid in a pot while it simmers, helping the heat stay evenly distributed but helping it circulate (which also increases the temperature), reduces the tendency of the liquid to boil with large bubbles, and keep the food from moving around. This helps create a gentler cooking atmosphere for braising! These lids are smaller than the diameter of the pot  you are cooking with so they can sit inside on top of the surface.  You can order them online, like this silicone one on Amazon.com, or you can substitute a sheet of thick cooking parchment or a piece of aluminum foil, though some things you won't be able to use the aluminum foil because it will interact with the ingredients.
==============================
*Disclosure: The Alaska Seafood Marketing Institute sent me black cod at no cost, but all opinions expressed are my own.