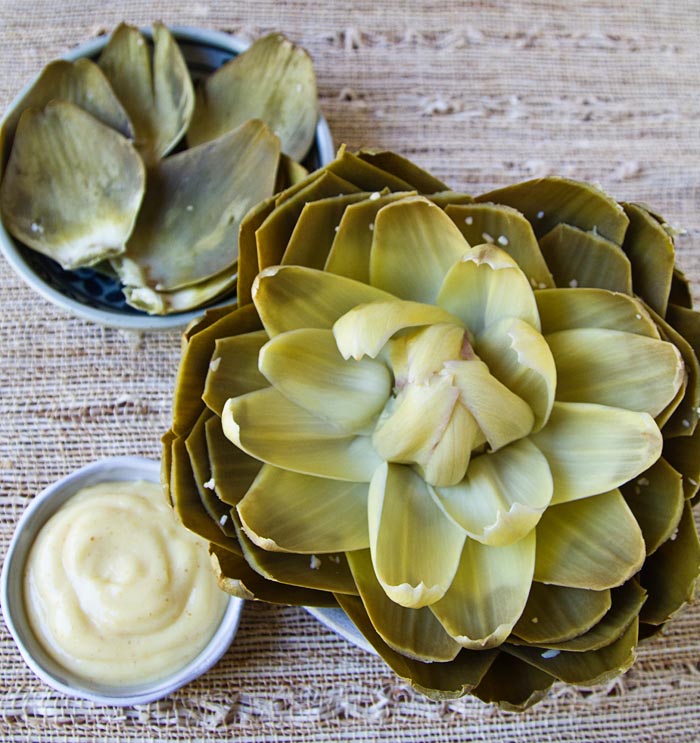 I used to think that mayonnaise was mayonnaise, something I occasionally put on a sandwich (but usually not—I was a mustard devotee), and something that my mom used to make tuna fish or egg salad sandwiches.  Then I moved to Japan and tasted Japanese mayonnaise and realized that all mayos are not created equal, and went through a phase where I put mayo on everything.  (Don't judge me.)  I remember making a pasta "salad" once where I cooked the noodles and then tossed them in mayo.  I'm not joking.  This tendency towards mayo-abuse partially stems from the fact that in Japan a wide variety of items sport mayonnaise that I had not previously thought to pair with such a condiment, like pizza.  It also stems from the fact that Japanese-style mayonnaise makes my taste buds do a happy dance.  Although American and Japanese mayonnaise are very similar, there are some different ingredients which give them different flavors and textures.  The typical primary ingredients in American mayo are soy-based vegetable oil, water, eggs, distilled vinegar, salt, sugar, and maybe some lemon juice.  In contrast, Japanese mayonnaise is not made with water, uses apple or rice vinegar instead of distilled, and uses egg yolks instead of whole eggs.  As a result, Japanese mayonnaise has a thicker texture and is  richer and slightly sweet in flavor.  

I did eventually back off my overuse of mayo, learning to use it moderation instead of coating my tastebuds with it, but my newfound love for Japanese mayo was here to stay.  Fast forward a 8 years and I made a friend via Twitter who would again change my views on mayo.  During the summer of 2010 I made my first visit to Japan since moving from Tokyo back to the US in 2008.  Nancy Hachisu sent me a welcome tweet and we have been chatting ever since.  During the summer of 2011 I took a train out to Kamikawa, the little rural farming community where Nancy lives, and stayed with the Hachisu family for 2 days (I made a video about my trip that you can watch).  We explored her area, laughing and talking as we went.  Nancy's farmlife awoke a hunger inside of me to simplify and to pay more attention to my food.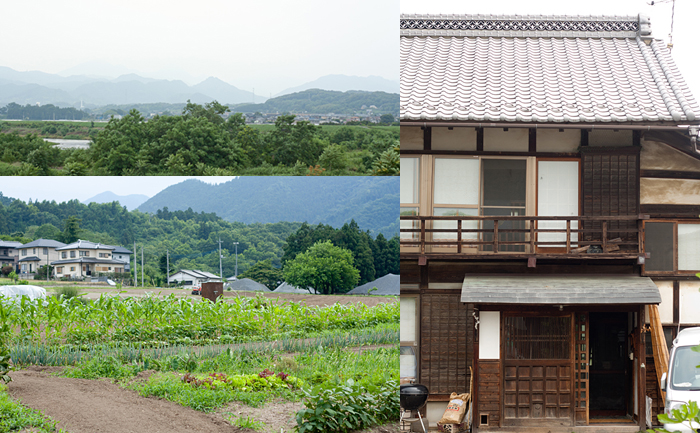 It's easy to have opinions about how things should or should not be done, but it's a whole other matter to actually live by those opinions.  Nancy practices what she preaches.  Nancy claims not to be a true farmer, but I would argue otherwise.  She may not be traditional, but she has a special connection to the earth that only someone who has learned to love the earth and the growing process could have.  So what does my friendship with Nancy have to do with mayo?  Well during my visit with Nancy we talked about the book she was in the process of finishing writing, all about Japanese farm food, and she mentioned that there would be several recipes in the book for things I love, like Japanese-style potato salad, yuzu kosho, and, you guessed it, Japanese-style mayo.  Well the book, called Japanese Farm Food, has since been published and her recipe for mayonnaise will get you thinking carefully about the ingredients you use, just as every other recipe in her masterpiece will do.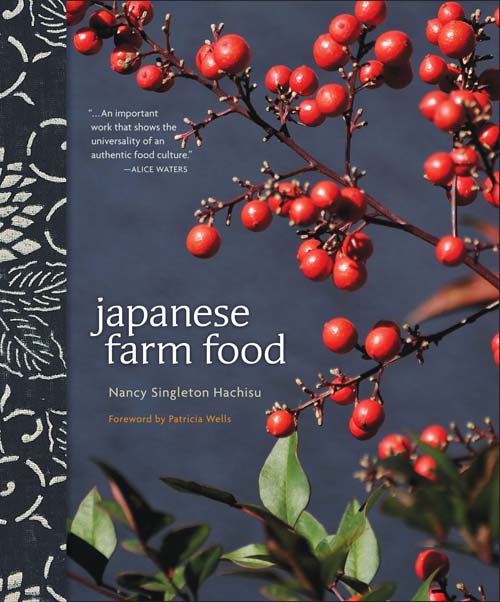 This book is profoundly special because it embodies the soul of a family, a community, and a way of life.  After reading this book, you will know Nancy, even if you haven't actually ever met her in person, because she bears her soul on its pages.  She also imparts wisdom, that only years of experience and trial and error can bring.  As she writes, "My education was a slow process, and I was typically stubborn."  She shares her transformation, describing how as her sons "got older" and her husband busier, "I started picking the vegetables.  Walking among the rows, I would stroke them and feel their energy.  Touching vegetables while they are living is something every cook should do.  You have to accept them, not force your will on them.  A huge turning point in my cooking came the day I really began to listen to the vegetables."  She goes on to explain that "[c]ooking farm-to-table food from another country is easy if you source your ingredients thoughtfully and take care to understand the heart of the food.  Japanese farm food is both logical and simple to execute . . . . Authentic Japanese farm food is uncomplicated and intuitive, with a limited number of easily learned methods.  Armed with the basics, even a novice cook can re-create this food in a home kitchen anywhere in the world."
When it comes to mindfully making Japanese mayo, Nancy writes, "Making mayonnaise successfully depends on fresh eggs, initial patience, and confidence in the process . . . . Use only the freshest farm eggs, otherwise it will be very difficult to emulsify (and risky for Salmonella)."  Her recipe for mayonnaise includes rapeseed oil, more commonly known as canola oil.  In the books pantry section Nancy urges readers to "pour out a little [oil] in a spoon and taste.  The oil should be pleasant and fresh tasting, not flat, heavy, or flavorless."
With the arrival of spring, and the re-opening of many farmer's markets across the country, the availability of fresh local produce provides the perfect opportunity for you to try your hand at cooking up some Japanese farm food in your own kitchen.  You could start with something simple, like whipping up a batch of homemade Japanese mayonnaise and eating it with freshly steamed vegetables, like the artichokes I made to go with my mayo.  Enter for a chance to win your own copy of Nancy's beautiful book! (Details after the recipe.)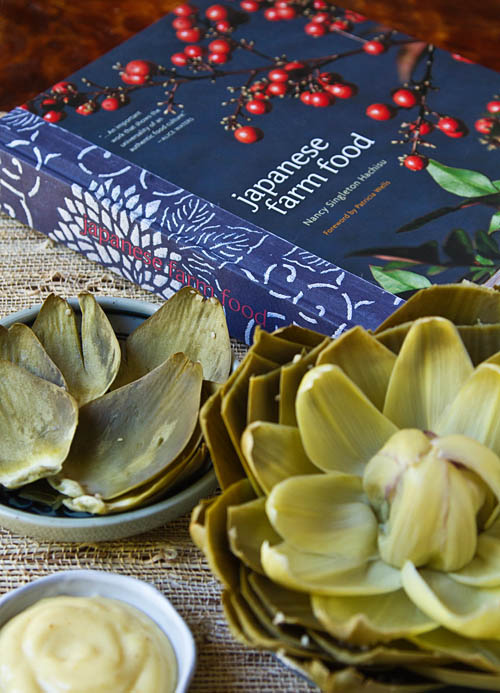 Print This Recipe
Japanese Mayonnaise
Reprinted from 'Japanese Farm Food' by Nancy Singleton Hachisu with permission from Andrews McMeel Publishing
Makes about 1 cup (225 cc)
1 very fresh raw egg yolk, at room temperature
1 teaspoon Dijon mustard (or ¼ teaspoon dried mustard)
1 teaspoon rice vinegar
About ¾ cup (180 to 200 cc) rapeseed oil (aka, canola oil), at room temperature
Fine sea salt
½ to 1 teaspoon sugar or honey (optional)
1. Put the egg yolk, mustard, and ½ teaspoon vinegar in a small, deep-sided bowl.
2. Whisk lightly to combine, then whisk in a fine stream of oil until the mayonnaise "takes." If it does not emulsify soon, it never will. In this case, you will have to start over, whisking the broken egg yolk and oil mixture into a new egg yolk. Increase the total amount of oil as well.
3. Once the mayonnaise becomes a creamy sauce (not oily looking), you can add the oil a bit faster. At this point, I usually add a big glurp of oil, then whisk powerfully. Continue adding oil until the mixture is thick and holds its shape. Add sea salt to taste and the sugar or honey, if using. Taste for tartness and oil balance; add more oil or some of the remaining ½ teaspoon vinegar, if needed. The mayonnaise keeps for a few days in the refrigerator.
=============================================
Japanese Farm Food Book Giveaway
There will be one (1) lucky winner who will receive a copy of Nancy Hachisu's book, Japanese Farm Food.
Rules: The giveaway will close Friday, April 26th, 2013 at 12:00 am PST.  The giveaway is open to readers with a US mailing address. The winner will be chosen randomly and notified by email. The winner will have 48 hours to respond before another winner is chosen.  To enter, please follow the steps below.
 *Disclosure: This giveaway is provided by Andrews McMeel Publishing, LLC.