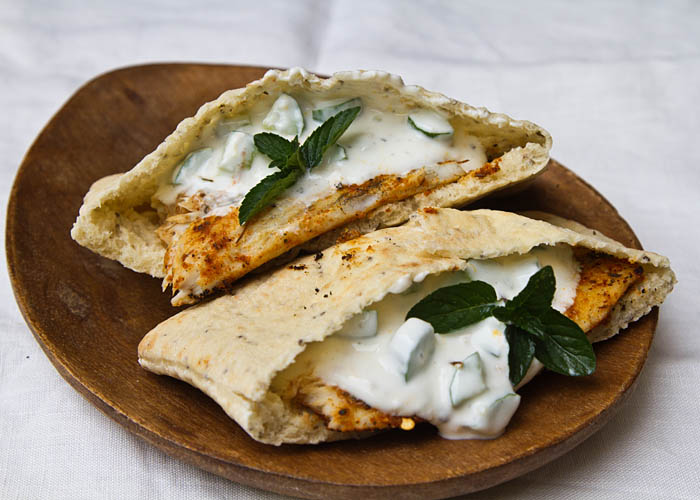 Barramundi—such a great name, and an even more delicious type of fish, with a mild buttery flavor and dense meaty texture.  Plus, with it's moderate oil content, it's an easy fish to cook, whether you grill it to serve in pita sandwiches like I did recently (recipe at the end of the post!), or you broil, bake, steam or saute it.  But there's even more to love about barramundi than its name and versatility.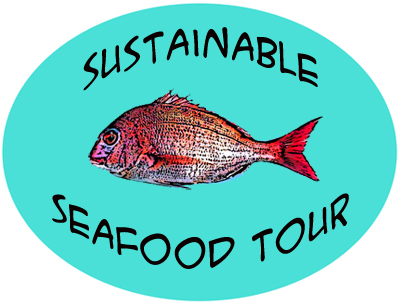 I met some of the folks at Australis Aquaculture, LLC at Natural Products Expo West last month and sampled some of their US-farmed barramundi.  It was delicious.  After hearing about their sustainability ratings, I knew that I wanted to make sure that you, my readers, knew about them. so they are the perfect choice for my Sustainable Seafood Tour.  Australis' method of farming has been recognized by major environmental organizations, was named a 'Seafood Champion' for sustainability by the Seafood Choices Alliance in 2009, and in 2007 was awarded the Australian Company of the Year for the Environment.  What's exciting is that one of their main farms is in Turner Falls, Massachussets, and the barramundi farmed there is listed as a 'Best Choice' for sustainability by the Monterey Bay Aquarium's Seafood Watch program.  Barramundi also comes with great health benefits.  It has omega-3 levels that rival wild Coho Salmon, but with half the calories.  Sustainable US-farmed barramundi is available in a wide array of retail outlets across the US.  I suggest looking at the Australis site before you go out shopping, as the packaging differs depending on the retail location.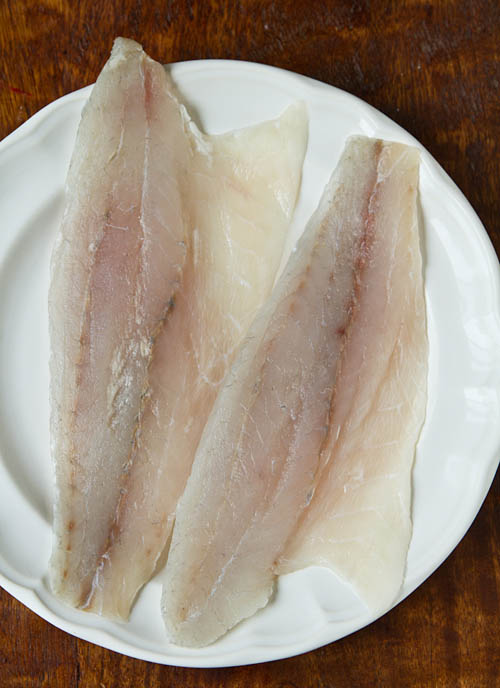 Josh Goldman, founder and CEO of Australis took time out of his busy day to answer a few of my questions:
1. How were you introduced to barramundi?
I was motivated by the conviction that farming fish – which can be far more efficient converters of grain to protein than terrestrial animals – would help us meet the challenge of an increasingly populated and resource constrained world. I began farming tilapia in the early 1980's and loved the fact that they were herbivores which were easy to grow in our integrated solar greenhouses – which we termed bioshelters. I then moved on to striped bass – a spaces native to the Eastern US whose wild populations has been decimated by habitat loss, pollution and overfishing.
After gaining my first decade of farming experience, I started to see the challenge more broadly. I began to understand that having a real impact would require scale, and that would mean learning to farm and then popularize previously unknown species to address the full range of challenges faced by aquaculture; flavor, health and sustainability. Getting this right wasn't going to be easy.
After profiling more than 30 different species from around the world over a three year period, I decided on barramundi – a native of the indo pacific that is loved as a sport fish and for its culinary versatility. Barramundi are naturally gregarious, hardy (they live in monsoonal rivers known as billabongs) and fecund, all of which makes them particularly well-suited to aquaculture. Also, unlike most fish, which can only obtain omega-3s from either plankton or other fish, barramundi can synthesize omega-3s on their own. They spend a lot of their early life in freshwater, so they're not exposed to the long-chain fatty acid and have evolved the ability to synthesize without having to consume them. Over a number of years, we learned to maximize the fishes ability through feeds- increasing their oil content without needing to feed them more fish meal or oil or compromising purity.
2. How did you come up with the idea of trying to farm them here in the US? What made you want to do it?
I was inspired by the work of the New Alchemy Institute on Cape Cod, that pioneered the idea of the bioshelter – food producing solar greenhouse modeled on natural ecosystems. This was way ahead of its time . . . On the banks of the Connecticut River sits the charming old mill town of Turner's Falls that I call home. I wanted to farm fish where I live, so naturally this is where it began.
3. Can you explain the farming process and why it is sustainable?
I have developed a patented, one of a kind closed containment system that recycles and purifies 99% of water used in the farm. Our Turners Falls, MA farm is one of the largest water re-use facilities in the world. Barramundi in the Turners Falls plant move through a series of progressively larger tanks which give them more space to swim as they grow. We also use closed containment systems on our farm in Vietnam for the early portion of the process and them move to off-shore sea cages. The key to sustainable aquaculture is to poorly site and manage the farm to avoid impacts. This involves a whole range of issues including avoiding escape, rotationally fallowing the cage sites, integrates seaweed production, robust environmental monitoring, etc. We have received a green rating for our Turners Falls Farm, and Global GAP certification for our farm in Vietnam.
4. What is your favorite way to prepare/eat barramundi?
There are a lot of ways I enjoy eating barramundi. However, this recipe for a grilled blackened barramundi sandwich is just so easy and delicious — it's hard not to love!
=====================================
Thank you so much Josh!  The recipe Josh shared got me thinking about sandwiches.  I had just picked up some chia pocket bread at Costco and so I decided to cook up a riff on the barramundi sandwich on the Australis website.  I seasoned them, then Mr. Fuji grilled them for me.  While they were grilling, I whipped up a cucumber yogurt (basically a simplified tzatziki sauce).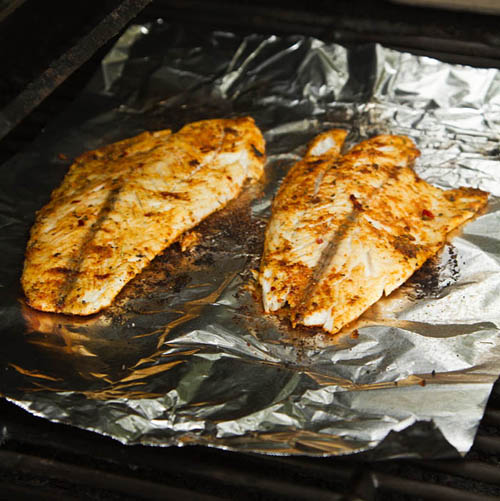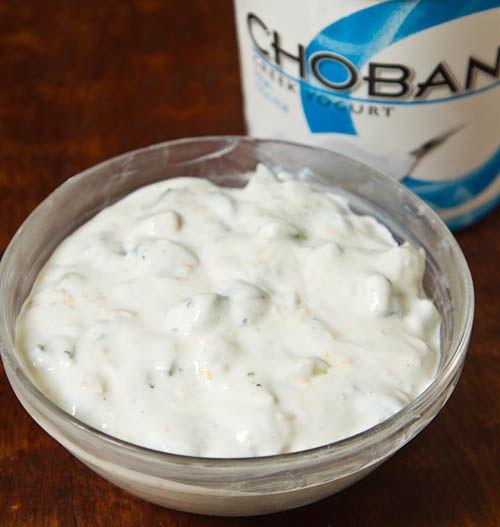 I served up half a fillet in each half of the chia pocket bread and spooned the cucumber yogurt sauce over the fish, and finished off the sandwiches with a few fresh mint leaves.  The fish was moist and full of flavor, and the cucumber yogurt sauce complimented it nicely.  This is one of our new absolutely favorite Fuji meals!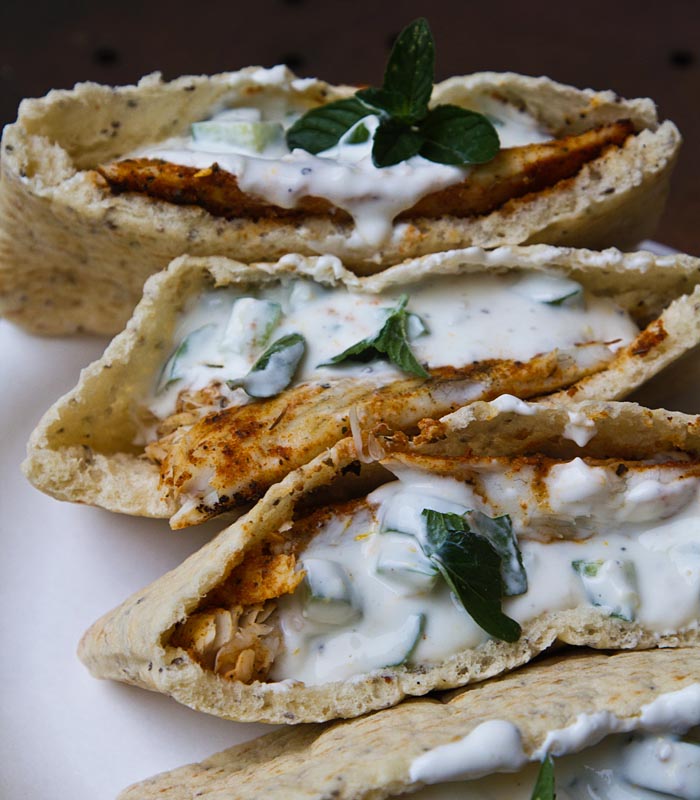 Print This Recipe
Grilled Barramundi Pita Sandwich with Cucumber Yogurt Sauce
Adapted from Australis' Grilled Blackened Barramundi Sandwich Recipe
Makes 4 servings
For the spice mix:
1 tablespoon sweet paprika
2 teaspoons fine grain sea salt
1 teaspoon garlic powder
1 teaspoon onion powder
1/2 teaspoon black pepper
1/2 teaspoon dried oregano
1/2 teaspoon dried thyme
1/4 teaspoon ground cumin
1/8 teaspoon cayenne pepper
For the cucumber yogurt sauce:
8 ounces plain Greek yogurt (my favorite is Chobani)
1 tablespoon freshly squeezed lemon juice
1 teaspoon finely grated lemon zest
1 garlic clove, minced
2 small seedless cucumbers (approximately 6 ounces total), diced
1/2 teaspoon freshly ground black pepper
1/4 teaspoon fine grain sea salt
2 Australis Barramundi fillets (approximately 6 ounces each) (thawed, if purchased frozen)
2 tablespoons butter
2 pita breads, cut in half and split open
Fresh mint leaves, to garnish
1. Heat the grill.
2. Make the spice mix: Put all of the spices for the spice mix into a bowl and mix well.
3. Make the cucumber yogurt sauce: In a second bowl, stir the Greek yogurt, lemon juice, and lemon zest together and then fold in the garlic, cucumbers, salt, and pepper.
4. Prepare the barramundi fillets: Melt the butter in a frying pan and then turn off the heat. Place each barramundi fillet in the pan just long enough to coat it with butter. Remove the fillets and set aside. Liberally sprinkle the spice mixture on all sides of the fish to coat.
5. Make sure the grill is well oiled, to prevent the fish from sticking (or heat a sheet of aluminum foil on the grill instead).  Grill the fish for 3 to 4 minutes on each side until the fish flakes easily.
6. Assemble the pita sandwiches: Cut each fillet in half and put a half inside each half of pita bread. Spoon the yogurt sauce inside the pita on top of the fish, garnish with fresh mint leaves, and serve.
========================================================
*Disclosure: I was no compensated for this post and all ingredients for this post were purchased by me.