This past week has been a full one.  Mr. Fuji was gone for 2 weeks on business to New Delhi, India and returned home last Thursday.  To say we were overjoyed to have him back would be an understatement.  He has been traveling consistently for work for the past 12 years of our marriage, but those 2 week trips never get any easier!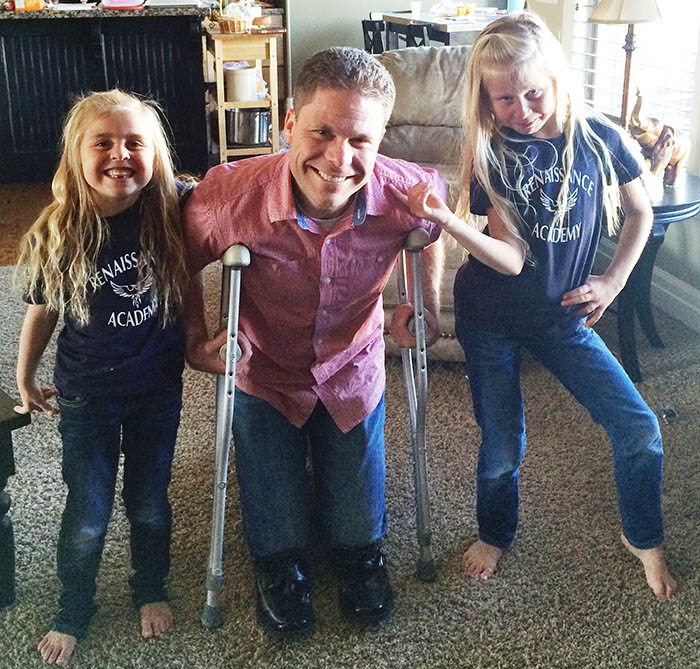 On Friday I whipped up my favorite kale salad (with my favorite lemon cilantro vinaigrette) with one of my favorite people, Chef Bryan Woolley, for Channel 2 News!  I shook things up by replacing the cherry tomatoes I originally put in the recipe with California Strawberries.  They were on sale at Harmons Grocery and I couldn't resist.  I think I will be using strawberries in the salad from now on, because I think it's even better that way! (You can watch the segment here.)
For Christmas we gave the Fujilings a 5 week adventure ski school at Snowbird.  Saturday was their last day.  It is sad to see it end, but I loved seeing their grins of accomplishment in how far they have progressed!  Before picking up the girls I went out on a long run.  For the past 9 months I've been training to run my first half marathon (all signed up for the Utah Valley Half Marathon in June!), and Saturdays are when I do my longer runs.  I had planned to run 11 miles, but only made it to 10.75 and was struggling from fatigue more than usual.  About half way through my run I had the most glorious view of the mountains, which totally gave me the pick-me-up I needed and saved me from throwing in the towel and calling Mr. Fuji to come and pick me up.  The weekend was a wonderful one, in spite of my discouraging run.  I loved getting to spend Easter weekend with family, but also getting to spend it listening to uplifting messages during the bi-annual international conference held by my church.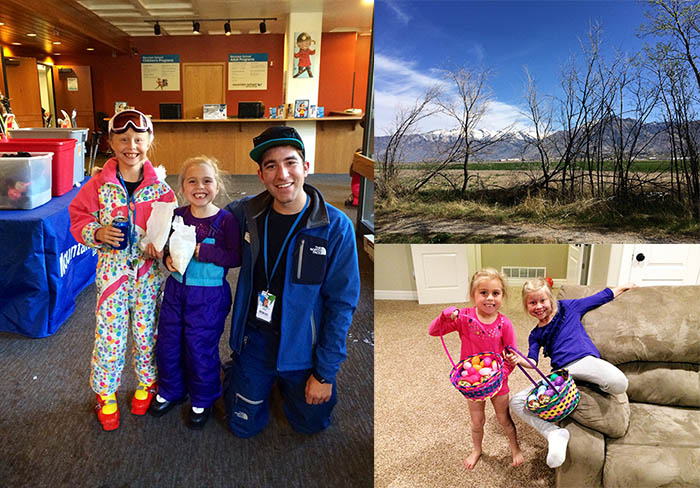 A few weeks ago I entered a contest on Instagram for a giveaway of a jar of homemade kimchi from one of my favorite food trucks, Cupbop.  I recently found out I won (squeeeee!!!) and went yesterday afternoon to pick up my prize.  They had a film crew from Korea there working on a documentary about their truck and I ended up getting interviewed.  It will air on May 9th in South Korea—too fun!  While I was there, I couldn't leave without grabbing some lunch.  I love their bowl that includes rice, sweet potato noodles, vegetables, thinly sliced beef, and their homemade sauce.  They have different levels of spice and I always order a #10, the spiciest.  Soooooo good!  If you're in the Salt Lake City area and you haven't tried their food, get to it already!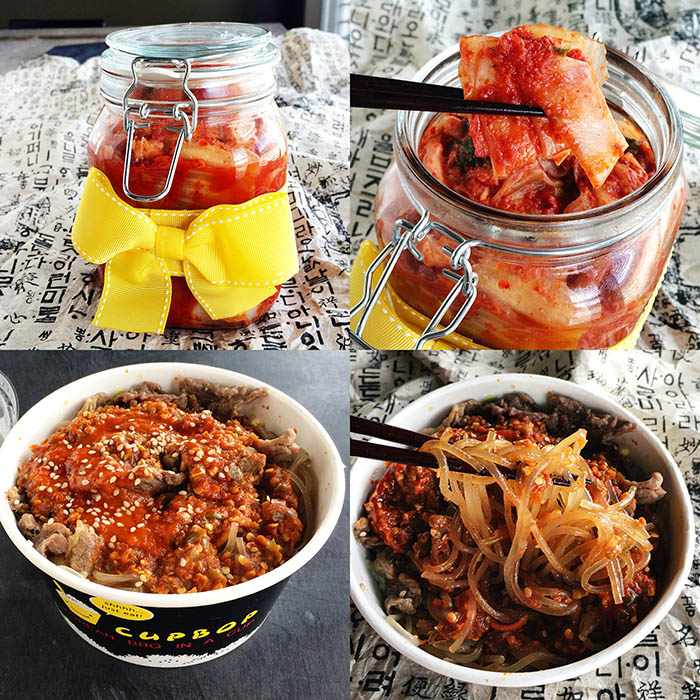 This week is Spring Break for my girls and we've spent the first part of the week with my father-in-law who is visiting from Memphis, Tennessee.  Yesterday morning I threw a pork shoulder in my slow cooker to make kalua pork and last night for dinner we had Hawaiian haystacks: steamed Japanese rice topped with the shredded kalua pork and a variety of toppings.  Last night's options were shredded cheese, chopped tomatoes, pineapple pieces, sliced almonds, craisins, sliced celery, and sliced scallions.  It's a meal that I never get sick of.  It's easy to put together and it's nice and fresh.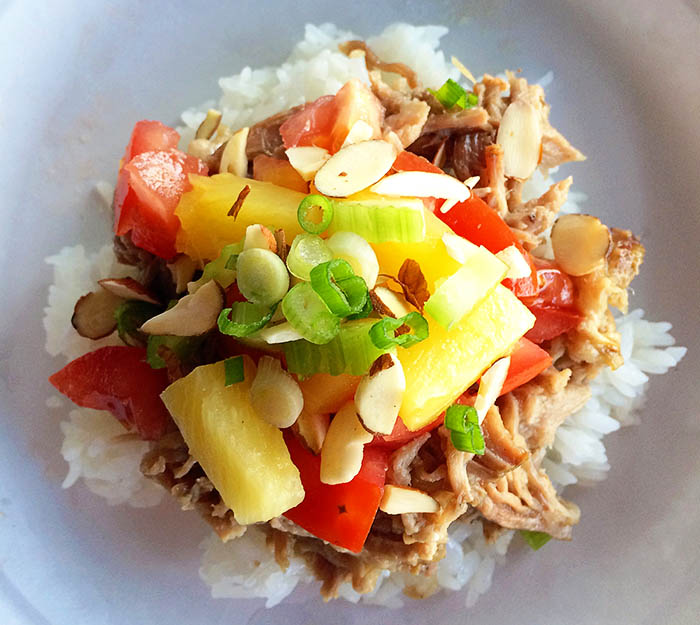 Today my April post for Multiply Goodness went up and it's all about packing lunches for my girls.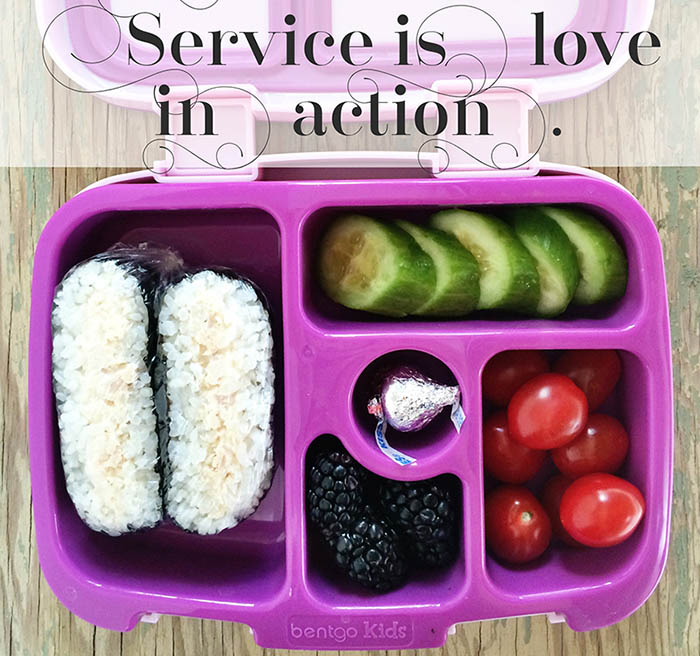 I hope you are having a wonderful Wednesday!  If you need a pick-me-up, take a listen to the radio show, How She Really Does It (available for anyone to listen to as a podcast).  The host of the show, Koren Motekaitis, interviews a different person in each episode about how they got to where they got, despite real life challenges.