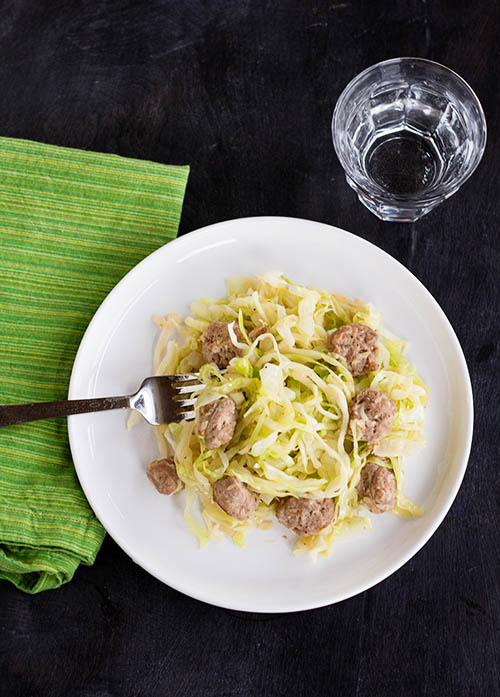 I'm a member of the Kerrygold blogger program, and recently received a box of goodies to cook with.  Each month they give us a challenge, and the most recent challenge was to "Bring the Taste of Ireland to Your Kitchen."  I went back and forth on what I wanted to do, then settled on a humble dish, bacon and cabbage.  The dish is made by boiling a hunk of unsliced back bacon with cabbage and often potatoes as well.  Sometimes other veggies, like turnips and carrots are added.  Once cooked, the back bacon is cut into slices and served with the vegetables and a bit of the cooking liquid.  While doing my research I saw the trend of a more modern take on the dish—stir-frying bacon with the veggies, instead of boiling everything together.  I decided that's what I would do and headed to the grocery store to grab my ingredients.  As I walked toward the meat department I had every good intention of heading straight for the bacon, but I got distracted. (You know Doug the dog in the movie UP who keeps getting distracted every time he sees a squirrel? Yeah, that's me.)  A display of fresh sausages in the display case seemed to be calling my name, and somehow I walked out of the store with 12 ounces of fresh bratwurst instead of bacon.  It must be my German ancestry bubbling up and taking control of my subconscious.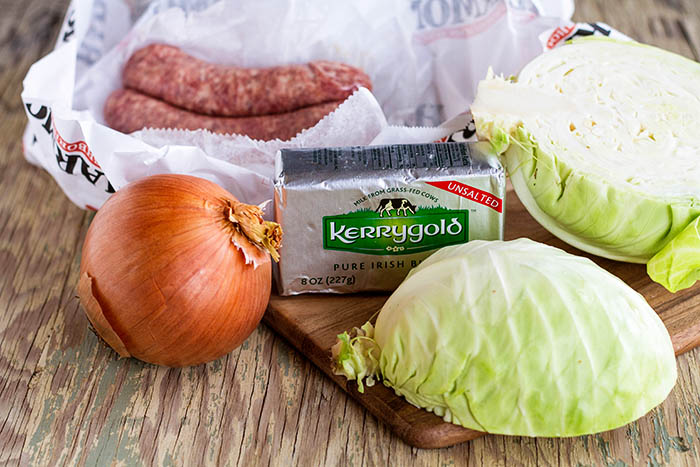 Once I got home I melted some Kerrygold butter in my wok (you could totally use a large saute pan, I just tend to use my wok for everything these days), then added a chopped onion, some salt and pepper, and the bratwursts which I had cut into slices.  Once the onions had started to soften I added some minced garlic and cooked until it was fragrant, then tossed in a head of green cabbage, which I had thinly sliced.  I tossed it with the other ingredients already in the wok until it started to soften, then let it do its thing for about 10 minutes, stirring everything occasionally.  The finished dish is a bit homely looking, and won't be the first to be asked to the prom, but is a total prom queen in taste if you give it a chance.  The cabbage is tender, without being mushy, and has melded with all of the other flavors in the pot. Total comfort food at its best.  It would be delicous served with some good Irish soda bread or brown bread.  Ok, so maybe I didn't quite get both feet planted in Ireland while cooking this, but the Irish definitely have it right.  Maybe next time I'll actually make it out of the store with bacon.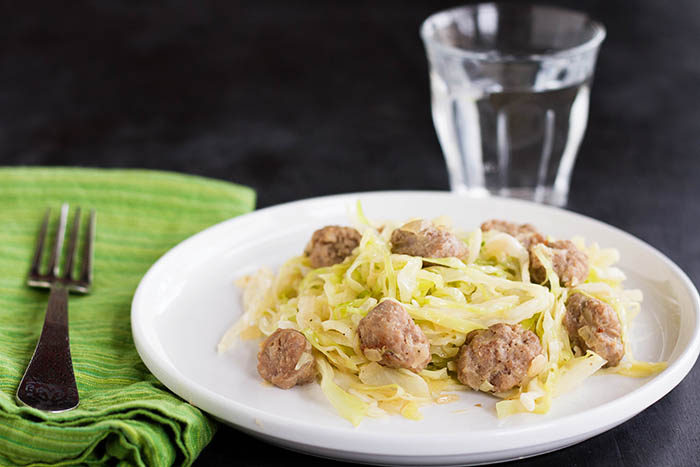 Print This Recipe
Bratwurst & Cabbage
Makes about 6 servings
Ingredients:
2 tablespoons Kerrygold unsalted butter
1 medium yellow onion, finely chopped
12 ounces (3/4 pound) fresh bratwurst, cut into 1/2-inch wide slices
1 teaspoon fine grain sea salt
1/2 teaspoon freshly ground black pepper
2 cloves garlic, minced
1 small green cabbage (about 28 ounces), shredded
Directions:
1. Heat a wok or large saute pan over medium-high heat, then add the butter. When the butter has melted and the foaming has subsided, add the onions, bratwurst slices, salt, and pepper. Saute for 5 minutes (the onions should be soft), then add the garlic and continue cooking for an additional 2 minutes.
2. Add the shredded cabbage and reduce the heat to medium. Toss the cabbage with the other ingredients already in your pan until the cabbage starts to wilt. Then let it continue cooking for 10 minutes, stirring occasionally so that it cooks evenly, until the cabbage is tender, but not mushy. Remove the pan from the heat, taste, and add additional salt and pepper if needed. Serve immediately.
——————————————————————————————————-
*Disclosure: I am not being compensated for this post, but I did receive product at no cost to myself.  All thoughts and opinions are my own!