I am so excited for today's post.  Gail, from One Tough Cookie, Inc., is sharing a list of her favorite tools that every cookie maker/decorator should have.  This is SUCH a treat!
Back in April I was commissioned to make two Swedish princess tortes for a bridal shower.  The day that I made the tortes everything was going smoothly, and then the final step of covering the tortes in a sheet of rolled out marzipan started to approach and I started to get nervous.  I had never covered anything in fondant or marzipan.  I had used those materials, but only to mold or cut out decorations.  I tweeted about my nervousness, and Gail (@THEToughCookie) tweeted me back with words of advice and encouragement.  Gail and I ended up talking on the phone right before I covered the cakes and she verbally walked me through the process.  Her help made the process easy, and my cakes looked beautiful as a result—phew! Crisis averted!!  Thank goodness for Gail!  Now that I've been tweeting with her a bit longer, I've come to learn that Gail is kind, warm-hearted, and always willing to help a friend.  Not only that, but she is a cooking making and decorating master!  These are just a few of her masterpieces (AMAZING, right?):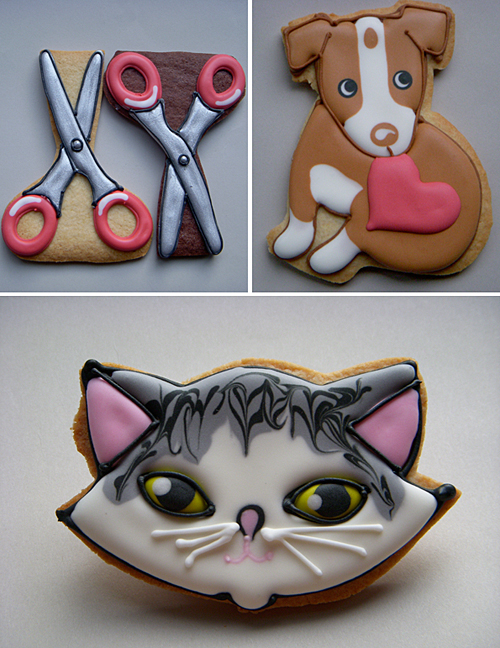 She's lucky that I don't live closer, because I'm dying to move in with her and force her to teach me all she knows.  But instead, I'm settling for having her share a few of her tips and tricks here on LFM.  After you read her wonderful post, make sure you hop on over to her blog, One Tough Cookie, and give her some love!
**********************************************************
These Are a Few of My Favorite Tools
Hi everyone, I'm THE Tough Cookie, Gail, from One Tough Cookie, Inc. As a virtual tenderfoot in the world of blogging, I was flabbergasted when the lovely and talented Rachael tweeted me an invitation to write a guest post for "La Fuji Mama".  Me?  ME?  So, after I picked myself up from the floor and finished 8 laps of 'happy dancing'  around my apartment, I said, "Why, yes…I'd be honored to write a post for you."
I thought and I pondered, I pondered and I thought.  AHA!  The newbie blogger shares her innermost favorite kitchen tools to make life easier for newbie cookie decorators!  With the holidays coming up (that's a warning, not a threat), I'm hoping this little missive will come in handy.  So, let's begin:
1.  Parchment paper.  It's your best friend for rolling dough, lining baking sheets, and foolproof ways to impress your friends with your cookie decorating prowess.
2.  Rolling Pin Bands.  Like training wheels for your rolling pin, these babies will never let your cookies be too thick or too thin. They'll always be just right.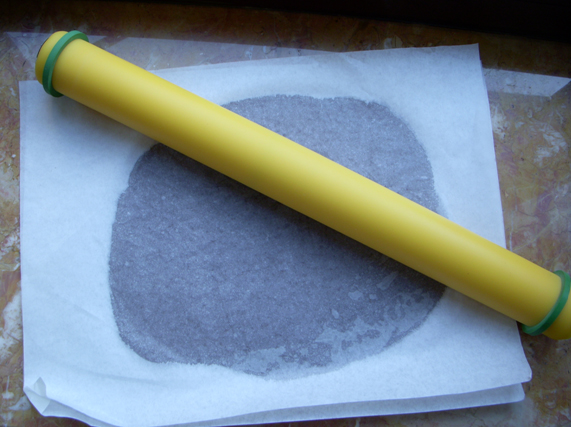 3.  Flexible Spatula.  This fine tool scoops effortlessly scoops baked cookies from the cookie sheet.  I always use this to get the ones that are done first off the sheet and then reposition the cookies that need a little more time in the oven.
4.  Disposable pastry bags  I would be NOTHING without these for piping stiff outlines, and applying finishing details.  I buy these 12 inch bags in lots of 200, but you can easily get smaller amounts.  Great for using with a coupler and switching out various decorating tips.
5.  Finally, one of the most important tools in my arsenal, the Squeezit Mold Painter bottles.  I buy these things practically by the truckload.  They come in a handy 2oz. size, and are 2 in a pack. I use them for flooding cookies and what I particularly like is that the tips are changeable.  I often insert one of my metal decorating tips in size 3 or 4 when I'm flooding a larger cookie and want to get the job done quickly.
See?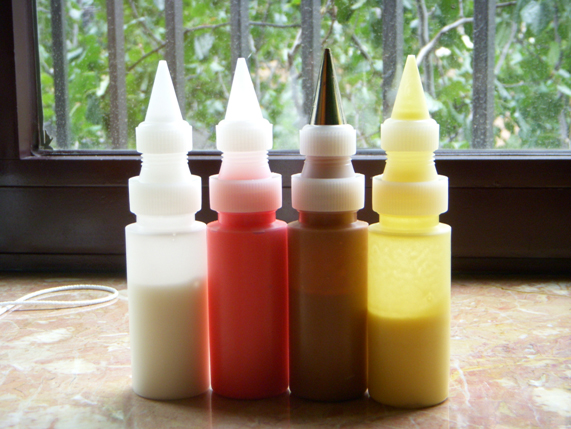 They're made by CK products and are available at craft stores, cake supply stores, and of course, all over the internet.
With these tools and a little practice, I know you'll find your own inner "Tough Cookie".  And, if you have questions, feel free to tweet @THEToughCookie!  I'm always hanging out there when I'm not decorating cookies.
Happy decorating!