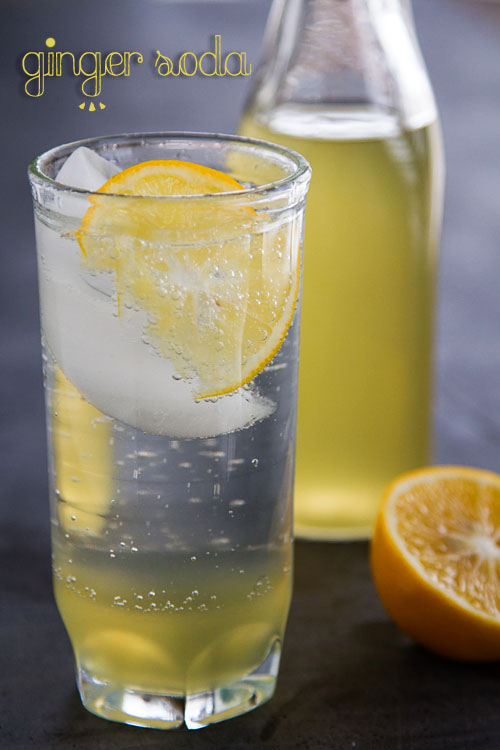 I can hardly believe we are about to greet the beginning of a new year once again.  This past year has been full of so much—change, excitement, joy, surprise, and sadness—that it's hard to believe so little time has passed.  I always enjoy reflecting on what the past year has brought our family, and this year is no exception.  I'm also looking forward to seeing what the coming year will bring.  In the meantime, it's time to celebrate!
What are you doing for your New Year's festivities?  We are getting back home to Utah today after having been in Southern California for the past 10 days.  Tomorrow my in-laws are coming over to our house to have some fun and greet the new year along with us.  I've been trying to plan an assortment of things that will be easy for me to pull together once I get home and have unpacked.  This ginger soda is one of the things I'm especially excited about.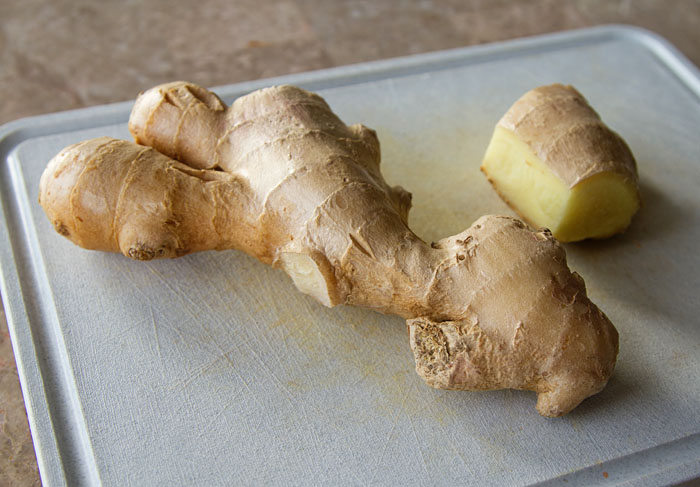 I adore all things ginger.  This funky looking rhizome sneaks its way into many of the dishes that I cook these days.  Not only is it delicious, but it's versatile and good for you!  It can alleviate gastrointestinal distress, work as a natural anti-inflammatory, and help boost your immune system, among other things.  Frieda's Specialty Produce recently sent me a bunch of ginger because they know how much I love it, and I made a ton of ginger syrup to play with.  I've made ginger syrup in the past, but this particular batch of ginger syrup was especially good, due to the addition of some Meyer lemon zest, an idea I got from a recent issue of a Japanese food magazine.  The addition of the lemon zest helps round out the flavor of the syrup, making the ginger flavor pop a bit more, without being too "in your face."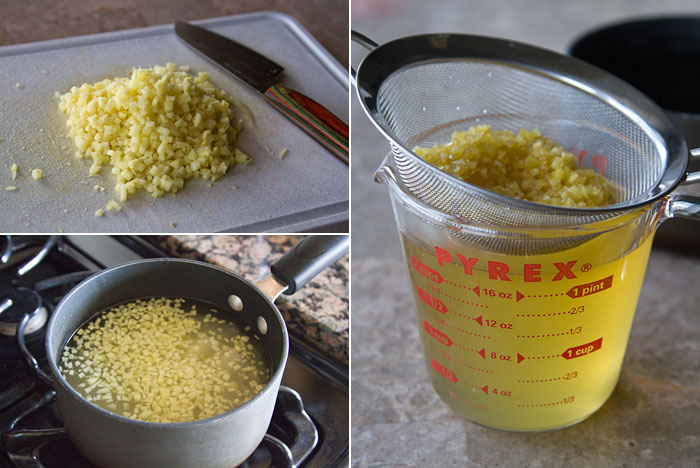 Making the syrup is easy.  It's made by mixing finely chopped fresh ginger with granulated sugar and water, and cooking it to create a flavorful simple syrup.  Once it has become syrupy, you take it off the heat, stir in finely grated Meyer lemon zest, and let it cool to room temperature.  After it has cooled you strain out the solids and your syrup is done!
One of the things I made with the syrup is ginger soda.  Once you've made the syrup, making the soda is a piece of cake.  All you do is mix a bit of the syrup with club soda and ice in a tall glass and garnish the drink with a thin slice of Meyer lemon.  The soda is cold and refreshing with a warm gingery bite.  Perfect for toasting the New Year!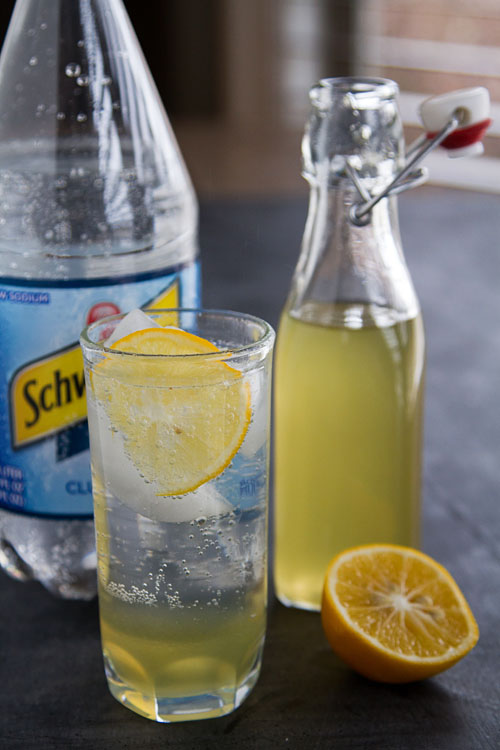 Print This Recipe
Ginger Soda
Makes 1 serving
ice cubes
2 tablespoons ginger syrup (recipe below)
1/2 cup cold club soda
Meyer lemon slice
1. Partially fill a tall glass with ice cubes. Pour 2 tablespoons of ginger syrup over the ice, then add the club soda.
2. Serve as is, garnished with a thin slice of Meyer lemon, or stir the syrup and club soda together before garnishing with a thin slice of Meyer lemon and serving.
=======================================
Ginger Syrup
Makes approximately 2 cups
4 ounces fresh ginger
2 1/2 cups granulated sugar
3 cups water
zest of 1/2 Meyer lemon, finely grated
1. Peel and finely chop the ginger.
2. Mix the grated ginger with the granulated sugar and water in a heavy saucepan. Bring to a boil over medium heat. Once the mixture comes to a boil, continue cooking for an additional 30 minutes.
3. Remove the saucepan from the heat and stir in the finely grated Meyer lemon zest. Let the syrup cool to room temperature, then strain the syrup through a fine mesh sieve. Store the syrup covered in the refrigerator for up to 2 weeks.
=========================================================
*Disclosure: Frieda's Specialty Produce sent me the fresh ginger I used in this post at no expense to me. I was not required to write this post, nor was I compensated for doing so. All opinions and experiences are my own.