On this, the last day of 2013, I'd like to pay tribute to all the incredible work that my fellow food bloggers have done this year.  Earlier this month I was contacted by Becky of
Project Domestication
asking if I would be interested in doing a roundup of my 10 favorite recipes from other bloggers in 2013, along with a group of other Utah food bloggers.  Such a wonderful idea!  I am constantly in awe and inspired by the knowledge and creativity shared by my fellow bloggers.   Putting together this list gave me the chance to go back through some of my favorite reads and eats from the past 12 months, and now I'm sharing them with you.  They are in order of the date they were posted, starting with January 2013 and moving forward.  Make sure you see the links to the other participating blogger's lists after my list!  So, here it goes: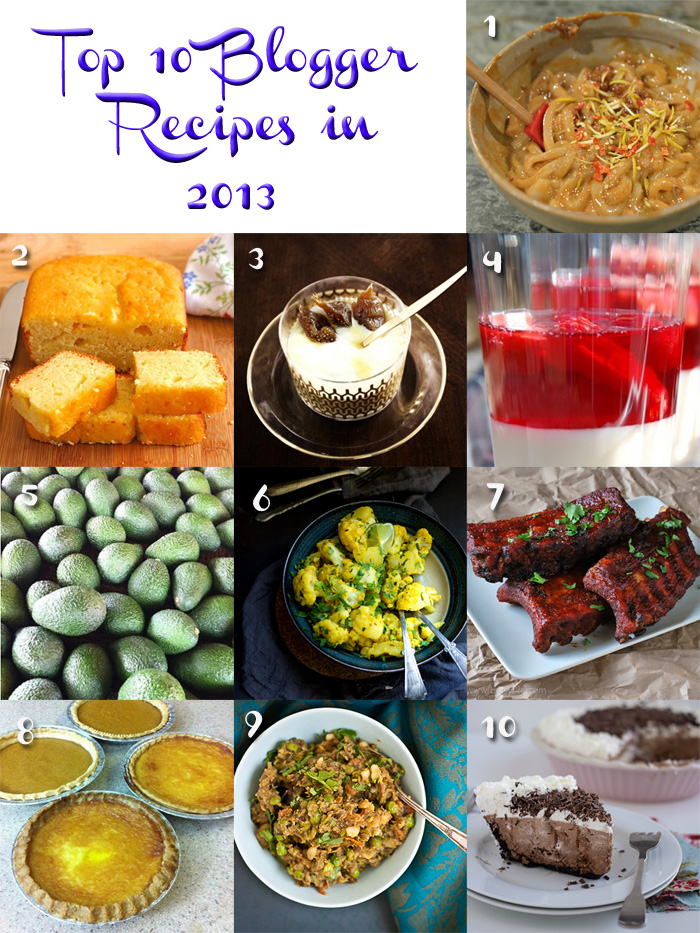 1. Shiokara by Indigo Days:
 This post is all about "fermented squid guts."  I can imagine you raising your eyebrows and thinking that I've lost it, but seriously people, you've got to read this post.  It is a fascinating look at this Japanese dish and how to prepare it.  Even if my friend Nancy doesn't have you wanting to have a taste of this Japanese dish by the end, it's still a fascinating read!
2. French Lemon Yogurt Cake by Liz the Chef:
This post, about Liz's first taste of French yogurt cake as an student in a study abroad program in France, brought back memories of my own first bite of yogurt cake in Paris as a study abroad student.  A beautiful post and a crazy delicious cake!
3. Saffron Yogurt Parfait + Stewed Figs by Dinners & Dreams:
Nisrine never fails to get me daydreaming with her descriptions of food.  This one in particular had me doing less daydreaming and more running for the grocery store to grab ingredients to make this elegant, yet simple, treat.
4. Tres Leches and Strawberry Jello by Pati's Mexican Table:
Pati makes you reconsider jello in this post all about the art of "jello-ing" in Mexico.  Plus a jello inspired by tres leches cake? Yes please.
5. Making Guacamole With Hard Avocados by Mimi Avocado:
I'm cheating a bit here, because this post doesn't have a recipe, although it is full of useful information and good for a smile!  In this post Mimi responds to a bit of advice published in Real Simple magazine about making guacamole with hard avocados. 
6. Aloo Gobhi by Simply Reem:
A simple dish, yet a beautiful one.  Reem pays homage to the humble cauliflower and tantalizes the eyes with her photography.
7. Super Spicy Sriracha Ribs by BetsyLife:
I am a sriracha addict, and these ribs caught my eye when Betsy posted them last September.  I also love reading Betsy's posts because her sunny outlook on life always cheers me up and reminds me why I love the world of food blogging.
8. Edna Lewis's Tyler Pie by Nancie McDermott:
Nancie is a pie baking goddess and in this post she revives an "old-school" egg custard pie.  Not only did Nancie leave me wishing for a slice of this pie, but she also had me wanting to start my own Pie Brigade.  Yeah, you've gotta read the post to find out what the heck I'm talking about.
9. Baigan Bharta by Indian Simmer:
Prerna vividly paints memories of mountaintop picnics in central India with this post about a spicy eggplant dish.  She also makes me have a strange desire to own a blue Vespa.
10. Marie Callender's Chocolate Satin Pie by Budget Gourmet Mom:
A post that pays tribute to a very special person with a better-than-the-original recipe for Marie Callender's chocolate silk pie.  I've made this pie three times since Krista posted it, and it's easily one of my favorite recipes from all of 2013.
Don't miss the other roundups: