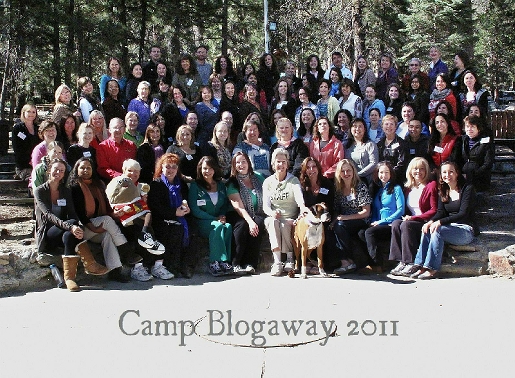 Community is a word that has taken on great meaning for me during my lifetime.  My life has been filled with a variety of communities, from the places I lived as a child to the many places I have lived after college and with my own little family.  I'd like to think that I'm one of those people that could live anywhere.  I find great joy and adventure in learning to love new places and meet new people.  Since graduating from high school I've lived in Provo (Utah), Salt Lake City (Utah), Paris (France), Memphis (Tennessee), Yokohama (Japan), Tokyo (Japan), and most recently Southern California, not too far from where I spent the majority of my childhood.  I have truly loved each place, with their differing ways of life, people, and languages.  Moving on to each new place has always been something I've looked forward to—not that I wasn't going to miss the place and loved ones I was leaving, but I was excited for my new adventure.  A bit of that changed for me though when it came time to make our most recent move from Tokyo to Southern California.  That was a very difficult move for me.  For the first time I didn't really want to move.  I wanted to stay.  I loved Tokyo, I loved my friends, and I loved my daily routine.  During the two different times that I had lived in Japan, I had fallen deeply in love with the country, its people, language, customs, and food.  I had met and become close to some incredible people that were just as excited about the adventure of living in Japan as I was.  I also had given birth to my first child in Tokyo.  That experience alone would account for the feeling that a piece of my heart will always belong in Japan.  I remembering writing the post where I revealed to my readers that I would be moving and my feelings about it, and it still tugs at my heart.
As I think about life since we returned (almost 3 years, how is that possible?!?), I realize that an extraordinary thing has occurred.  I've found a community that transcends cities, states, and countries.  I've found a world community, the community of food, a community that never ceases to excite, comfort, and challenge me to become better than I am.  If it weren't for that move, I don't know how long it might have taken me to find this place that is so perfect for me in the world.  During our first year back in the US, my website slowly transformed from being a place where I wrote about life and Japan, to being a place where I wrote about food.  Once the transition was complete I slowly gained confidence and started sharing my own ideas and recipes, and found that people didn't laugh and sometimes actually tried my recipes and even liked them.  Cooking and eating, things I had always loved doing, where now things that I could share with anyone else who was interested.  In addition, I found that it also brought me closer to Japan, as I was able to share my love for Japanese cuisine, and even start to educate others about its rich history.  I've also realized that some of my opinions have changed during this time.  One of the results of thinking, writing, and working with food all the time is that you start to form strong opinions about things you might have never even considered before, like the places and methods used to bring your food from "out there" into your home.
So why this pontification on community, and the food community specifically?  This past weekend I was lucky enough to attend Camp Blogaway again.  I'd had such a wonderful experience last year and then again last fall at the day camp, that I was thrilled when the California Table Grape Commission offered to sponsor my way to this year's camp.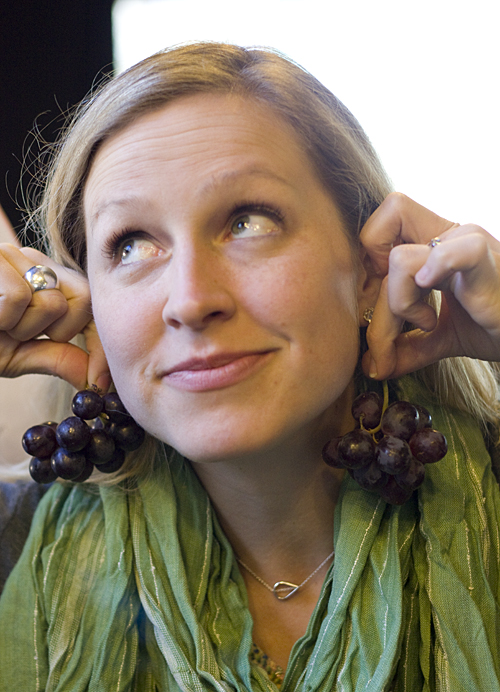 Patti Londres, the force of nature behind Camp Blogaway, did a spectacular job as usual of bringing in fabulous speakers and workshops for the attendees.  The entire weekend was filled with fun, but that's not what I'm going to share with you.  If you're interested, Patti has a growing list of camp posts on the Camp Blogaway site.  What I'm going to share is my own lightbulb moment.  The moment at camp where a host of thoughts and experiences were all pulled together and a piece of life made a bit more sense.  The last thing that happens at Camp Blogaway during the closing ceremonies is the announcement of the Golden Pinecone award, an award given to honor the blogger who best exemplifies the spirit of Camp Blogaway over the course of the weekend.  This year the award was given to Andrew Wilder (Eating Rules).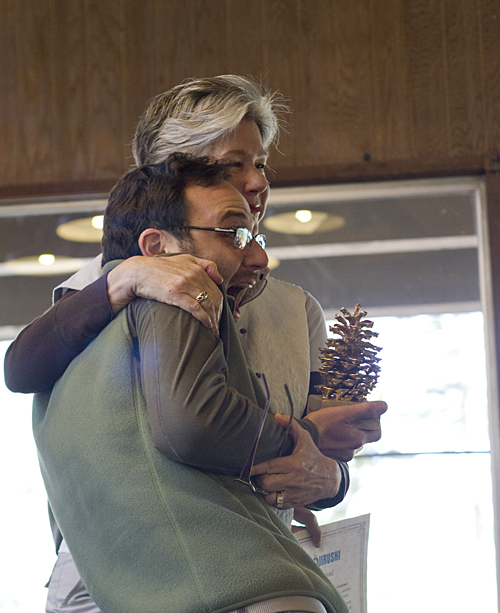 After he had his pinecone in hand, the rowdy crowd began shouting "Speech! Speech! Speech!"  Andrew, being the sweet obliging guy that he is, satisfied the demands of the crowd and began to say thank you.  However, there seemed to be a moment where a thought flickered in his mind, because the expression on his face changed, and he told us about his previous career, and how he had loved the community that he felt he was a part of in that career.  He then talked about how Camp Blogaway was the first time he had felt that sense of community and belonging since leaving his previous career.  It was a poignant moment, not only because of the sincerity with which Andrew spoke and how choked up many in the room got, but because I think many of us found ourselves wanting to raise our hands and say, "Me too! Me too!!"  Andrew had managed to distill the essence of what the food community can be into a few sentences.  In the end Camp Blogaway is a small representation of the world food community.  The diversity in age, ethnicity, point of view, and a whole list of other characteristics was astounding.  For the most part, the thing that everyone at camp had in common was our love for food.  Yet despite all of our differences there was never a lack of conversation and friendship.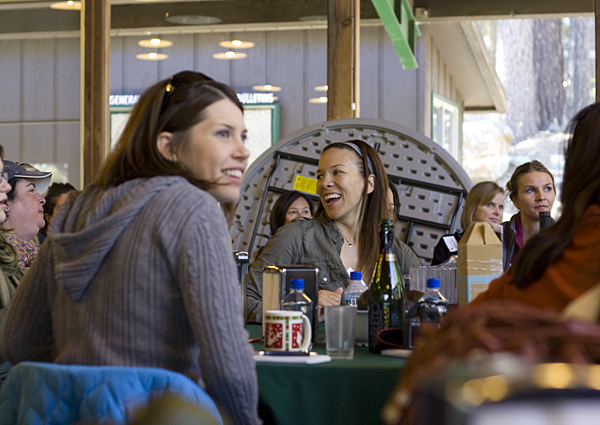 As Andrew's words have run through my mind over and over again, I've realized how much this huge community of food has changed my life and the way I live it.  Sometimes we have a tendency to look around us and be critical, thinking there's a right way and a wrong way to do things.  I'm the first to admit that I've had moments where I was sure that I was right about something, and someone has quietly come along that has made me completely change my opinion.  I've come to realize that no matter how strongly I feel about something, I have to respect and celebrate the diversity in this crazy world.  I'm grateful that I'm the only person exactly like me.  It would be a pretty boring and annoying world to have millions of Rachael Fuji Mamas walking around.  I watched with admiration and appreciation at camp on several occasions when people gracefully shared opinions while maintaining respect for the fact that there would be others around them that might disagree, and that this was okay.  I've walked away from this weekend with a deep sense of gratitude for the many people around the world that bravely share of themselves, whether or not it's thoughts I would agree with or food I would eat.  I've realized that although I still miss my beloved Japan, I have an equally rich community that I belong to, and I don't have to get on a plane to visit this community.  Like a turtle that carries its home with him wherever he goes, I have found that I carry my community in my heart and find fellow community members wherever I go.  To those of you around the world who I already know, thank you for being you and for inspiring me.  To those of you who I have yet to discover, I can't wait to meet you!
A big thank you to Patti and all of her work in putting together such a wonderful weekend.  Thank you to Andrew for making us all laugh and then making us cry.  And finally, thank you to the California Table Grape Commission for making the weekend possible.  I can't wait to get my grape on as soon as grape season starts!