I love Spring!  It puts me in the mood for two of my favorite things: tea parties and picnics.  Why not combine the two?  The great thing about a tea party picnic is that it doesn't have to be complicated, and whether you're hanging out with girlfriends or having fun with little ones, everyone will be happy!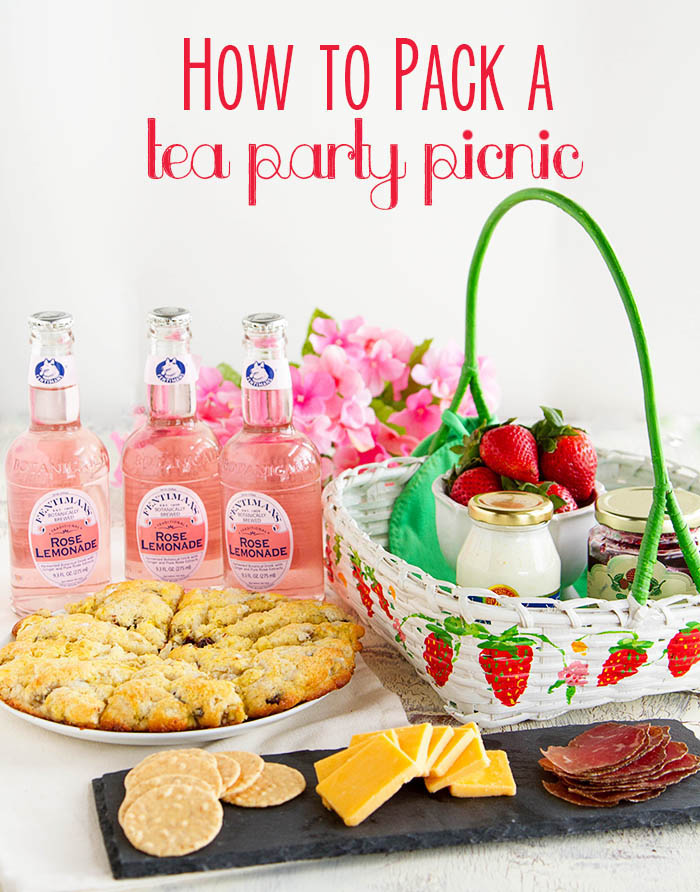 For a Tea Party Picnic You need . . .
1. Something Sweet: I whipped up my favorite Chunky Monkey Scones, but you could always make something else, or even pick up something at your favorite bakery!  Some ideas to consider: scones, cinnamon rolls, muffins
2. Something to Spread: If you are packing something like scones, you will want to pack along some condiments.  I packed some berry jam and some clotted cream, but you can pack your favorites, whatever they may be!  Maybe butter, honey, or cream cheese?
3. Something Savory: I put together a mini cheese and charcuterie plate using slices of Tillamook Extra Sharp Cheddar, thin slices of my favorite Creminelli Bresaola, and Japanese rice crackers.  You could pack any combination of cheese, cured meats, and crackers, as well as things like nuts and olives.
4. Something Fresh: I packed fresh California strawberries which are starting to be amazing right now.  You can pack one, or an assortment, of your favorite fruits or fresh cut veggies.
5. Something to Drink: What would a tea party be without something to drink?  I packed my favorite bottles of Fentiman's Rose Lemonade.  You could also pack any other favorite bottled beverage, homemade lemonade, hot chocolate, Crio Bru, herbal tea (chilled or hot!), etc.  For drinks that you make or brew at home, just pour them into a thermos to keep them fresh and hot or cold.
6. Stuff to Enjoy it With: Don't forget to pack plates, cups, napkins, any silverware that might be needed, and a soft blanket to sit on!
7. Someone to Enjoy it With You: The key component is company.  Whether it be a friend, sister, mother, daughter, etc., time spent lounging on a blanket out in the sunshine together nibbling on goodies is time well spent.