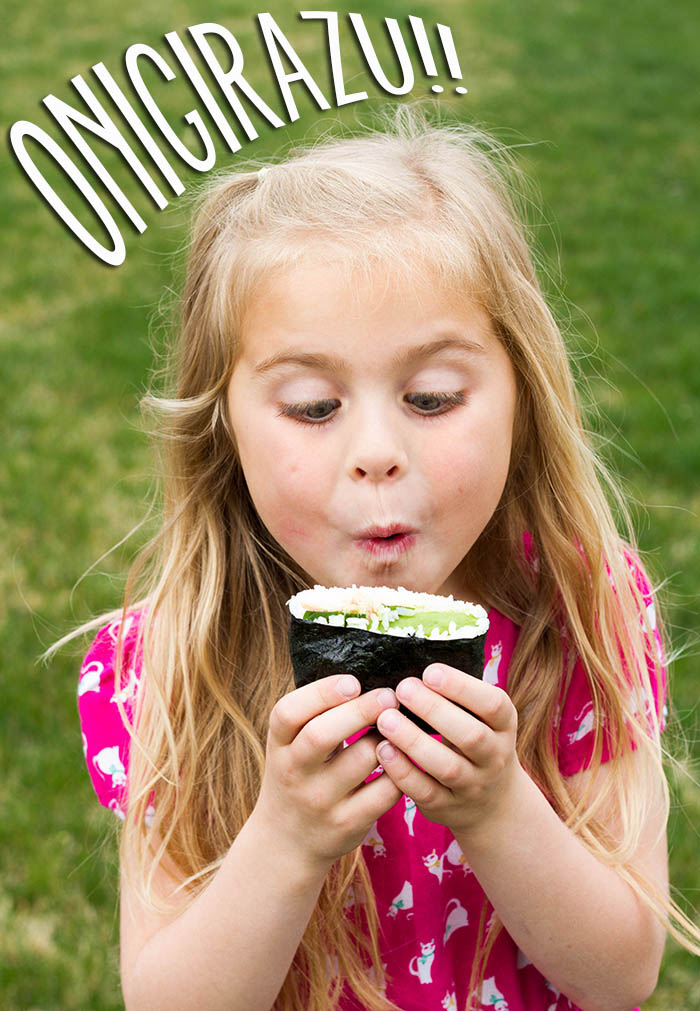 The Fujilings have traded one addiction for another.  Squirrel and Bug have all but forsaken their love for onigiri and now only have eyes for another—onigirazu.  It's true, and to be honest, I can't blame them.  Onigirazu (prounounced "oh-knee-ghee-rah-zoo") is a cousin of onigiri.  The differences can be explained in the meanings of the names.  Nigiru, which is the foot of the word onigiri, means "to compress or squeeze."  If you switch out the "ri" in onigiri for a "zu" to make onigirazu, the word changes to mean approximately "without compressing or squeezing."  This makes sense, because onigiri are made by pressing rice into shapes (often triangles), whereas onigirazu are made by wrapping rice in seaweed without pressing it.  Onigirazu are definitely easier to make (no shaping skills needed!) and offer more flexibility in what you can add and also allow for adding more fillings.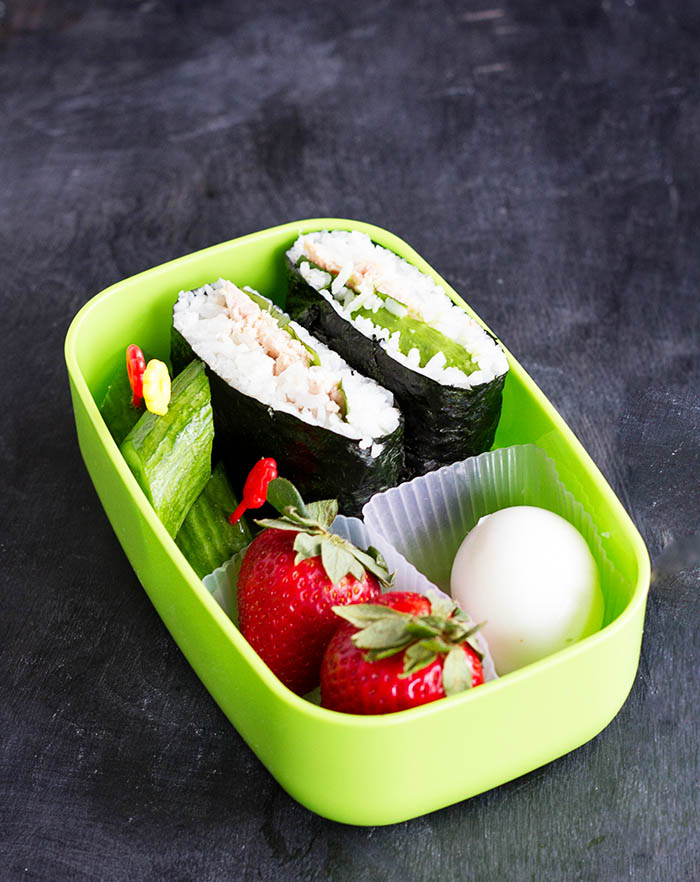 I've often described onigiri to people as being like a rice sandwich, but onigirazu definitely fit this description much better.  Layers of filling sandwiched between layers of rice all wrapped in a sheet of nori (the same type of Japanese seaweed used to roll sushi rolls in).  What makes onigirazu fun is that you can add just about whatever you want as a filling because you aren't constrained by the rice needing to hold its shape, as you are when making onigiri.  The sky is the limit…at least as long as it will all fit into your sheet of nori!  No wonder they're the current rage in Japan!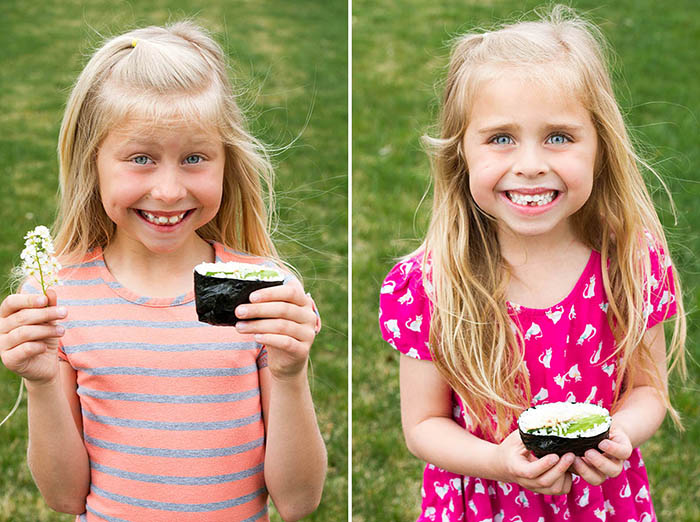 I recently received some samples of Wild Planet's Wild Albacore Tuna Fish, which I am super excited about.  Wild Planet fish is all sustainably sourced—the albacore tuna are caught individually using pole and troll methods—in the waters of the Pacific Northwest.  The albacore comes canned and in single serving pouches with regular and no salt added options.  It is delicious—fantastic flavor and a bit more moist than many canned tunas we have tasted.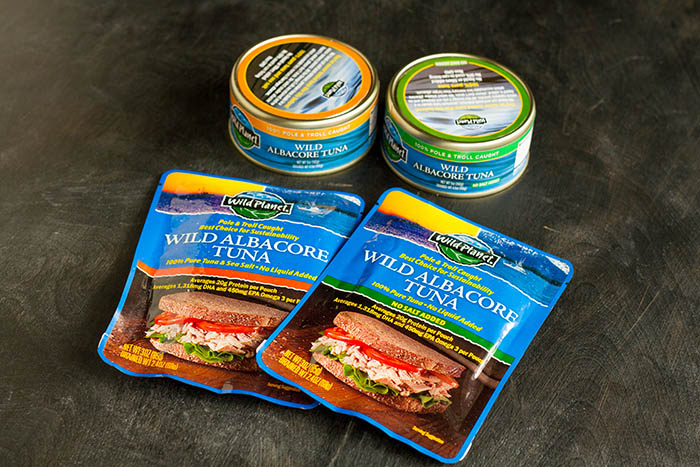 Considering Bug is the world's biggest tuna fish fanatic, I thought I would whip up some onigirazu featuring this delicious tuna.  I mixed some tuna with a bit of lemon juice (but you could add whatever you wanted…mayo and sriracha anyone?) and put that along with California avocado slices and Thai basil leaves in between the layers of rice.  I call this mixture T.A.B.  I considered calling them B.A.T. Onigirazu, but that might only fly around Halloween. (Fly, get it? Hahaha! Sorry, I've been in a very corny mood lately.)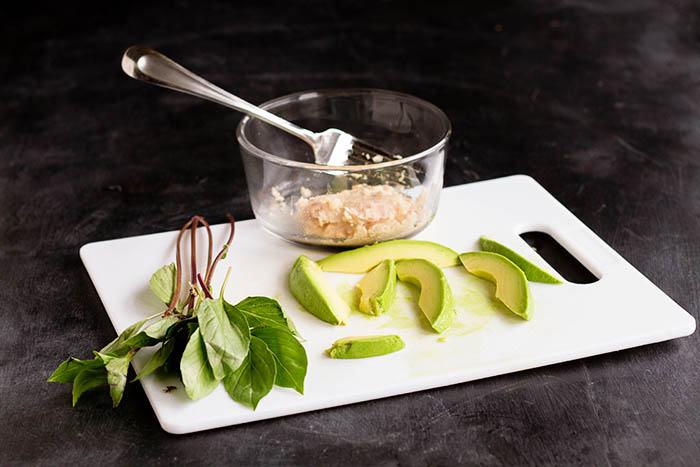 Onigirazu are super easy to make.  You lay out a sheet of nori (rough side up!), spread a bit of rice in the middle, layer on whatever fillings you want to add, spread on another layer of rice and wrap it all up like a little present in the nori.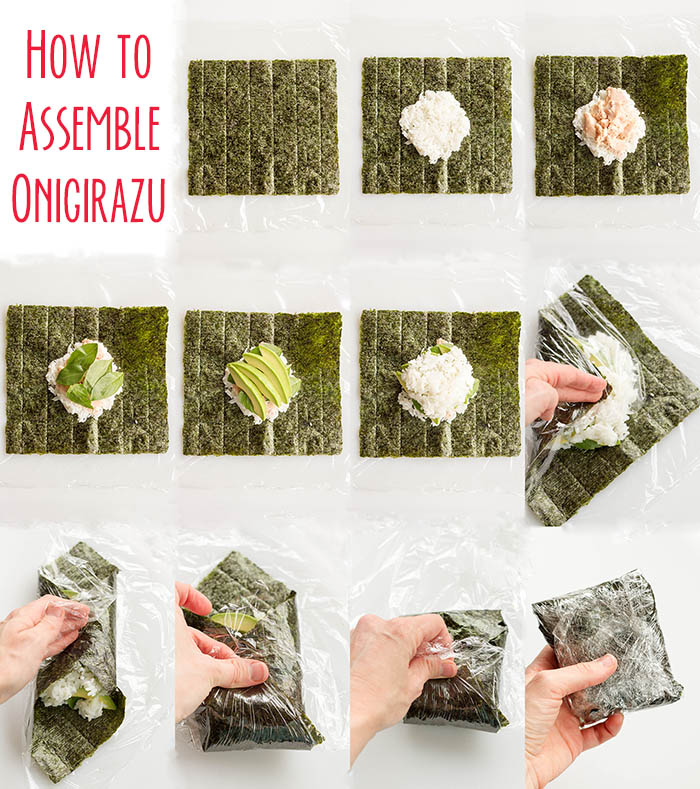 Onigirazu are so quick and easy to make and so versatile that they are perfect for packing in bentos, taking on picnics, or whipping up as an easy afternoon snack.  If you're looking for some bento gear that works well for picnicking, we're huge Bentgo fans.  I purchased our first Bentgo bento box 2 years ago and recently added some extra accessories, like their super thin ice packs (which I LOVE).  Bentgo also recently sent us a box of goodies that included Bentgo Kids lunch boxes (which we've been using for the school bentos) and this awesome insulated lunch bag (pictured below).  It's just large enough to pack quite a bit of food into, but not large enough to make you feel like you're carrying around a suitcase.  Perfect for picnicking!  So grab your gear, whip up some onigirazu, and head outside to enjoy spring!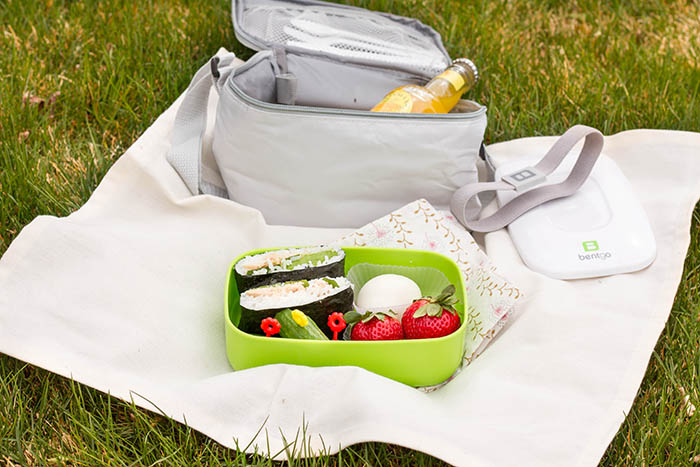 Print This Recipe
Tuna Avocado Basil (TAB) Onigirazu
Makes 2
Ingredients:
1/2 California avocado, cut into thin slices
1 lemon
3 ounces albacore tuna fish, drained (Wild Planet's 3 ounce single-serve pouch of albacore tuna is perfect for this!)
2 sheets nori (Japanese seaweed used for rolling sushi)
1 1/3 cups steamed Japanese medium grain rice (often labeled Calrose rice or sushi rice)
Fine grain sea salt
1 sprig fresh Thai basil (you can substitute regular basil if you can't find Thai basil)
Extra seasoning suggestions: lemon juice, sriracha, mayonnaise, etc.
Directions:
1. Cut the avocado into thin slices and brush with the juice of the lemon. Set aside. If you want to season the tuna, put it in a small bowl and mix in whatever seasonings you want, then set it aside.
2. Lay out a square of plastic wrap that is larger than the sheets of nori on a clean work surface. Put one sheet of the nori, rough side facing up, with one of the corners pointing towards you, on top of the plastic wrap.
3. Put 1/3 cup of the steamed rice in the middle of the plastic wrap and spread it out into a square that measures approximately 4 inches by 4 inches and lightly pat it down. (Shape the square so that the corners are pointing towards the sides of the nori, not the corners of the nori.) Sprinkle the rice with a pinch of salt.
4. Place half of the tuna fish on top of the rice, half of the avocado slices on top of the tuna, and half of the basil leaves on top of the avocado, pressing down lightly as you add each layer. Add another 1/3 cup of the steamed rice to the top of the stack, and sprinkle the rice with another pinch of salt.
5. Starting with the left corner of the nori, bring it up and over the rice stack and hold it with your finger. Take the right corner of the nori and fold it so that it overlaps slightly with the first corner. Continue folding with the bottom and top corners until the rice stack is completely wrapped in the nori. Set it aside for 5 minutes.
6. Repeat steps 2 through 5 with the remaining ingredients. At this point the onigirazu are ready to eat or be packed into a bento. If you want them to be more visually appealing, carefully unwrap them and cut them in half with a sharp knife, then wrap each half separately in plastic wrap.
*Recipe Notes: Letting the onigirazu sit for several minutes before cutting into them will make this step easier because the nori will hold together better. You can also pack the cut halves without wrapping them in plastic wrap, but I find that plastic wrap protects the halves from things like kids dropping their lunchbox, etc.
——————————————————————————————————
*Disclosure: Wild Planet sent me samples of their tuna to try and Bentgo sent me Kids Bentgo Boxes and an insulated lunch bag to try at no cost to me.  I was not obligated to write about these products, nor was I compensated for doing so.  I only write about things I really love!  All experiences and opinions are my own.