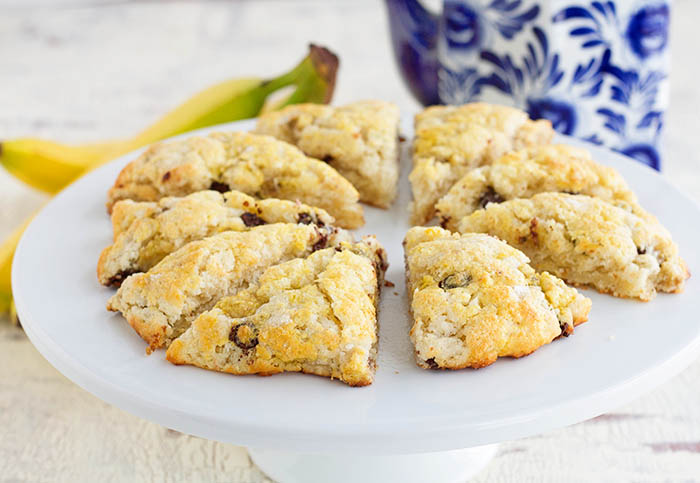 There are some recipes that deserve a second look, and this is one of them.  I posted this recipe on Savvy Sassy Moms 3 years ago this month.  When I was brainstorming what I wanted to do for my Studio 5 segment this month, this recipe popped into my head.  These scones are perfect for everything from tea parties, to picnics, to brunch with girlfriends, to Mother's Day.  Inspired by my favorite Ben & Jerry's ice cream flavor—Chunky Monkey—they are filled with bits of banana and chocolate.  The scones are light and moist (no heavy, dry scones here, thank you very much) and delicious on their own or with a smear of jam or clotted cream (or both).  You can watch me make them on Studio 5 here!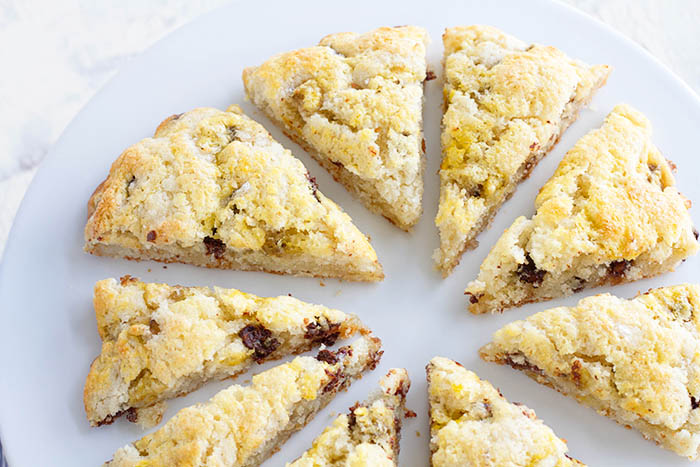 Print This Recipe
Chunky Monkey Scones
Originally posted on Savvy Sassy Moms in 2012
Makes 8 scones
Ingredients:
1 1/2 cups all-purpose flour, plus extra for dusting
1/3 cup granulated sugar
1 tablespoon baking powder
1/2 teaspoon fine sea salt
1/8 teaspoon ground cardamom
1/2 cup (1 stick) cold butter, cut into 1/2-inch cubes
2 bananas, peeled and chopped into small pieces
1/4 cup semisweet chocolate chips
3/4 cup whole milk
1 large egg, beaten with a pinch of fine sea salt, for egg wash
2 tablespoons granulated sugar for sprinkling
Directions:
1. Preheat the oven to 375 degrees Fahrenheit. Line a baking sheet with a piece of parchment paper, or a silicone baking mat.
2. Whisk together the flour, sugar, baking powder, salt, and cardamom in a large mixing bowl until completely incorporated. Add the butter, and toss to coat each piece in flour. Using a pastry blender, or two knives, cut in the butter until the largest pieces are the size of small peas. Add the banana pieces and chocolate chips, and toss to distribute evenly.
3. Gradually pour in the milk a bit at a time, folding the ingredients together as you go. Keep adding milk until you have a soft dough and there are no bits of flour at the bottom of the bowl. You should still see lumps of butter in the dough (these will give you light and flaky scones). You may not use all of the milk. However, if the dough seems dry, you may need to add a little more milk. The dough is ready when it is moist and slightly sticky.
4. Transfer the dough to the prepared baking sheet. Dust the top of the dough lightly with flour, then use your hands to gently pat it into a round disk, and cut it into 8 wedges (a bench scraper is great for this). Brush the tops of the scones liberally with the egg wash, then sprinkle with the granulated sugar.
5. Bake for 20 to 25 minutes, rotating the baking pan halfway through to ensure even baking, until the scones are lightly golden and fully baked. Serve warm or at room temperature.