*I hope you'll join me in participating in
24 Days of Giving
—one simple way each day, from December 1st through the 24th, to do an act of service for someone else. You can get all the details you need
here
.
——————————————————————————–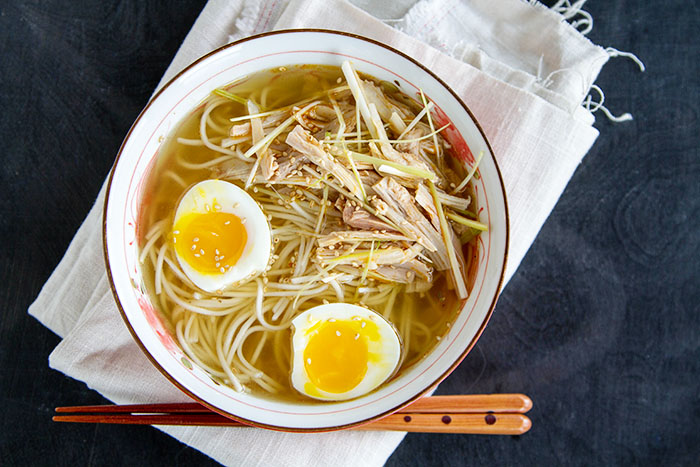 I hope you had the most amazing Thanksgiving!  I know we did!  Now that you've eaten your turkey dinner, and then leftovers (maybe turkey sandwiches?), are you sick of turkey yet?  I hope not!  Now's the perfect time to shake up those leftovers.  I hope you saved your bones and made a big pot of turkey bone broth, because now it's time to put it to use, along with some of your leftover turkey meat.  One of my all-time favorite comfort foods while living in Japan, was a big steaming hot bowl of ramen.  I think it's especially delicious this time of year when the weather is getting colder and people start getting the sniffles.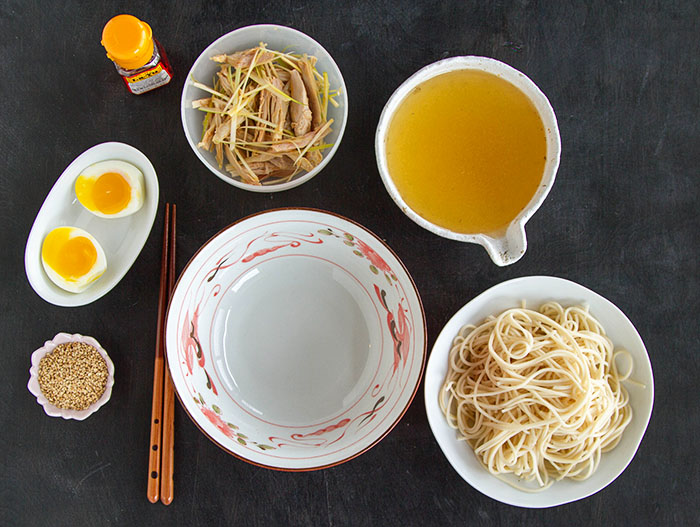 The combination of hot broth, noodles, shredded turkey and scallions tossed with a bit of chili oil, a soft-boiled egg, and a sprinkling of toasted sesame seeds is total comfort food.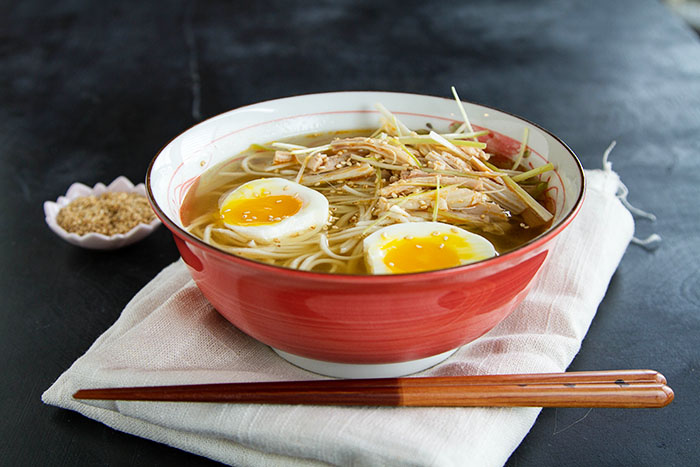 Print This Recipe
Leftover Turkey Ramen
Makes 4 servings
Ingredients:
8 cups turkey bone broth
4 large eggs
12 ounces dried chuka soba noodles*
12 ounces shredded turkey meat
8 scallions, white and light green parts only, julienned in 2-inch legnths and soaked in cold water until needed
4 teaspoons rayu (Japanese chili oil)
Toasted white sesame seeds, to garnish
Directions:
1. Bring the turkey bone broth to a simmer in a pot over low heat.
2. Bring a medium pot filled with water to a gentle simmer. Gently lower the eggs into the water with a slotted spoon, being careful not to drop them. Cook the eggs for exactly 6 minutes, then remove them with a slotted spoon and put them directly into a bowl of ice water for several minutes to cool slightly. Then very carefully peel each egg under cool running water.
3. Reheat the turkey. Drain the scallions, and pat them dry with a paper towel. Toss the turkey and scallions with the rayu in a bowl.
3. Bring a large pot of water to boil, then add the noodles and cook them until they are al dente, about 3 to 5 minutes or as instructed on the package. Test the noodles for doneness by removing a noodle and biting it.
4. Drain the noodles and divide them among 4 bowls. Add 2 cups piping hot turkey bone stock to each bowl. Top each bowl with a soft-boiled egg, sliced in half, some of the turkey mixture, and a sprinkling of toasted sesame seeds, and serve.
*Recipe Notes: Want a gluten-free or paleo option? Use zucchini noodles instead of the chuka soba noodles! To make the zucchini noodles, use 2 pounds of zucchini (approximately 4 large zucchini). Slice the ends off the zucchini, and peel them. Then, using a spiral slicer, mandoline, or julienne peeler, turn the zucchini into long noodles, discarding the center seeded portion. Place the noodles in a large strainer over a bowl, then sprinkle them generously with fine grain sea salt and let them sit for 30 minutes, stirring them occasionally. Gently squeeze the noodles to get out any remaining water, then place a few handfuls of the noodles in each bowl and proceed with the rest of step 4.