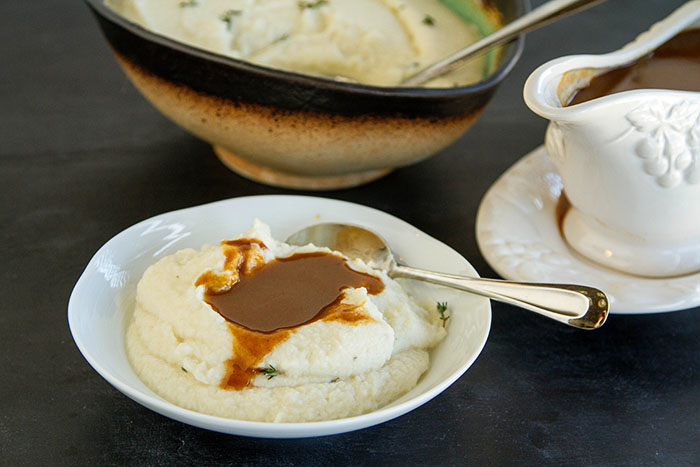 I've been in a huge mashed potato mood lately.  Seriously people, I have a problem!  I could easily eat them every day.  Instead of loading up on mashed potatoes, I've been trying to keep things lighter, so have been making a big pot of mashed cauliflower at least once a week.  I've eaten so much mashed cauliflower lately that I may actually be turning into a head of cauliflower.  (Wait, can that happen?)  My habit shows no signs of changing, as I will be making another big pot of mashed cauliflower next week for our Thanksgiving meal (7 more days!).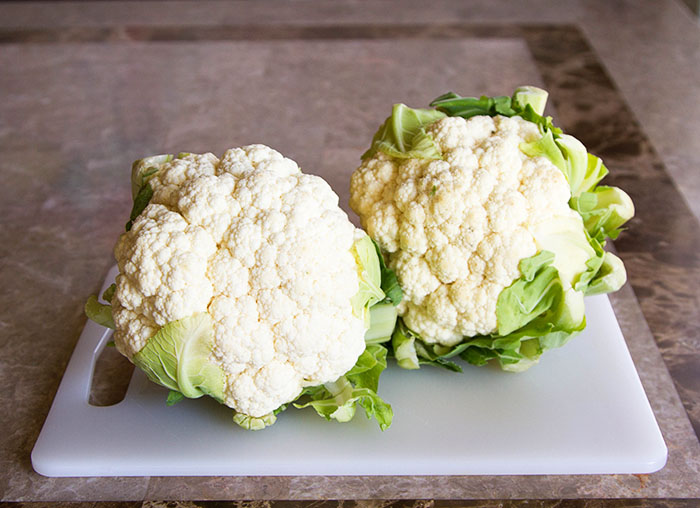 The first time I had mashed cauliflower I thought it would be really weird.  Boy was I wrong!  It was so light and fluffy, yet rich and creamy.  It was instant love.  It is also insanely quick and easy to make.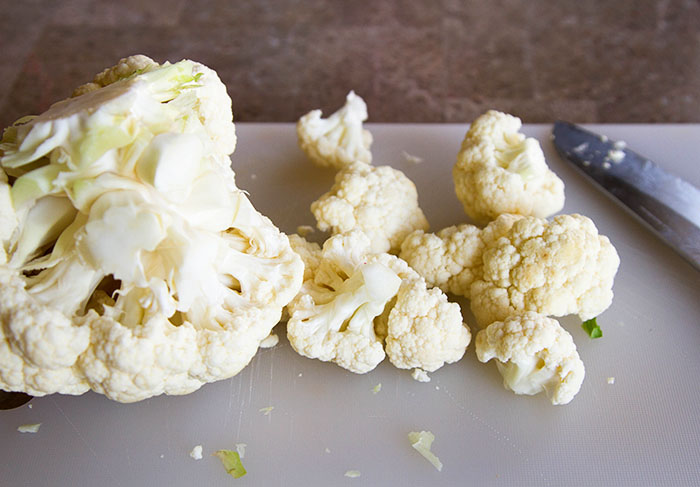 You start by cutting 2 heads of cauliflower into florets, which you then steam until they are tender.  Then you puree them with some milk, ghee (or butter), salt, garlic powder, and black pepper…and you're done!  I love garnishing mine with some fresh thyme leaves.  You can dress these up however you like.  They are delicious with turkey gravy, or whatever flavors you usually love in/with your mashed potatoes.  What do you love putting in your mashed potatoes?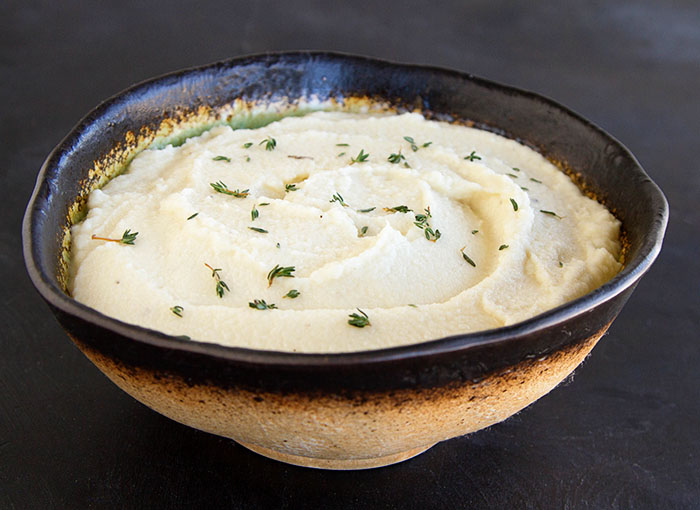 Print This Recipe
Mashed Cauliflower
Makes 6 servings
2 heads cauliflower
3/4 cup milk (or almond milk)
1/4 cup ghee (or butter)
1 teaspoon fine grain sea salt
1 teaspoon garlic powder
1/2 teaspoon freshly ground black pepper
Fresh thyme leaves, to garnish
Directions:
1. Cut the heads of cauliflower into florets.
2. Fill a large pot with about 1/2-inch of water and bring the water to a boil. Add the cauliflower florets, cover the pot and steam them until they are completely cooked and soft (approximately 8 to 10 minutes).
3. Drain the cauliflower then blend it with the rest of the ingredients (except for the thyme leaves) using a food processor, blender, or immersion blender, until the cauliflower is smooth and creamy. Garnish with fresh thyme leaves and serve.