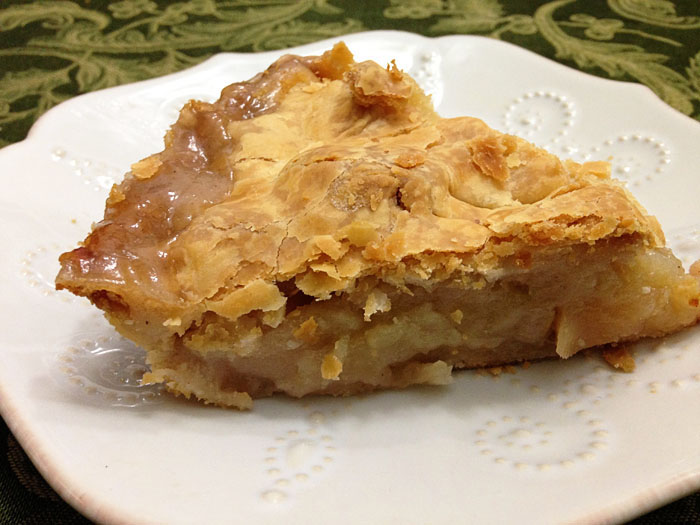 Have you ever said something about someone and it turns out they were standing right behind you while you were saying it? I have.  On the first day of Camp Blogaway in 2012, a friend and I were standing at the networking table, which usually includes promotional materials for bloggers and brands.  There was a display of some sort for Nancie McDermott, a food writer who happens to be one of my favorites.  I was telling my friend that she had to check out Nancie's books, because they were so good, when a voice behind me said something along the lines of, "Well I'm so relieved to hear you liked them!"  Imagine my shock/surprise/embarrassment when I turned around and realized that Nancie herself was standing right behind me and had heard the whole conversation!  Quite the way to meet one of your idols, isn't it?  Well since then Nancie has become a friend and somehow I talked her into writing a guest post as part of my Pie Brigade for Pie Week.  Nancie wrote my absolute favorite book on the subject of pies, called Southern Pies, and I consider her the Pie Queen.  When she sent me her post yesterday I was a bit giddy, because she chose to write about one my personal favorite pies.  I adore this lady, and I think you'll see why after you've read her post.  Thank you Nancie!!  –P.S. Make sure you check out Nancie's blog after reading!
==========================================
In thinking about pie and which one to focus on and send Rachael in celebration of her birthday (and I am not alone in being SO GLAD she was born!), I found it difficult to narrow things down. My eternal problem: making choices, which means un-choosing some while choosing others. Even narrowing it down to say, regional pies? Or two-crust pies? Or fruit pies? Or seasonal pies? With meringue? Old? New? Chef-y vs. Home-y? I was spinning around the kitchen and office like an enchanted sifter, and I had to take a deep breath and get quiet for a little bit. Then I knew what I wanted to say: Apple Pie.
Reason being that it is one I have always known and always loved. It fits all my categories, except for the with-meringue part, and it is both simple and unintimidating enough for beginners and satisfying and variable enough for people who already love to bake. I also love that apple pie is forgiving and flexible: if you want a different kind of apple, or thinly sliced apples instead of chunks, or raisins included, make yours that way. If you want less sugar or more sugar or brown sugar, do it your way. More cinnamon? Ginger, nutmeg and cloves or no spices at all? Fine!  You just go right ahead and make that your apple pie!
Another thing I like is that no two people's apple pies look exactly the same. You can teach a class, and tell 25 people the same thing and give them the same apples, and every pie will be its own treasure. I've found that most people take great pride and pleasure in making an apple pie, because it's intrinsically satisfying, and because for people who don't bake or don't bake much, it can seem like a challenge and an art, making the accomplishment of making an apple pie a huge satisfaction and delight.
Now I'm giving you an apple pie recipe here, only because I can't be in the kitchen with everyone all the time. But the truth is that once people make an apple pie, or maybe two, they no longer need a recipe. It's a simple, instinctive process — getting chunks of apple ready; tossing them with sugar for sweetness, flour for thickening the juices, salt and cinnamon, just a bit, for flavor, and butter bits for richness. Precise amounts? Not to worry. This is not a soufflé that will rise or fall. You can ballpark this pie and come out just fine.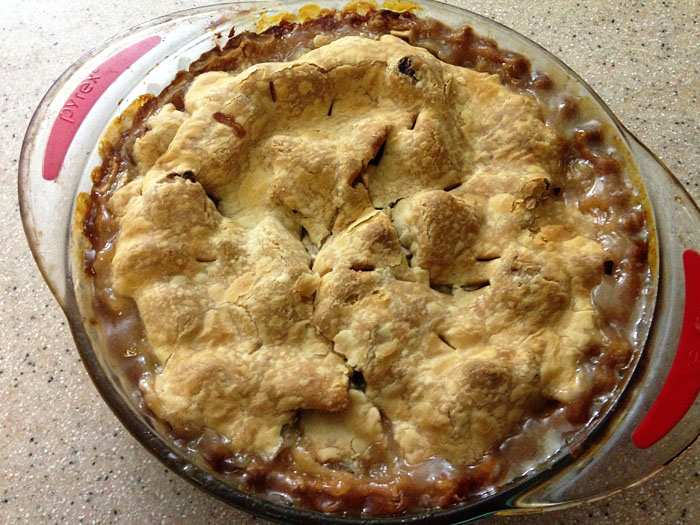 Now what I am not giving you is a recipe for piecrust, because I consider piecrust something to consider separately from what will be inside your pie. If people want to make a pie, they have the option of making a piecrust from scratch, or using a prepared piecrust, frozen or refrigerated or made from a mix. If people want to learn to make piecrust, that is a most wonderful a worthy cooking challenge, and there are cookbooks, videos, and feature stories about what to do and how to do it, especially today in the era of the worldwide web. If they want to make a pie and don't wish to take on that challenge, or even feel intimdated, or overwhelmed by same, I say leave that for another day.
To me, there is no moral imperative that we begin pie with handmade homemade crust. When we want a sandwich, we tend to reach for a loaf of bread which we purchased from somewhere, or made another time for general use at home. Few people begin a sandwich by making bread from scratch, even if they know how. I think fear of making piecrust or lack of knowledge as to how to do it, keeps many people away from the tremendous and endless pleasures of making pies. So I say we ask ourselves the question: What is my goal? If you know how to make piecrust, and enjoy it, that is a great place to start. If you don't know how but long to know how to do it, get a book, video, or helpful teacher, and start there. If you want to make an apple pie, and do so in a fairly short time and with great success, start with piecrust. To me it's fine to make it, and fine to give myself a headstart with a prepared crust. All I want is for people to get in the kitchen and enjoy cooking, whether it's for themselves, their families, their friends, or all of the above. I can't think of a sweeter place to get started than with making a big ol' homemade apple pie.

Print This Recipe
Nancie's Apple Pie
Makes 1 9-inch pie
2 rounds of piecrust dough, for a double-crust pie
6 to 8 tart apples such as Granny Smiths
3/4 cup sugar
3 tablespoons all-purpose flour
1/2 teaspoon cinnamon
1/4 teaspoon salt
3 tablespoons cold butter, chopped into small chunks
1. Heat the oven to 375 degrees Fahrenheit. Peel the apples. Cut each one lengthwise into eighths: that is, lengthwise in half; then half each piece; then half each piece again. Cut away any seeds, stems, and core, leaving big wedges of peeled apple. Cut each wedge crosswise into 3 or 4 pieces, making small to medium-sized chunks. Set aside.
2. In a large bowl, combine the sugar, flour, cinnamon and salt. Use a fork or a whisk to mix them well. Add the apples and toss to coat them evenly.
3. Fit one round of pie crust dough into a pie plate/pie pan. Drape extra pie crust over the sides, and trim it so that you have about 1 inch extra all around the rim. Scoop the sugared apple chunks into the pie crust-lined pie plate, and arrange them so that they are mounded up in the center. Place bits of butter around and among the apple chunks.
4. Gently drape the second round of pie crust over the apples. Gently tuck it in close to the edge, and then drape the excess over the sides. Trim the extra crust so that it is about the same length as the bottom crust.
5. Press the edges together to seal the apples inside the double crust. Carefully fold the bottom crust up and over the top crust, and press down firmly to make a nice thick crust all around the edges. You can crimp the edges using your thumb and fingers, or you can use the back of a fork, pressing the tines down firmly on the folded pie crust to make a handsome border and seal it tightly. Using a sharp knife, cut slits all around the edges to let seam and juices escape if they so wish. In the center, use the sharp knife to make the letter "A" in the middle of the pie crust.
6. Place the pie on a cookie sheet to catch any juices as it nears the end of baking. Bake for 40 to 55 minutes, or until the apples are tender, the juices are bubbly, and the crust is handsomely browned all over.
7. Remove pie and place it on a cooling rack or on a folded kitchen towel. Serve warm, or at room temperature.  Makes 1 9-inch pie.