This post contains affiliate links, which means I receive a small percentage of the sale if you make a purchase using a link.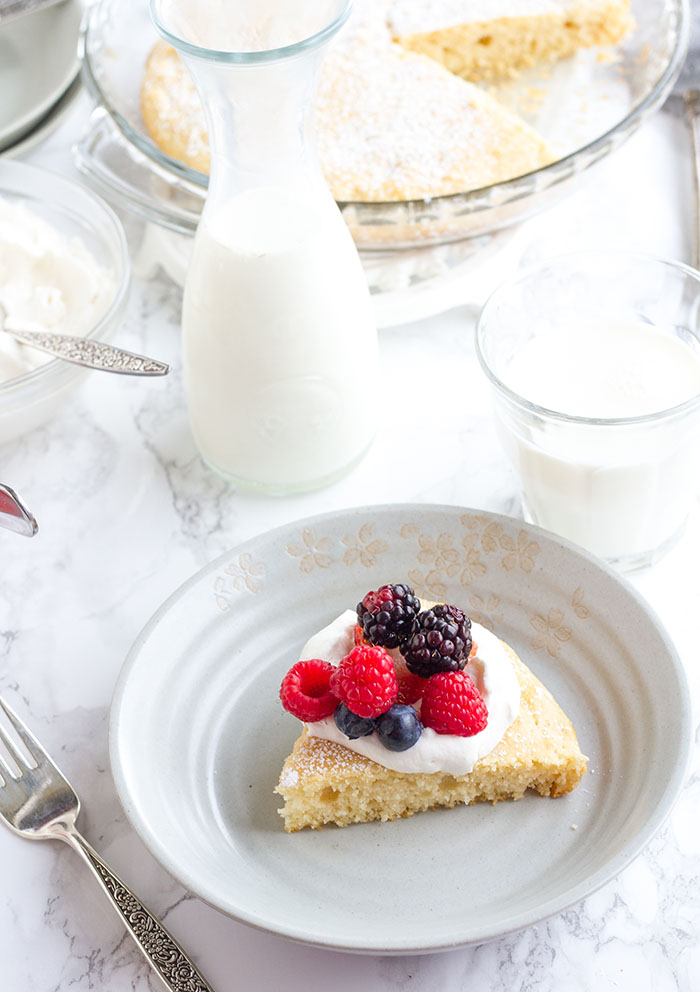 Five more days until we celebrate all of the mothers in our lives.  Have you thought about breakfast yet?  Well if you haven't, I've got a solution for you.  This oven-baked pancake is super simple and makes way less of a mess than regular pancakes.  Plus it looks fancier and more decadent than traditional pancakes too! (Moms, you could always send gentle hints by giving your husband/kids this recipe.)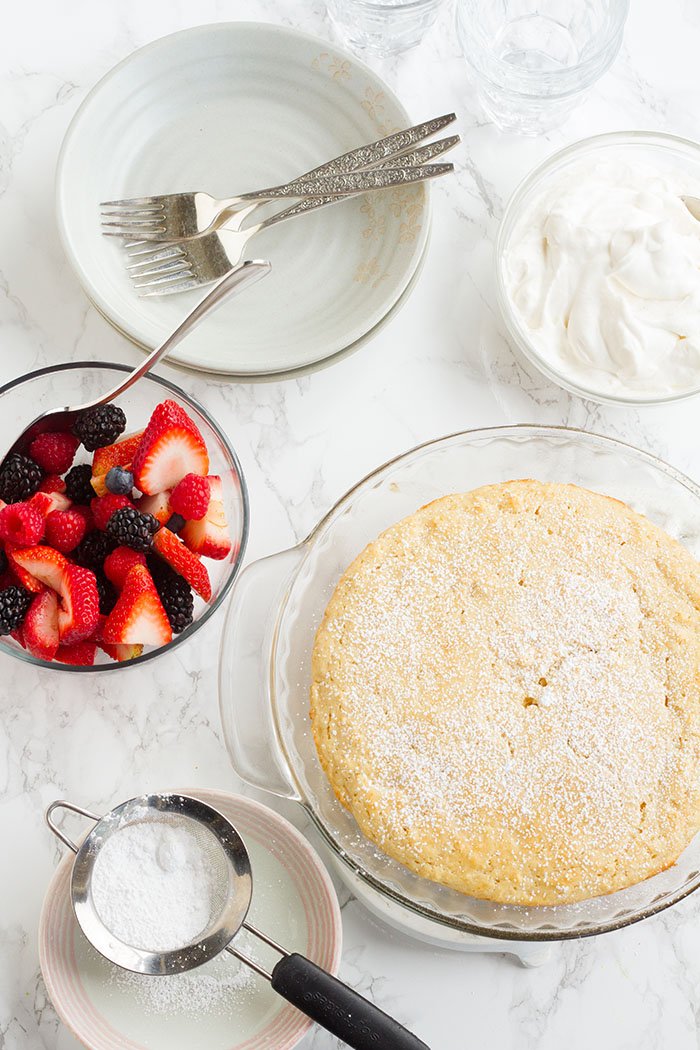 You whip up a pancake batter, pour it into a greased pie plate, then put it in the oven to bake.  It's even easy enough for the kids to help make!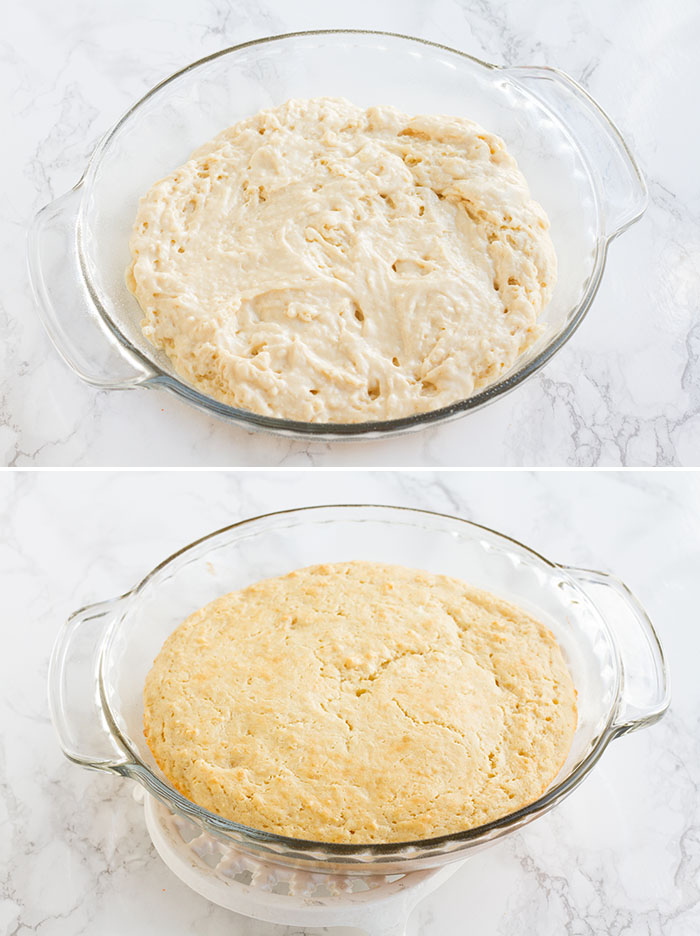 The beauty about a pancake baked in the oven is that you don't have to stand over a hot griddle or frying pan.  Once the batter is done, your work is practically done as well!  It's also wonderful because you don't have to find the perfect griddle temperature and end up throwing away the first couple of pancakes because they got too dark. (Or is that just me that always ends up doing that?)  It's a lot harder to mess this one up.  The oven will control the temperature for you.  If you have an instant read thermometer (the best, in my opinion is the Thermapen . . . don't leave home without it) then making the perfect pancake is even easier.  Once the internal temperature of your pancake is between 190 and 200 degrees Fahrenheit, then you know that your pancake will be cooked through, but still moist!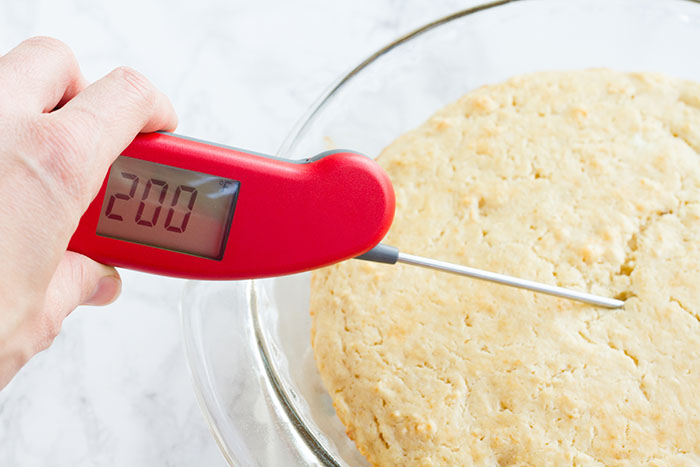 When it's done, you cut it into wedges and serve it topped with your favorite pancake toppings.  Like pancakes, it's just a bit sweet, but it needs to be dressed up, whether that's with butter and maple syrup, peanut butter and bananas, whipped cream and fresh fruit, or whatever else you may love.  Start of Mom's day right with a delicious slice of oven-baked pancake topped with her favorite things, just don't forget to clean up the kitchen afterwards!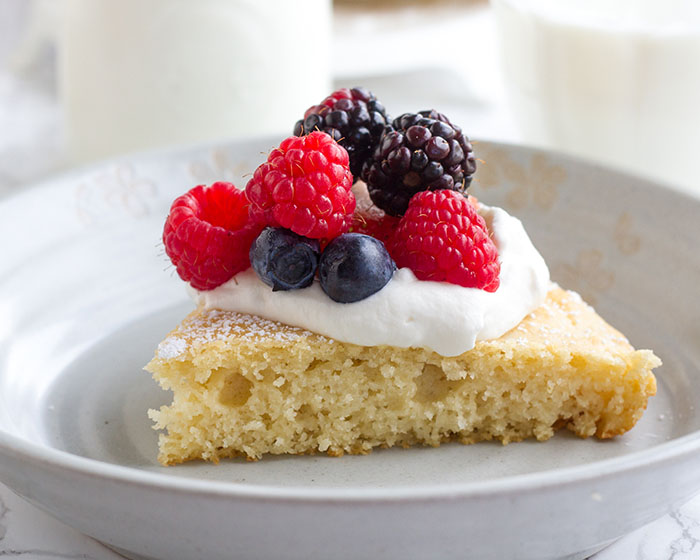 Print This Recipe
Oven-Baked Pancake
Makes about 4 to 6 servings
Ingredients:
2 tablespoons butter
1/2 cup (4 ounces) milk
1 large egg
1 1/2 teaspoons vanilla extract
3/4 cup all-purpose flour
2 tablespoons granulated sugar
1 1/4 teaspoons baking powder
1/4 teaspoon fine grain sea salt
Toppings: confectioners' sugar, whipped cream, fresh fruit, butter, maple syrup, nut butter, etc.
Directions:
1. Preheat the oven to 375 degrees Fahrenheit. Lightly grease a 9-inch pie plate, then set it aside.
2. Melt the butter in a small bowl, then set it aside.
3. Whisk the milk, egg, and vanilla extract together in a medium-size mixing bowl. Stir in the melted butter.
4. Whisk the flour, sugar, baking powder, and sea salt together in a small bowl, then add this mixture to the egg mixture and gently stir everything together until just combined—the batter will be a bit lumpy. Do not over-mix.
5. Let the batter rest for 5 minutes. (The batter will thicken slightly). When the batter has finished resting, gently pour it into the greased pie plate, using a spatula to spread the batter out so that it covers the bottom of the pie plate.
6. Bake the pancake in the preheated 375 degree Fahrenheit oven for 20 — 25 minutes, until the edges are just starting to brown and the internal temperature reaches 190 to 200 degrees Fahrenheit (88 to 93 degrees Celsius).  If you don't have an instant read thermometer, then use the toothpick test—it is done if a toothpick inserted in the center comes out clean.  Remove the pancake from the oven and let it cool for 5 minutes before adding your desired toppings and serving.