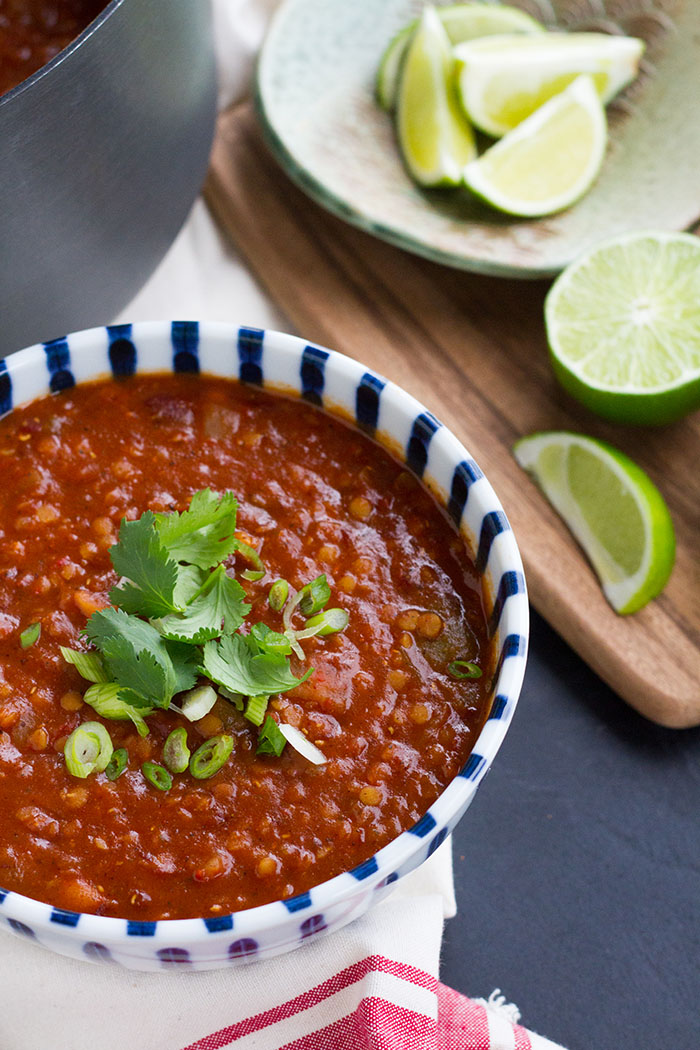 Harmons Grocery recently challenged me to develop a recipe using ingredients from their new line of private label items.    I decided it was the perfect opportunity to work on a recipe that I had been playing with for a while, a recipe for red lentil chili.  I tried a recipe for a red lentil chili a few months ago.  The finished chili was blend and watery, but I loved the idea.  So I took the ideas of red lentil soup and a regular meat chili and started to merge the two.  After 8 rounds of tweaking, here we are!
The chili is filled with lots of veggies and spices, red lentils, dark red kidney beans, and pinto beans, as well as apple cider vinegar for tang, dates for sweetness to balance out the other flavors, and soy sauce for added umami.  This is why it was a perfect way to use Harmons' new private label items!  Even better is the fact that everything I have tried from the line has been awesome and at a price point that makes my grocery budget happy.  The apple cider vinegar is made with organic, non-GMO apples using solar power in a green California apple cannery.  The organic tomatoes are processed the day they're picked, steamed peeled rather than chemically peeled, and packed into a BPA free can.  The soy sauce is made from organic, non-GMO soybeans and is naturally brewed with no artificial presservatives.  This trend continues with all of their items.  See why I like this new line?  I ended up using their apple cider vinegar, roasted garlic olive oil, soy sauce, vegetable broth, pinto beans, dark red kidney beans, tomato paste, and diced fire roasted tomatoes.  I'm actually quite proud of the fact that I figured out a way to use so many in one recipe!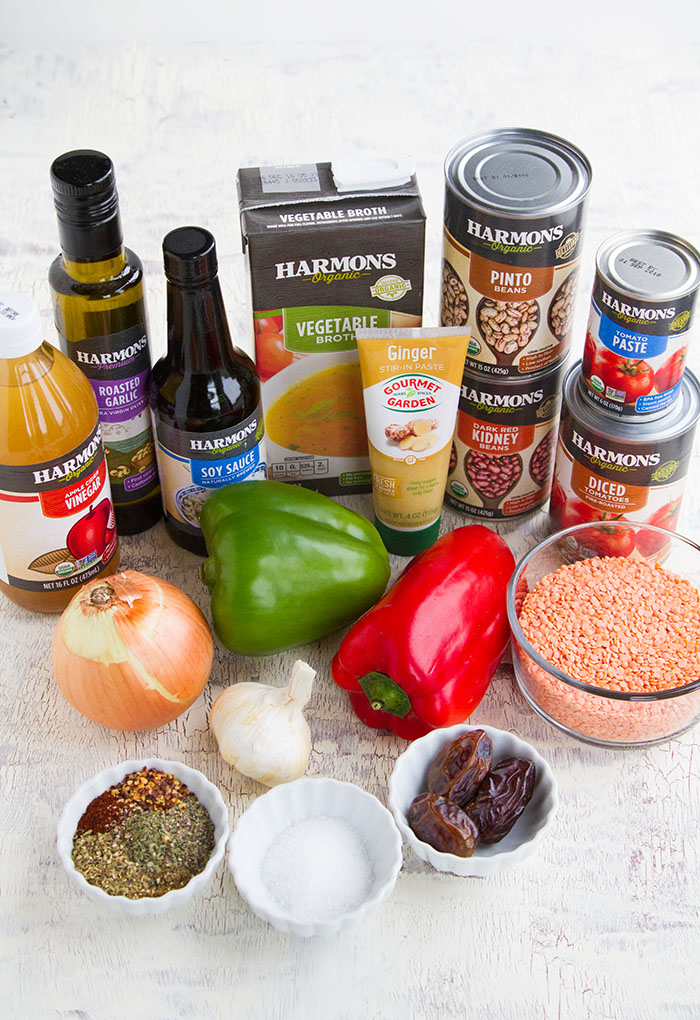 The lentils and beans are simmered in a thick red tomato gravy, along with sauteed onion, green bell pepper, garlic, and ginger, until the lentils are tender and the liquid has reduced to make the chili thick and chunky.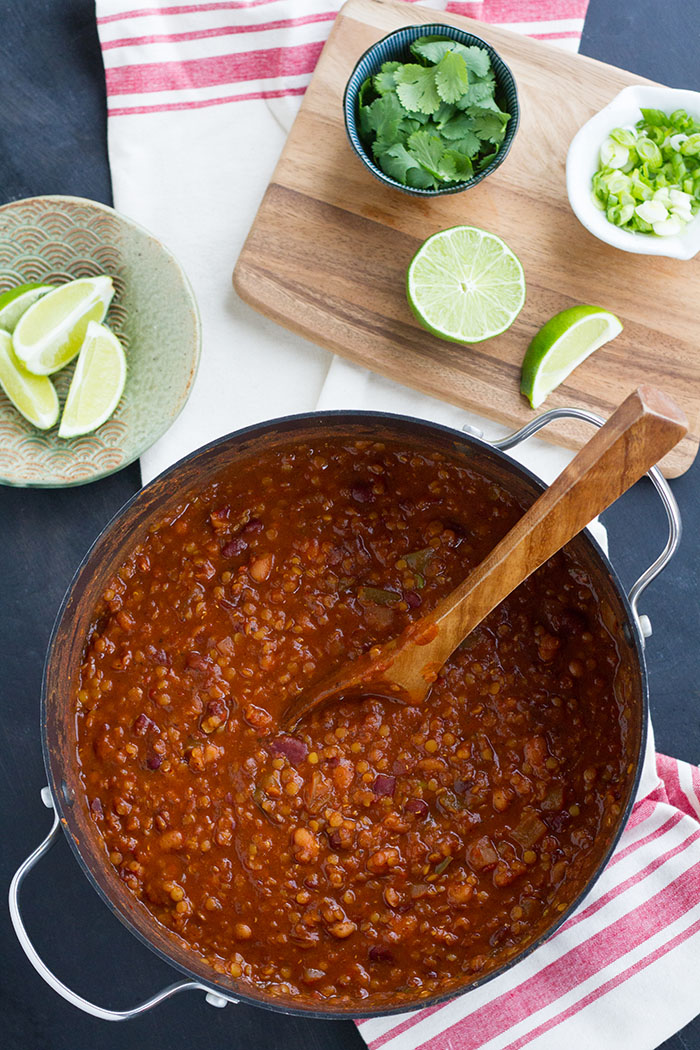 The finished chili is full of flavor and is hearty and filling.  All of my taste testers loved the final version.  This is a new family favorite—totally worth all the work it took to make it perfect!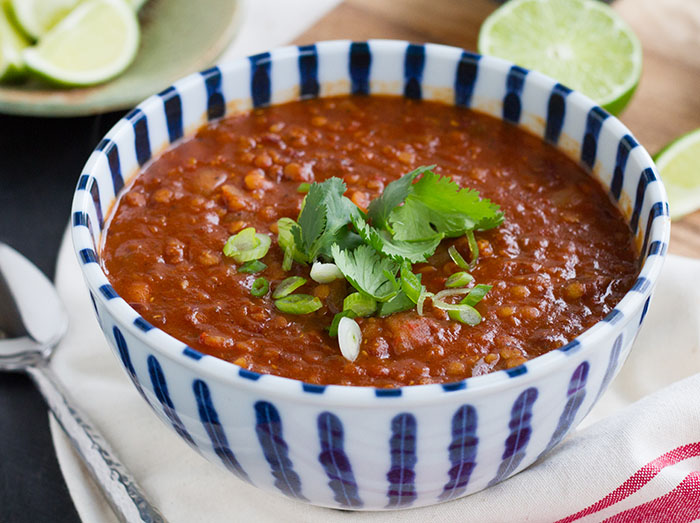 Print This Recipe
Red Lentil Chili
Makes approximately 8 servings
Ingredients:
1 (14.5 ounce) can of fire roasted diced tomatoes
1/4 cup tomato paste
1/4 cup apple cider vinegar
2 tablespoons soy sauce
1 large red bell pepper, cut into large pieces
3 pitted Medjool dates
1 tablespoon ground cumin
1 tablespoon chili powder
1 teaspoon dried basil
1 teaspoon dried oregano
1/2 teaspoon dried parsley
1/2 teaspoon crushed red chili pepper
1/4 teaspoon freshly ground black pepper
2 teaspoons fine grain sea salt
1 tablespoon olive oil
1 medium onion, chopped
1 large green bell pepper, diced
4 cloves garlic, minced
1/2-inch fresh ginger, peeled and minced
8 ounces red lentils
1 (15 ounce) can dark red kidney beans, drained
1 (15 ounce) can pinto beans, drained
3 cups vegetable broth
Directions:
1. Blend the tomatoes, tomato paste, vinegar, soy sauce, red bell pepper, dates, cumin, chili powder, dried basil, dried oregano, dried parsley, crushed red chili pepper, black pepper, and 1 teaspoon of the sea salt in a blender until smooth. Set aside.
2. Heat the olive oil in pot over medium heat. Add the onion, green bell pepper, garlic, and ginger and saute until the vegetables start to soften. Then add the remaining 1 teaspoon of sea salt, and stir to mix.
3. Stir in the tomato mixture, then add the lentils and drained beans and stir until evenly mixed. Stir in the vegetable broth until well incorporated.
4. Bring the chili to a boil, then turn the heat down to low and let simmer, covered, until the lentils begin to fall apart, about 20 minutes. Once the lentils are tender, remove the lid and continue simmering until the liquid reduces and the chili reaches your desired consistency.
————————————————————-
*Disclosure: I am a blogger ambassador for Harmons Grocery and was compensated for my time and for recipe development for this post. All experiences and opinions are my own!