If you want to come away from visiting a new place with a better understanding of the history and culture of that place, take a cooking class.  When doing your research, look at reviews and how long the school has been in business, but also take into consideration what you are looking to get out of the class.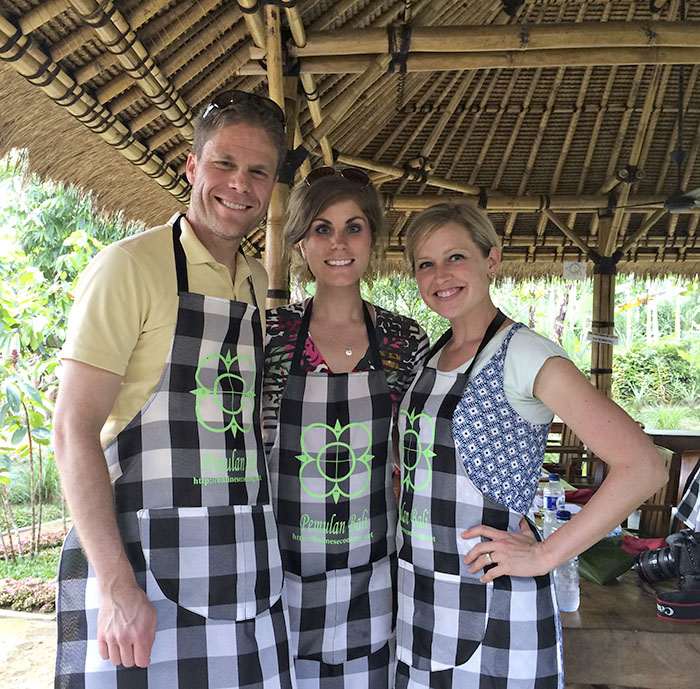 Before we left on our trip to Bali, Indonesia at the beginning of summer, I did some research on cooking class possibilities.  One of the most popular and highly rated classes that I found was taught at a well-known restaurant.  But then I found the Pemulan Bali Balinese Farm Cooking School, and the more I read, the more I knew this was the class I wanted to take.  The school was only a year old, started in 2014 and didn't have as many reviews as the other schools I had been considering, but it has received Slow Food Bali recognition (they actually had a Slow Food Bali event at the farm a few days before our cooking class) and was taught in an open air kitchen pavilion in the middle of an organic farm just outside of a small village, up in the mountains in the Balinese jungle. The price was also right, about $35.00 per person, which was a steal considering that it included transportation from Ubud city center, market tour, farm tour, organic ingredients, a recipe booklet, and an apron.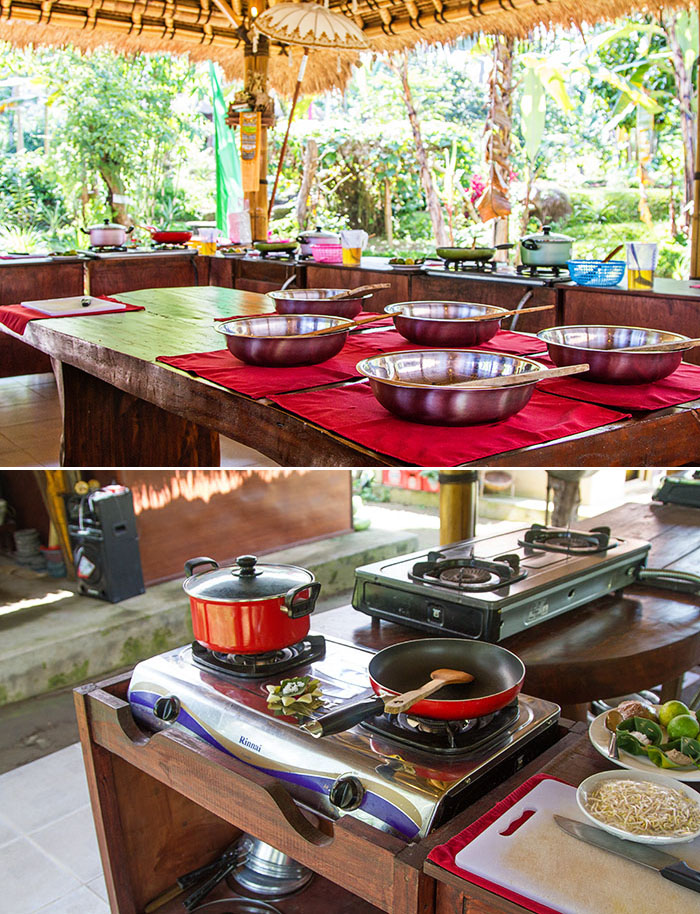 On the day of our tour we were picked up at our hotel at about 6:30am. We drove to the northern outskirts of Ubud, the cultural hub of Bali, and stopped at a small local market where our driver took us around to various vend0rs showing us a variety of ingredients that we would be working with that day, as well as giving us a feel for a traditional Balinese market.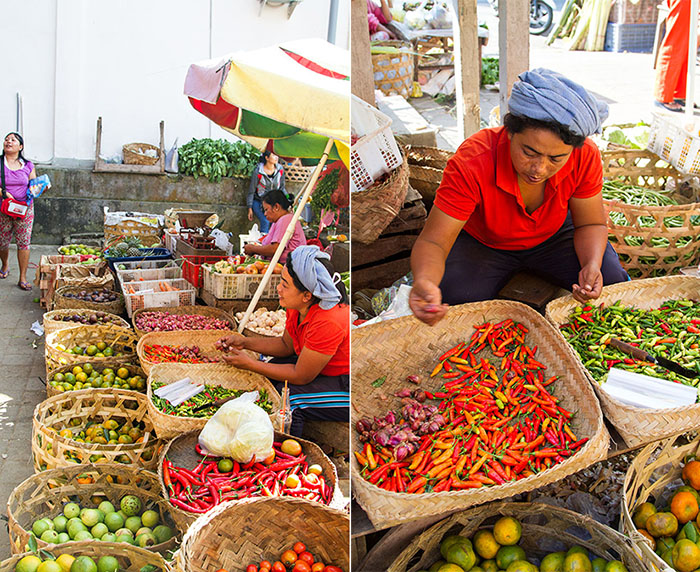 Then we continued on, driving past the Tegallalang rice terraces up into the mountain jungle until we turned off onto a smaller village road, finally arriving at the farm, located in Banjar Patas, Taro, Tegallalang, about 18 kilometers from Ubud city center.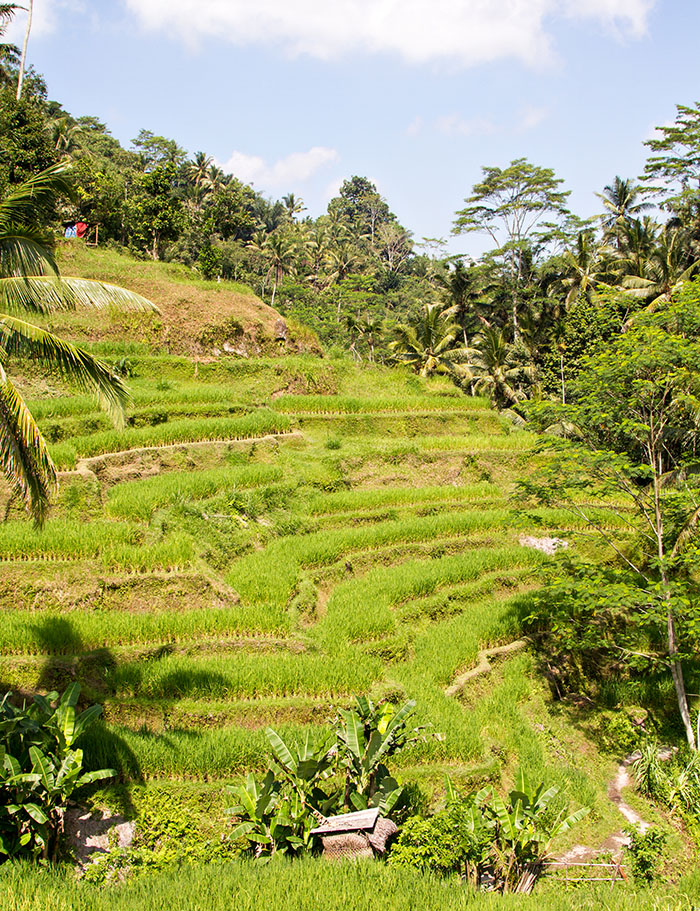 We started the class with a tour of the farm, learning about a variety of classic Balinese ingredients as we went. We broke into teams of 2 and each team was given a basket and knife so that we could gather fresh ingredients that we would be using in our dishes throughout the day.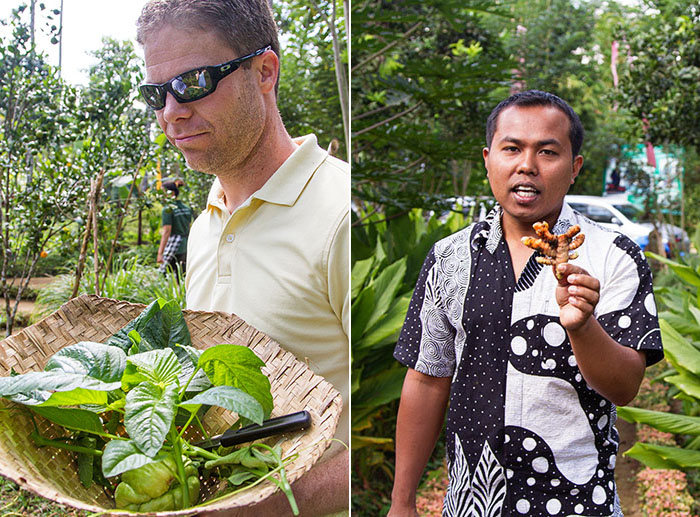 Then we got to work in the kitchen cooking a variety of dishes and tasting the ingredients we had harvested so we would understand what they tasted like.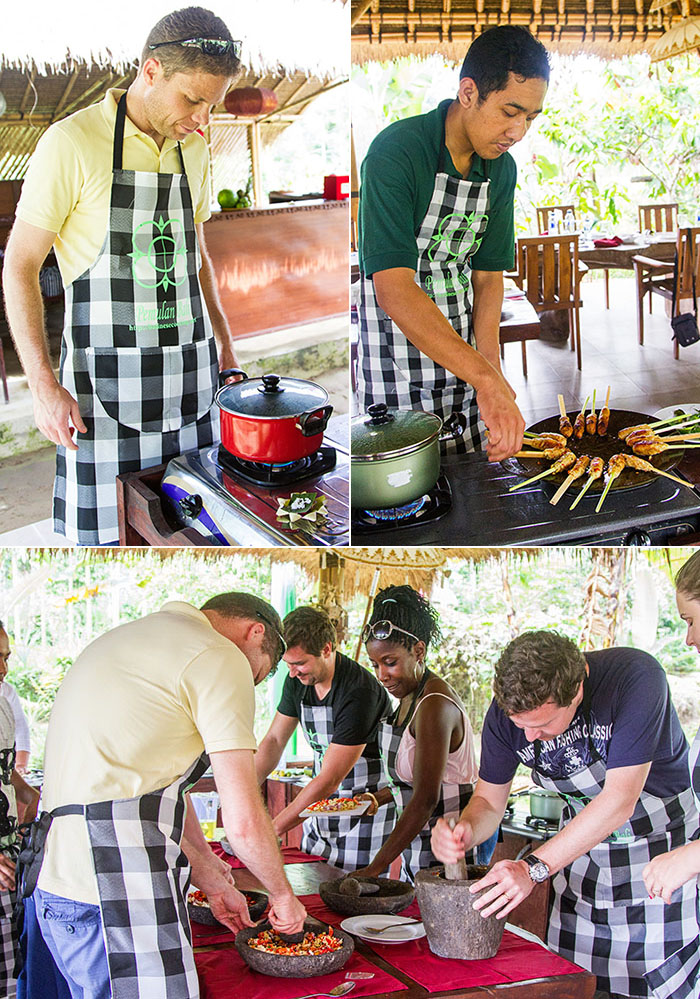 We started by making Sayur Urab, a mixed vegetables dish made with long beans, carrots, green beans, spinach, sprouts, cabbage, fresh grated coconut, kaffir lime leaves and juice tossed with a fried seasoning made of shallots, garlic, long red chilis, shrimp paste, salt, white pepper, and coconut oil.
We made Base Gede, a traditional Balinese spice paste filled with flavor from a variety of ingredients like galangal, ginger, shallots, red chilies, and lemongrass.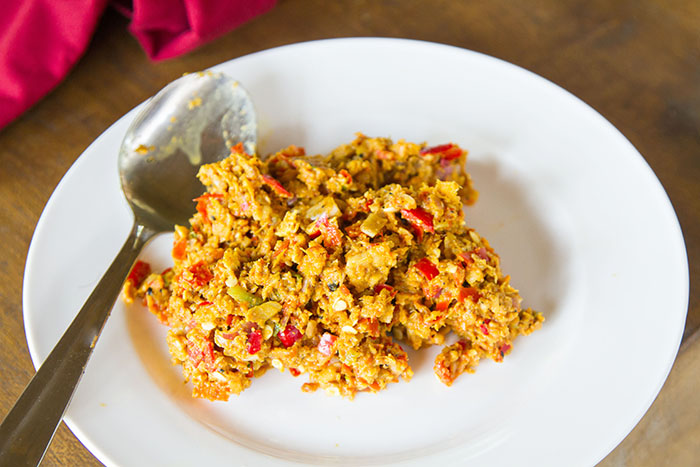 We then used the Base Gede in making Sate Lilit, traditional Balinese kebabs made with ground pork.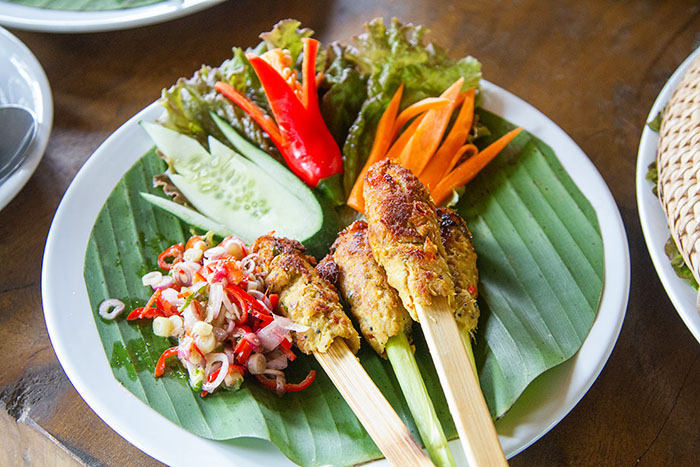 We made Opor Ayam, a Balinese Chicken curry with carrots and potatoes.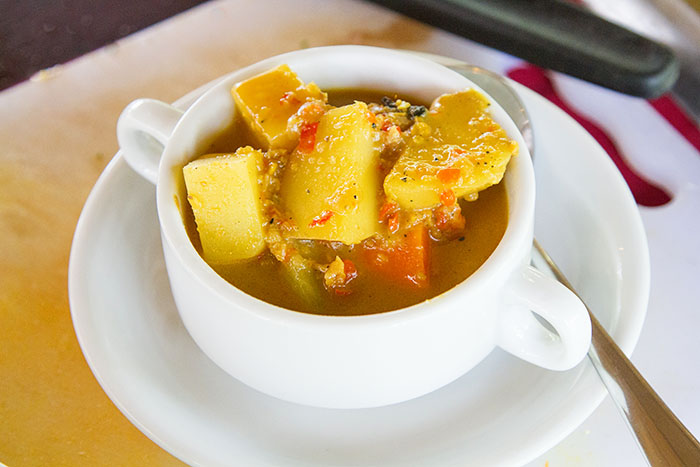 We made Tempe Asam Manis, a sweet and sour tempeh.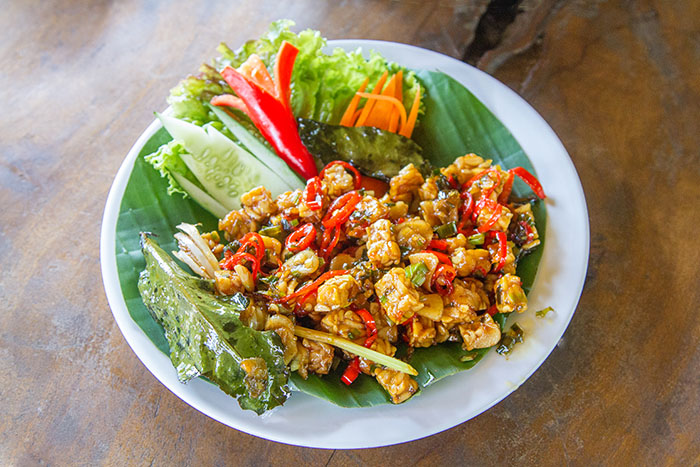 We made Sambal Matah, a spicy relish (I shared a version a few months ago), and a quickly seared tuna.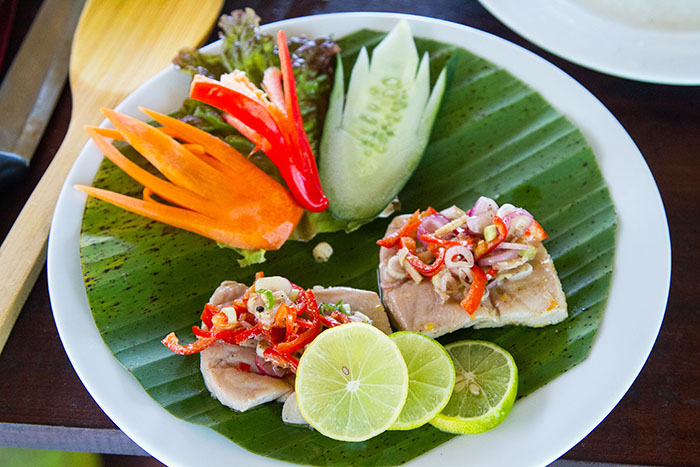 We finished off by making Pisang Goreng, deep fried banana fritters with a melted palm sugar syrup and fresh grated coconut.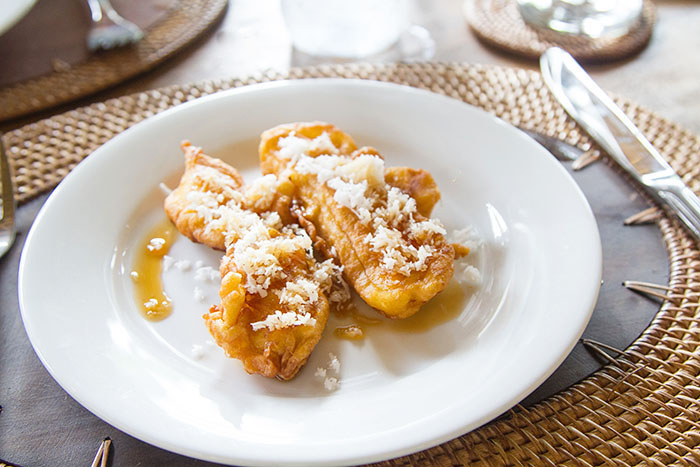 We finished off the day by sitting down to enjoy eating the feast we had prepared.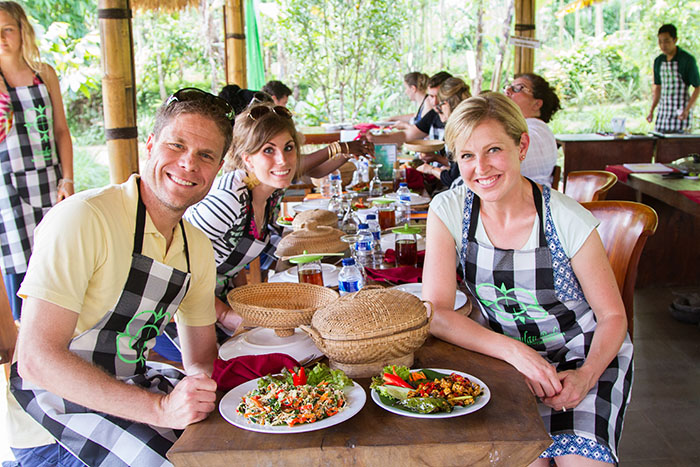 I came away from the class with a happy belly, but also a greater understanding and appreciation of the food and culture of Bali, an understanding of some of the basic Balinese cooking methods, and knowledge of the ingredients that went into the food I encountered throughout the rest of our trip.  Plus, once I returned home, I had the ability to recreate those dishes, which is easily the best souvenir I returned with.
Pemulan Bali Balinese Farm Cooking School