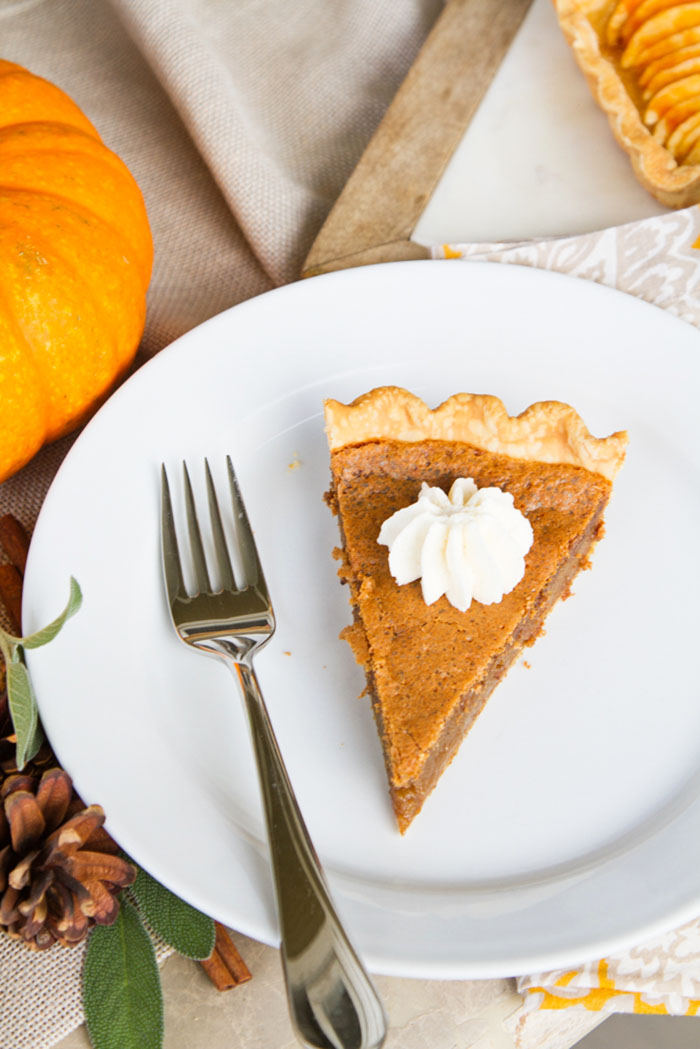 HPS (Holiday Pie Season) is officially underway!  So put away your Halloween decorations and pull out your pie plates people and let's get baking!  Over the next 5 months there is at least one holiday every month that calls for pie, kicking things off with the grand daddy of them all, Thanksgiving.  You know how much I love pie, so you can imagine how excited I am for this time of year!!!  Last Friday I gave you a head start with my Cinnamon & Sugar Pie Crust Cookies to give you practice making pie dough.  Now it's time to take those pie crust skills and put them into an actual pie!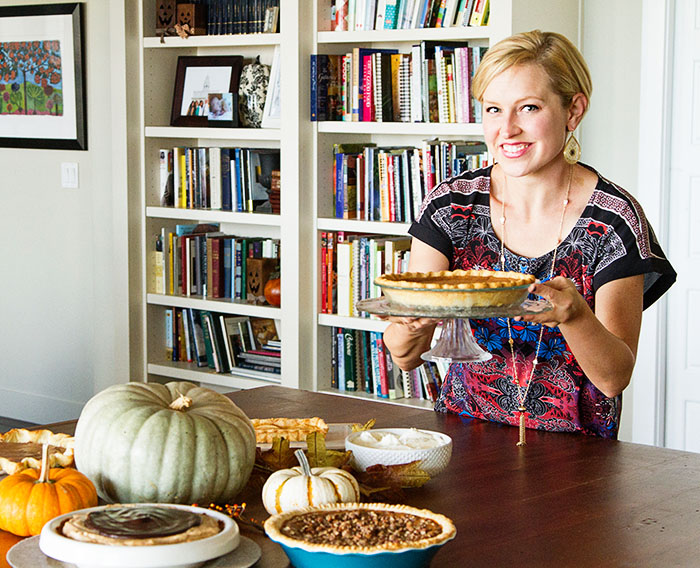 To help you expand your pie repertoire, I recently got together with my Harmons blogger buddies to bring you a whole pie spread.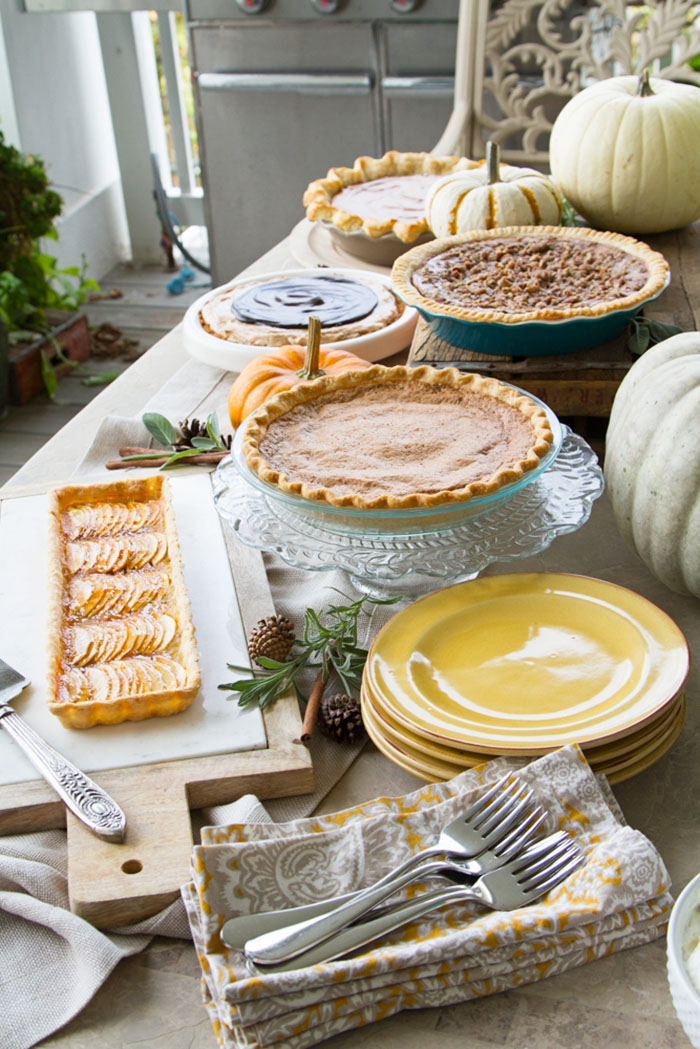 My pie was inspired by one of my all-time favorite holiday treats—gingerbread.  So I dreamed up a gingerbread chess pie (continue reading for the recipe).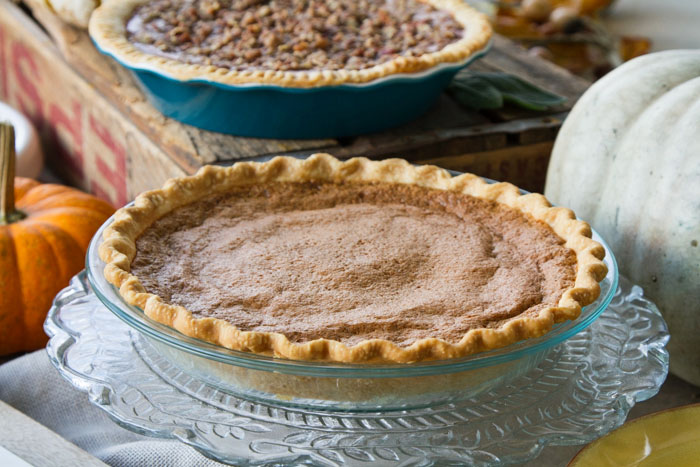 My friend Jesseca from One Sweet Appetite brought a Streusel Pumpkin Pie—a traditional pumpkin pie with a delicious streusel twist.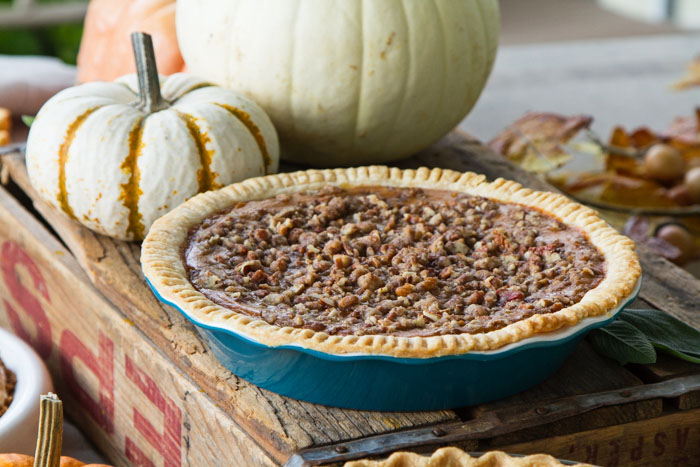 My friend Becky from The Vintage Mixer brought an Almond Butter Pie—a play on a peanut butter pie. It reminded me of a peanut butter buckeye, so pretty!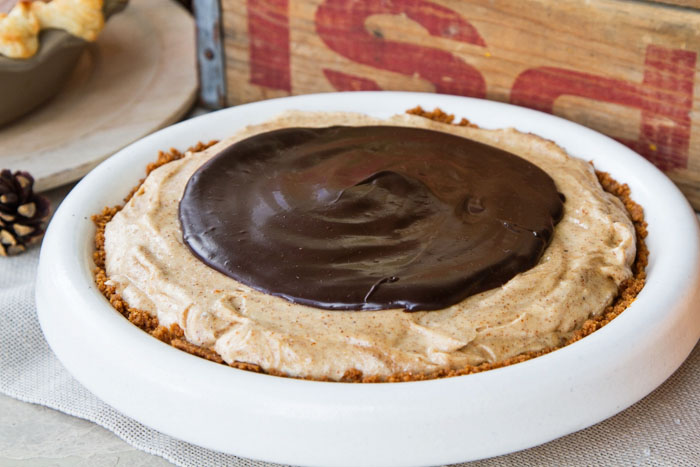 My friend Caroline from Armelle Blog brought a French Apple Tart—a chic alternative to an apple pie.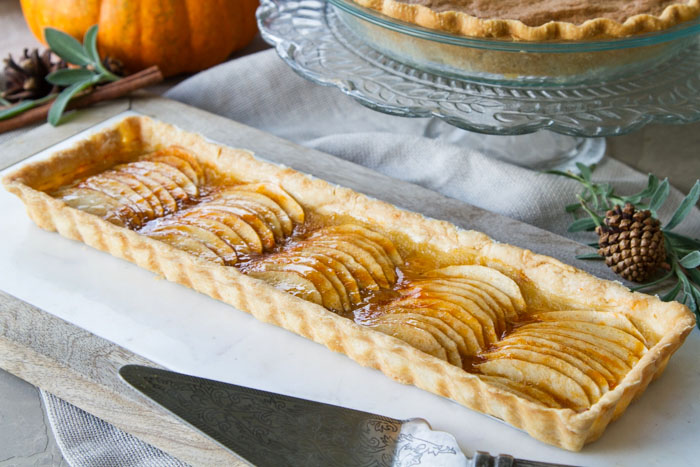 And my friend Si from A Bountiful Kitchen brought a Chocolate Silk Pie—a beautiful version of a classic favorite.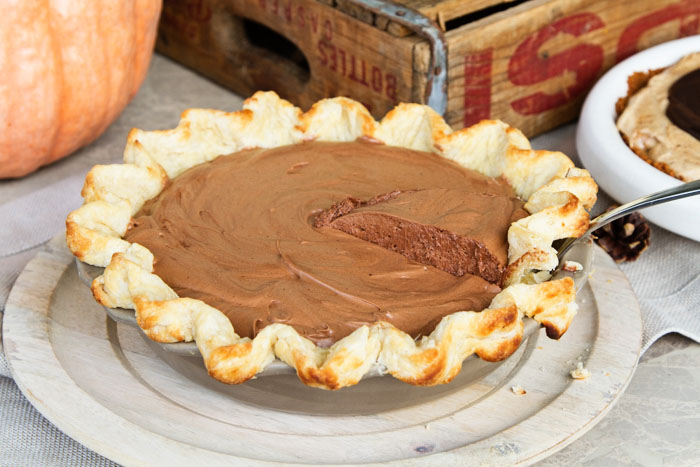 Between these five different pies, chances are that at least one of them will strike your fancy!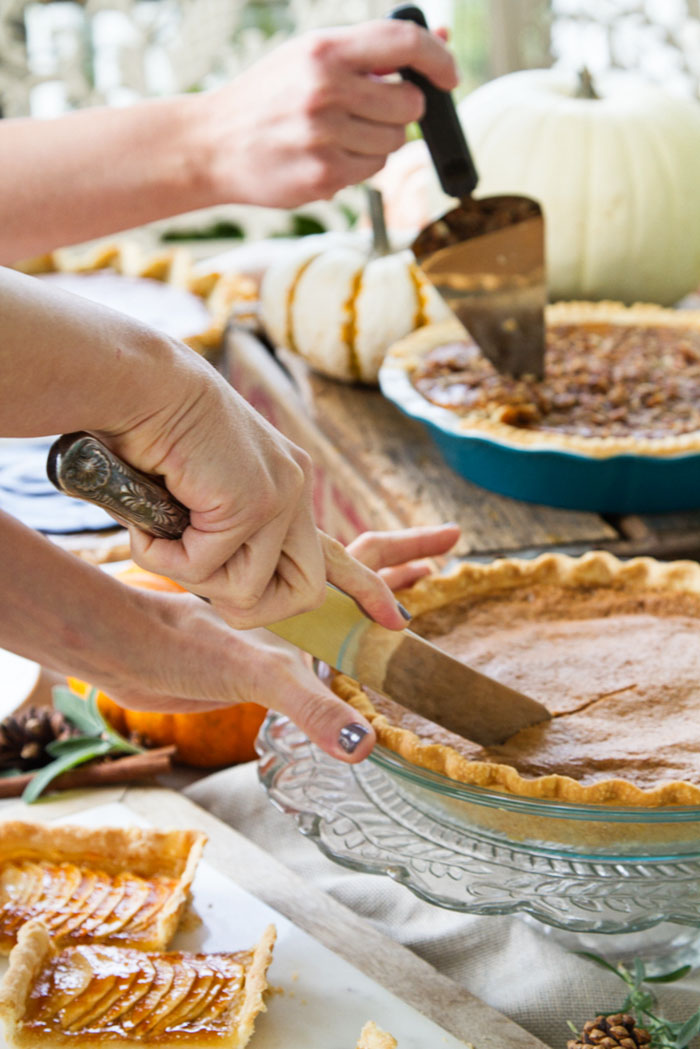 But back to my gingerbread chess pie.  Chess pie is a custard pie with a bit of cornmeal added that gives it a hint of a crackly crust on top.  It's a simple pie that I adore and has many variations, like my chocolate chess pie.  I decided it was high time that there was a gingerbread variation.  But I'm talking real gingerbread people.  Not the sissy spice cookies with only a hint of molasses in them (or sometimes none! The horror!), that get passed off as gingerbread.  I'm talking about the cookies that have that wonderful caramelly molasses flavor supported by a mixture of cinnamon, cloves, nutmeg, and ginger.  If you are more of a spice cookie-type gingerbread person, then this pie may not be for you.  But if you like real gingerbread, then you are going to love this pie!  The filling has the creamy texture of a pumpkin pie with all the flavors of a perfect gingerbread cookie.  A slice of gingerbread chess pie with a flaky, buttery crust, topped with a dollop of lightly sweetened whipped cream . . . that's holiday perfection on a plate my friends!!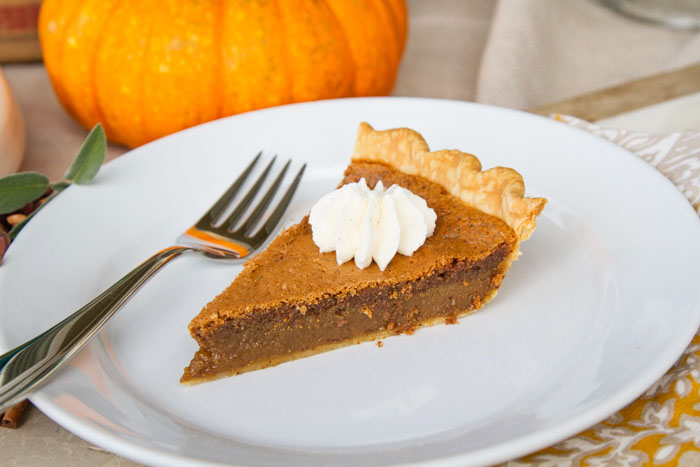 Print This Recipe
Gingerbread Chess Pie
Makes one 9-inch pie
Ingredients:
One 9-inch unbaked pie shell (or make your own using my pie crust recipe)
1/4 cup butter
4 large eggs
1 1/4 cups granulated sugar
1/4 cup unsulfured molasses
1/4 cup heavy cream
1 tablespoon freshly squeezed lemon juice
2 tablespoons yellow cornmeal
1 tablespoon all-purpose flour
1 teaspoon ground cloves
1 teaspoon ground ginger
1/2 teaspoon ground cinnamon
1/2 teaspoon ground nutmeg
1/8 teaspoon fine grain sea salt
Lightly sweetened whipped cream, for serving
Directions:
1. Roll out the pastry dough to 1/8 inch thick (about a 12-inch round) on a lightly floured surface with a floured rolling pin (or between 2 pieces of parchment paper).
2. Fit the dough into a 9-inch (1-quart) glass pie plate and trim the edge. Crimp the edge of the shell as desired, then chill the shell for 30 minutes to 3 hours.
3. Preheat the oven to 350 degrees Fahrenheit.
4. Melt the butter and cool until just warm to the touch.
5. Beat together the eggs and sugar on medium speed in a large bowl with an electric mixer until thick and pale. Then beat in the butter and all the remaining ingredients until combined. Pour the custard into the chilled shell.
6. Put the pie on a rimmed baking sheet in the oven on a center rack and bake until it is just set in the center, about 45-55 minutes. Tent the pie with a sheet of aluminum foil after 25 minutes to prevent excessive browning.
7. Remove the pie from the oven and let it cool completely on a cooling rack. The pie will continue to set as it cools, so do not cut it prematurely. The pie can be kept, uncovered, at cool room temperature for 6 hours. Once it has cooled completely you can cover it with a piece of plastic wrap and store it in the refrigerator. If you are serving it after being refrigerated, let it sit out for about 30 minutes, as it will taste better at room temperature. Serve with lightly sweetened whipped cream.
—————————————————————————
*Disclosure: I am a blogger ambassador for Harmons Grocery and was compensated for my time and for recipe development for this post. All experiences and opinions are my own!