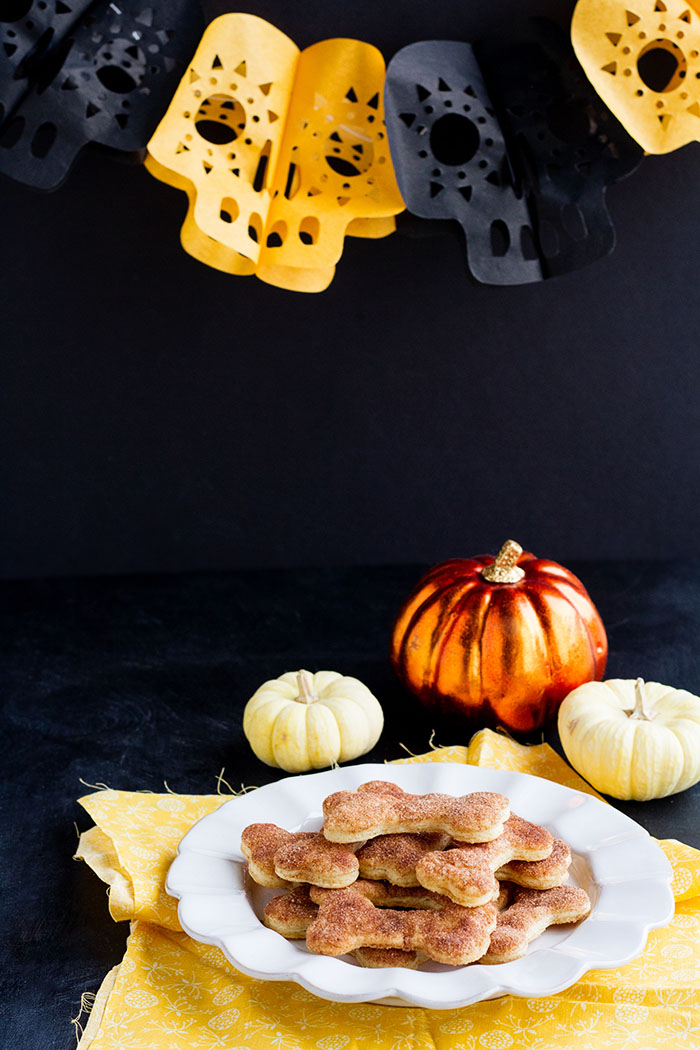 Fee-fi-fo-fum,
I smell the blood of an Englishman,
Be he alive, or be he dead
I'll grind his bones to make my bread.
I have very distinct memories from when I was a little girl of my dad saying this in his deepest gravely giant-like voice as he stopped down the hallway.  We would run from him pretending to be scared as we giggled.  Although Jack and the Beanstalk isn't a Halloween fairy tale, the thought of a giant grinding someone's bones to make his bread is an idea that sits solidly with Halloween themes, don't you think?  This month's Kerrygold blogger challenge was to share a spooky Halloween party treat.  When I was brainstorming what to make I thought of this memory and used it for my inspiration.  So if you are looking for a last minute party treat for tomorrow, I've got you covered!  How about some cinnamon & sugar pie crust cookie bones to appease the giant?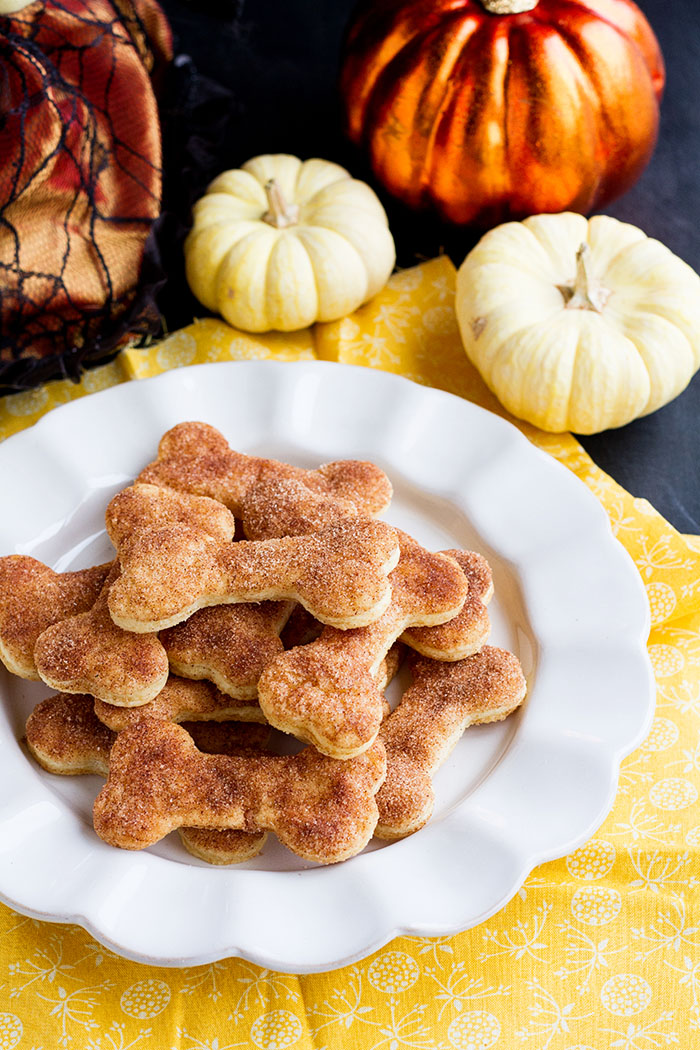 Although this treat isn't an actual pie, it uses pie dough, which I think is a perfect way to celebrate Friday Pie-day, don't you?  Pie dough is what can make or break a pie in my opinion.  Once Halloween is over we will be solidly in holiday pie season, so making these treats is the perfect way to warm up your pie making muscles.  I know that people swear by shortening or a combination of shortening and butter, but I like an all-butter pie dough, and Kerrygold's butter is the best! I think the two tricks to making good pie crust are when cutting your butter into the dough, not to make the pieces too small, so that your finished crust will be nice and flaky, and not to overwork the dough, which overworks the gluten in the dough and will make your crust tough.  Making pie dough only takes a few minutes and can be done ahead of time!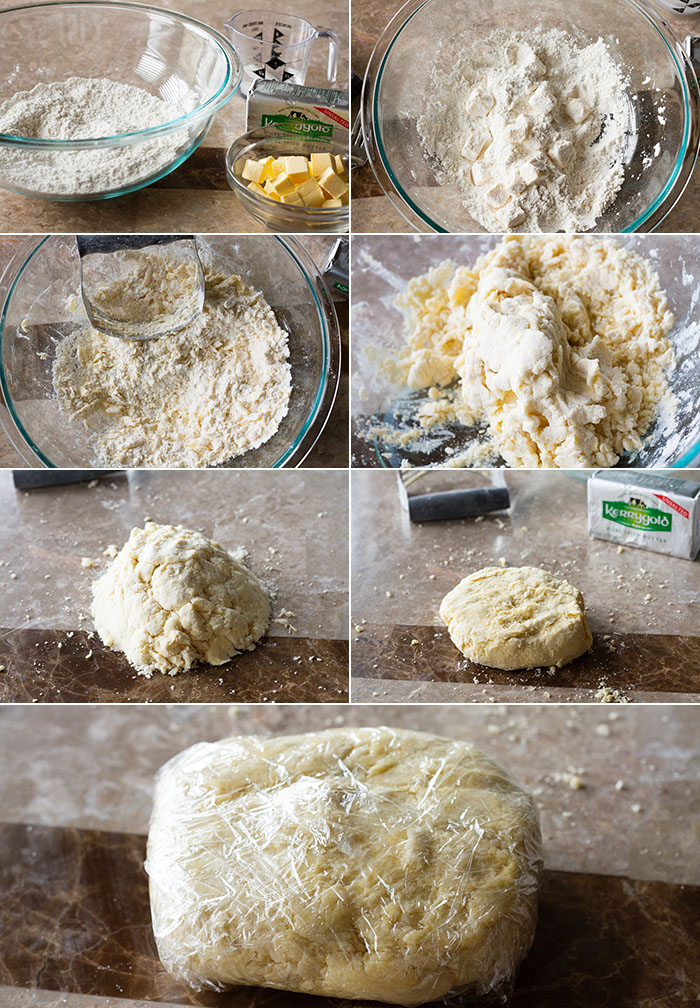 Once the dough is made and has had time to chill and rest in the fridge, then all that's left to do is roll it out, sprinkle it with cinnamon and sugar, cut it into shapes, and bake the shapes.  Easy as pie, right?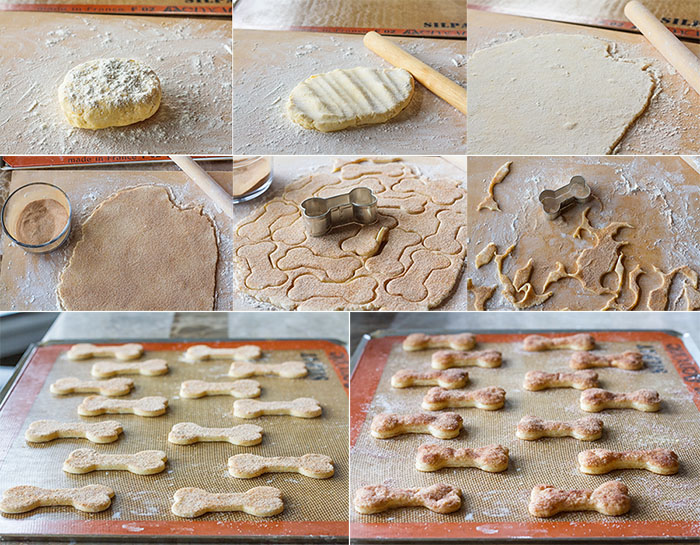 These flaky, buttery cookies are a nice change of speed from all the candy and sugar cookies.  They would be great at a kid's party, but just as good at an adult party!  Is everyone read for Halloween?  I know we are.  The Fujilings wore their costumes to school today (Pikachu and Charzard…both are Pokemon characters) and will be wearing them all day tomorrow, since we will be kicking off our Halloween day with a Mr. Fuji's family's annual Halloween party!  Excitement levels are high around here, let me tell you!  Happy Halloween everyone!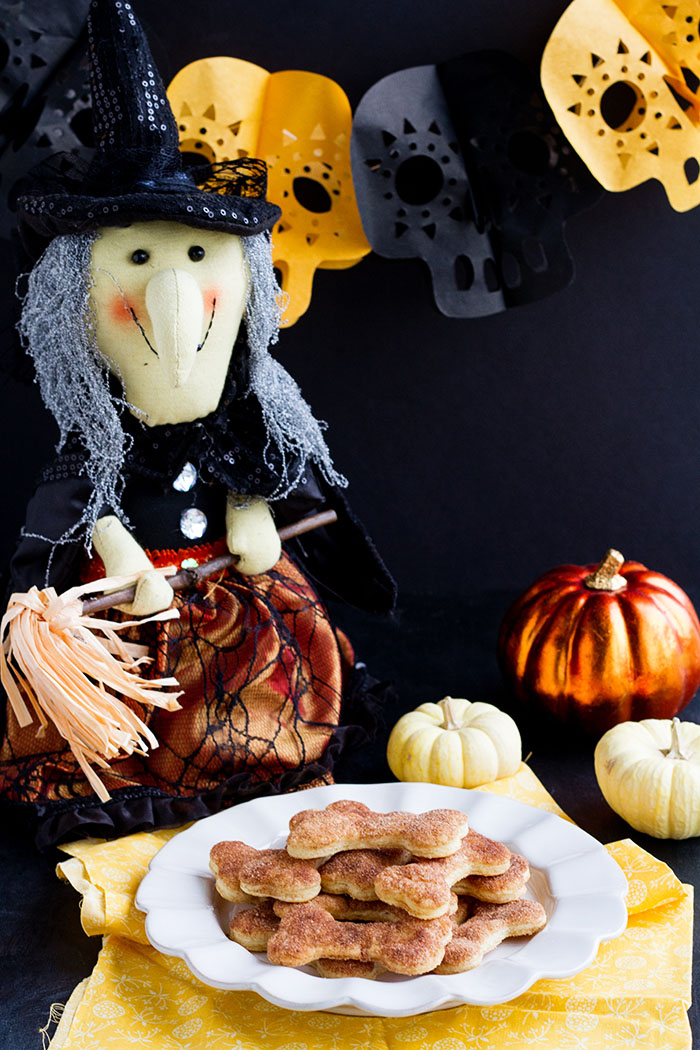 Print This Recipe
Cinnamon & Sugar Pie Crust Cookies
Yield depends on how thin you roll the dough and the size of your cookie cutter
For the cookies:
1 1/4 cups all-purpose flour, plus extra for dusting
1/2 cup cold unsalted Kerrygold butter
2 tablespoons sugar
1/2 teaspoon salt
1/4 cup ice cold water
For the topping:
1/4 cup granulated sugar
2 teaspoons ground cinnamon
Directions:
1. Whisk the flour, sugar, and salt together in a large mixing bowl.
2. Cut the cold butter into pieces and add the pieces to the flour mixture. Toss the butter in the mixture until it is completely covered in flour.
3. Using a pie cutter, cut the butter into the flour mixture until you have have a combination of pea size chunks and smaller chunks.
4. Add the cold water to the mixing bowl a little at a time. Use a fork to mix it together gently until the dough comes together when pinched.
5. Take the dough from the bowl and gently press it together and form it into a rough flattened disk. (Keeping the dough rough will ensure a nice flaky pastry.) Lightly dust the disk with flour, then wrap it in plastic wrap and put it in the refrigerator. Let the dough rest and chill for at least 30 minutes, or overnight.
6. When you are ready to bake your cookies, preheat your oven to 350 degrees Fahrenheit and line a baking sheet with parchment paper or a silicone baking mat.
7. Dust a clean workspace with flour, then take out your chilled dough, unwrap it, and lightly flour the top of the dough. Beat the dough lightly with a rolling pin to soften it slightly, then re-flour your workspace and the dough.
8. Roll the dough out until it is about 1/4-inch thick, turning it and flipping it as you go so that it is even, adding additional flour as necessary to prevent sticking.
9. Whisk the cinnamon and sugar together in a small bowl, then sprinkle it with cinnamon and sugar. Using a cookie cutter, cut the dough into shapes and place them on the prepared baking sheet.
10. Bake the cookies in the preheated oven for 12 to 15 minutes, or until golden brown. Remove from the oven and let cool slightly before serving.
——————————————————————————
*Disclosure: I was provided with Kerrygold butter at no cost to myself as part of Kerrygold's blogger program.  I did not receive any other compensation for this post.  All opinions and experiences are my own!