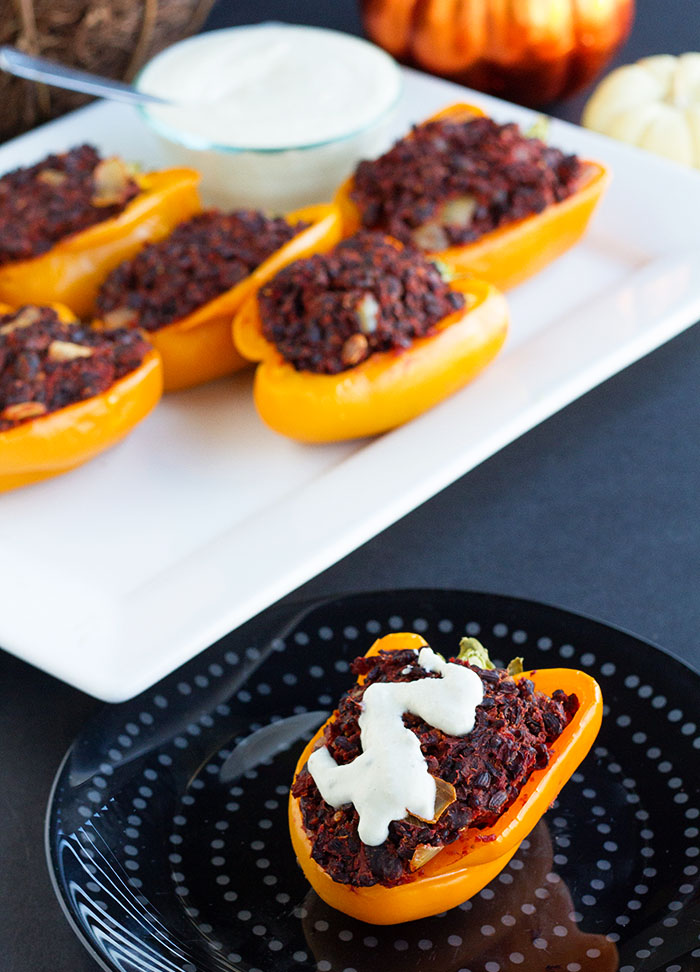 I have always loved my mom's recipe for stuffed bell peppers, but when I was little I disliked the actual bell pepper.  I distinctly remember eagerly eating the delicious filling and trying to avoid eating that juicy green shell.  Sometimes I wish I could travel back in time and tell my younger self how good that green bell pepper really was!  Today's creation was inspired by those childhood memories, but with some twists.  I traded the green bell peppers for orange.  Orange bell peppers are sweeter and more festive during fall, don't you think?  Hey, did you know that bell peppers are actually a fruit?  They're also the only member of the Capsicum family that does not produce capsaicin, the chemical in peppers that makes your mouth burn!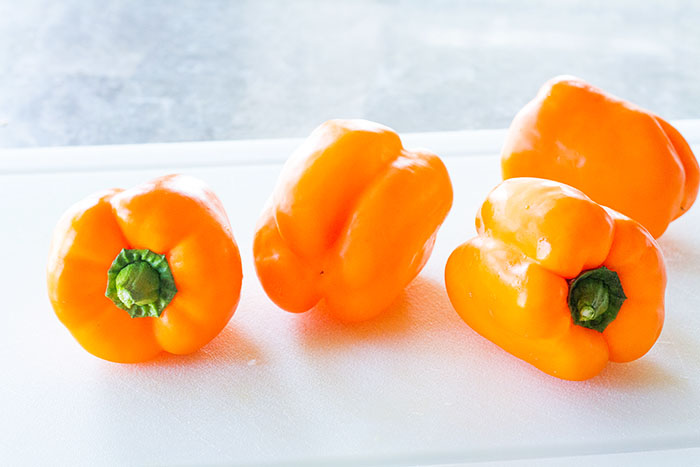 I filled my peppers with a black rice mixture made up of onion, garlic, black beans, tomato paste and puree, and some spices, including za'atar, which is a Middle Eastern spice blend that I'm slightly obsessed with.  If you've never used it, go out and get some and then start using it in recipes in place of Italian spices.  I dare you.  It's so good!  For the black rice I used my favorite, which is Lundberg Black Japonica Rice.  Black rice is another item which you should have on hand.  It is a bit chewy and nutty and crammed with antioxidants, vitamins, and minerals.  Plus, it's just plain delicious.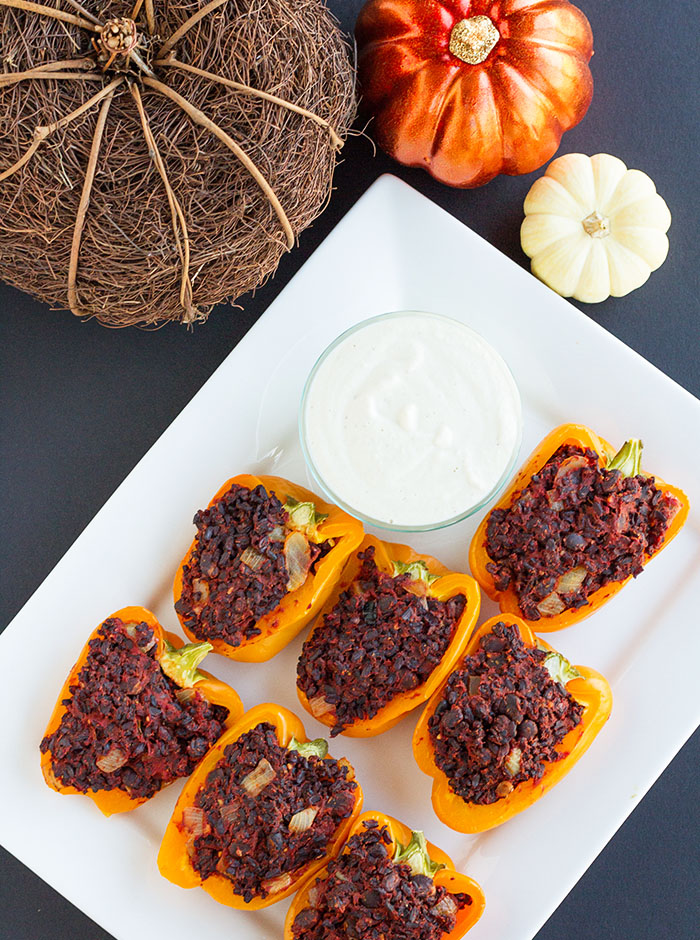 I topped my baked stuffed peppers with a cashew cream sauce, which I made by processing soaked raw cashews together with olive oil, lemon juice, apple cider vinegar, garlic, and salt.  It might sound strange, but it will surprise you.  It's creamy and tangy and you would swear when you taste it that it's got dairy in it.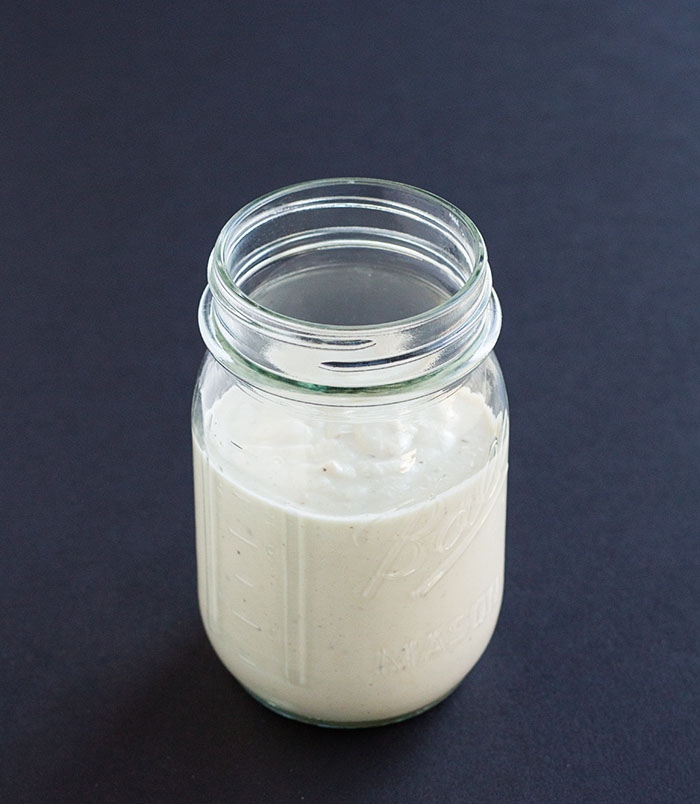 These stuffed peppers make a perfect main dish for a fall meal, and they also make fantastic leftovers.  I made a double batch and Mr. Fuji and I ate them for several days straight as lunch.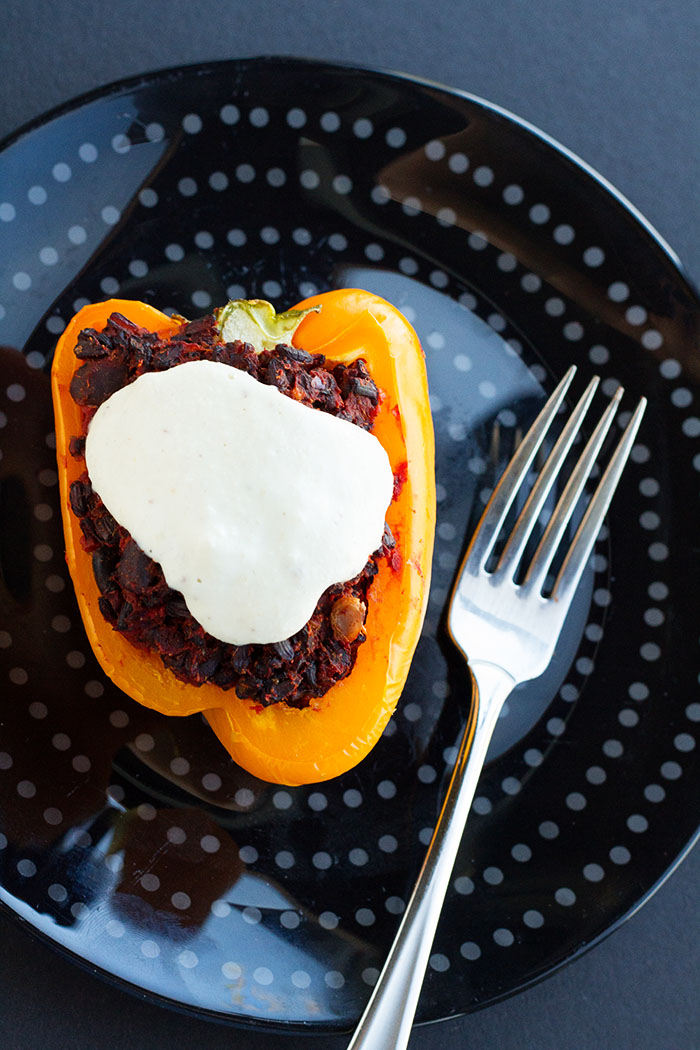 Print This Recipe
Black Rice Stuffed Bell Peppers with Cashew Cream Sauce
Makes 10 servings
For the stuffed bell peppers:
1 tablespoon olive oil
1 medium onion, chopped
2 cloves garlic, minced
1 tablespoon za'atar spice mix
1/4 teaspoon crushed red pepper
1/4 teaspoon fine grain sea salt
1/4 teaspoon freshly ground black pepper
1 15-ounce can black beans, rinsed and drained
1 cup (8 ounces) tomato puree
1 cup (8 ounces) tomato paste
3 cups cooked Lundberg Black Japonica rice (1 cup rice cooked with 2 cups water)
5 orange sweet bell peppers (or whichever color you prefer), cut in half lengthwise, seeds and membranes removed and discarded
1/2 cup water
For the cashew cream sauce:
1 cup raw cashews
1 cup boiling water
1/2 cup cold water
3 tablespoons freshly squeezed lemon juice
1 tablespoon extra-virgin olive oil
1 tablespoon raw apple cider vinegar
1 small clove garlic, roughly chopped
1/4–1 teaspoon salt
Directions:
1. Make the stuffed bell peppers: Preheat the oven to 400 degrees Fahrenheit.
2. Heat the olive oil over medium heat in a large saute pan. Add the onion, stirring occasionally, and cook until tender, about 5 minutes. Add the garlic, za'atar, crushed red pepper, salt, and black pepper. Cook and stir for 1 minute and then stir in the beans, tomato puree, and tomato paste. Heat through and then stir in the cooked black Japonica rice.
3. Fill the pepper halves with the rice mixture, then place the stuffed peppers in a large rectangular banking dish. Pour the water into the dish around the peppers, being careful not to get it in the peppers. Cover the dish with a sheet of aluminum foil.
4. Bake the peppers in the preheated oven for about 30 minutes or until the peppers are crisp-tender.
5. Make the cashew cream: When you put the peppers in the oven, place the cashews in a small bowl and cover them with the boiling water. Let them soak for 30 minutes.
6. Drain the cashews, then place them in a high-powered blender or food processor with the 1/2 cup of cold water and the remaining ingredients, starting with just 1/4 teaspoon of the salt. Blend until very smooth, then taste and add additional salt as desired.
7. Serve the stuffed peppers with the cashew cream.