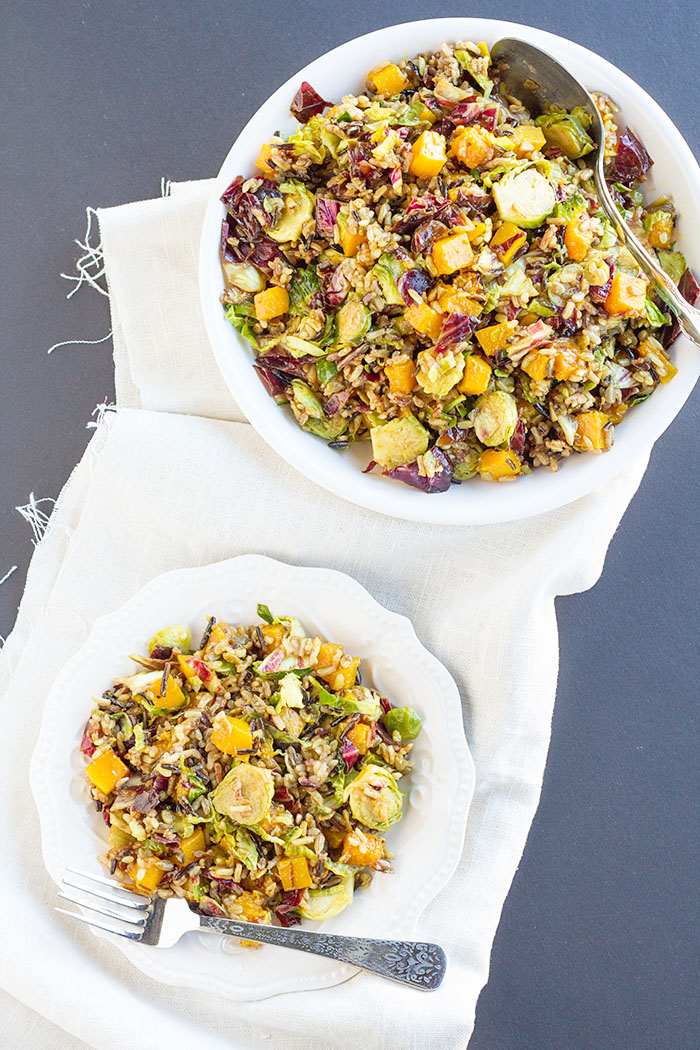 Have you ever made something that just really hit the spot to the extent that it was what you wanted to eat everyday until it was gone?  That was me a few weeks ago.  Mr. Fuji went out of town for work and I was working on some new rice recipes, inspired by my recent trip to Lundberg Family Farms.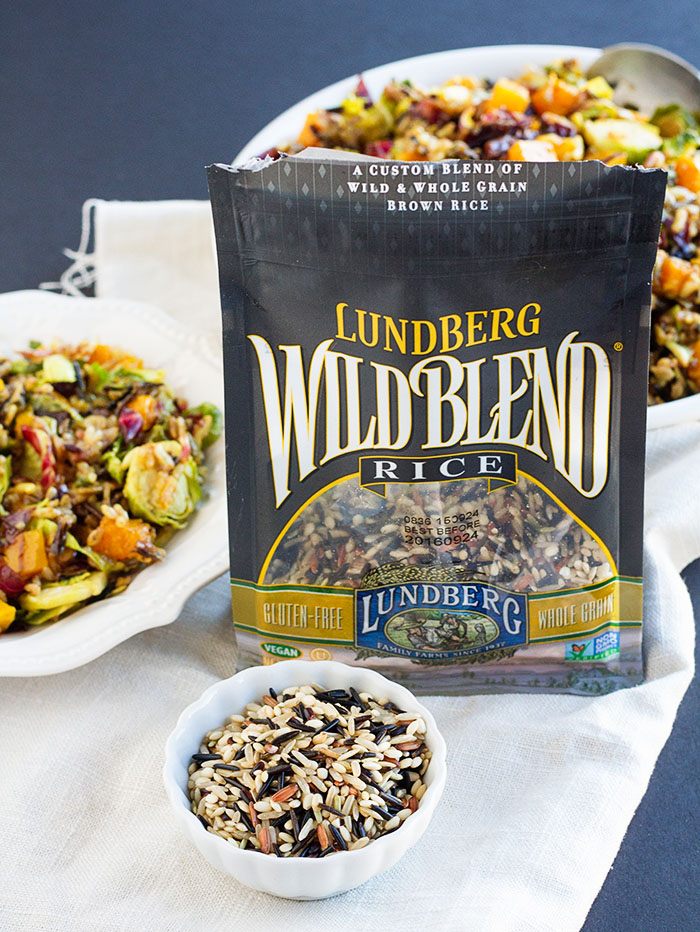 I whipped up a big batch of rice salad using Lundberg Wild Blend Rice, which is a mix of their Long Grain Brown Rice, Sweet Brown Rice, Wild Rice, Whole Grain Wehani Rice, and Whole Grain Black Japonica Rice.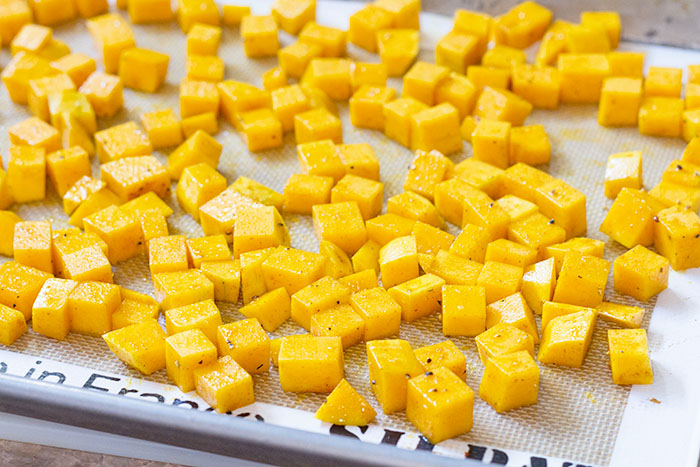 I added a bunch of roasted butternut squash, some thinly sliced sauteed Brussels sprouts, some chopped radicchio, and toasted sunflower seeds, then tossed it all in an orange balsamic vinaigrette.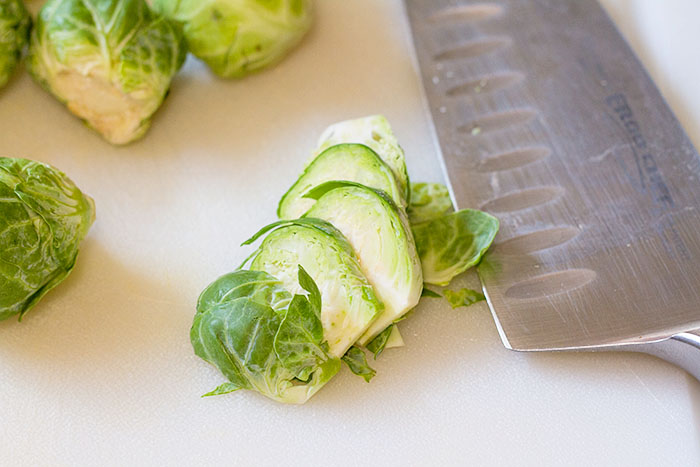 I kid you not when I say that I literally ate it for every meal.  And then? I whipped up a second batch.  This ended up saving me because the day after I made the second batch I went on Bug's field trip to the zoo as a chaperone.  We were supposed to pack our kids disposable lunches, which I totally had covered.  But 5 minutes before we were supposed to leave to head to the school, I realized that I had completely neglected to think about the fact that I was going to need a lunch too!  But then I remembered the salad and packed a bunch of it into a container, along with an apple and a bottle of coconut water.  Best zoo lunch ever.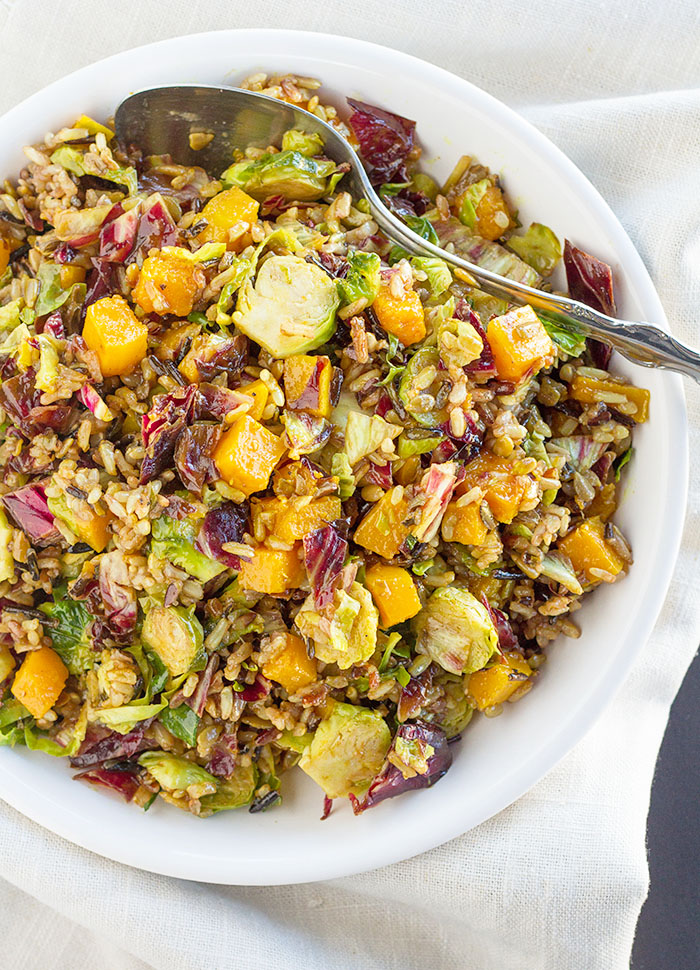 Part of what makes this salad so good is that is full of different textures, colors, and flavors that all complement and balance each other out.  The rice adds a wonderful chewy and nuttiness, while the Brussels sprouts and radicchio add bitterness and crunch.  The butternut squash adds wonderful creaminess and sweatness and the vinaigrette ties it all together with bright acidity.  Plus, it's pretty darn good for you, with things like beta carotene, vitamins A and C, and fiber from the butternut squash, anti-inflammatory power from the turmeric, and the list goes on!  This salad makes a wonderful side dish to a hearty fall or winter meal, but is also just as good on its own!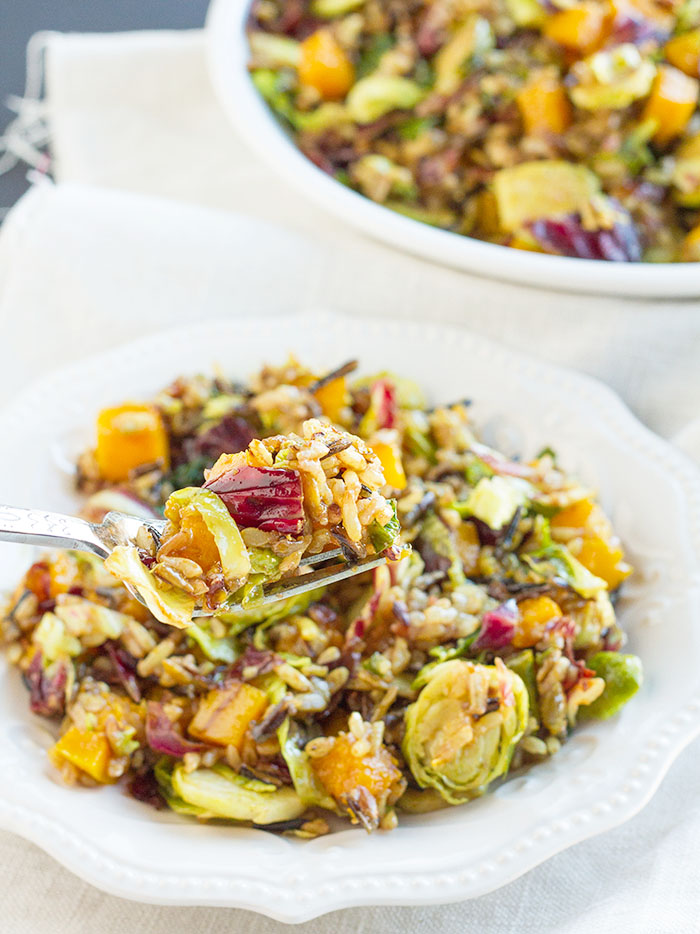 Print This Recipe
Wild Rice Salad with Orange Balsamic Vinaigrette
Adapted from Clean Eating, October 2015 Issue, Mega Glow Grain Salad recipe, p. 72
Makes 6 servings
Ingredients:
1 cup Lundberg Farms Wild Blend Rice, cooked according to package directions
4 cups butternut squash, cut into 1/2-inch cubes
6 tablespoons extra-virgin olive oil, divided
1 teaspoon ground black pepper, divided
1 teaspoon fine grain sea salt, divided
1/2 teaspoon ground turmeric (optional)
12 ounces Brussels sprouts, trimmed and sliced thin
2 cloves garlic, finely chopped
2 tablespoons balsamic vinegar
3 tablespoons fresh orange juice
1 teaspoon pure maple syrup
1 small head radicchio, trimmed and roughly chopped
1/3 cup toasted sunflower seeds (or pistachios)
Directions:
1. Arrange a rack in the lower third of your oven and preheat the oven to 325 degrees Fahrenheit.
2. Line a large rimmed baking sheet with parchment paper. In a large mixing bowl mix the butternut squash with 1 tablespoon of the olive oil, 1/2 teaspoon of the black pepper, 1/4 teaspoon of the salt and the turmeric. Toss everything together well to coat then spread it out on the prepared baking sheet and roast until the squash is tender, stirring 3 or 4 times during cooking, about 25 to 35 minutes.
3. Heat 1 tablespoon of the olive oil in a large skillet over medium heat. Add the Brussels sprouts and 1/4 teaspoon of the pepper and 1/4 teaspoon of the salt, and cook, stirring occasionally, until the sprouts are crisp-tender, about 6 to 8 minutes. During the last minute of cooking, add the garlic and mix it into the sprouts until just fragrant. Remove the skillet from the heat.
4. Whisk the remaining 1/4 cup oil, vinegar, orange juice, maple syrup, remaining 1/4 teaspoon of pepper and 1/2 teaspoon of salt, until combined.
5. Put the radicchio, wild rice, butternut squash, Brussels sprouts, vinaigrette, and sunflower seeds in a large bowl and toss well to combine.
*Recipe Notes: You could use any rice that you prefer, but I suggest something with good texture so that it adds to the texture of the salad.  You could also add other things to this salad, like chopped avocado and pomegranate arils, which would be really delicious!  Basically, use what you love!  Radicchio is on the bitter side, so if you aren't a fan you can substitute some chopped red cabbage!