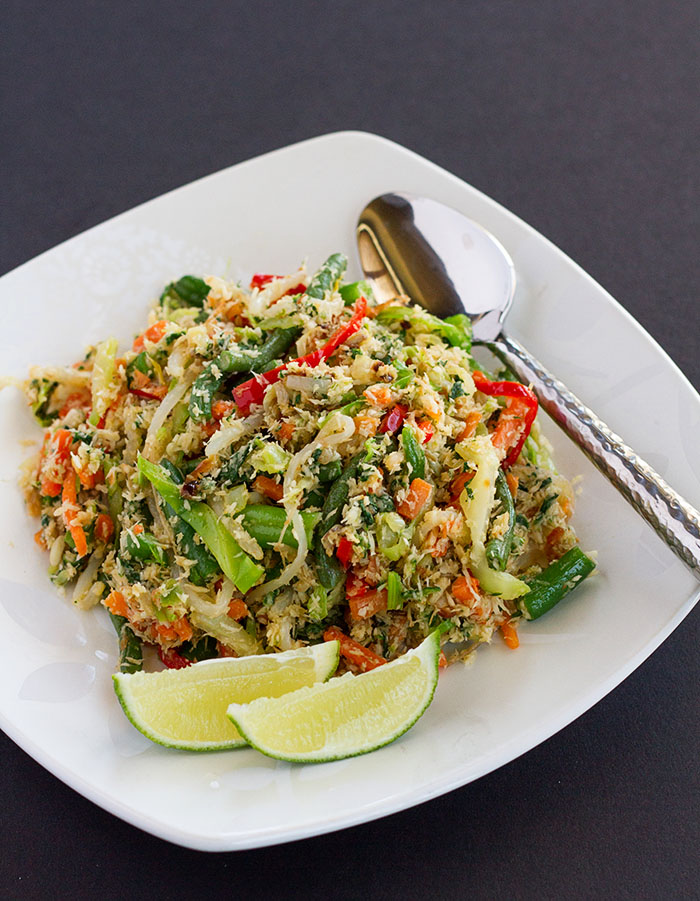 Mixed vegetables…sounds kind of boring, doesn't it?  Sayur Urab, a classic Balinese dish loosely translates to mean mixed vegetables, and it is far from boring! This is one of the dishes that we learned to prepare in our cooking class in Bali.  While everything that we learned to cook in our class was delicious, this one was surprising.  This is one of those dishes that I could make a batch of and eat it all myself.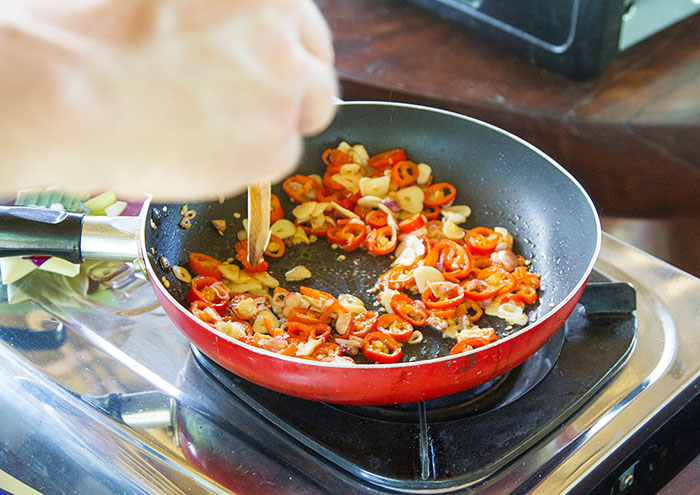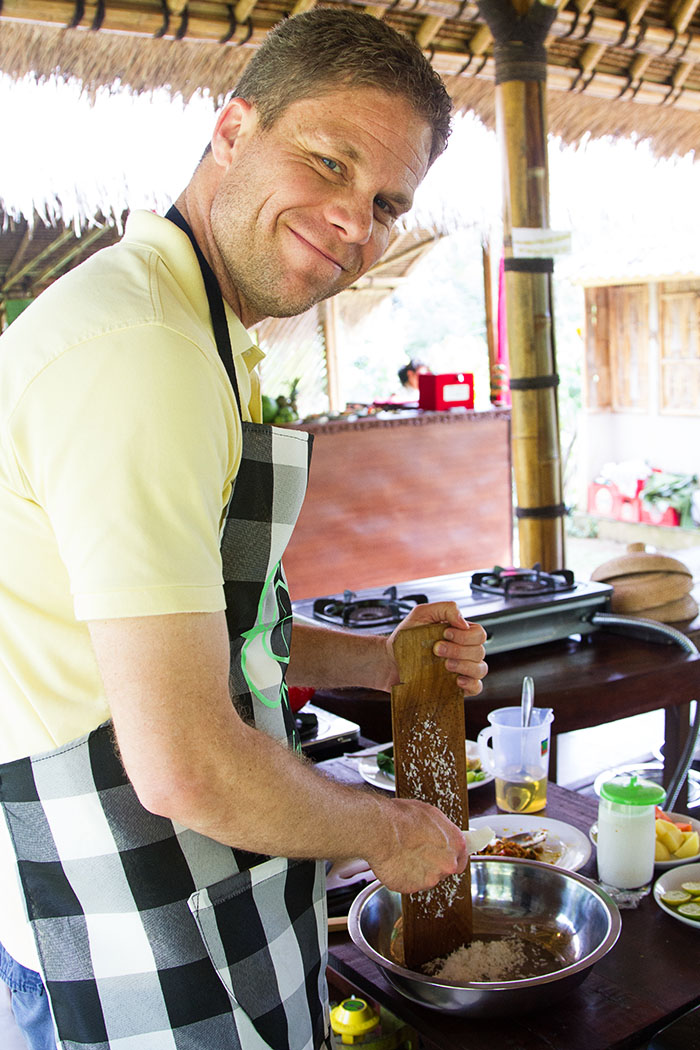 Traditional Balinese meals almost always consist of rice accompanied by vegetables, meat, and seafood.  Sayur Urab is a classic example of a vegetable side dish or salad (it can be considered either).  It is a dish made by tossing finely chopped, blanched vegetables with grated coconut and a flavorful sambal (sauce).  It can be served hot, but it's actually more common to serve it at room temperature.  It's often the first thing prepared, as was the case in our cooking class, because you can do it in advance.  The finished dish is full of texture and flavors and is highly addictive. (You have been warned.)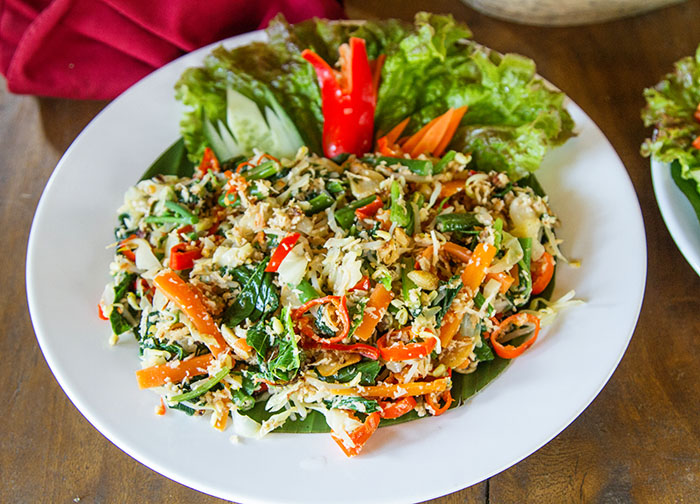 Print This Recipe
Balinese Sayur Urab (Mixed Vegetables)
Makes about 6 servings
Ingredients:
8 ounces long beans, cut into 2-inch long pieces
8 ounces carrots, cut into julienne (thin matchsticks)
8 ounces green beans, cut into 2-inch long pieces
8 ounces spinach, rough chopped
8 ounces bean sprouts
8 ounces green cabbage, cut into thin slices
1/4 cup coconut oil
2 large shallots, very thinly sliced
5 cloves garlic, very thinly sliced
1/4 red bell pepper, membranes and seeds removed, very thinly sliced (or you could use a spicier pepper if you want some heat!)
1/4 teaspoon shrimp paste (or 1 tablespoon fish sauce)
1/2 teaspoon fine grain sea salt
1/2 teaspoon ground white pepper
2 cups fresh grated coconut (or unsweetened shredded coconut)
2 kaffir lime leaves, finely chopped
Juice of 1/4 kaffir lime (or 1 1/2 teaspoons finely grated fresh lime zest)
Directions:
1. Bring a large pot of water to a boil over high heat. Add the long beans, carrots, and green beans to the pot and let them cook for 2 minutes. Then add the spinach, sprouts, and cabbage to the pot and let the vegetables continue to cook for another 3 minutes (5 minutes total cooking time). Remove the pot from the heat and drain the vegetables in a colander and set them aside.
2. Heat the coconut oil in a large skillet over medium heat. Add the shallots to the oil and cook until they are translucent, then add the garlic and cook for one minute. After one minute add the slices of red bell pepper and cook until everything is well cooked, almost crispy, but not burned. At this point stir in the shrimp paste and stir until smooth (if using fish sauce, be careful because it will splatter), then add the salt and white pepper, stir, then remove the skillet from the heat.
3. Put the shallot mixture from the skillet into a large mixing bowl and stir in the grated coconut. When it is all mixed together well, add the kaffir lime leaves and lime juice (or zest) and mix again until it starts to smell really good. Then add the mixed vegetables that have been draining in the colander. When everything is well mixed, use your hands to squeeze the mixture so that the juices start to run out. At this point the dish is ready to be served. It can sit out for several hours and be served at room temperature as well.