Happy Friday Pie-Day!  Thanksgiving is only 6 days away—are you as excited about it as I am?  This year we are heading to my mother-in-law's house for Thanksgiving dinner and one of the things we are in charge of is the pies.  I think I've changed my pie plan about 4 times already.  I just can't decide!  Kerrygold teamed up with King Arthur Flour this month to bring us our November blogger challenge, which was to create our best original pie recipe, either sweet or savory.  I decide to play around with one of my chess pie recipes (you know how I love a good chess pie!), adding some of my favorite holiday flavors, like almond, cinnamon, and nutmeg, and this Almond Crackle Custard Pie was the result.  This pie has a traditional pastry crust filled with an almond custard that has a crackly top.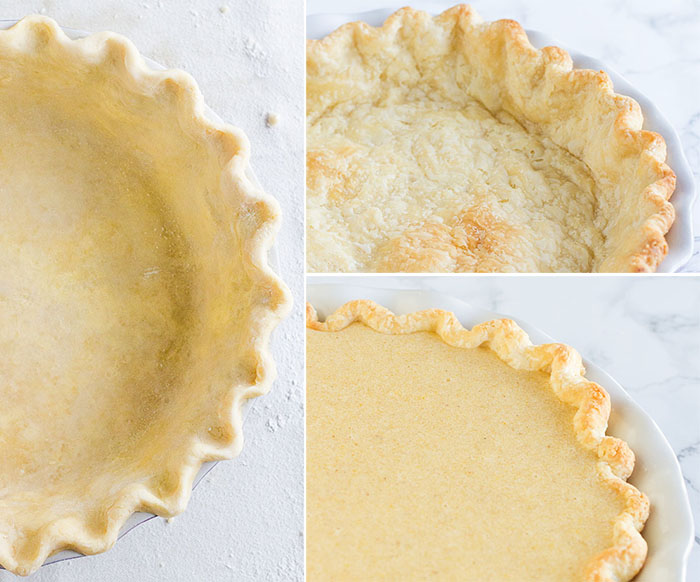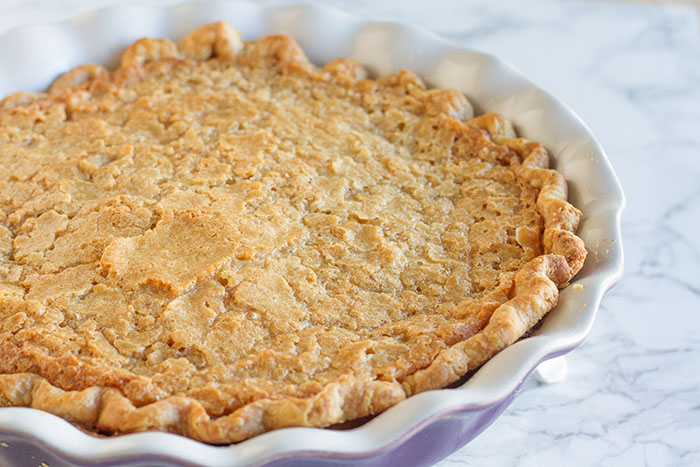 That description, unfortunately, doesn't do it justice.  I enlisted family members and several friends as taste testers and their reactions were all the same . . . blissed out looks on their faces as their eyes rolled back into their heads after the first bite, followed by their forks going in for another bite.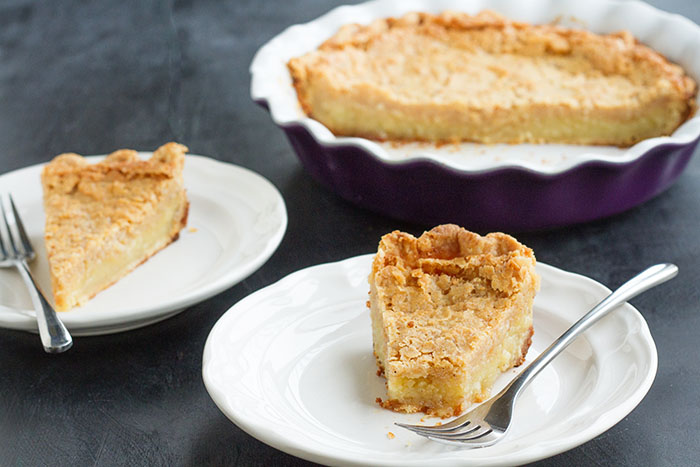 Guess you'll have to make it to see what I mean!  The key to making this pie truly spectacular is using high quality ingredients.  It's a simple pie, so the quality of ingredients will help it's simplicity shine.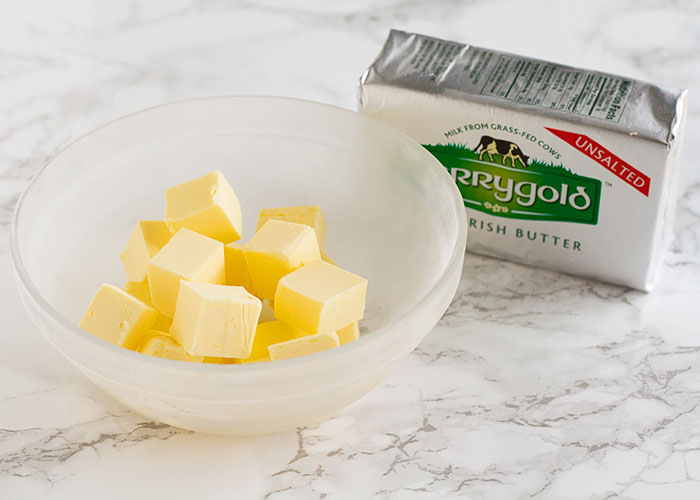 I always use butter in my pie crusts, and you already know how much I love using Kerrygold's unsalted butter in my pie crusts.  The higher fat content in this butter makes for flakier, tastier crusts!  The custard filling for this pie also uses butter, so my beloved Kerrygold butter does double duty in this pie!  I also always use King Arthur Flour's unbleached all-purpose flour for my pie crusts…so this month's team-up was a perfect match for this pie!  If you try this pie, I hope you love it as much as our neck of the woods does!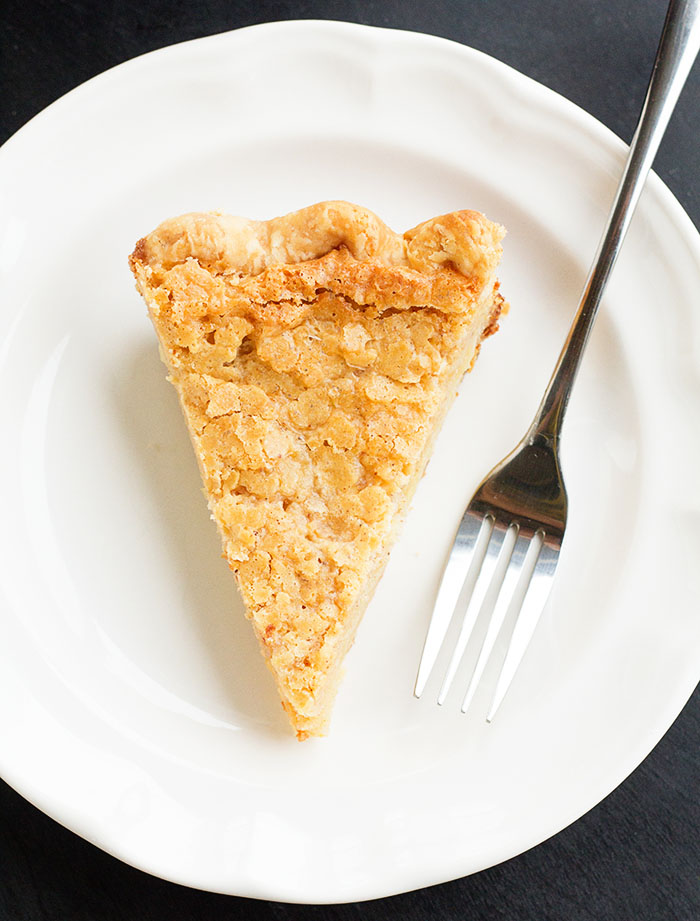 Print This Recipe
Almond Crackle Custard Pie
Makes one 9-inch pie
Ingredients:
1 (9-inch) unbaked pie shell
2 cups sugar
2 tablespoons cornmeal
1 tablespoon King Arthur unbleached all-purpose flour
1/2 teaspoon ground nutmeg
1/4 teaspoon ground cinnamon
1/4 teaspoon salt
1/2 cup Kerrygold unsalted butter, melted and cooled
1/4 cup evaporated milk
1 tablespoon white vinegar
1 teaspoon almond extract
4 large eggs, lightly beaten
Directions:
1. Preheat the oven to 350 degrees Fahrenheit.
2. Line the pie shell with aluminum foil and fill with pie weights or dried beans.
3. Bake the pie shell in the preheated oven for 20 minutes, then remove the weights and aluminum foil and bake for 10 more, until the crust is cooked through and a light gold color. Place the pie plate on a cooling rack and let the crust cool to room temperature before adding the filling.
4. Stir together the sugar and the rest of the ingredients, except for the eggs, until well incorporated. Add eggs, stirring well. Pour into the cooled pie crust.
5. Put the pie on a rimmed baking sheet in the oven on a center rack and bake at 350 degrees Fahrenheit until it is just set in the center, about 60-75 minutes. Tent the pie with a sheet of aluminum foil after 10 minutes to prevent excessive browning.
6. Remove the pie from the oven and let it cool completely on a cooling rack. The pie will continue to set as it cools, so do not cut it prematurely. The pie can be kept, uncovered, at cool room temperature for 6 hours. Once it has cooled completely you can cover it with a piece of plastic wrap and store it in the refrigerator. If you are serving it after being refrigerated, let it sit out for about 30 minutes, as it will taste better at room temperature.
——————————————————————————
*Disclosure: I was provided with Kerrygold butter at no cost to myself as part of Kerrygold's blogger program. I did not receive any other compensation for this post. All opinions and experiences are my own!