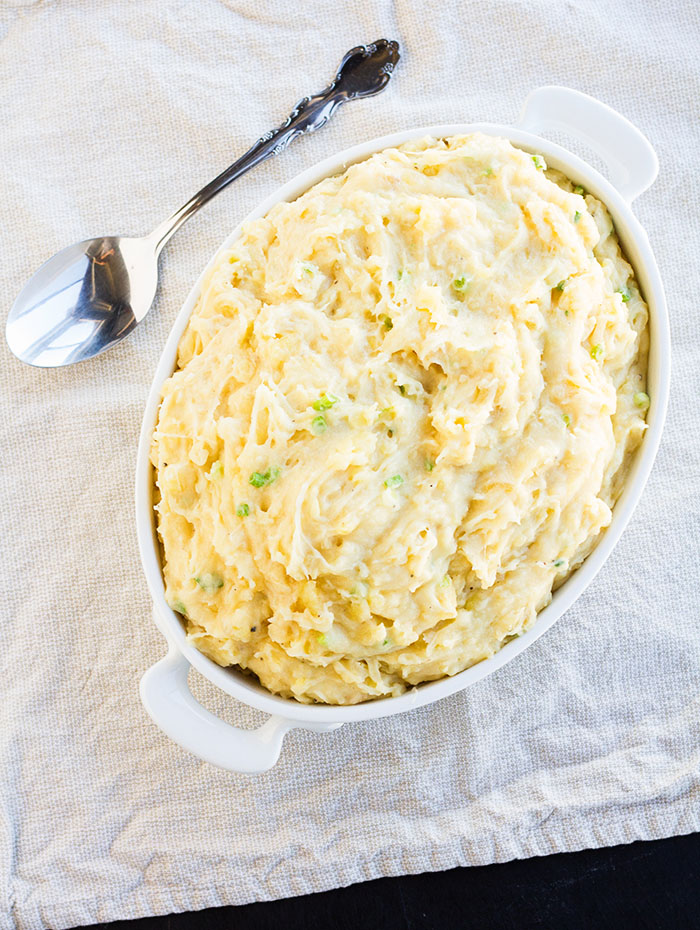 Three more days until Thanksgiving! (Or as my kids say, 3 more sleeps!)  Mashed potatoes are a classic Thanksgiving side dish, yet there are more variations than you could probably sit down and count in one week.  I am working on a church Christmas dinner and came up with a recipe for mashed potatoes that could be made in the slow cooker that we could use for our dinner.  I posted about the recipe on Instagram over the weekend, and my friend Olga (check out her blog, Mango Tomato!), who spent Thanksgiving with us last year, commented, thinking that this was a Thanksgiving post, "What? Mr. Fuji isn't making them? His were incredible!"  She's right.  Mr. Fuji's mashed potatoes are the best I've ever had.  So yes, he will be making the mashed potatoes for Thanksgiving!  I have actually been doing what cooking I can ahead of time, because I am having shoulder surgery today, and won't be doing any real cooking for a little while.  Thank goodness Mr. Fuji is a mashed potato master!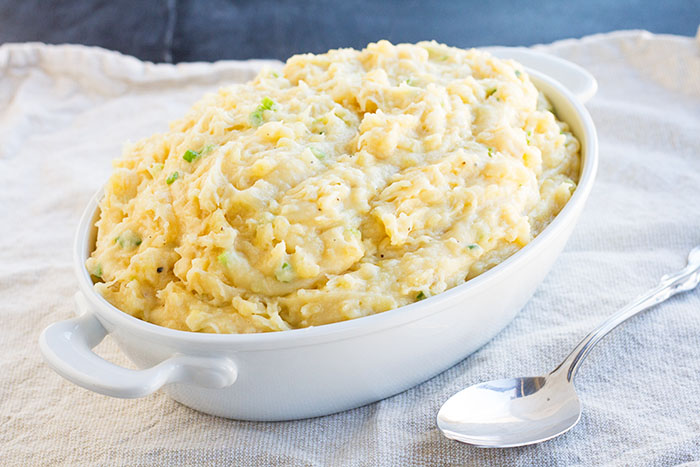 This recipe is perfect for maximizing your kitchen power, which we needed for our church dinner so that we could make sure we had enough time to make food, set up for the dinner, and get food out!  With all the craziness and cooking that surrounds Thanksgiving, I thought you might like having the recipe too!  These mashed potatoes were inspired by my favorite potato chip flavor as a kid, sour cream and onion, though Mr. Fuji says they taste like a loaded baked potato.  Either way? Delicious!  They are super easy.  The step that takes the longest is peeling the potatoes.  You toss the potatoes, along with some chicken stock, in a 6-quart slow cooker, and cook them on low for 6 to 8 hours, or on high for 3 to 4 hours.  Then you add in some sour cream, butter, salt, and pepper and mash them.  You finish them off by stirring in shredded Italian blend cheese and thinly sliced green scallions.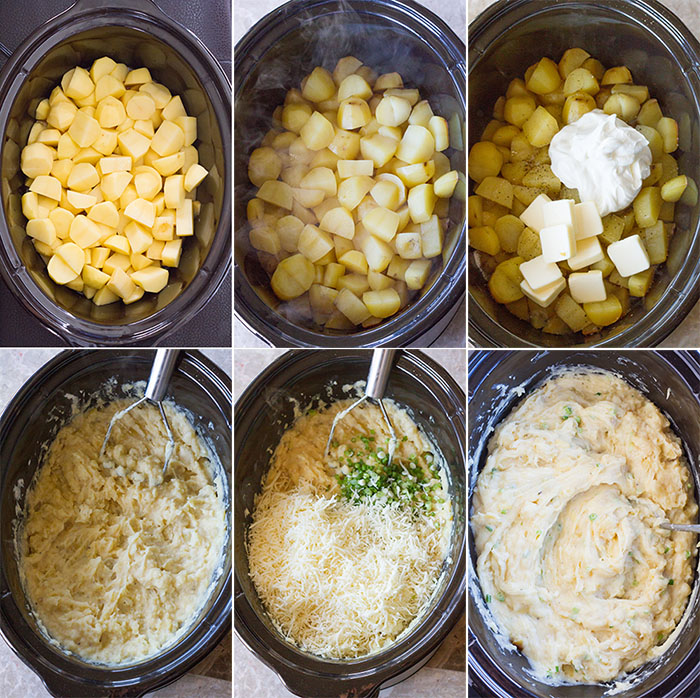 See? Easy right? These are perfect for Thanksgiving dinner, Christmas dinner, or any old dinner you want to serve mashed potatoes at!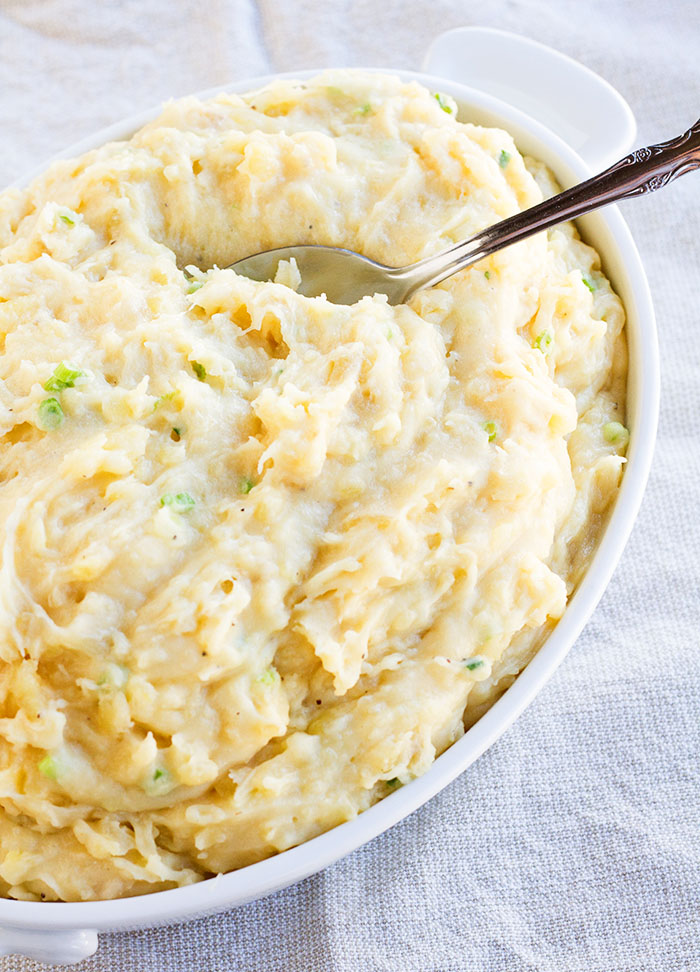 Print This Recipe
Slow Cooker Cheesy Sour Cream & Onion Mashed Potatoes
Makes 10 to 12 servings
Ingredients:
5 pounds Yukon gold potatoes, peeled and cut into 1-inch chunks
2 cups chicken broth
3/4 cup sour cream (full fat is best)
6 tablespoons butter
2 teaspoons fine grain sea salt, plus more as needed
1 teaspoon freshly ground black pepper
2 cups shredded Italian blend cheese
1 bunch (approximately 6 or 7) thinly sliced green onions
Directions:
1. Place the potatoes in a 6-quart slow cooker, then pour the chicken broth over them. Cover and cook on low for 6 to 8 hours or on high for 3 to 4 hours, until the potatoes are tender (easily pierced with a bamboo skewer or toothpick).
2. Add the sour cream, butter, salt, and pepper. Mash until the potatoes are almost smooth, but still slightly chunky. Stir in the shredded cheese and sliced green scallions. Taste and add salt as needed. Serve immediately or keep warm, covered, on warm or low up to 2 hours.