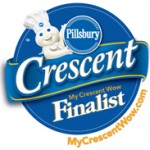 Have you voted yet today? You can vote once every day between now and December 31st! Help me win the title of favorite Crescent Cook and be entered for the chance to win $5,000! (See more voting details at the end of this post.)*
=============================================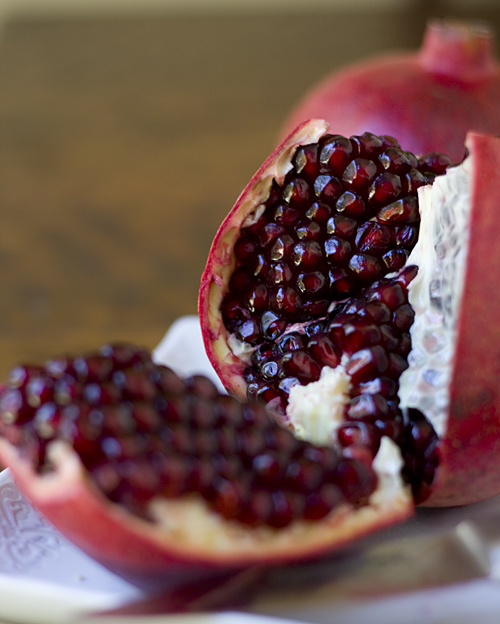 Just as a preliminary note, if you're sick of hearing about pomegranates, then I apologize in advance, because I am not done with them yet!  As mentioned in my last post, I hosted a dinner party this past Saturday.  After applying, I was one of a group of bloggers picked to host a POM Dinner Party.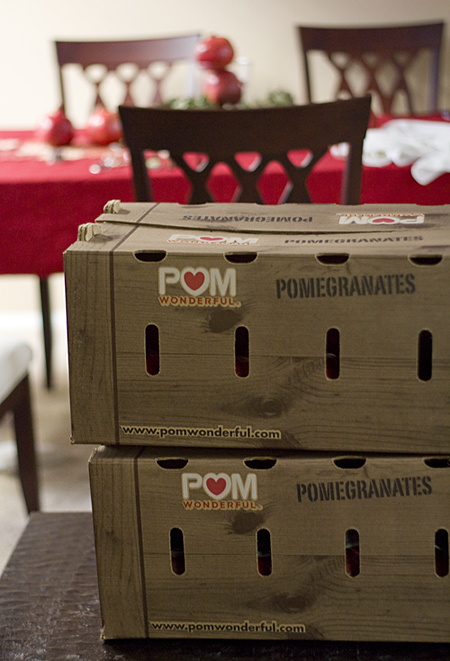 POM Wonderful sent each of the hosts 2 boxes of pomegranates, POM juice coupons, and some party bag swag to help get things going.  POM is giving away 10 prizes to the best hosts and judging us on 3 criteria:
Best incorporation of pomegranates into the menu/drinks
Most inspired pomegranate decor
Most successful "How to Open a Pomegranate" presentation
The theme of my dinner was a Japanese Harvest Feast.  Japan isn't a country you would normally think of when talking about pomegranates, so I thought it would be a fun challenge to incorporate pomegranates into Japanese cuisine.  I focused on Japanese dishes and fall ingredients to build my menu.  I used pomegranates in every way I could think of using them.  I used fresh arils, pomegranate juice, pomegranate juice concentrate, and homemade pomegranate molasses in the dishes.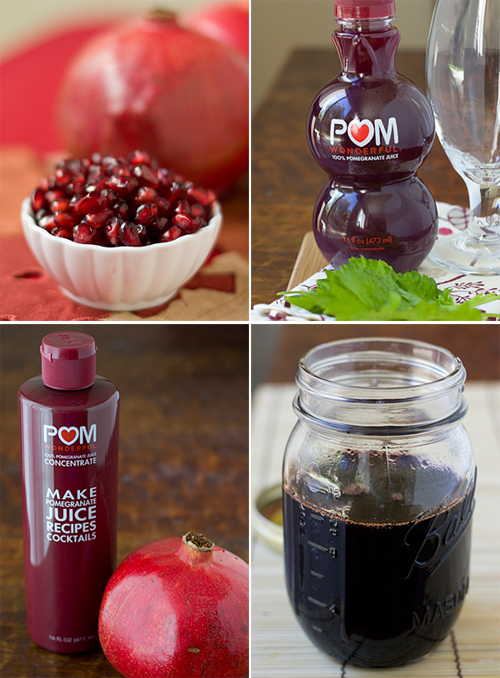 I originally had 8 guests coming, but ended up only having 6 that could come.  But our little dinner group of 7 was still a lot of fun and we enjoyed a wonderful evening of conversation, eating, and pomegranates!
My friend Jen even drove all the way from L.A. to be at the dinner (now that's dedication for ya)!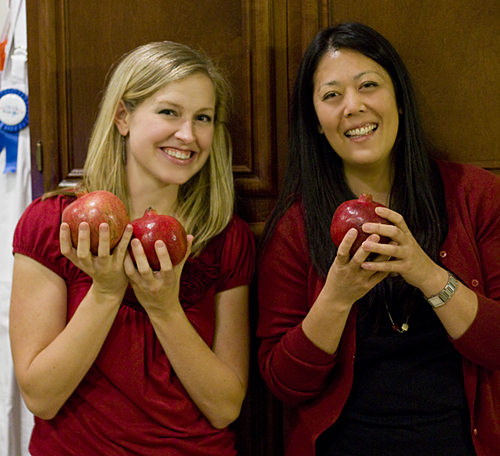 For the table decor, I went with an autumn inspired look.
I also hollowed out one of the pomegranates,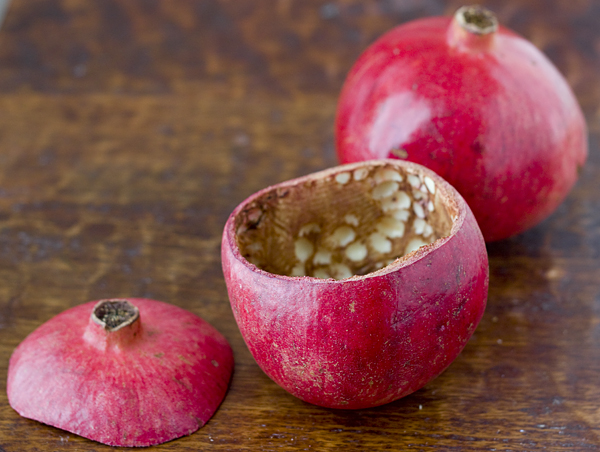 and used it to make a small flower arrangement for the kitchen table where I did a demonstration on how to open a pomegranate.
To start the evening I made a Shiso Pomojito "mocktail" with fresh shiso leaves, sugar, pomegranate concentrate, lemon-lime soda, and sparkling water.  For the appetizer, I made a crab, avocado, pomegranate salad with a creamy pomegranate dressing that I served in endive boats.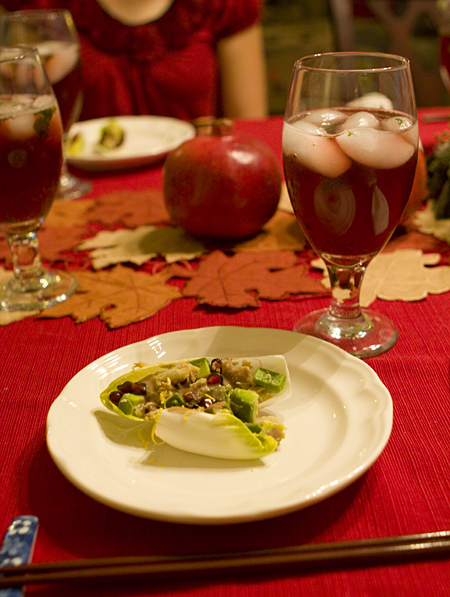 Then we moved on to the salad course, which was an autumn sunomono made with carrots, daikon, persimmons, and pomegranate arils in a sweet rice vinegar dressing.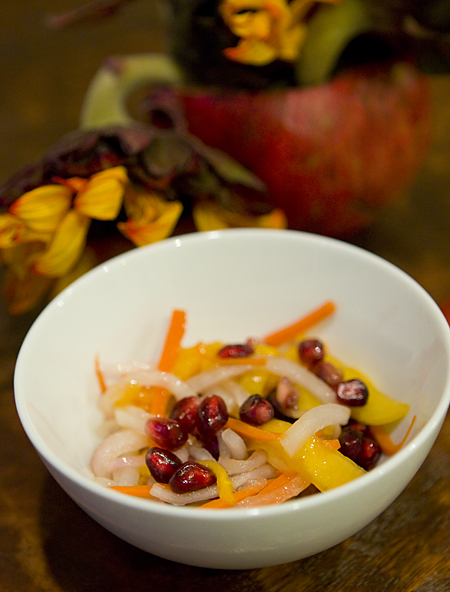 For the main course I made traditional Japanese tonkatsu (breaded and fried pork cutlets) served with a side of shredded cabbage, but made a homemade tonkatsu sauce using pomegranate molasses to go with it, and sprinkled fresh arils over the shredded cabbage.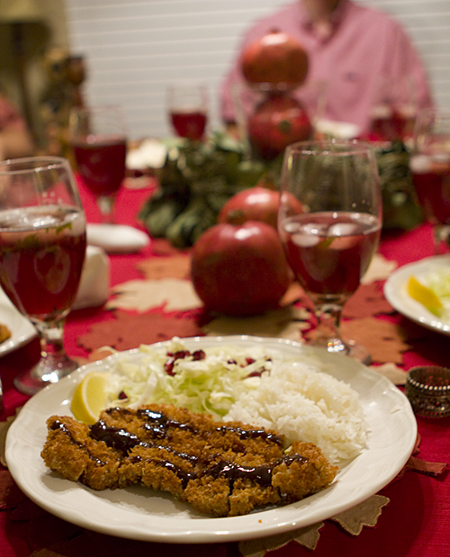 After the main course I served small bowls of a creamy kabocha sweet potato soup drizzled with pomegranate molasses and garnished with fresh pomegranate arils.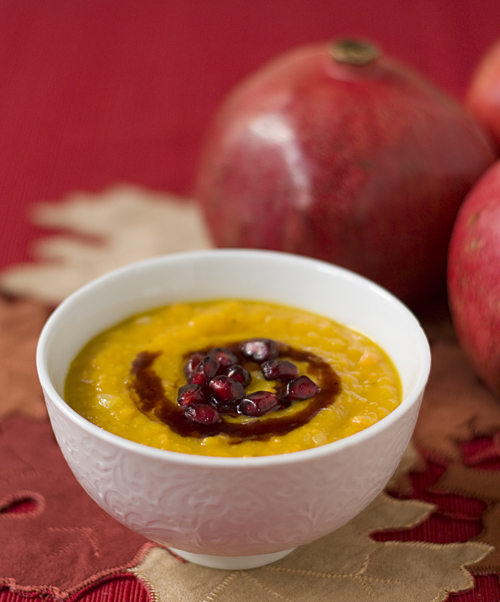 To finish off the evening, I served a pomegranate sponge cake roll filled with an almond whipped cream and topped with a pomegranate lemon cream glaze.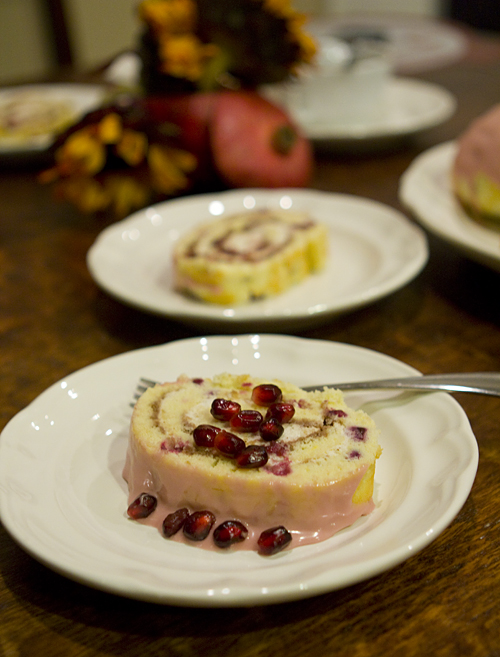 Because you all couldn't be at my dinner party, I will be sharing all of my recipes with you in posts over the course of the coming week.  I also had Mr. Fuji film me while I did the pomegranate demonstration so that you wouldn't miss out!  Please excuse my scratchy voice—I'm still dealing with repercussions from my tonsillectomy/adenoidectomy in September!
==================================================
* Pillsbury Crescent Cook Contest Voting:
To vote for me in the Pillsbury Crescent Cook Contest, you have to fill out the entire form below the pictures and set up an account for your vote to count. After registering the first time, you then have to log in for each subsequent vote (log in area is at the top of the page), hit the vote button, then scroll down and hit the "Enter Now" button. You'll know that your vote has been counted if you then get a screen that starts with, "Thank you for entering the My Crescent Wow Sweepstakes!" Thank you so much for your support!!