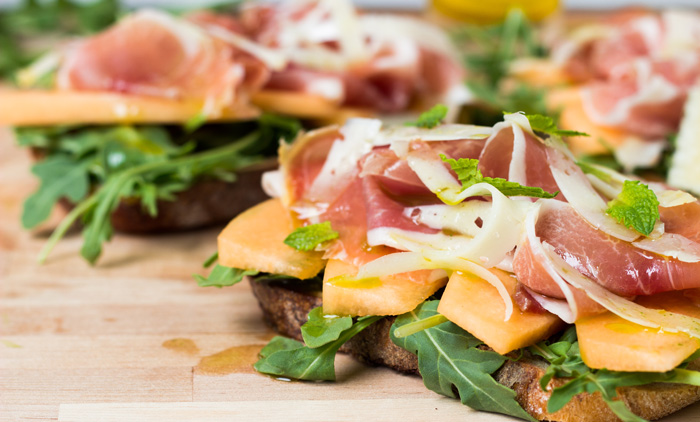 I've got a special guest here today to tantalize your tastebuds with a taste of Spain!  My friend Vijay Nathan is one of the multi-talented people behind NoshOnIt, a daily email newsletter and website that shares hand-picked recipes and cooking tips from a wide variety of bloggers.  (I look forward to their email newsletter everyday and so will you, so go sign up!!)  Vijay and I share a common love: experiencing food from cultures around the world, so I asked him if he'd be willing to share a taste of some of his travels and boy did he deliver!!  I'm warning you now that if you haven't eaten recently, you might want to pause and go do so, because this post is going to make you hungry.  You have been warned.  Thanks Vijay!
=============================================
Hi there La Fuji Mama readers! I'm so happy and honored that Rachael invited me over to guest post here today. One of the things that I love most about the blogging community is that even though we live thousands of miles away, we are brought together by a mutual love and appreciation for all things food and cooking. In particular, the reason I love Rachael's blog so much is that we both share a passion for exploring new cultures through food and travel.
Which is why today, I'm bringing you a summertime open-faced sandwich inspired by my travels in Spain. But first, a side note on my obsession with all things pork.
During my Junior year of college, I had the opportunity to spend a semester living and studying in Madrid, Spain. Unlike many of my classmates who used every free weekend to travel throughout Spain and other parts of Europe, I decided to take a different approach. I knew that I wanted to use this time to feel like a local, like a true Madrileño. So, that meant many days enjoying the mysteries of "getting lost" throughout the vast city of Madrid, but also discovering little hole-in-the-wall eateries and shops that were off the beaten path from the tourist traps.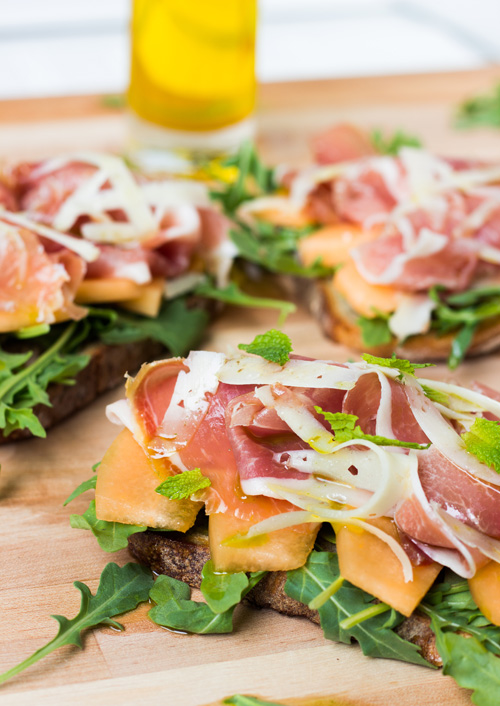 Among these discoveries were the various outposts of Museo del Jamón, literally translated to "The Museum of Ham." Seriously? Could it be true? Could there really be an entire store (and tapas bar, as I came to find out) devoted to the wonders of swine? The answer: yes, indeed. Legs of aged authentic Jamón Serrano (Serrano ham) hung from the ceilings ranging in price from something a student could afford to more expensive ones that would max out any credit card. One of the tapas I was offered was jamón y melón, shavings of salty Serrano ham nestled in between slices of sweet cantaloupe. The sweetness of the melon was the perfect complement to the sharp flavor of the ham – a dish that's perfection was in its simplicity.
Even though my time in Spain was many years ago, I still get cravings to remember that experience, so I created this open-faced sandwich as a simple yet inspired summertime snack that's elegant enough to serve at a grown-up picnic, but that I also think the entire family will love. Feel free to adjust it however you want – add a little more of this or a little less of that depending on what you like. I topped slices of toasted sourdough with a handful of arugula, sliced cantaloupe, shaved Serrano ham (or prosciutto if you can't find Serrano), and a drizzle of mint oil just to add an herbal element. And don't forget the cheese. Shavings of salty Manchego cheese and a few cracks of black pepper on top brings it all together.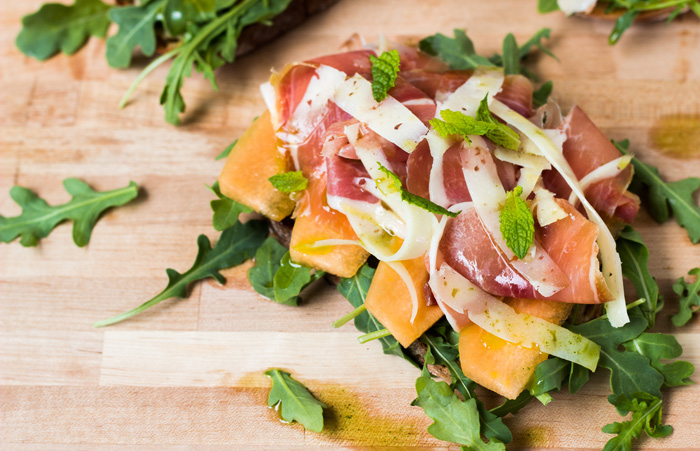 Serve it up with a pitcher of Cava Sangria or even a few of these refreshing Common Dawn cocktails and you'll feel like you're in Spain in no time. Thanks again to Rachael for having me and I hope you'll come visit us over at NoshOnIt!


Print This Recipe
Serrano Ham, Melon, and Arugula Sandwich
Preparation Time: 10 minutes
Yield: 4 servings
For the mint oil:
1 cup packed mint leaves
⅓ cup extra virgin olive oil
For the sandwich:
4 slices sourdough bread (or your favorite sliced bread)
Cantaloupe, sliced thinly
Arugula
¼ lb serrano ham (or prosciutto), thinly sliced
Small wedge of manchego cheese
Freshly ground black pepper
INSTRUCTIONS
1. Make the mint oil: In a blender or food processor, combine the mint and oil. Blend until smooth, adding more oil if necessary. Allow to stand for 15 minutes then strain through a fine mesh strainer or coffee filter.
2. To assemble the sandwiches: Toast the bread then top with a small handful of arugula. Cover the arugula with the sliced cantaloupe, about 3-4 slices per piece of bread. Top with a few slices of serrano ham.
3.Using a vegetable peeler, shave thin shreds of manchego cheese on top. Add 1-2 grinds of black pepper and drizzle with 1 tsp of the mint oil.
===========================================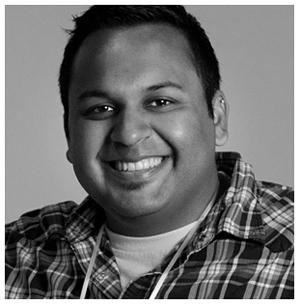 Vijay Nathan is the Editor and "Chief Nosher" at NoshOnIt, a daily email newsletter and website inspiring you to cook better each and every day with hand-picked recipes and expert cooking tips from amazing bloggers. You can sign up for their newsletters here and find them on Facebook, Twitter, Pinterest, and Instagram.