Home soda-making has recently been put into the spotlight, with SodaStream International, a company that sells a home soda maker system, when one of their ads, meant to air during the fourth quarter of the Super Bowl was banned because it directly challenged two other major sponsors—Pepsi and Coca-Cola.  The company re-worked the ad, which was then allowed to air, but the attention garnered from the ban brought them lots of added attention.  Soda water is an ingredient that is great to have on hand for making drinks, and so for the next post in the Fuji Happy Hour series I thought some information on soda making machines would be useful.  I don't personally have any experience with home soda makers, so I turned to a friend that does.  My friend Julie Lee has put together a fantastic in-depth look at SodaStream and it's pros and cons.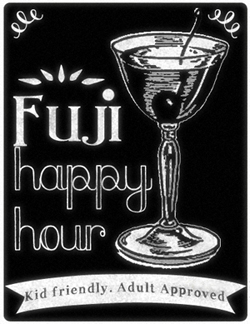 ————————————————————————–
Hi there La Fuji Mama readers! Like many of you culinary enthusiasts out there, my kitchen is near maximum capacity, especially when it comes to single-function gadgets. I'm not proud to admit it, but I already have a mixer, popcorn maker, juicer, dehydrator, blender and many other appliances hogging precious cupboard and counter-top real estate. I live in tiny apartment with an even teenier kitchen, so I've gotten very selective about buying new kitchen gadgets. When I heard about a machine that could make carbonated water and soda—in adorable penguin form, nonetheless—I wrote it off. It's a great idea, but not a necessity and certainly not worth the hefty price tag for a non-soda drinker such as myself.
Well, that was years ago and somewhere along the line, I changed my mind and my beverage choices. I started drinking lots of sparkling water (bubbles are like a party in your mouth) and got into the habit of the occasional ginger ale, which meant lots of schlepping of heavy glass and plastic bottles, and lots of trips to the recycling bin, which meant environmental guilt. Oh the guilt! Also, most of the commercial ginger ales out there are too sweet for my taste. That's when I started looking into the Soda Stream. It would eliminate the glass and plastic waste issue and allow me to control the sweetness of my own custom sodas. A few months before my birthday, I started dropping not so subtle hints (to my very wonderful boyfriend) that I wanted one. He got the hint and as a proud owner of a Soda Stream, I thought I'd offer you folks some insight.
Here's my breakdown of the pros and cons to owning and maintaining one of these bad boys:
Pros
· Less and lighter trips to the grocery store. Yay, I'll keep the weightlifting to the gym, thank you very much.
· Sparkling water on hand. All you need is chilled, filtered water. This is especially great if you drink copious amounts of sparkling water like me, want to make an impromptu cocktail or you just want to be fancy and ask your dinner guests "flat or sparkling?"
· Customizable sparkling water and sodas. I can make my water extra fizzy and my ginger ales extra dry. I think I'm going to have fun making some citrus syrup in the near future. Ginger-kumquat anyone? I've never bought any of the Soda Stream syrups, so I can't comment on the taste or value. Sorry! If anybody has insight on this, please leave a comment.
· Easy to use. No batteries or plugs. It runs on a CO2 carbonator alone. Some models work with a press of a button, mine is a bit more manual with the pulling of a lever.
· Mother Earth loves you!
Cons
· It can be pricey, though I've seen basic models for under $100. They range from $80 to $200 online.
· CO2 carbonators must be replaced. My Soda Stream came with a 60L cartridge. Some come with 130L ones. I exchange my empty cartridge for a full one for $15+tax, which is less than the amount I would spend on sparkling water. Our household of two goes through one 60L cartridge in 4-5 weeks or about 45 liters of bubbly. We like our sparkling water extra fizzy. This comes out to about $0.36 per liter (not counting the cost of the water you're using) vs. $1.00 to $2.00 for a store bought bottle. You are saving money per ounce (and that's a pro), but keep in mind that the initial investment is $80 to $200, so It will take some time to recoup the initial expense. Some fellow Soda Stream owners keep extra cartridges on hand so they never run out, but there's another $60+ expense to think about.
· The plastic bottles expire. This was news to me. The recurring pressure on the plastic bottles weakens it over time, so each bottle comes with an expiration date, and costs $20 to $30 for a replacement twin-pack. According to the company's website, you should replace the bottles every three years. Also, I should add that they aren't dishwasher safe.
Well there you have it. While the Soda Stream is convenient, it does not come cheap with the initial investment and carbonator and bottle replacement fees. If you drink lots of sparkling water or like to customize your sodas, like me, I say go for it. You'll be saving money, and your back from lugging heavy bottles, in the long run. Overall, I use it almost daily and really love it. It's currently living in a nook of my dining area, not taking up too much space at all.
Thanks for having me Rachael and thanks for stopping by La Fuji Mama readers. Happy Fuji Happy Hour!
————————————————————————–