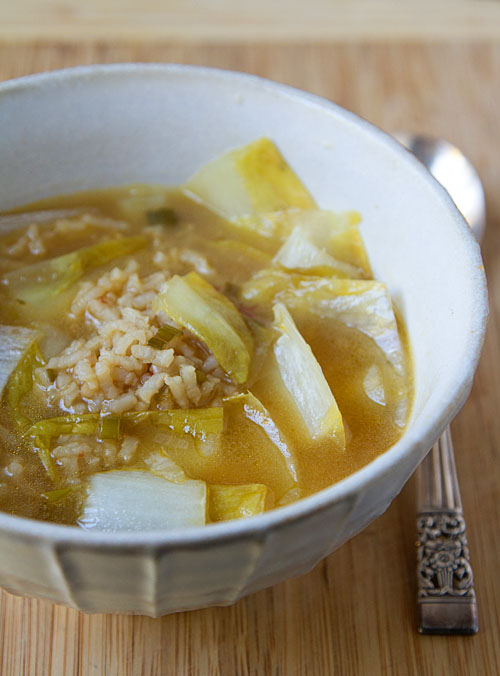 I had planned on sharing a recipe for a fabulous endive salad with you as my next OnDiva post, but then this Endive Rice Soup happened, and all thoughts of salad sharing flew out the window, and it's all because of a virus.  The dreaded "junk" has been traveling through our community this past month. It seems everyone I know has been holed up at home with at least parts of their families down with a bad cold that comes with a fever and a crazy goopy cough that lingers for weeks after the other symptoms have disappeared. Recently on Instagram, I saw Jeff, of The Hefe Kitchen Blog, post a picture of a green smoothie accompanied by the hashtag #flushot, and had to grin. We know that healthy bodies have an easier time fighting off infection, and part of maintaining healthy bodies is eating a well-balanced diet filled with lots of fruits and vegetables, so a green smoothie sounds like pretty good preventative care!  Shortly after seeing that photo I started to feel a bit of a tickle in my throat, and the Fujilings started sounding a bit congested.  I decided my own version of the #flushot was in order and I was in the mood for soup.   There's nothing that I find more comforting when I'm feeling a bit under the weather, than a pot of soup, so I whipped up a pot with ingredients I had on hand.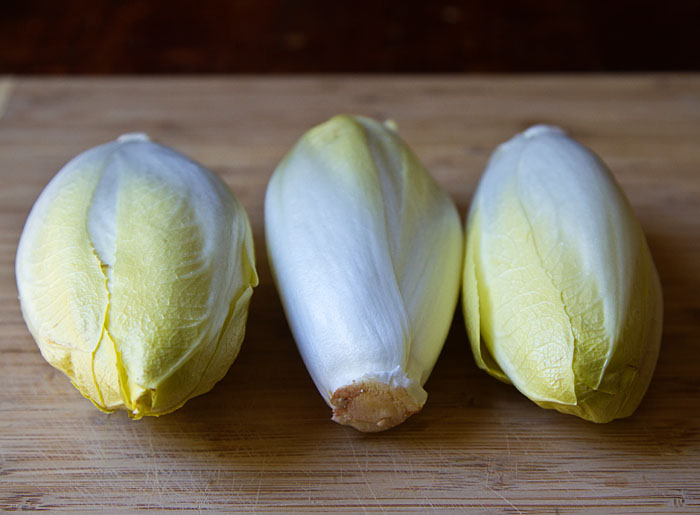 I think soup making is incredibly therapeutic. There's something about layering flavors and ingredients in a simmering broth that feels like stirring up a batch of love in a pot. I sauteed some garlic and scallions until they were fragrant, then added ginger and chili garlic sauce. Next I added some vegetable broth and rice and let it simmer until the grains were cooked through and swollen with the flavor of the broth.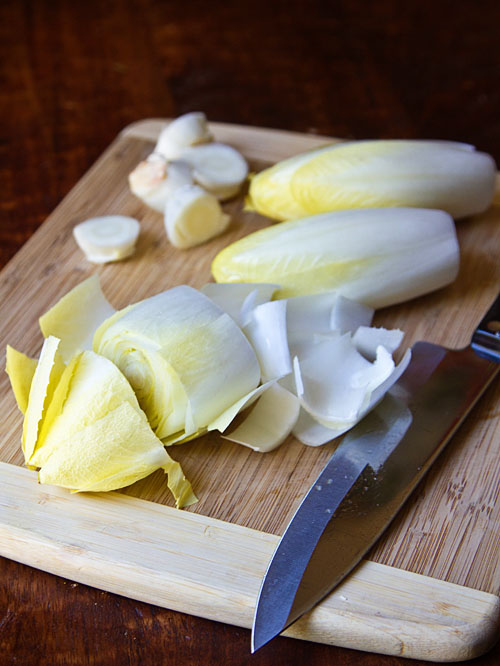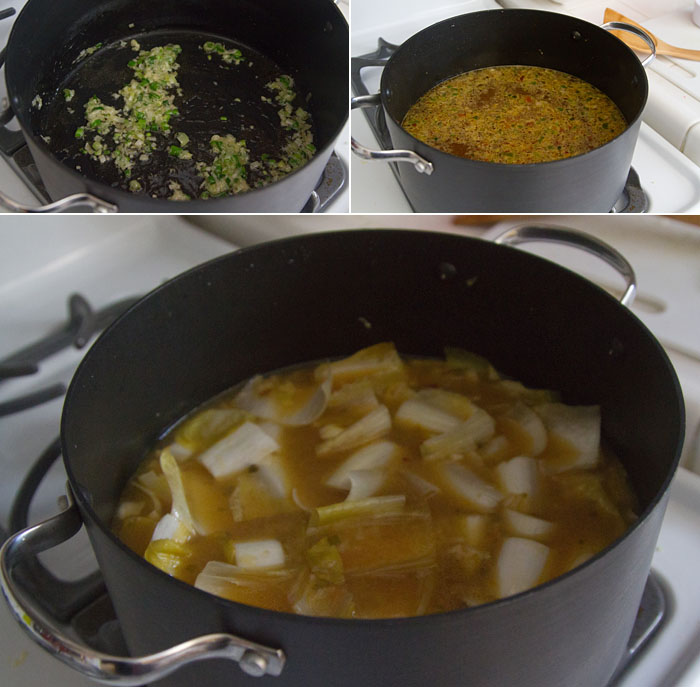 To finish up the soup, I chopped up some fresh California endive and added it to the pot where I let it simmer until it was tender, but not mushy. The grains of rice plumped up in the flavorful broth, and the endive added wonderful texture and flavor, while the ginger and chili sauce added a bit of heat.  Such a simple pot of soup, but it did wonders for everyone's appetites.  The dinner table was surrounded by content faces and there wasn't one drop of broth left in the soup pot.  The soup was so good that I had to re-engineer it so that I could write down an exact recipe to share.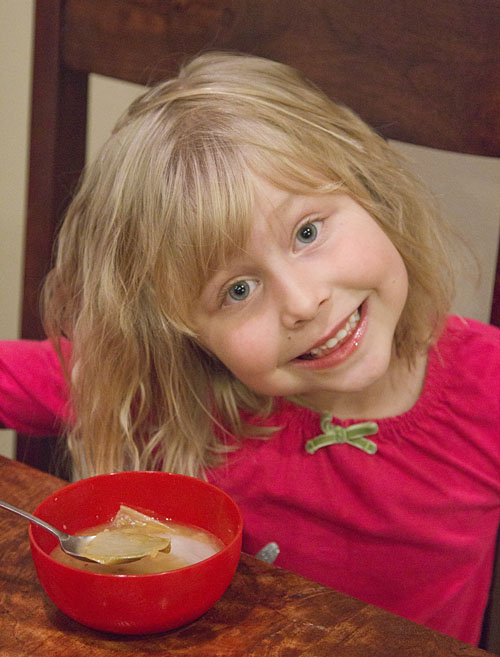 Not only did this soup hit the spot, but it definitely qualified for that #flushot hashtag.  Endive, garlic, ginger, scallions, and chili peppers contain nutrients like Vitamin C, which help boost the immune system and help fight off infection.  I call that strategic cooking.  My family just calls it delicious.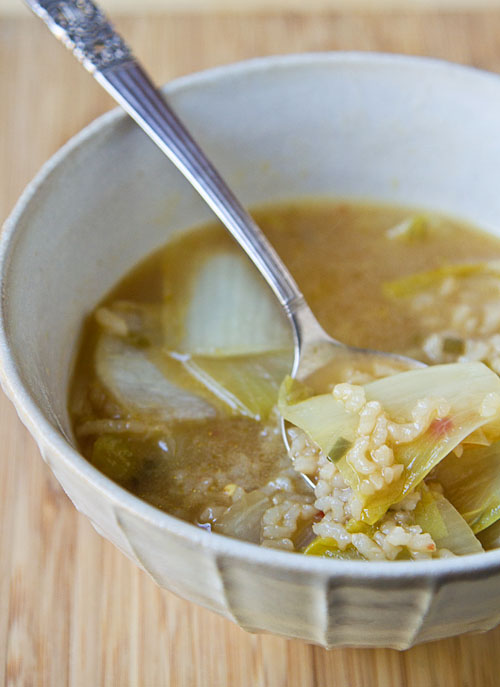 Print This Recipe
Endive Rice Soup
Makes 4 servings
1 tablespoon canola oil
2 teaspoons toasted sesame oil
3 cloves garlic, minced
2 scallions, finely chopped
1 tablespoon grated ginger
1 teaspoon chili garlic sauce
1/2 cup uncooked Japanese rice
6 cups vegetable stock
1 1/2 tablespoons soy sauce
3 heads endive, roughly chopped and leaves separated
white pepper
1. Heat the canola and toasted sesame oils in a pot over medium heat. Add the garlic and scallions and saute until fragrant.
2. Add the ginger and chili garlic sauce and cook for one minute.
3. Add the vegetable stock and soy sauce and bring to a boil. Then add the rice. When the stock returns to a boil, cover the pot, then reduce the heat to a simmer and let the soup cook until the rice is cooked through, about 30 minutes.
4. Add the endive and simmer the soup until the endive is tender and wilted, about 6 minutes. Remove the pot from the heat, season with white pepper, and serve.
———————–
*Disclosure: I am being compensated for recipe development and is part of my ongoing work as an OnDiva for California Endive Farms.  All opinions are my own.