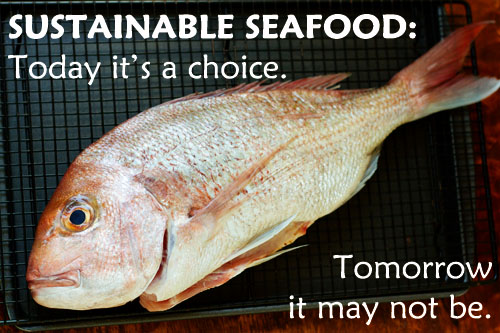 The choice of what seafood we buy and eat is a choice that we have today, but tomorrow may hold a different reality.  The bounty of our oceans is not unlimited.  The Monterey Bay Aquarium Seafood Watch reports that "[s]cientists estimate that we have removed as much as 90 percent of the large predatory fish such as shark, swordfish and cod from the world's oceans" and that "[n]early 85% of the world's fisheries are fished to capacity, or overfished."  They quote the Pew Oceans Commission, which warned us in 2003 "that the world's oceans are in a state of 'silent collapse,' threatening our food supply, marine economies, recreation and the natural legacy we leave our children." You'd think that aquaculture, or fish farming, would be the perfect solution to our ocean resources, but in reality this is not always the case, as many aquaculture methods can add to the problem due to the ecological impact they can have.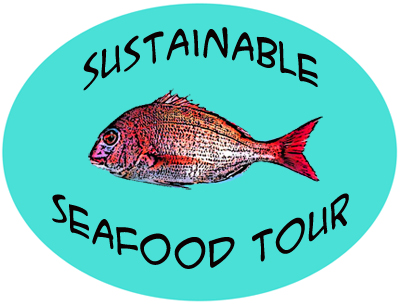 Seafood sustainability is an issue that I've talked about before, in my Sustainable Seafood Tour posts, but it has been weighing heavily on my mind during the past month due to some opportunities I've had to take a closer look at the issues of seafood sustainability and some of the champions of the cause.
Last month I met up with Alison and her boyfriend Son in Los Angeles for A VIP Mindshare LA Sustainable Sushi Experience with Tataki Sushi at the Project Butterfly Loft.  Tataki Sushi opened in San Francisco in 2008 as the first sustainable sushi bar in North America.  Their menu features "sushi without guilt."  Since opening, the Tataki team has opened two additional locations, and are now hoping to bring the concept to the L.A. area.  The Mindshare event was designed to give people a taste of what Tataki is about, and also to educate the diners on some of the issues that we should be considering when consuming seafood.  Casson Trenor, part owner of Tataki and the author of Sustainable Sushi: A Guide to Saving the Oceans One Bite at a Time and the website Sustainable Sushi, introduced each course, explaining why it was a sustainable choice, and educating us about related seafood issues.  (Read Alison's post about the dinner for more about the courses we ate!)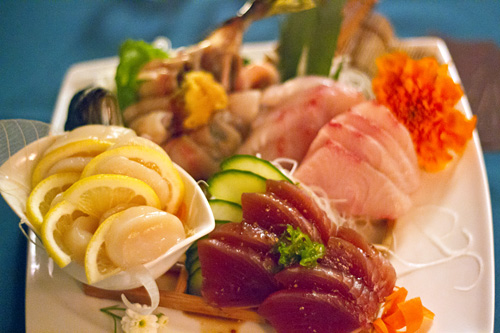 For our ten year anniversary, Mr. Fuji and I took a trip up to Monterey in Northern California.  To celebrate, we ate dinner at Passionfish, voted best restaurant in Monterey County.  Chef Ted Walter uses organic produce and sustainable seafood to create an ever-changing menu that celebrates the incredible flavor that each item has to offer.  The Passionfish menu states: "Passionfish is dedicated to serving sustainable seafood harvested in a manner that does not harm the ocean floor, result in by-catch of endangered sea turtles or support fisheries with poor stock status.  Unfortunately our local fisheries are frequently unable to meet these criteria."  That last sentence is heart-breaking.  I also love that the menu educates diners about what they can do to help the Bluefin tuna plight: "Please support the Bluefin tuna by visiting www.TAGAGIANT.org.  We can't imagine a world without them!"  Passionfish's website also provides a page of sustainable seafood resources.
We started our meal with some mussels steamed in a spicy tomato-cilantro broth.  The mussels were incredibly tender, and the broth was so good that I had to restrain myself from picking up the bowl and licking it clean.  For my entree I had a delicate piece of pan-fried sturgeon served with a warm preserved lemon and white bean salad and a spicy herb relish.  All of our food was incredible, but the seafood dishes were especially thoughtful.  Our bill was delivered with a pocket-sized West Coast Sustainable Seafood Guide from Monterey Bay Aquarium Seafood Watch.
The next day, we visited the Monterey Bay Aquarium, whose mission is to inspire conservation of the oceans.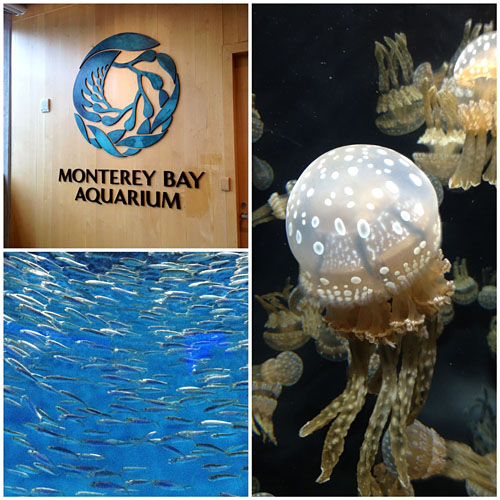 As we enjoyed the incredible scenery of the coastline during our visit, one of the most beautiful places in the world, the messages of the sustainable seafood champions replayed continually in my mind.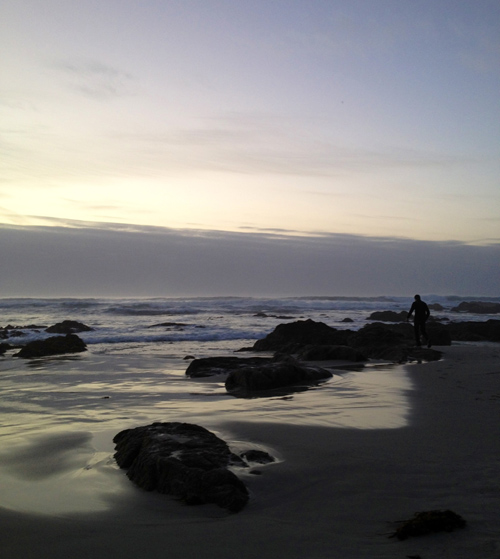 Today we have the choice to choose sustainable seafood varieties, and do our part in reducing the strain on the struggling ocean populations.  We need to act today and make those choices, otherwise our choices may be gone tomorrow, with the disappearance of certain varieties of fish.  We need to choose to preserve the future of our oceans.
Although sustainable eating takes a bit more work, since it requires you to be an informed consumer, the effort is worth it.  I also believe that when we understand more about the food on our plate, a sustainable morsel of food will taste that much more delicious.  My sustainable sushi dinner with Tataki and my sustainable seafood at Passionfish would have both been delicious, whether or not I had been given the added knowledge about the choices that went into preparing the meals, but having that knowledge made each bite sweeter.  Informed eating is a powerful thing! Please join me in making sure that the work of my heroes of the ocean does not go to waste.  They have done all they can to put together information so that it is easy for you to make sustainable choices.  Now it's up to you to go out and educate yourself.  Join with me in making sustainable choices while we still can.  Let's preserve our oceans so that future generations can enjoy their beauty and bounty.