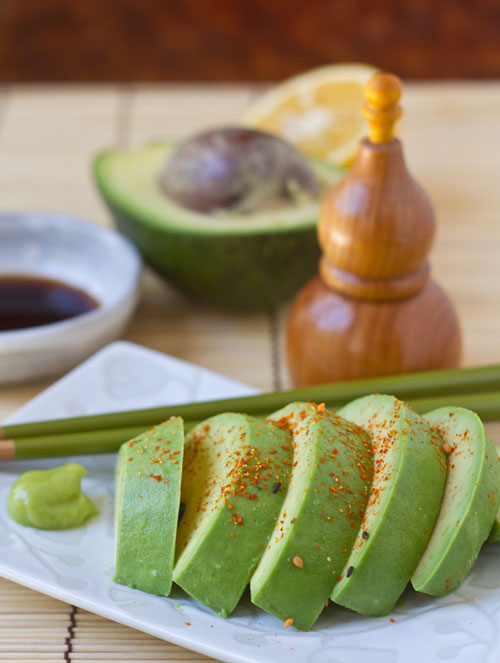 Avocado sashimi—delicate creamy slices of ripe avocado served with soy sauce and wasabi and sprinkled with a bit of shichimi togarashi (Japanese seven spice).  I know, I know, sashimi is supposed to be raw fish/meat, but hear me out!  In his book, Sustainable Sushi, Casson Trenor writes, "If we are to resuscitate our ailing oceans, we must ease the pressure on fish populations."  Casson goes on to talk about some vegetarian and vegan alternatives to fish that you can use when making sushi at home.  My personal favorite alternative is avocado.  The California roll was born from a chef's realization that avocado was a perfect substitute for toro (fatty tuna) because of its creamy texture.
Unfortunately, the best toro comes from bluefin tuna which is currently being caught faster than they can reproduce, and the Monterey Bay Aquarium Seafood Watch says that all bluefin tuna should be avoided.  So I say that we honor these gorgeous creatures by slicing into a ripe California avocado instead.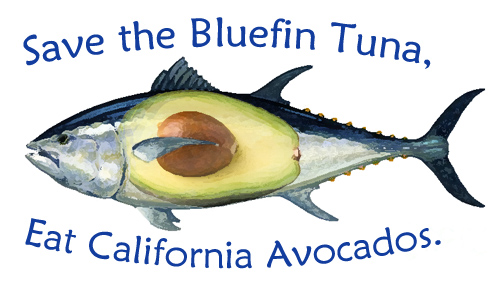 I enjoy my avocado sashimi with a bit of wasabi paste, soy sauce, and shichimi togarashi.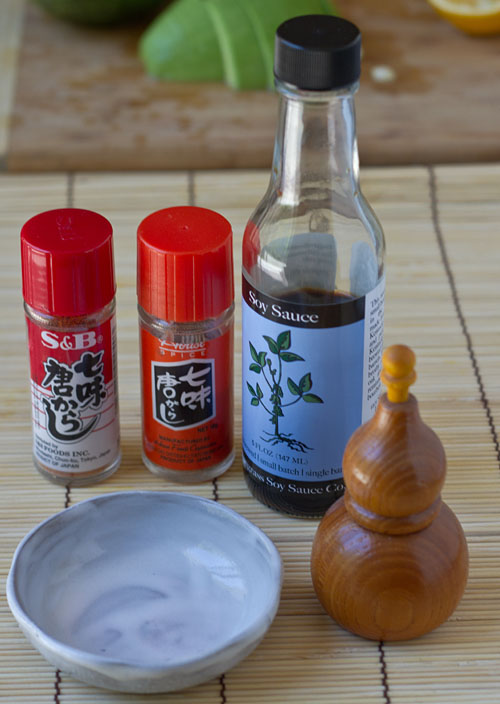 using so few ingredients, it makes a difference to use really good soy sauce.  My current favorite is Bluegrass Soy Sauce from Bourbon Barrel Foods.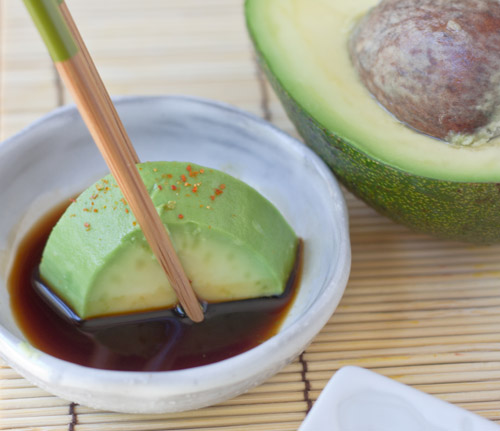 Shichimi togarashi (also called nanami togarashi) is one of my all-time favorite condiments/spice mixes.  It's a spice blend that consists of 7 ingredients.  A blend may contain ground red chili pepper, ground sichuan pepper, roasted orange peel, black sesame seeds, white sesame seeds, hemp seeds, ground ginger, nori or aonori, poppy seeds, yuzu peel, rape seed, or shiso, depending on the maker.  It's wonderful sprinkled on everything from chicken or fish, to soup or steamed vegetables.
If you want a delicious treat, grab an avocado and enjoy it as guilt-free sustainable sashimi.  The bluefin will thank you.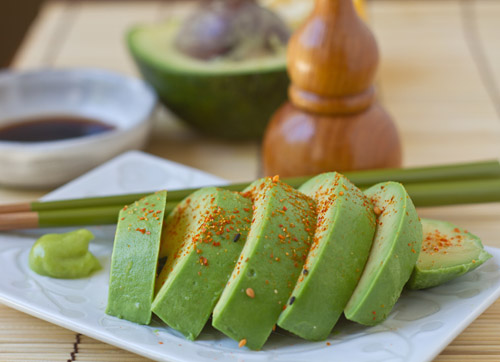 Print This Recipe
Avocado Sashimi
Makes 2 servings
1 ripe avocado
1/2 fresh lemon
shichimi togarashi
wasabi paste
soy sauce
Peel the avocado and cut into slices. Squeeze lemon juice over the slices. Sprinkle with shichimi togarashi and serve with wasabi and soy sauce.