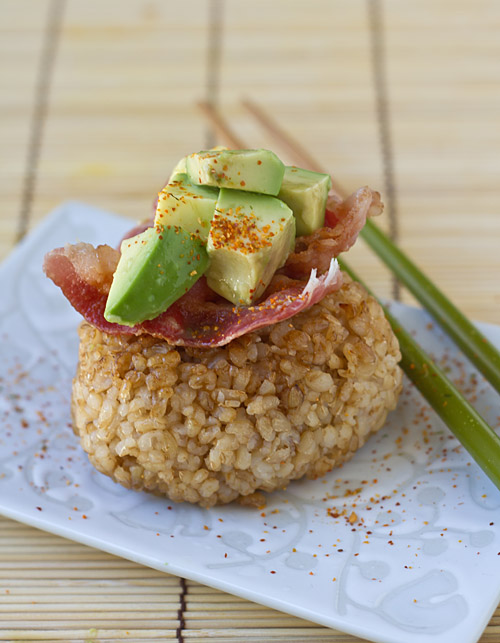 Yaki onigiri (grilled Japanese rice balls) are one of my favorite comfort foods.  I recently whipped up a batch, using brown rice instead of white rice to help us get an extra serving of whole grains into our day.  Then I topped the onigiri with a bit of bacon and chunks of creamy avocado.  Grilled rice balls combined with bacon and my favorite fruit, avocado (from my favorite farm California Avocados Direct!)? Be still my beating heart!  If that's not love on a plate, I don't know what is!  My girls love onigiri just as much as I do, and could barely contain themselves as they tried to patiently wait for them to be ready to eat.  They disappeared in about a quarter of the time it took me to prepare them!  I actually prefer using brown rice (genmai) when making yaki onigiri, because the nuttiness of the rice is accentuated when toasted.  The fact that we're getting a serving of whole grains is an extra bonus!
This year Cooking Light is featuring a program called 12 Healthy Habits.  Each month in 2012 they are focusing on one healthy practice, profiling different people and exploring their challenges and goals, and then recommending food or fitness strategies, and providing recipes and nutrition tips.  (If you want to follow along, you can sign up for their 12 Healthy Habits newsletter.)  April's goal is a whole grains challenge to work on making sure that you eat at least three servings of whole grains each day. (We should be eating six servings of grains each day, and the Dietary Guidelines recommend that at least half of those, be whole grains.)
One of the things I love about what I do is the chance I have to work with people and companies that I love.  During my late elementary school years my mom developed a system to try and cook through some of the recipes she had been tearing out of magazines and newspapers, instead of just letting them accumulate into a pile where they would be forgotten.  She labeled a stack of large manila envelopes with recipe categories, such as "Main Dish" and "Dessert", and began filing the recipes that she clipped into the various envelopes.  Each week she would pull recipes out from each envelope and make a grocery list of what she needed in order to make those recipes during the coming week.  I remember many of those recipes coming from the pages of Cooking Light magazine.  She recently told me that she usually subscribes to a year of the magazine, and then goes for a year or two without subscribing, because she accumulates so many new recipes to try in the span of one year.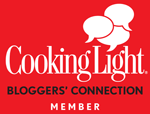 I recently joined up with Cooking Light as part of their Bloggers' Connection.  I love their mission to deliver, discuss and promote great-tasting food through a healthful lens.  Although I love to have fun in the kitchen with my kids, I also worry about making sure that I give them the nourishment they need to fuel their growing bodies and inquisitive minds.  I think that my partnership with Cooking Light will be a fantastic way to continue sharing my experiences and helping to build healthy families and communities.  I love their 12 Healthy Habits program for 2012 and think it's a great way of evaluating what we are doing in our homes, as well as developing new healthy habits.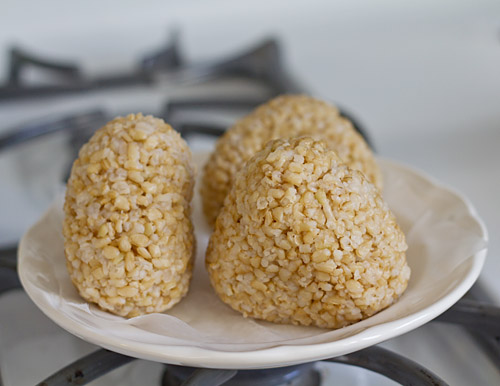 Hopefully this recipe for Brown Rice Yaki Onigiri topped with bacon and avocado will help you work on eating your whole grains this month!  Japanese-style brown rice doesn't stick together as easily as Japanese-style white rice, so make sure your rice is still hot when you start forming the onigiri, and that you use firm pressure, without smashing the grains of rice, to ensure that your onigiri will hold together.  If you want to see how to form an onigiri, check out my video tutorial on how to make onigiri.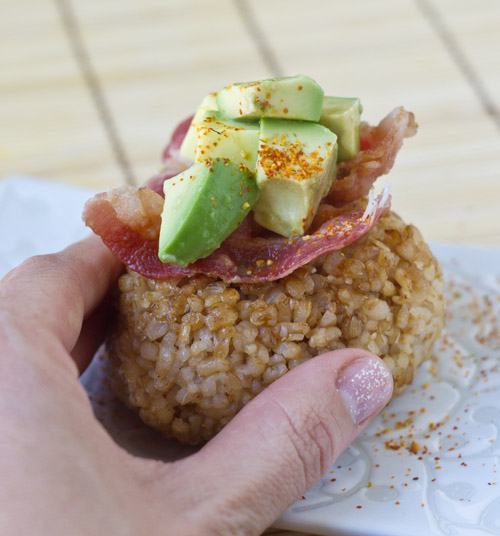 Print This Recipe
Brown Rice Yaki Onigiri with Bacon and Avocado
Makes 4 servings
4 cups cooked Japanese-style brown rice, freshly prepared and still hot
1 teaspoon fine sea salt
soy sauce
4 slices bacon, cooked and cut in half
1 ripe avocado, chopped into large chunks and tossed with 1 1/2 tablespoons fresh lemon juice
Shichimi togarashi (Japanese seven spice), to taste
1. Spread the hot rice out into a large shallow bowl. Sprinkle half of the salt over the rice, then toss the rice with light cutting and folding motions to distribute (without crushing the grains of rice). Sprinkle the rice with the remaining salt and toss to distribute.
2. Divide the rice into four portions. Wet both hands with warm water, then shake off the excess. Place one portion of rice in a cupped hand, then firmly, but gently (don't smash the grains of rice!), squeeze the rice between cupped hands to form it into a ball. Then form the ball into a triangular shape by cupping one hand to form a corner, and turning the ball to shape it into a triangle. To make the traditional triangular shape, cup your hand sharply to form each corner, and keep turning it until you are happy with the shape. Set the onigiri aside on a plate and shape the remaining portions. Let the onigiri sit for several minutes to let the surfaces dry out slightly. This will give them a better crust and help prevent them from sticking to the pan when toasting them.
3. Lightly grease a large frying pan or saute pan, then heat over medium heat. Place the onigiri in the pan, and toast them on all sides until they have developed a crisp crust, about 10 minutes total. Then brush the onigiri with soy sauce and continue toasting for another 3 minutes.
4. Remove from the heat and serve topped with a slice of bacon, avocado, and sprinkled with shichimi togarashi.