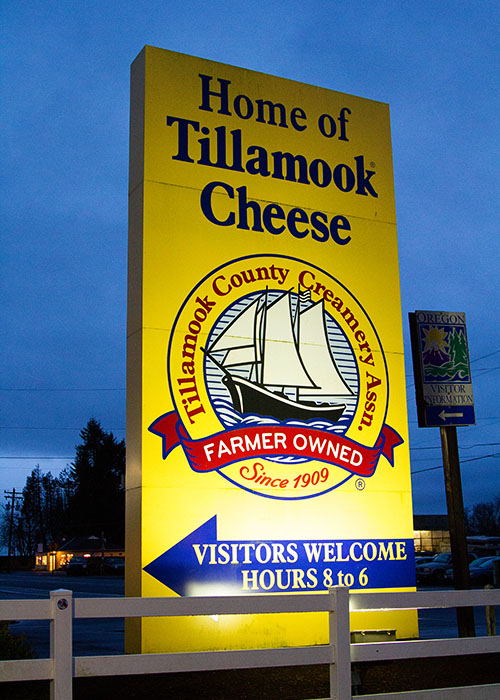 Even if you're not a cheese lover like I am, a visit to the Tillamook Cheese Factory in Tillamook, Oregon is worth the trip.  The factory is located 2 miles north of the city of Tillamook, an hour and half drive west from Portland.  Initially I wondered if we wanted to spend 3 hours out of our limited time making the drive all the way out to do the factory tour, but we really, really wanted to do it, so we decided to make a go of it.  I am so glad that we did.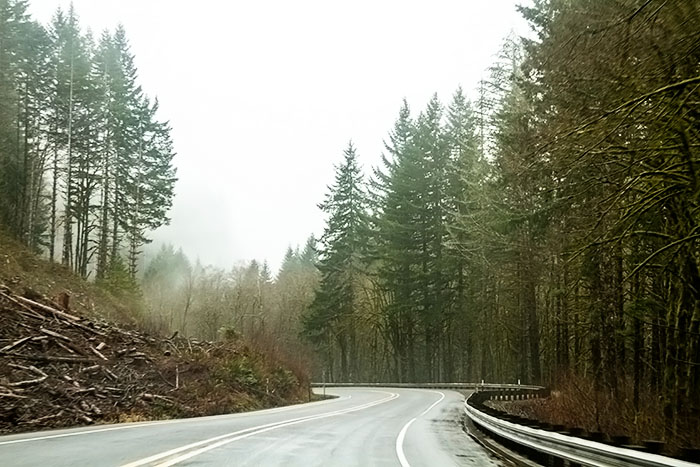 The drive takes you through the middle of the Tillamook State Forest, which ended up being some of the most beautiful scenery that we saw, which is saying a lot since we spent one of our days driving the Columbia River Gorge Scenic Highway, which is spectacular.  The drive takes you through forests of trees covered in bright green moss, giving them a fairytale-esque feeling.  The trees and moss combined with some fog creeping through the trees had me half believing that I might catch a glimpse of Hansel and Gretel leaving a trail of bread crumbs to follow home.  The drive alone is worth the trip!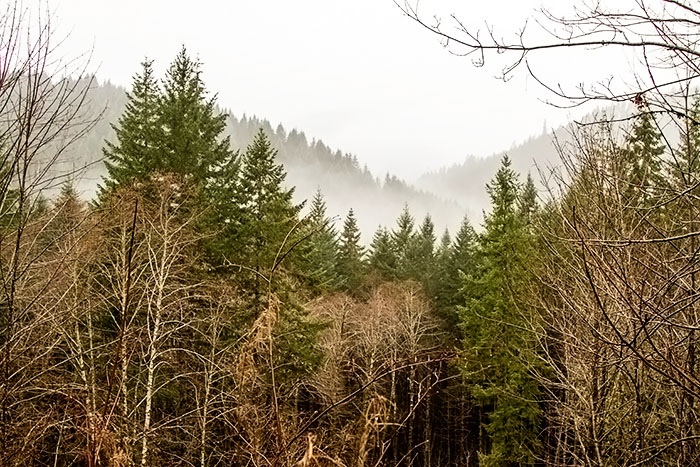 Then there's the Tillamook factory.  In 1909 a series of small creameries joined forces to form the Tillamook County Creamery Association and produce Tillamook cheese.  Tillamook has been going strong every since!  The tour of the factory is self-guided, meaning you can go at your own pace, taking as much or as little time as you want to watch the goings-on and to read the numerous placards placed through the tour area that talk about the history of Tillamook and give in-depth detail to the cheese-making process, watch video presentations, and use interactive kiosks.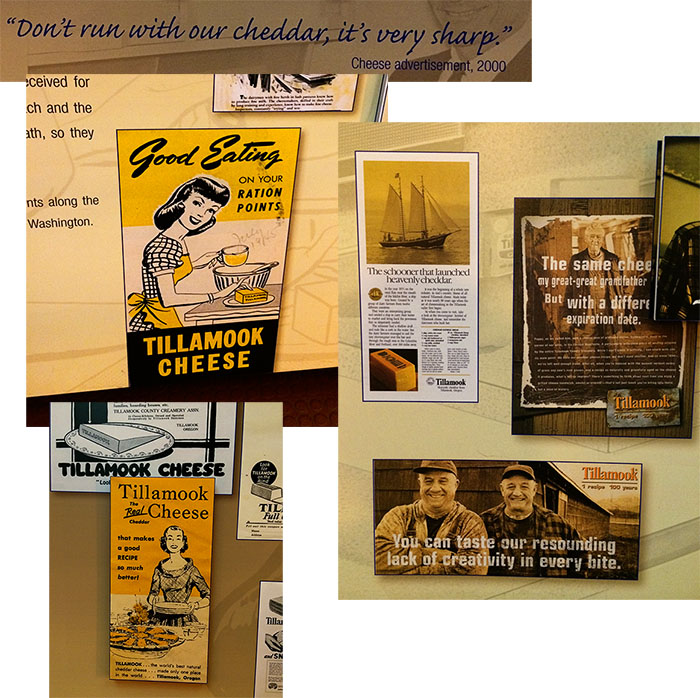 I sat watching a conveyor belt of 40 pound cheese blocks move through a large room to be weighed before being cut into 2 pound blocks, packaged, and then sent on to age in a special storage room.  Milk arrives at the factory within 1 hour of leaving the farm and is then turned into cheese within 24 hours of arrival.  More than 1.7 million pounds of milk arrive at the factory every day and approximately 167,000 pounds of cheese are made each day (it takes 10 pounds of milk just to make 1 pound of cheddar cheese!).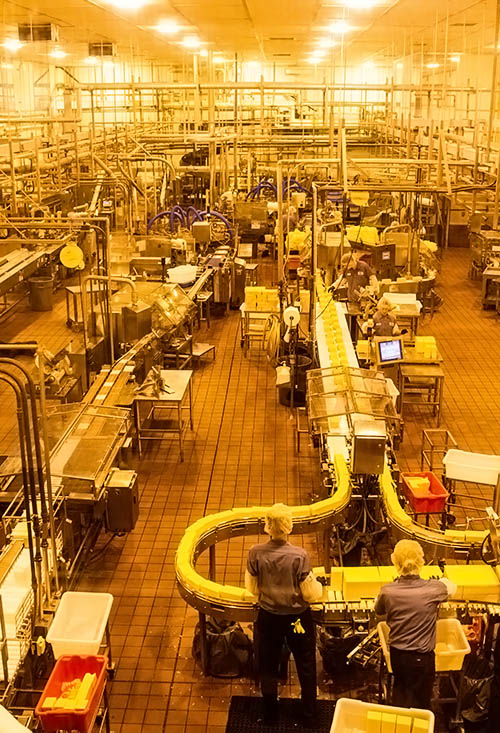 At the end of the tour they have a cheese bar where you can sample a variety of the cheeses that Tillamook makes.  It was hard to tear myself away.  After you finish the tour they have a large gift shop where you can purchase cheeses and other Tillamook products, as well as Tillamook t-shirts and other souvenirs.  (I purchased a Tillamook t-shirt for each member of the Fuji family.  We love our cheese!)  There is also a ginormous ice cream counter where you can order one of the many flavors of ice cream that Tillamook makes.  My mom and I each got a sampler, which allows you to pick 3 small scoops of whatever flavors you choose.  My trio was Tillamook Mudslide, Mountain Huckleberry, and Malted Moo Shake (a new flavor which will hopefully be in stores soon, because it was goooooood!).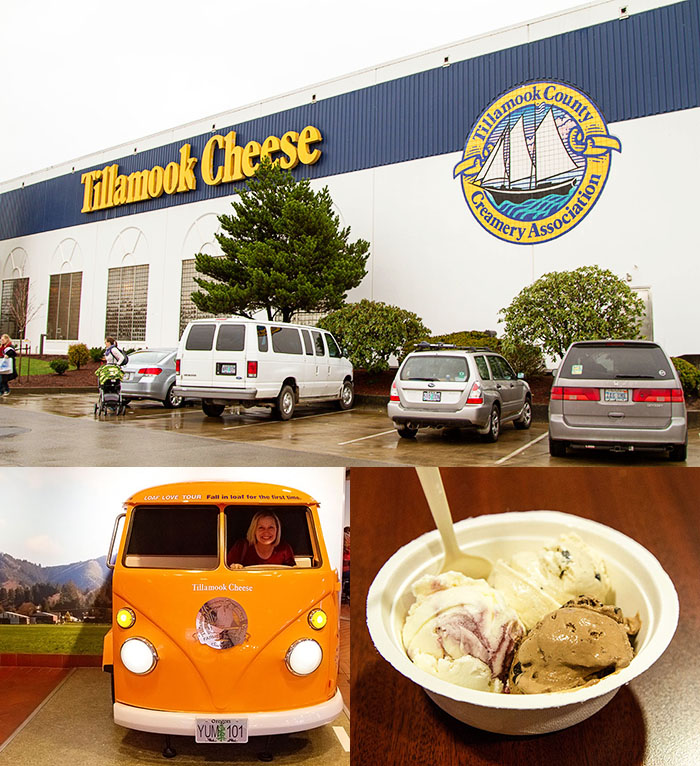 The tour was fascinating and one I would definitely repeat!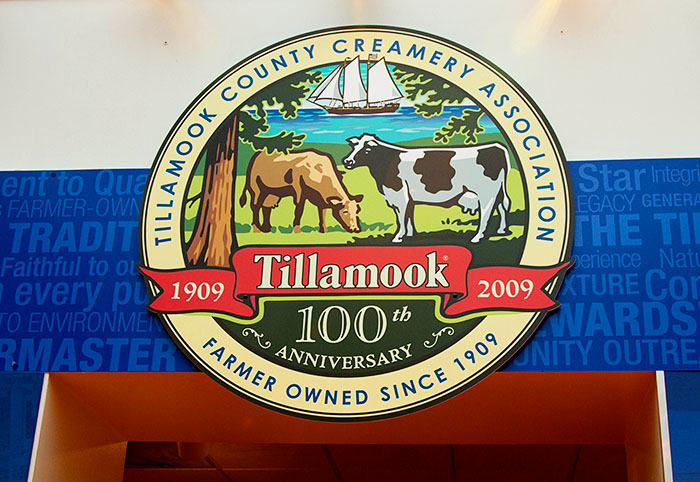 Tillamook Cheese Factory
4175 Highway 101 North
Tillamook, OR 97141
(503) 851-1300
http://www.tillamook.com/cheese-factory/index.html
*Entrance to Tillamook Cheese is free and they are open daily, year-round (except for Thanksgiving and Christmas).
8 a.m. to 6 p.m. (Labor Day through mid-June)
8 a.m. to 8 p.m. (Mid-June through Labor Day)