Now that we are in the middle of winter I thought it might be nice to try out some hearty and comforting recipes from Washoku. So, for this challenge, the Washoku Warriors were challenged with making one or more of the following:
1) Miso Ramen (Chinese-Style Noodles in Miso-Enriched Soup), p.182
1a) Make your own chicken stock for your ramen!—Torigara Dashi (Smoky Chicken Stock), p.94
2) Teriyaki Baaga (Soy-Glazed Beef Burger), p.264
====================================================================
Fuji Mama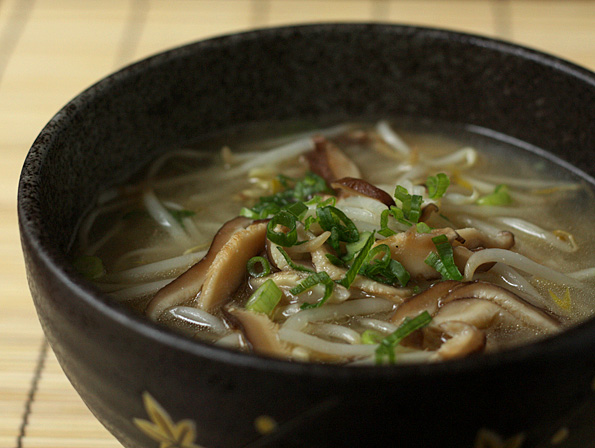 My family really enjoyed the recipes for this month's challenge.  The teriyaki burgers were a snap to make and disappeared before I even thought to take a picture.  Although I have made many types of Japanese cuisine, and used many types of noodles, including the noodles used to make ramen, I had never made actual ramen until this challenge (Top Ramen DOES NOT count).  Ramen is one of my most favorite things in the entire universe, and I have to resist irrational thoughts of hopping on a plane to fly to Japan when I start thinking about my favorite places to eat ramen in Tokyo.  (Something tells me Mr. Fuji wouldn't be too happy to see that one come through on our credit card statement.)  I thoroughly enjoyed making my first pot of ramen for this challenge.  I loved the  smokiness of the stock, and pouring the finished soup over the noodles and vegetables in each bowl felt like a real accomplishment.  I finally did it.  I finally made ramen.  One thing I especially appreciated about this recipe was the fact that there weren't a lot of ingredients or flavors crowding each other.  This bowl of ramen was very simple—soup, noodles, scallions, bean sprouts, and shiitake mushrooms.  The light flavors of the vegetables let the flavors of the soup really come through, while adding a bit of extra texture.  I can't wait to make my next pot of ramen!
====================================================================
Fuji Nana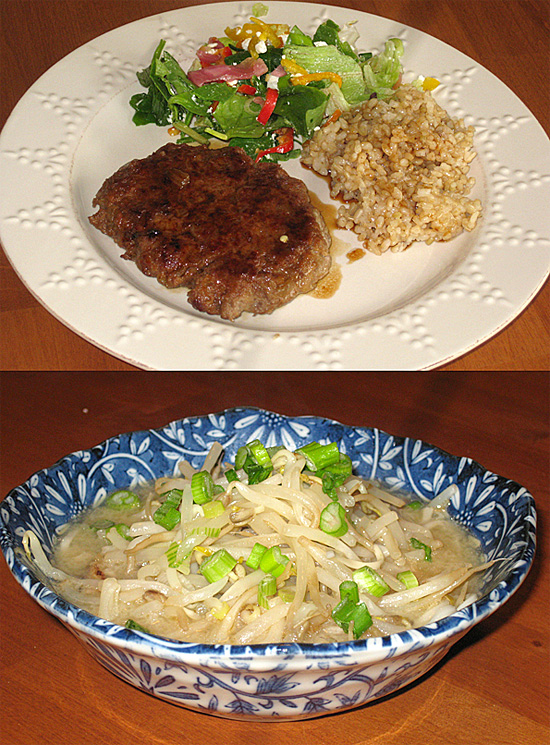 Both my husband and I loved this month's soy-glazed burgers.  They were flavorful and moist with just a tinge of sweetness, and the extra sauce made a flavorful addition to the rice we served with it.  With the addition of a simple green salad, we had a quick, easy, delicious meal.  As for the miso soup, I was much more a fan than my husband.  He tends to like hearty, heavier soups, but I thought the smoky, earthy broth and crunchy bean sprouts were a wonderful flavor and texture combination.  When I originally looked at the recipe, I thought it looked very time-consuming, but I made the broth a day ahead (while I was making the burgers), and the assembly time the next evening went very quickly. I will make both of these dishes again.
====================================================================

I'll be honest, ramen is not a dish I like.  My boyfriend, however, definitely does like it, so I figured that making it would be a special treat for him.  We decided to take on the added challenge of making the chicken stock from scratch for the ramen, and were rewarded with a delicious thick chicken stock, which was good in the end as we hit a language bump when he mis-read "tablespoon" as "teaspoon" with the measurement of the miso. Although it ended up a little bland, the ramen looked pretty good and, although I'm not likely to become a connoisseur of all things ramen, I did enjoy it enough to consider making them again sometime – with likely with a greater variety of toppings and a more flavourful broth.  The hambagu were even more of a pleasant surprise. They were so much easier to make than I had expected, and very forgiving of my habit of not sticking strictly to the recipe – like adding in less meat because that was all I bought, using an entire beaten egg instead of only 2 tbsp, and adding in a few handfuls of shredded cabbage that I had in the fridge and wanted to use up. Given all the liberty I took with the recipe I was rather nervous about the end result, but I was thrilled with the way they turned out and loved the sweetened soy sauce glaze – definitely something I'll be making again sometime!
Read Sarah's full report here!
====================================================================

Originally, I had intended to make the burgers with some sandwich bread which Rachael had posted about, but due to some sudden re-scheduling of weekend activities, I went for the noodle soup instead.  To extend the comfort in comfort food to the preparation, I substituted two smallish winter leeks for the scallions, used mie noodles instead of ramen (because I had, or rather didn't) and some dried shitake mushrooms for the fresh ones. For the dried sardines, which I was totally unable to find (same goes for katsuo bushi), I used some bonito-flavoured seasoning.  The finished soup was light but still hearty in taste. Comfort was achieved. :)
Read Andreas's full report here!
====================================================================

So the challenge this month snuck up on me (OK, so that's nothing new).  I was in a bit of a panic though because we were in the middle of a raging winter storm.  How was I going to get to the Japanese market in the middle of a blizzard?  I was thinking I would have to sit this one out when I flipped to page 264 and found that I had every single ingredient I needed!  BONUS!!  I was so happy to make these fun soy glazed beef burgers.  When my husband walked in the door from work and saw my Washoku cookbook open on the counter, he said "YES!! I LOVE WASHOKU WARRIORS NIGHT!!"  The recipe for the teriyaki burgers certainly lived up to his expectation.  It was easy to follow and they turned out so delicious!  The only changes I made were to add the whole egg (I wasn't about to measure out 2T of egg, I just put it all in).  I also made 5 burgers instead of 4.  When I made these again, I'll double the teriyaki sauce at the end, it would have been nice to have a bit for the rice.  I also used a cast iron skillet to make the burgers and I'm so glad I did, it gave them a delicious crust on the outside and I didn't worry about them sticking to the pan since I was using 95% lean beef.  Another great recipe!  I'll be making these again soon!
Read Amber's full report here!
====================================================================
I initially wanted to make the ramen, but I wasn't able to get the ingredients because I've been snowed in for a week. I halved the recipe and though the burgers were a little on the large side, there was some left over for bento! I did add a little bit too much onion and didn't mince it finely enough. Other than that, I would have mixed the miso a little bit more into the meat before making patties. I really liked the miso in the recipe, but the large amount of onion in the burger made it taste more like meatloaf. I also chose not to put the extra sauce on the patty since I could see all the fat and grease from the meat in it. Not sure if I'll ever make this recipe again, but it's an interesting take on the standard hamburger.
Read Nicole's full report here!
====================================================================
Judy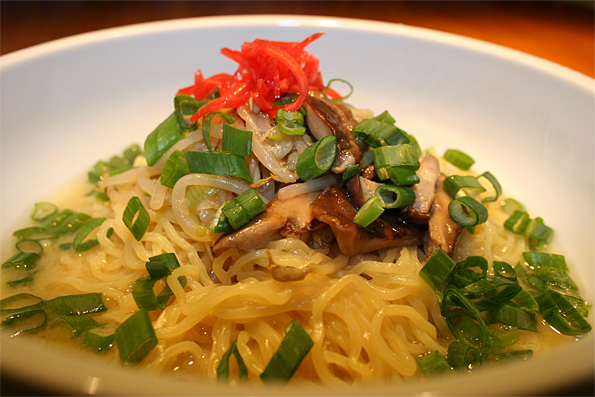 We eat a lot of ramen in our house.  A lot of ramen.  It is one of very few dishes that our 6 year old son will eat.  And because we try to avoid instant ramen noodles like Ichiban and its cousins, we end up visiting japanese restaurants/ramen houses fairly often.  So, I was very excited and eager to take on this challenge – to finally make real ramen at home.  I started by making the smoky chicken stock which was very straight forward, even though I had never used bonito flakes before.  I loved the smell and flavor of the stock that resulted from it.  I used shiro miso because I couldn't fine mugi miso but the soup still tasted really good.  I then assembled the ramen with sauteed bean sprouts and the shiitake mushroom.  Overall the dish was a big hit with everyone.  The sauteed bean sprouts didn't do much for me, but since I got the basics down, I figure we can be very creative with the toppings the next time around.  This was a great challenge and I really like the fact that we can now make real ramen at home!
====================================================================

I really enjoyed this challenge. Comfort food is like an international language. It doesn't matter where you live or what your background may be because everyone speaks "comfort food". These recipes were great this time of year in Tokyo with the rainy, cold weather. I actually made the burger recipe in meatball format for my Super Bowl menu (which you can find on my blog
here
).  They were delicious and really easy to make. The ramen was also a great meal, but I felt like my stock did not come out quite right. (Ok, twist my arm. I'll make it again!) Overall, this was a great experience and both recipes will make their way to our dinner table again soon!