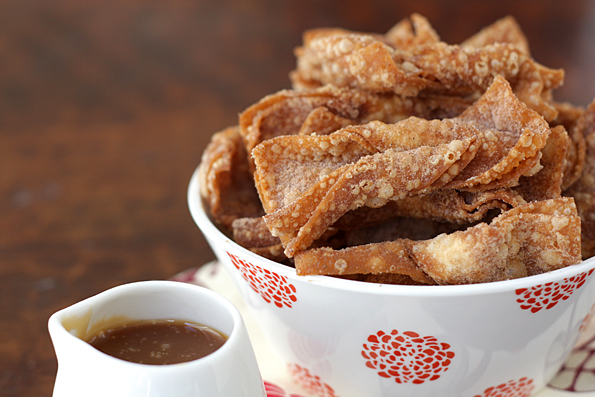 I'm blaming this post on a number of people.  My friend Rachel to start with.  She invited a bunch of moms with little girls over to her house to take Valentine's Day pictures of our girls (she's a talented photographer).  It was a blast, and her pictures of Bug and Squirrel are TO-DIE-FOR CUTE (proud mama speaking).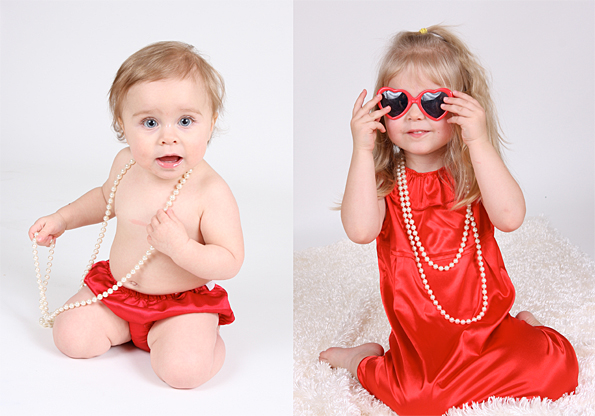 The problem lies in the fact that she asked us each to bring a little treat/snack to share.  This is a problem because it got the wheels turning, and I started thinking about something yummy to take . . . this is always dangerous.  Now let's turn our attention to Kamran (The Sophisticated Gourmet) and his drool inducing post on making churros.  I LOVE CHURROS.  Crisp sugary outside, warm soft inside . . . needless to say, Kamran's post has had me craving churros ever since.  Finally, I had a bunch of extra wonton wrappers on hand after making Paula's (bell'alimento) super yummy Super Bowls for our Super Bowl party.  The result of these circumstances was me making churro wontons: wontons cut into strips and and made into cute little bows, deep fried until crispy, and then doused with a healthy dose of cinnamon and sugar.  Rachel, Kamran, and Paula—I'll be sending you this week's gym bill.
But then what to dip them in?  Salted Butter Caramel Dipping Sauce of course. Of course.  The sauce is a marriage of 2 recipes: Smitten Kitchen's and David Lebovitz's (from his book The Perfect Scoop), and you probably shouldn't make any because it is dangerous.  Unfortunately we didn't finish eating up all the sauce yesterday and so I have leftovers.  Mardi (Eat, Live, Travel, Write) wrote about eating crêpes drizzled with salted butter caramel sauce on a trip to Brittany, France recently.  This probably means I'll have to make some crêpes to finish off the sauce.  Mardi, I'll be sending you next week's gym bill.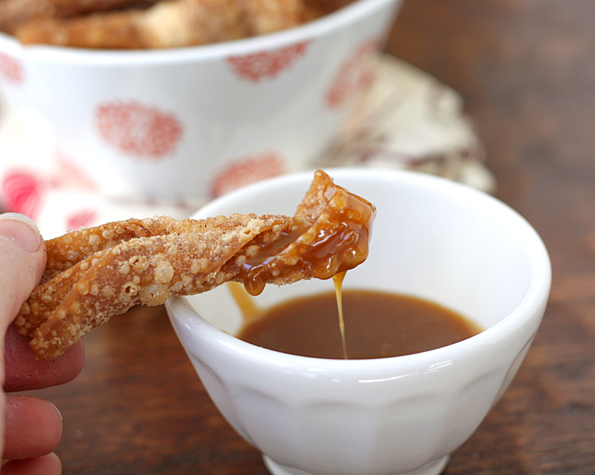 Churro wontons are a piece of cake to make.  Just cut your wrappers into thirds,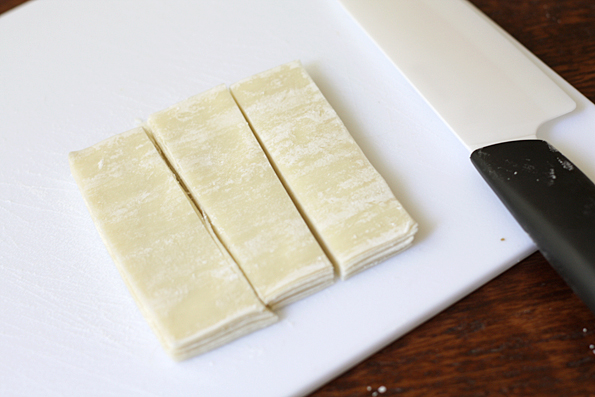 put 2 of the pieces on top of each other and then cut a slit, about 1-inch long down the center of the wrappers.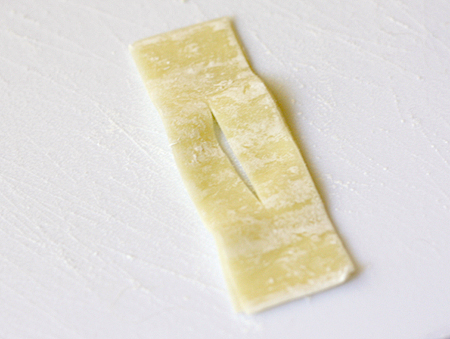 Then pull one of the ends through the slit to make a bow shape.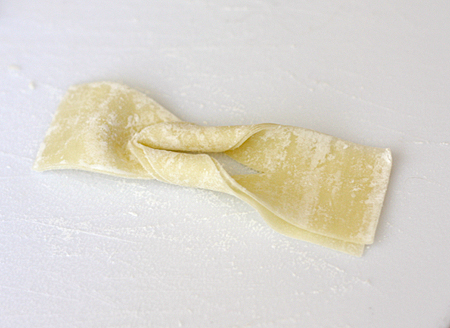 Repeat with the rest of your wrappers.  Then deep fry them in some oil,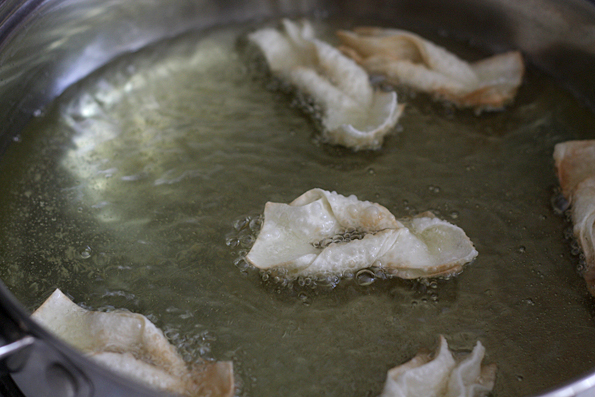 and finish them off with a shower of cinnamon and sugar.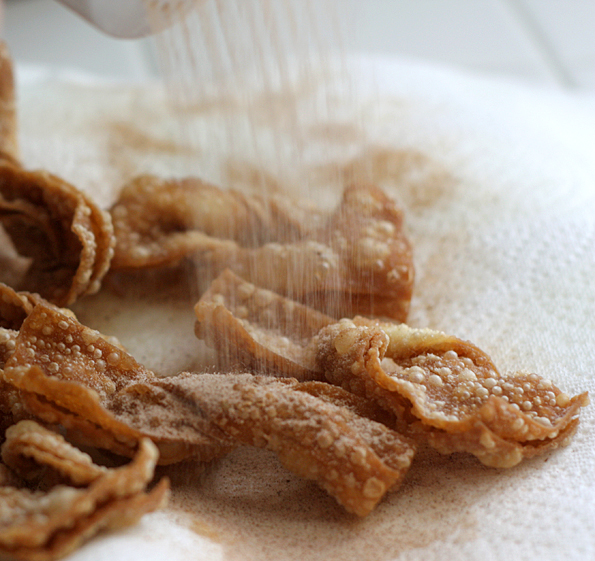 I know that traditionally when you think of making treats for Valentine's Day, many people automatically think of chocolate.  I recommend you think outside of the box and make some churro wontons and some salted butter caramel sauce to dip them in.  If crispy sugary cinnamony wontons with buttery caramel sauce doesn't say love, then I don't know what does.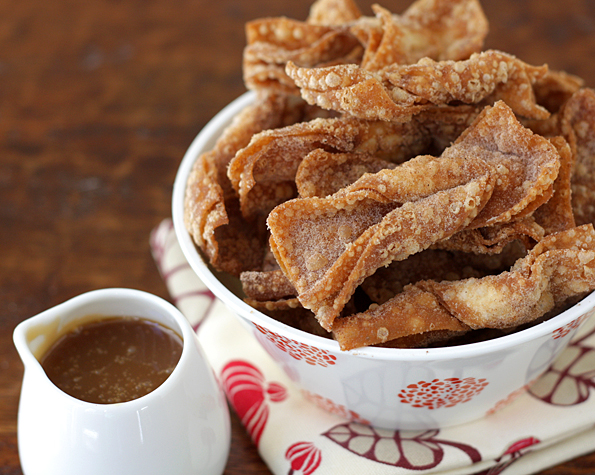 Print This Recipe
Churro Wontons
Makes 45 pieces
30 wonton wrappers
1/3 cup granulated sugar
2 teaspoons ground cinnamon
Oil for deep frying
1. Cut the wonton wrappers into thirds.  Stack 2 pieces on top of each other and cut a slit (about 1-inch in length) down the center of the pieces.  Pull one end through the slit in the pieces to make a bow shape.  Repeat the process with the rest of the wrappers.
2. Mix the granulated sugar and ground cinnamon together and put in a sifter.
3. Heat about 1/2-inch of oil in a heavy-bottomed pot until it registers 350 degrees Fahrenheit.  Add six to eight wontons at a time; cook until golden and crisp on one side, and then flip them over and cook them until they are golden and crisp on the other side.  Carefully remove them from the oil (take care not to splatter hot oil on yourself!) and set them on paper towels to drain.  Give them a shower of cinnamon and sugar.  Repeat with the remaining wontons.
Salted Butter Caramel Dipping Sauce
Makes about 1 1/3 cups of sauce
1 cup granulated sugar
6 tablespoons (salted, not unsalted) butter
1/2 cup + 2 tablespoons heavy cream at room temperature
1/2 teaspoon vanilla extract
1 teaspoon kosher salt
1. In a heavy-bottomed pot (aim for using a pot on the larger side to give the sugar room to do its thing) melt the sugar over medium heat, stirring the sugar constantly with a wooden spoon to keep it from burning or melting unevenly.  The sugar is done when it has liquefied and is a dark rich copper color.
2. When the sugar is done, add the butter all at once, and stir rapidly until it has melted, then turn off the heat.  Carefully pour in the heavy cream–the mixture will foam and splatter and bit.  Stir everything together until the sauce is smooth.  Stir in the vanilla extract and kosher salt.  Serve.
* Leftover sauce can be stored in the refrigerator and brought back to temperature by heating it briefly (about 30 seconds) in the microwave.