In the past I have been hesitant to add anything like an amazon.com shop to my blog.  I just didn't see the benefit to you as my readers, as it is so impersonal and wouldn't really add to your experience here on LFM.  That changed however, when I learned about a company that I believe is going to change the face of e-commerce.  OpenSky is a community driven shopping experience made up of individual shops run by online experts—people like Michael Ruhlman and Greg of Sippity Sup whose blogs I read and opinions I trust.  In these shops you are able to ask the shopkeepers questions about the products.  Shopkeepers are able to share their own pictures, videos, and experiences about why they love those products.  It's like being able to walk into a mom and pop store and ask questions about items before you make any decisions.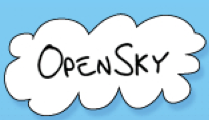 I am very excited to announce the opening of the La Fuji Mama Shop.  Why am I excited?  Because now I have a place to share with you the things that I love and use often.  Some of the items aren't always easy to find, and the OpenSky team has helped me to find suppliers so that you can have access to my favorites.  That apron that Squirrel loves to wear so much when she's helping me out in the kitchen?  Yep, it's in my shop, as well as the thermometer I use when making bread.
I am starting small, but will slowly be adding more to my shop.  Come and check out the La Fuji Mama Shop!