a challenge to make your own miso soup from scratch
and then tell me about it!  I maintain that miso soup is surprisingly easy to make.  Let's see what the Miso Soup Challenge participants had to say:
The first people to take up the challenge were Kim and Hong, the dynamic duo that writes Ravenous Couple.  They said, "We made a 4 mushroom miso  composed of enoki, beech, shiitake, and king…and yes, we did make the dashi from scratch…heartier than your average miso and umami to the 9's."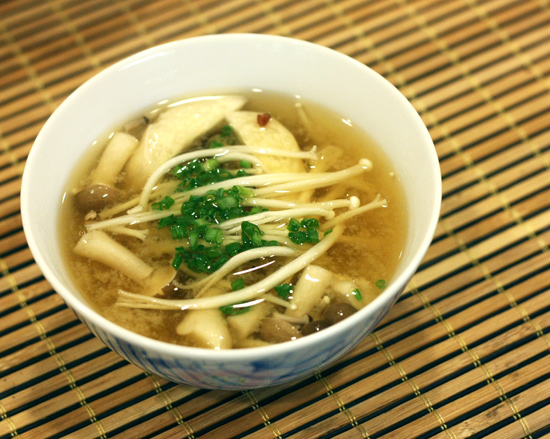 Mmmmm, it looks delicious!  I love the 4 mushroom combo.
Our second participant was Debi Shawcross who writes Table Talk.  Debi threw a sushi dinner party and made miso soup for the party.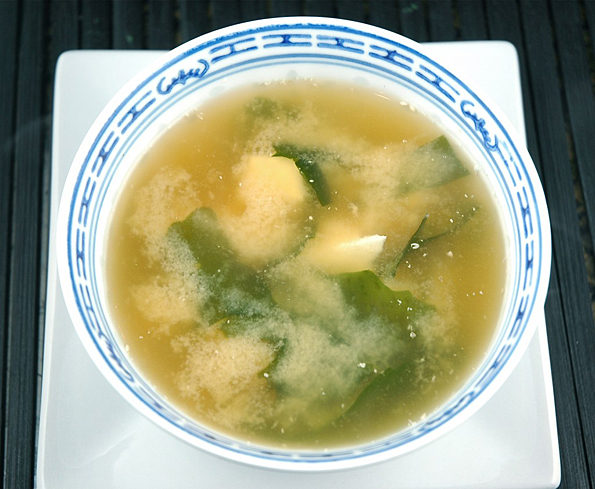 I can't eat sushi without a bowl of miso soup!
Finally, our third participant was Gaelle who writes What Are You Feeding Your Kids These Days? Gaelle decided to take on the challenge to start broadening her family's food horizons.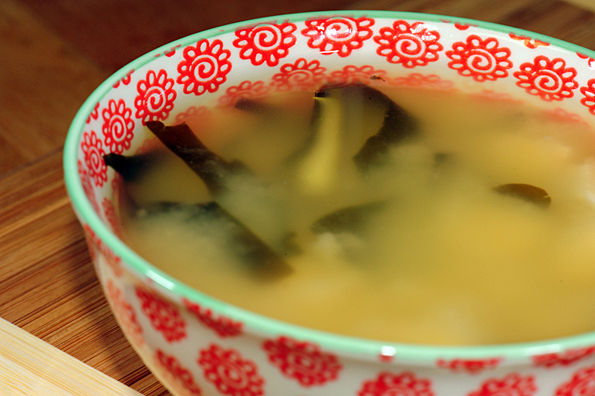 Gaelle also had a funny experience.  On the back of her katsuobushi package she discovered a recipe for French Onion Soup!  Now there's one for fusion cooking!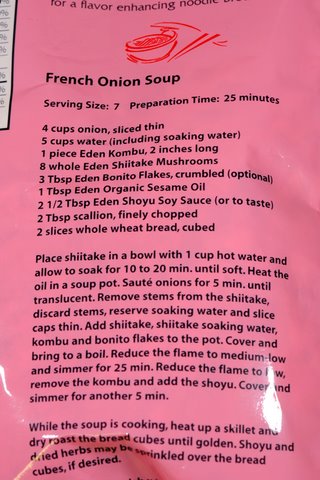 I have loved reading about Kim & Hong, Debi, and Gaelle making miso soup from scratch.  See, if they can do it, so can you!  One of my favorite ways to make miso soup is to use up things in my pantry or refrigerator.  I had a carton of Eggland's Best eggs in the refrigerator (as part of the Foodbuzz Tastemaker Program I received a free coupon) and a butternut squash that had been sitting on my counter for a while and needed to be made into something.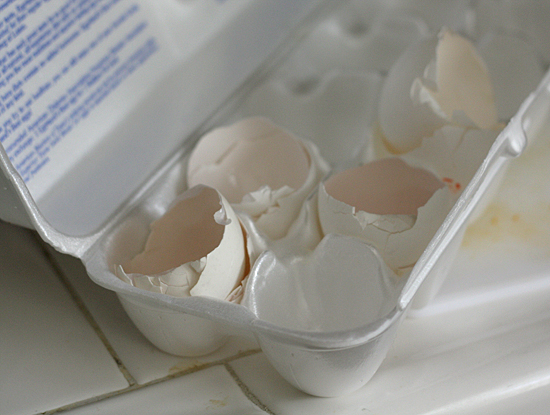 Solution? Miso soup!  I poached some of the eggs (poached eggs make me uber happy) and cut the squash into cubes and sauteed them in some olive oil.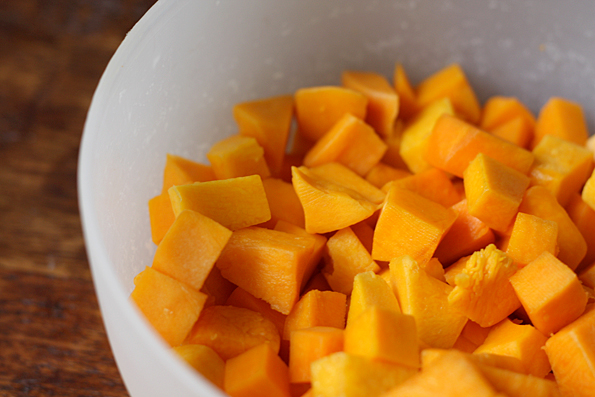 Then I made miso soup, adding the butternut squash and poached eggs along with some baby spinach leaves.  The result was a delicious filling lunch.  The same soup could easily be made with sweet potatoes or any other kind of greens that you love.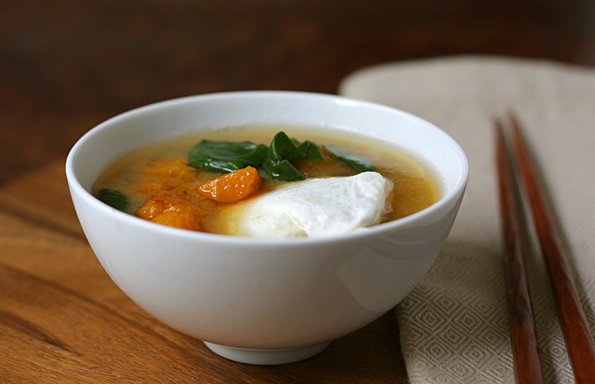 Print This Recipe
Miso Soup With Butternut Squash, Poached Eggs, & Spinach
Makes 4 servings

6 cups water
1/4 cup distilled white vinegar
4 large eggs
1 pound butternut squash (or sweet potato), peeled and roughly chopped into 1/2-inch cubes
1 tablespoon olive oil
Fine grain sea salt
3 1/2 cups dashi
2 1/2 – 3 cups baby spinach leaves
3 tablespoons miso paste (I used 2 tablespoons light miso and 1 tablespoon dark miso)

1. Poach the eggs: Bring the 6 cups of water and 1/4 cup distilled white vinegar to a simmer in a 3-quart saucepan.  While you are waiting for the water to come to a simmer, fill a large bowl with cold water.  When the water in the sauce pan is simmer, starting from the handle of the pan and moving clockwise around the pan, very carefully break each egg into the water (get as close to the water as you can, but be careful not to burn yourself).  Keep the water at a simmer and poach them for exactly 4 minutes.  Starting from the egg near the handle of the pan, remove each egg one by one with a slotted spoon, and drop into a large bowl of cold water.  Set aside the bowl aside.

2. Prepare the butternut squash: Warm the olive oil in a skillet over medium-high heat, then add the cubed butternut squash and a few pinches of the sea salt.  Toss the pan to coat the squash, then cook for a few minutes, until the squash starts to get some color on the bottom.  Give the pieces another toss to brown on the other side, and continue tossing every few minutes to get more color and to cook the pieces.  If the pan dries out (you will know because the squash pieces will start to stick to the pan), add a bit more oil.  When the squash is cooked through, remove the pan from the heat and set aside.

3. Prepare the miso soup: Bring the dashi to a simmer over medium heat.  Add the spinach leaves and cook for about 20 seconds (just long enough for the leaves to wilt).  Reduce the heat to low.   Add the miso to the dashi (using one of the methods detailed in the basic miso soup post) to the dashi, stirring the soup to combine everything.  Add the poached eggs with a slotted spoon (so that the cold water drains off them when they are transferred) and reheat slightly (but do not boil).

4. Divide the soup between 4 bowls, making sure that each bowl gets a poached egg, and garnish with the sauteed butternut squash cubes.

A couple of weeks ago I extended