February 5th is a very important day in the Fuji household.  No, it's not anyone's birthday or our anniversary–it's
World Nutella Day
!  Thanks to Sara of
Ms. Adventures in Italy
and Michelle of
Bleeding Espresso
, Nutella was finally given its own day of celebration four years ago.
I asked Mr. Fuji to pick up some provisions during a recent trip to Costco in preparation for our celebrations.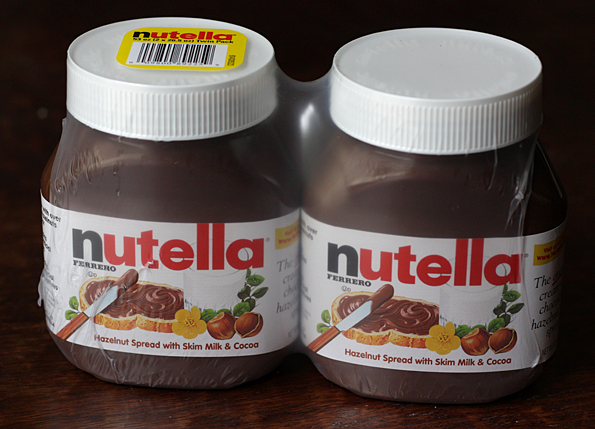 Hey, I needed to be prepared.  I didn't know how much Nutella I was going to need, and heaven forbid we run out!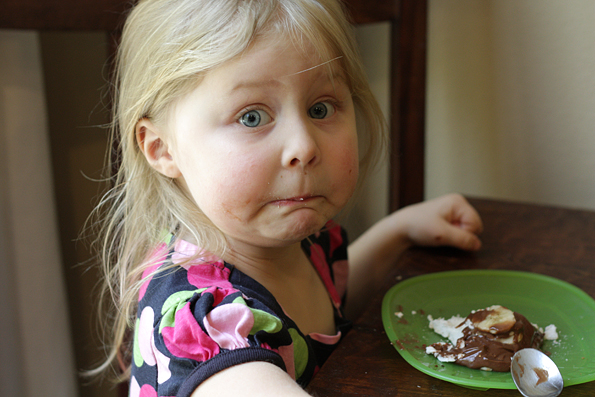 I always look forward to opening a new jar.  Is it just me, or is dipping into that smooth surface of a brand new jar supremely satisfying?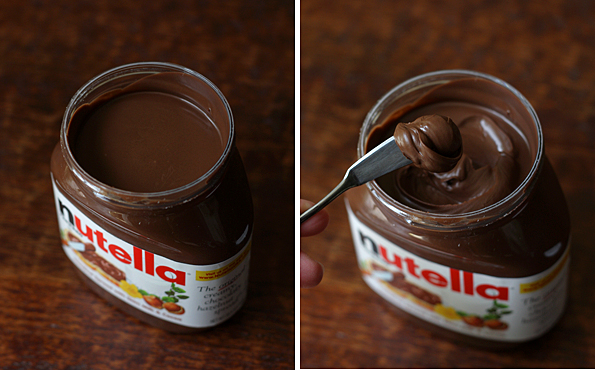 We are very serious about our Nutella around here.  I have standards to uphold and Squirrel to please.  If you've been reading LFM for a while, you already know how much she loves her Nutella.
I've been brainstorming ideas for my contribution to the Nutella recipe world for a while, coming up with some interesting ones, but nothing that was truly worthy of World Nutella Day.  Finally, about a week ago inspiration finally struck, and I whipped up a pavlova with nutella mousse.  A pavlova is a meringue-based dessert that has disputed origins (both Australia and New Zealand claim it).  A traditional pavlova has a pillowy meringue base that is topped with whipped cream and fresh fruit.  The meringue is crispy on the outside but still soft and gooey on the inside.  One thing I love about pavlovas are that the components can be made several hours ahead and then assembled shortly before serving.  This makes them a fabulous dessert for a dinner party when you need to be worrying about other dishes beforehand.  For my pavlovas, I used the traditional meringue-base (adapted from this Gourmet magazine recipe), making 6 medium-sized meringues.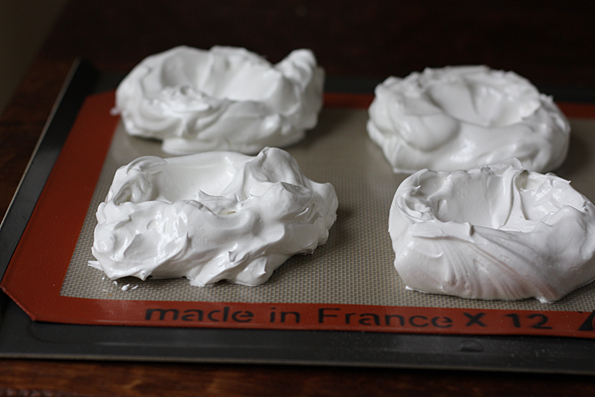 Then I made a simple mousse using Nutella, mascarpone cheese, and whole milk.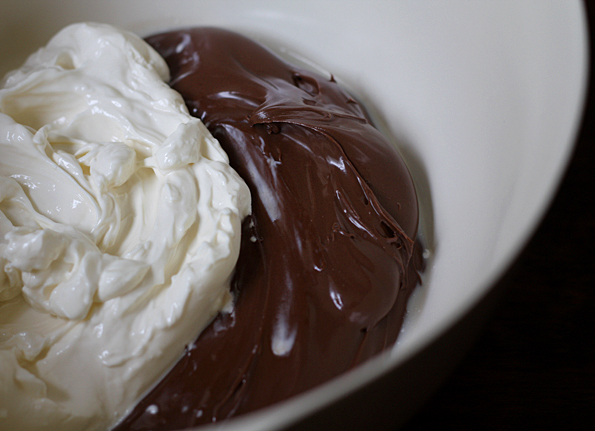 Whipping them together for several minutes produced a rich and silky smooth mousse.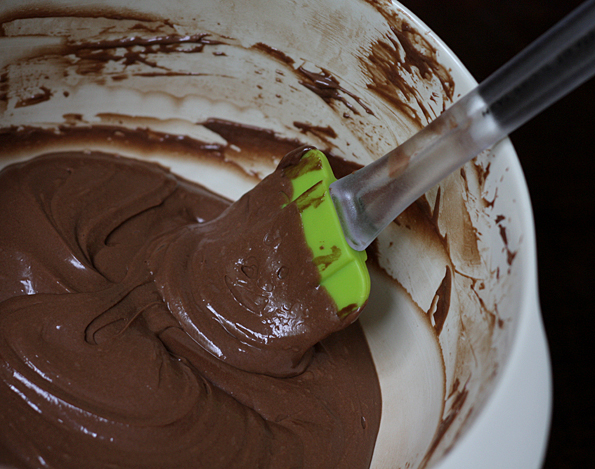 The pavlovas turned out to be a dessert that I am confident in labeling as one of my best creations to date.  Delicate meringue pillows topped with rich silky Nutella mousse, and studded with thinly sliced bananas and dark dark chocolate curls.  So good I could cry.  I only have one problem—how am I going to top this next year?


Print This Recipe
Pavlova With Nutella Mousse
Makes 6 large servings or 12 small servings
For meringue:
1 cup superfine granulated sugar
1 tablespoon cornstarch
3 large egg whites at room temperature for 30 minutes
pinch of salt
3 tablespoons cold water
1 teaspoon distilled white vinegar
For Nutella mousse:
1 jar of Nutella (13.25 ounces/375 grams)
8 ounces mascarpone cheese
2 tablespoons whole milk
Fresh thinly sliced bananas, to garnish
Dark chocolate curls, to garnish
1. Make meringue: Preheat the oven to 350 degrees Fahrenheit with the rack in the middle.  Line a baking sheet with parchment paper or a silicone baking mat.
2. Whisk together the superfine sugar and the cornstarch in a small bowl.  In a separate large mixing bowl, beat the egg whites with the pinch of salt using an electric mixer at medium speed until they hold soft peaks.  Add the water (the whites will loosten when you do this) and then beat the whites until they hold soft peaks again.  Increase the mixer speed to medium-high and beat in the sugar mixture 1 tablespoon at a time.  When all the sugar has been added, beat for 1 additional minute.
3. Add the vinegar and beat the meringue at a high speed until it is glossy and holds stiff peaks.  With a large spoon, drop the meringue onto the prepared baking sheet in 6 mounds (or 12 small mounds), spaced 2 inches apart.  Using the back of the spoon, make a depression in the center of each mound (the depression is for the mousse).
4. Place the meringues in the oven.  Immediately reduce the temperature to 300 degrees Fahrenheit.  Bake until the meringues are dry on the outside (but centers remain soft) and are a pale straw color, and lift easily from the parchment, about 45 minutes.  Turn the oven off and prop the door open slightly with a wooden spoon.  Leave the meringue in the oven to cool for 1 hour.
5. Make the Nutella mousse while the meringues bake: Combine the Nutella, mascarpone cheese, and milk in a large bowl.  Using an electric mixer, beat together the ingredients on medium-high speed until the mousse lightens and is smooth and creamy, about 2 minutes.
6. Assemble Pavlova: Very carefully remove the meringues from the parchment paper (I find it easier to try and peel the paper from the back of the meringues rather than trying to lift the meringues from the paper).  Spoon the Nutella mousse into the meringue and add thinly sliced bananas and chocolate curls on top.
* For the best results, keep the oven door closed as much as possible during baking.  The meringues can be made 2 days ahead and frozen, wrapped well in plastic.  Thaw before serving.