Superbowl Sunday!
I know some of you are in it for the football…me, not so much, I'm a college football kind of girl.  Mr. Fuji?  He likes the football.  I personally love the commercials and the excuse to eat lots of yummy munchies.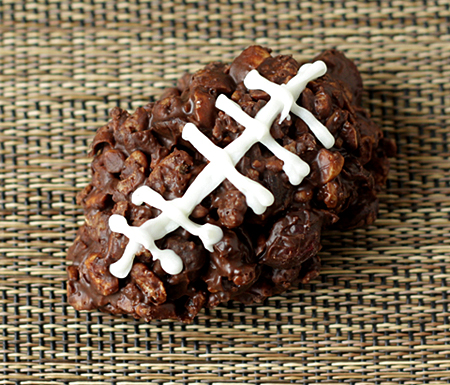 Have you planned out your munchies list yet?  I'm thinking burgers and lots of finger foods.  Maybe some edamame, creamy tortilla pinwheels, and veggies and dip.  But no good munchie lineup is complete without chocolate, right?  Right???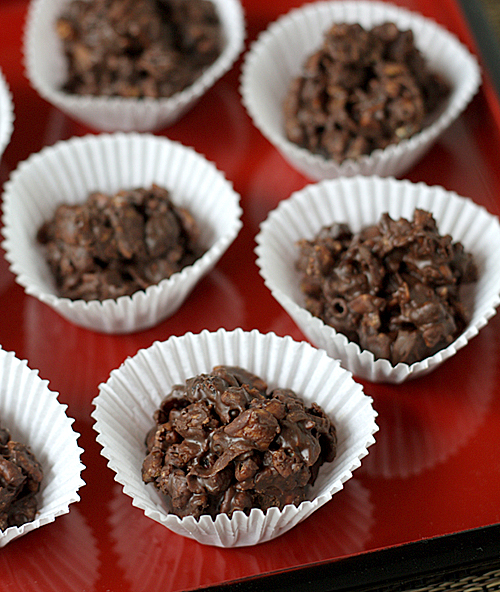 Dorie Greenspan recently posted a quick and easy recipe for Chocolate Crunchies that looked delicious.  I decided to make my own twist on the recipe, substituting some of my favorite things.  The end result makes for perfect football food—these little candies are quick and easy to make and incorporate all of my favorite "C" words: Chewy, Crunchy, CHOCOLATE, Cashews, Coconut, Craisins, and Crispy Rice.  Thank you Dorie, you're a genius, as always!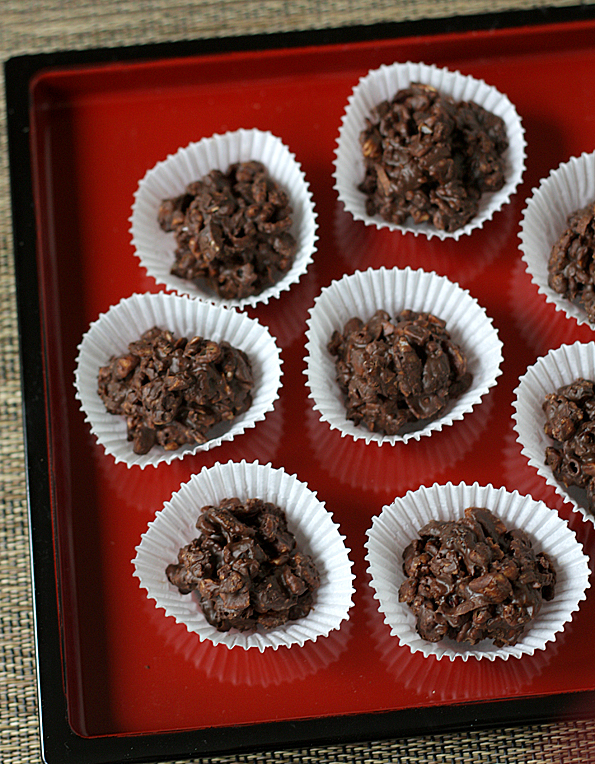 Print This Recipe
Super Bowl Chocolate Crunchie Munchies
Adapted from Dorie Greenspan's recipe
Makes 2 – 3 dozen pieces (depending on how big you make them!)
1/2 cup roasted and salted cashews
1/2 cup craisins (dried cranberries)
1/4 cup shredded coconut
1 cup crispy rice cereal
1 cup semisweet chocolate chips or 6 ounces finely chopped semi- or bittersweet chocolate
1. Line a baking sheet with wax paper.
2. Finely chop the cashews.  Put the cashews, craisins, coconut, and crispy rice cereal into a medium size bowl and gently mix everything together with a wooden spoon.
3. Gently melt the chocolate in the top of a double boiler or in a microwave oven on low power.  Pour the melted chocolate over the ingredients in the bowl and stir with a wooden spoon until all of the ingredients are evenly coated.
4. Drop small spoonfuls of the candy mixture onto the prepared baking sheet.  Chill for at least 1 hour before serving.
3) Drop mounds of the candy mixture into paper petit-four cups or onto a sheet of wax paper.  (I use a 2-teaspoon cookie scoop to do this, but you can divide the candy by heaping teaspoonfuls.)  Chill for at least 1 hour before serving.
================================================
Coming Tomorrow: World Nutella Day!!