This month the Washoku Warriors tackled sushi.  The assignment was to make:
1. Sushi Rice, p.145
2. *Choose one (or more!) of the following to use the sushi rice:*
– Five-Colored Foods with Sushi Rice, p.147
– Rolled Sushi, Two Ways, p.149
– Sushi Pillows, p.152
3. OPTIONAL: Clear Ocean Broth with Herbs and Lemon Peel, p.124–this soup
is often served with sushi dishes
So how did everyone fare?
====================================================================
Fuji Mama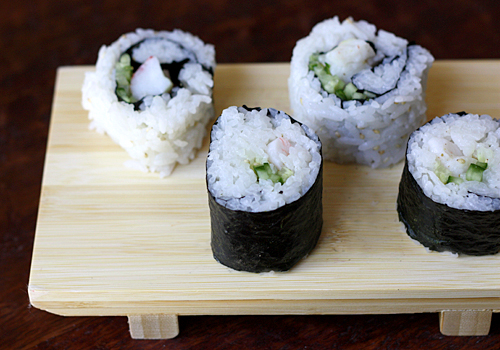 Sushi is always a favorite in our house, and this time around was no different.  What struck me while making sushi this time was how amazing the finish product is—especially when you consider what you start with.  It amazes me sometimes how you can take simple ingredients and create extraordinary things.  A bit of rice, vinegar, seaweed, fish, veggies, etc. and you can create a beautiful and delicious sushi roll.
====================================================================
Hello everyone! This is my first attempt at being a "Washoku Warrior". Living in Tokyo I am surrounded by food that I don't completely understand, and I have found that even after using this book one time that there is much to be learned in its pages. I loved making the "Sushi Pillows" or inari zushi as it is one of my favorite snack foods here. I found that mine turned out slightly less flavorful because I didn't have the soy concentrate made. I used the alternative method and I think I lost a lot of taste because of it. However, I learned the process of making inari zushi and will certainly be trying this again soon! I'm looking forward to the next challenge!
====================================================================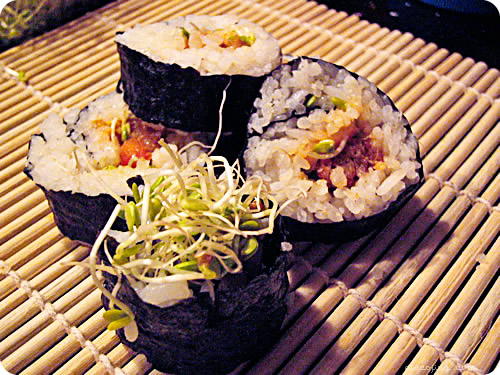 I've made sushi before, but it has been a long while since I was able to successfully execute a maki roll. For the maki roll containing unagi, daikon sprouts, and cucumber, I subbed red pepper for cucumber and added a mayo/sriracha sauce inside. I really didn't like this sushi, but it was mainly because the eel I used was from a can and disgusting looking. I found the inari quite easy because I make it all the time. After making 3 inari and a maki roll, I still had leftover sushi rice from the 2 cups I made, so I made some onigiri mixed with furikake and bean sprouts. After making all of these, I found out the rice was too dry and had too much vinegar in it (probably had something to do with my freezing, heating, refrigerating, and reheating of it).

Read Nicole's full report here!
====================================================================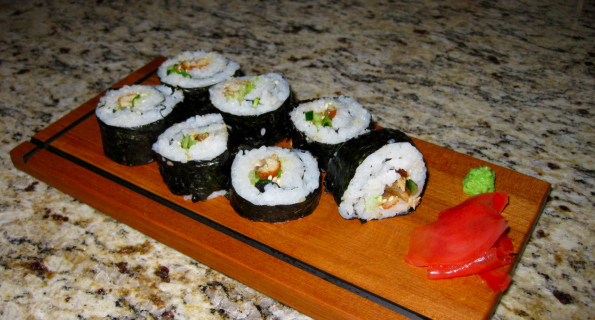 The sushi challenge turned out to be way harder than I thought it would have.  The ingredients were not a problem to get or prepare.  The sushi rice was easy and straightforward to prepare – when I tasted it, it was familiar and right.  Making the actual sushi however.. yikes!  After three horrible failures at rolling up the sushi (in all cases the entirety of the ingredients ended up on one side of the roll), I sat in a huff on the couch, refusing to make another.  My boyfriend coaxed me back into the kitchen and we decided to try using a larger sheet of nori with more rice spread out in a thinner layer.  The final result wasn't really quite right either as it had a funny spiral of nori since we used so much of it.. but at least the ingredients were in the middle.  I did not have enough unagi to make the inside-out rolls, unfortunately, after so many failed attempts at the regular roll.  I think I need to watch some videos or get a hands-on how to for sushi because this was semi disastrous.
Read Jeanie's full report here!
====================================================================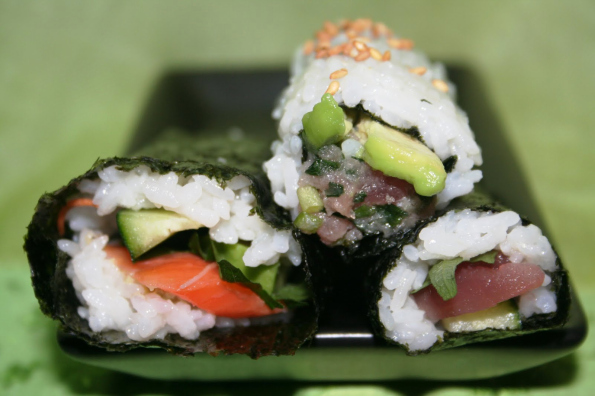 Roll-your-own-sushi is one of my favourites to make – whether with my dad for dinner parties or for school fundraisers in undergrad.  Afterall, choosing your favourite ingredients and then playing with your food?  How can you go wrong?!  We started off this time by following Andoh's directions for the Clear Broth and Sushi Rice.  After that, however, we went off on our own and had a great time rolling all sorts of mixtures – including the three in this photo: salmon, cucumber, and avocado; tuna, cucumber, shiso leaf, and salted plum paste; and the inside out roll with tuna belly and green onion (my ALL-TIME favourite) and avocado.  Delicious!  And splurging on fresh wasabi to go along with it all was definitely worth it… yum!!
Read Sarah's full report here!
====================================================================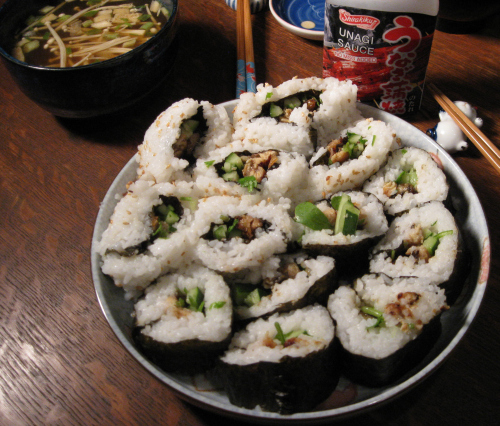 So this is my little accounting of my attempt to make rolled sushi again.  While the other dishes looked great and I am going to make them in the future, I wanted more practice making rolled sushi.  Plus the temptation of unagi was too hard to resist.  The rice was no problem.  I even sometimes make sushi rice for Donburi so it was not my nemesis.  It was no problem finding the ingredients except for those pesky radish sprouts.  I live in Southern California and could not find any sprouts except for bean sprouts.  Hard to believe.  Well my boyfriend who was the lucky recipient of my efforts happened to be growing some radishes and needed to thin them so that took care of that.  Prepped all the ingredients (I also cook and eat a bit of unagi so that was no problem either).  Proceeded to put everything together and roll it up.  The futomaki was not a problem.  The uramaki was harder to roll up and cut.  It really does take practice.  I think spreading the rice thinner would help and while my knife was very sharp, it really does take one that is extremely sharp to cut these rolls without having them get pressed down.  And more practice.  Luckily that was my only problem.  The important part is that they tasted great and two people devoured the whole plate of sushi.  Yes was very full after eating them with a bowl of miso soup with enoki.  I decided to add a bit of unagi sauce to the soy sauce for dipping which was pretty darn good.  So I decided a few days later to make another roll.  Was able to work on spreading the rice thinner, still need a super duper extra extra sharp knife.  Even so, they still were just as good as before!  This is something I will practice more on in the future since I am moving to a city known for it's Japanese markets.  I am looking forward to that!
Read Julie's full report here!
====================================================================
Judy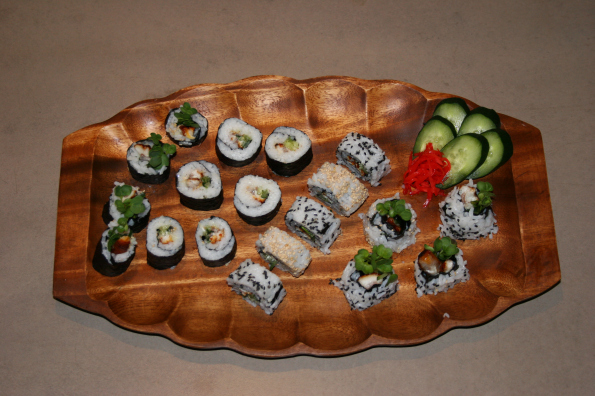 I love sushi rolls and was very excited to see the challenge!
I figured this challenge would be a cinch, since after all, I have been carefully observing sushi chefs make sushi rolls for a very long time.
However, as the challenge began, I found myself humbled by the techniques and the delicateness of the rolls made both ways (rice in and out).
The first step which caught me by surprise was the need to prepare the cucumber to "remove bitterness" by rubbing salt all over the whole cucumber!?

What a concept…and it actually made a difference.

It was sweeter than non-treated cucumber and it really took away any bitter taste that may have been in the peel.

Getting the rice on nori was my second big challenge.

The wet hand made a difference but it took a bit of effort and practice to figure out how much rice to use for each roll and how to get the rice to spread out evenly on the nori. Third, using the sudare to firm up the roll was a bit tricky — which direction do I roll and how much pressure do I apply?

I'm still not sure but amazingly, the rolls came out beautifully and tasted great.

The sushi rolls did not last very long in our house and we really liked the combination of radish sprouts with the eel.

Now that I understand how to make sushi rolls (both ways!), I could see experimenting with salmon, tuna, avocados…etc., in the future.

Thank you…this challenge was a blast!
====================================================================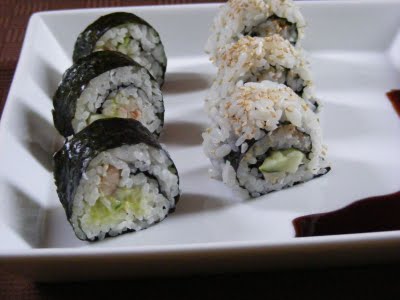 As with the macarons from the recent Daring Bakers Challenge, sushi is the kind of recipe which was bound to come up at some stage of our combined effort of cooking through (most of) Washoku.  Incidentally, the Daring Cooks are also experimenting with vinegared rice (and dragons ;) ) this month.  Sushi is a dish I feel confident about, having made them a number of times.  However, the inside-out rolls (uramaki) turned out a bit messy and I still prefer the futomaki style.
Read Andreas's full report here!
====================================================================
Cindy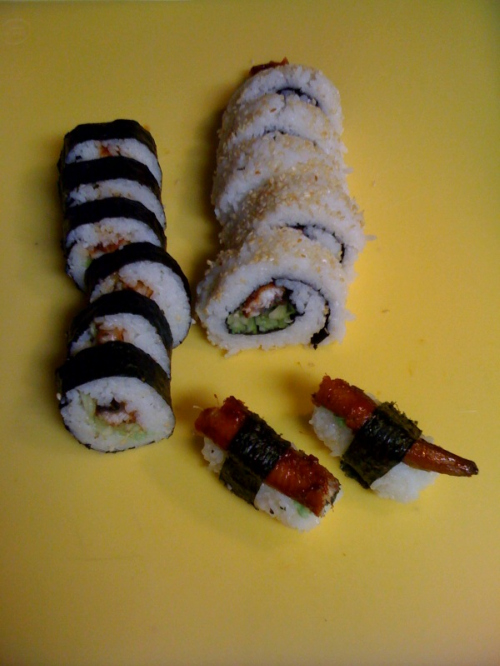 I always enjoy ordering unagi when I go out to sushi, so I figured it was time to challenge myself to the home preparation and made sushi rolled 2 ways, or, futomaki, uramaki (p.149).  My first stumbling block was finding the unagi no kabayaki.  I did find 2 brands of frozen unagi kabayaki (lacking the distinctive "no") and, it seemed like it was going to do the job, for though it was not as described in Washoku (p.20) in that there was no separate tare sauce, it was preseasoned in "soy, sugar, and vinegar."  I also never managed to find fresh radish sprouts even though I had dreams of growing them myself.  So, with only those recipe substitutions (and using bottled seasoned vinegar for the sushi and not homemade — oh — and my 7 year old fanning the rice with a pink feather fan), I made futomaki, uramaki, and "I don't know what they are called, but they look like what I get a at a Sushi Bar."  I forgot how easy sushi is to make if one simply gets the ingredients assembled in a timely manner, and the unagi was delicious … and the price can't be beat!
====================================================================
I have to admit when I learned this months Washoku Warrior challenge was Sushi, I was a bit intimidated. I knew I wasn't going to use raw fish, I don't have a trusted source yet, but I just wasn't sure how it was all going to come together. Well, after all the worrying, I can honestly say that it was much easier than I anticipated, and the results were delicious. Even the kids ate it! The sushi rice was so easy to make, the directions were very clear and easy to follow, my rice came together perfectly! For my filling, I decided I would use cooked shrimp, cucumber, avocado, daikon, wasabi and sesame seeds. I followed the instruction in the Washoku cookbook, using just a half sheet of nori on my first roll, and it ended up being more of a "sushi taco" though it was still tasty, I opted to use a full sheet of nori on my next try. It worked much better for me with a full sheet. I did both futomaki and uramaki rolls, and have to admit that I much prefer eating the uramaki (inside out) rolls. I loved the pickled ginger, and the wasabi gave it such a nice hint of heat. This challenge was so fun, I loved it, sushi rolls are going on the menu rotation at our house for sure.

Read Amber's full report here!
====================================================================
There are only a few more hours to enter my Moving Day Giveaway!  To enter, see this post for details.  The contest is open until 10 PM PST tonight!