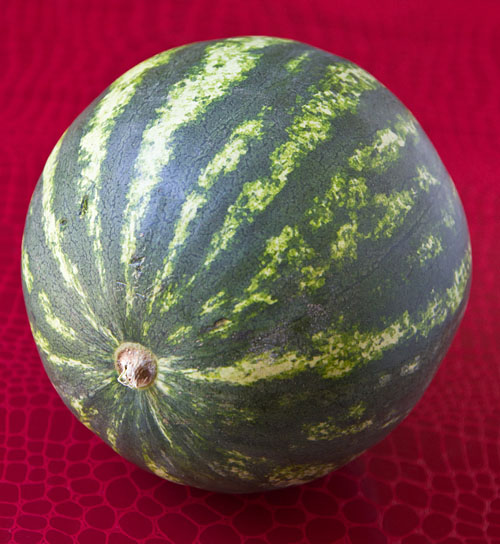 I recently had to face the cold hard truth.  I do not have a future in fruit carving.  At least not for a long, long time.  I know that this may sound like an odd profession to try dabbling in, so let me back up a bit and explain.
Mr. Fuji and I have been to Thailand on multiple occasions (one of the benefits of having lived in Japan is being so close to so many other amazing Asian countries!), and on one of our trips we watched a Thai woman carving delicate, elaborate designs into melons in the lobby of a restaurant in Phuket.  Her movements were quick and graceful and sometimes it seemed as if she had hardly made a movement at all—yet her knife would then deftly pop out a sliver of melon that she had just carved out.
Fast forward 5 years to this summer—I received a challenge from the National Watermelon Promotion Board to do a bit of my own melon carving.  July is National Watermelon Month, and the Board hosts an annual watermelon carving contest to celebrate.  How could I say no to a challenge like that?  The Board sent me a basket of supplies to help me along, including a Thai fruit carving knife, which is like a small thin paring knife and sword combined.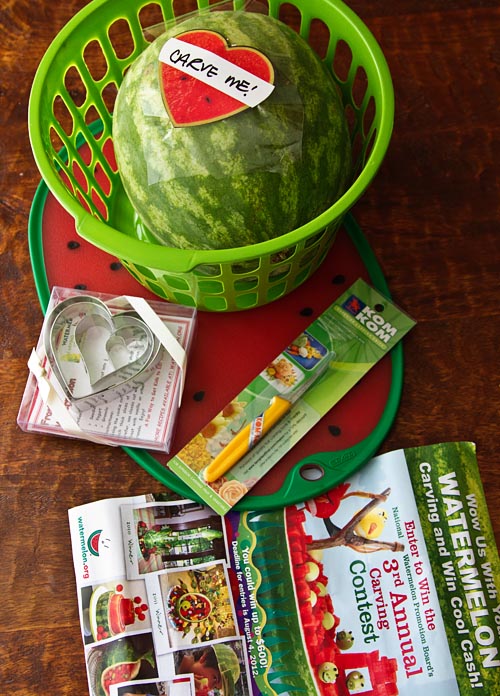 Seeing that knife brought back memories of the woman I watched creating works of fruit art in Thailand, and I decided I wanted to try something Thai inspired.  Do you see where this is going?
I started out by peeling off the bright green part of the rind from half of my watermelon to create my canvas.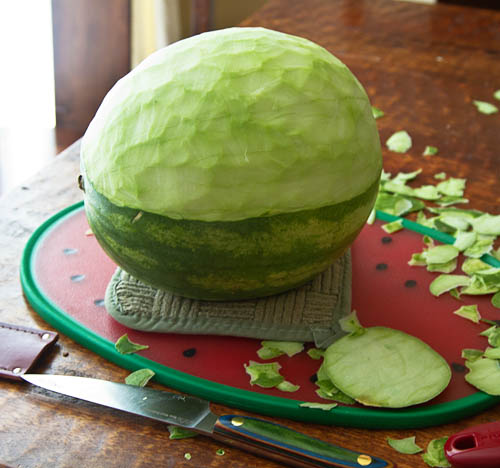 Then I used the fruit carving knife to shape flower petals and a decorative sawtooth edge.  Although my floral creation doesn't even begin to compare to the delicate finesse of talented fruit carvers, I loved the process and enjoyed seeing how the contrasting green of the rind and red of the flesh turned into beautiful flower petals, despite my clumsy technique.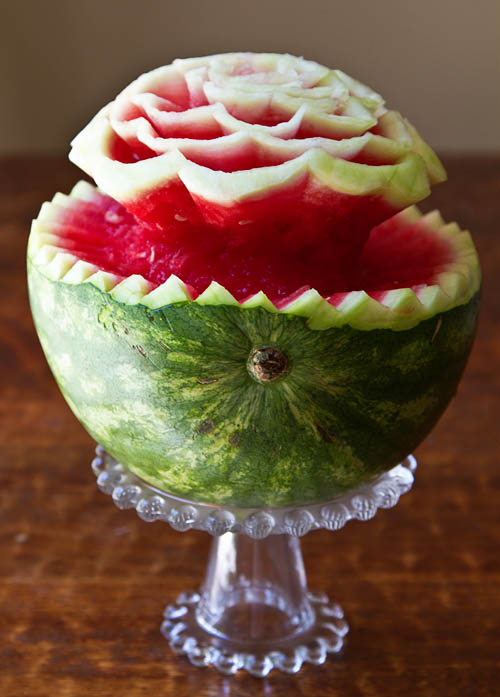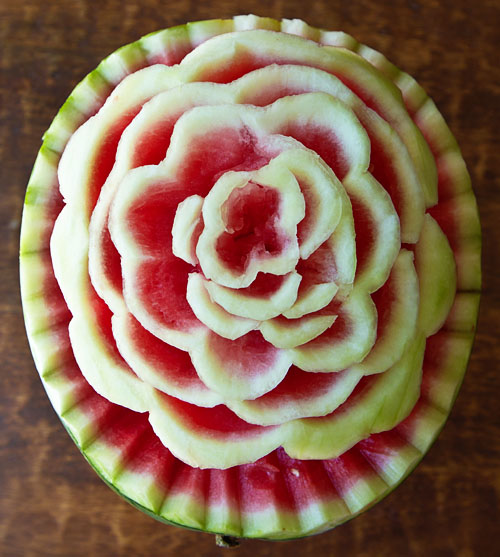 Although I'm a far cry from being ready to be a fruit carving artist, maybe I have a future as a fruit comedian?  The Fujilings thought the watermelon "carnage" was pretty entertaining.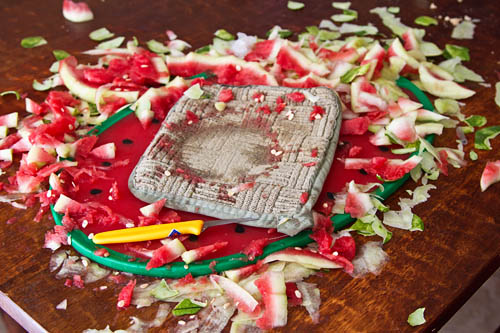 I'll have to continue practicing my technique, but for now at least we can enjoy the abundance of juicy, vitamin rich watermelon this summer!