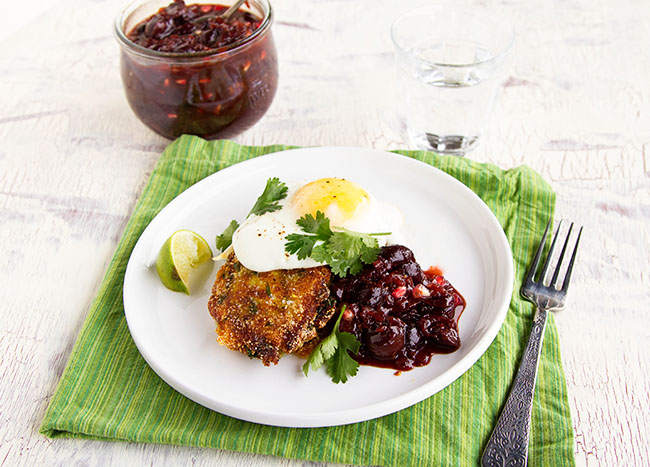 November and December are my two favorite months of the year.  I love the holidays.  I love the chance to refocus on what is most important in my life and to celebrate those things with others.  I also love the colors, smells, flavors, sounds, and traditions that go with these months.  I recently received a review copy of a cookbook that I was really looking forward to called Aarti Paarti: An American Kitchen with an Indian Soul, by Aarti Sequeira.  You may already be familiar with Aarti, as she was the winner of the TV show, Food Network Star (Season 6), and is now the host of Aarti Paarti on the Food Network. I was enchanted with her bubbly personality, dogged determination, and unique cooking style that combined Indian flavors with American classics as she was competing on Food Network Star. Then her TV show followed and I eagerly waited each week for the recipes from the episodes.
A bit of background on Aarti: She was born in India, but grew up in Dubai, UAE and attended a British-run school in town (she has a fabulous British accent). So her childhood was a mix of Indian and Middle Eastern flavors, as well as flavors from other parts of the world, due to the diversity of Dubai's expat population. Before Aarti ever competed on Food Network Star, she was a journalist (a producer at CNN and co-producer of the HBO documentary Sand and Sorrow about the genocide in Darfur). When she found herself unemployed, she turned to cooking and cataloguing her recipe experiments, then to blogging and eventually starting an online cooking-variety show called Aarti Paarti, which you can still watch on YouTube.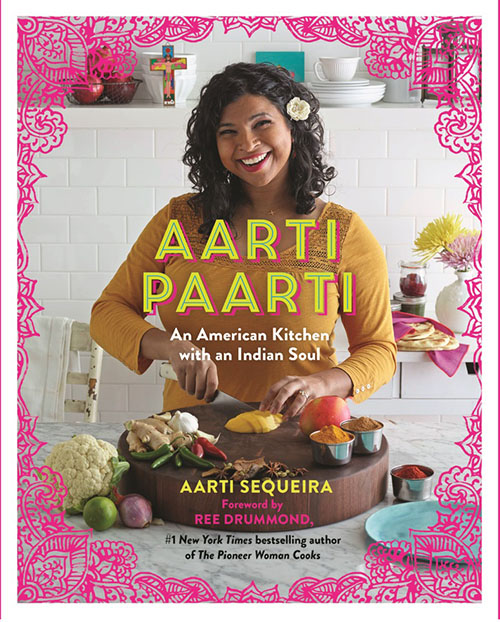 So you may be wondering what all of this has to do with the holiday season? Well Aarti's new book, Aarti Paarti, embodies so much of what I feel this season is about: hope, joy, love, friendship, faith, and giving back. The book is peppered with encouragement, as if Aarti is sitting and having a conversation with you. In fact, the introduction of the book ends with this:
…[E]ven beyond my hope that this book will help embolden you in the kitchen…my real prayer is that if you are struggling with those feelings—if you wonder about your true purpose, if you question that there is Someone out there who cares about you and has a plan for you—my hope is that you can hear my story, you can hear the joy in my voice, the joy that for so long wasn't there, and know that YES, there is a reason you are here, and it's for a purpose that no one else could ever fulfill but you! Be encouraged, dear heart. The purpose could be right under your nose…"
After sitting down and reading Aarti Paarti from cover to cover (yes, I read cookbooks as if they were novels), tagging recipe after recipe that I wanted to make, then actually making a bunch of them, the book has become one of my all-time favorite cookbooks ever, for so many reasons. Where do I start? I've already mentioned that the book is full of Aarti's infectious personality, but it's also bursting with her knowledge of Indian flavors, ingredients, and techniques, and she presents this information in a way that is easy to understand and is completely unintimidating. Aarti mixes these things with dishes from the American repertoire, which makes a cuisine that is oftentimes quite foreign from our own, very approachable. The book is beautiful as well, full of beautiful photography from the talented Matt Armendariz. For my gluten-free friends, many of the recipes in this book are naturally gluten-free, but the majority of those that aren't can easily be made gluten-free with a substitution or two!  But most importantly? The recipes work and they're delicious. I keep cooking from the book and I have yet to make something that I don't love. That is rare for me. I've cooked from many cookbooks, and even my most favorite cookbooks have recipes that I just don't enjoy. Saag Paneer? Swoonworthy. This Baba's Ghanoush (a.k.a. Baba Ghanoush, or smoky eggplant dip)? So good I basically ate the entire batch single-handedly.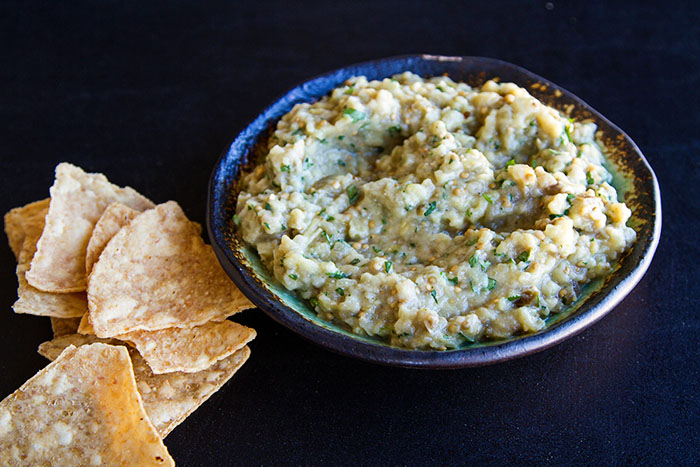 One of the dishes that really captured my heart was Aarti's recipe for "Aloo Tikki Egg Bennys" (Indian potato cakes benedict), so I'm sharing that recipe with you today. It's perfect for fall and winter, because it's hearty and filling, but also has nice bright flavors to wake up your tastebuds when the weather outside is dreary. I've made them twice and the last time I made them I made half the batch with russet potatoes as the recipe calls for, and the other half with sweet potatoes. Killer good either way!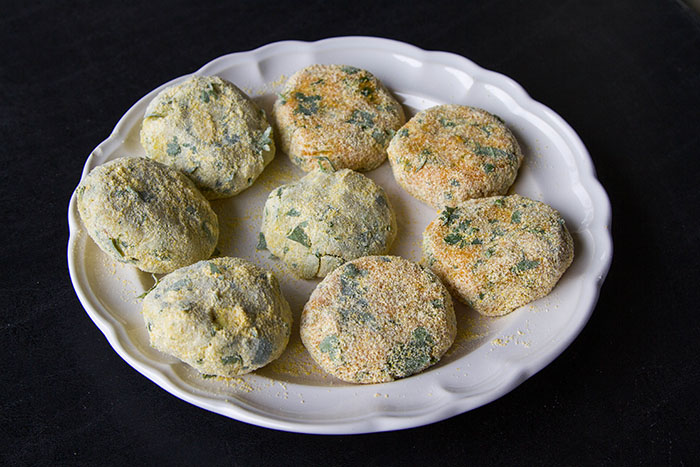 You start out by combining mashed potatoes with a mixture of fresh ginger, chiles, cilantro, spices, and lime juice. Then you shape the mixture into little patties, roll the patties in cornmeal, then fry them in a bit of oil in a pan until they are golden brown.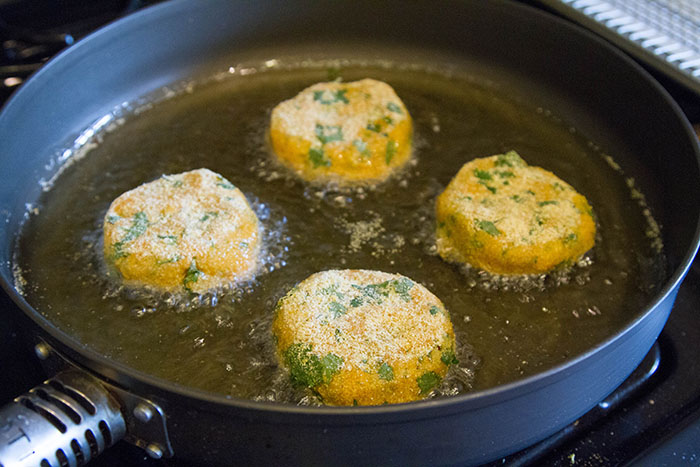 You serve the tikkis (potato cakes) with a fried egg, a squeeze of lime, a bit of cilantro and spoonful of chutney. I used the recipe in the book for Ruby Red Chutney, a chutney made using cranberries, and it was incredible. The first time I made the chutney, cranberries weren't in stores yet, so I substituted frozen cherries, and it was still amazing. This chutney will be a part of our Thanksgiving feast because it's that good. Move over traditional cranberry sauce, you've been bested! (You'll have to buy the book if you want this recipe!)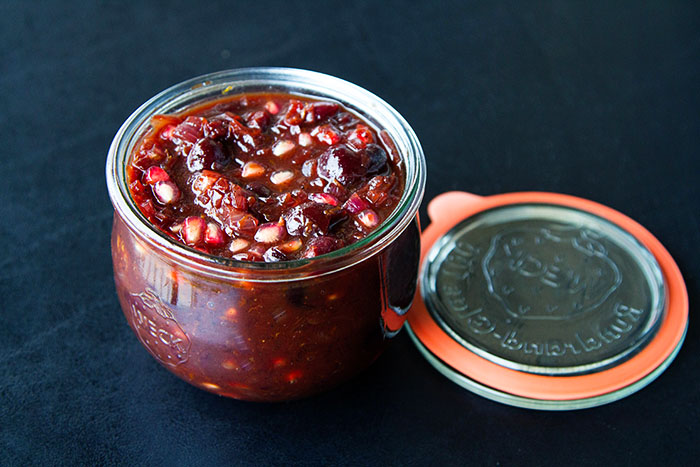 The recipe for the Aloo Tikki Egg Bennys came about after Aarti and her husband Bren hosted their first Thanksgiving. Aarti writes, "We felt like real grownups. Until then, we'd had to balance dishes of food on the coffee table, kitchen counters and even the TV! Our friend Karen, a big fan of mashed potatoes, made enough to feed all the Pilgrims, and so I came up with this dish the next morning to help us make a dent in the leftovers. I served it with the Ruby Red Chutney I'd made the day before, but you can also serve it with a big dollop of ketchup and the hot sauce of your choice." So here you are, a little bit of joy from Aarti's kitchen to yours, plus a perfect way to use up mashed potatoes after your Thanksgiving feast!  While you're at it, enter to win your own copy of Aarti's book (details after the recipe below), or just head straight to order your own copy now.  This book would also make a wonderful holiday gift for the favorite cook in your life.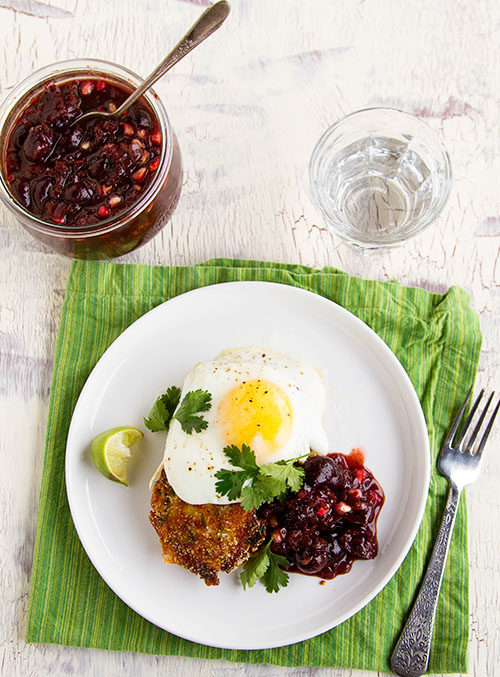 Print This Recipe
Aloo Tikki Egg Bennys (Indian Potato Cakes Benedict)
Excerpted from AARTI PAARTI by Aarti Sequeira.
Copyright © 2014 by Aarti Sequeira. Used with permission of Grand Central Publishing. All rights reserved.
Makes 4 servings
ACTIVE TIME: 45 minutes
INACTIVE TIME: 45 minutes
TOTAL TIME: 90 minutes
1 1/2 pounds russet potatoes, peeled and cut into 1-inch cubes
Kosher salt
1 (3-inch) piece fresh ginger, peeled and grated
2 small serrano chiles, seeded and minced
Generous handful of fresh cilantro leaves and soft stems, roughly chopped (about 1/4 cup), plus more for garnish
2 teaspoons ground cumin
1/2 teaspoon ground turmeric
Zest of 2 small limes
Juice of 1 lime (about 2 tablespoons)
1/4 cup cornstarch
Freshly ground black pepper
1 cup cornmeal, for coating
Sunflower oil, for frying
4 large eggs
Ruby Red Chutney (page 60), Date-Tamarind Chutney (page 59), or store-bought tamarind chutney, for serving
1. Drop the potato cubes into a medium saucepan and add cold water to cover. Season the water generously with salt and bring to a boil over medium-high heat. Reduce the heat to maintain a simmer and cook for 10 minutes, until the potatoes are very tender. Drain in a colander and allow to cool until you can handle them with your bare hands.
2. Once cool, run the potatoes through a potato ricer or a food mill into a large bowl, or, as a last resort, mash them in the bowl with a potato masher (this results in a heavier potato cake).
3. Gently fold in the ginger, chiles, cilantro, cumin, turmeric, lime zest, lime juice, cornstarch, 2 teaspoons of salt, and pepper to taste. Taste and add extra salt and pepper as necessary.
4. Pour the cornmeal onto a flat bowl or pie plate, and season it well with salt and pepper.
5. Divide the potato mixture into 8 portions, about 1/3 cup each. Roll a portion between your palms into a ball, then squash it into a little cake of even thickness (about ¾ inch thick). Dip the cake into the cornmeal, coating both sides evenly, and set the coated cake on a platter. Repeat with the remaining portions of the potato mixture. Chill the cakes in the refrigerator, uncovered, for 10 to 15 minutes to firm them up.
6. While the tikkis (potato cakes) are chilling, preheat the oven to 200 degrees Fahrenheit. Line a baking sheet with paper towels and set a rack on top.
7. Pour oil into a large nonstick skillet to a depth of ¼ inch and set it over medium-high heat. Check the temperature of the oil by dropping in a pinch of cornmeal; if it sizzles immediately, the oil is ready.
8. Carefully slide 4 cakes into the pan (be careful not to crowd the pan or the temperature of the oil will drop). Cook until deep golden brown, 4 to 5 minutes, then carefully flip them (I'll sometimes use two spatulas for this job), and cook for 4 to 5 minutes more. Use a fish spatula to transfer the fried cakes to the prepared baking sheet, sprinkle them with salt, and slide them into the oven to keep warm. Scoop out any crumbs from the oil and repeat with the remaining 4 cakes.
9. Pour off any oil remaining in the skillet and wipe out the skillet. Reduce the heat to low. Add a tablespoon of oil and swirl the pan to coat. Wait a few seconds for the oil to heat up, then crack the eggs into the pan—they should crackle gently. Their edges may touch, but do not stir them together. Season with salt and pepper, then cover and cook for 3 minutes, for that perfect doneness between runny and firm.
10. Serve each egg over 2 tikkis (potato cakes), with a squeeze of lime, a flourish of cilantro and a couple of dollops of Ruby Red Chutney.
======================================================
Aart Paarti Cookbook Giveaway
Enter in the rafflecopter box below! No purchase is necessary in order to win. The odds of winning are based on the number of entries. Entrants must be residents of the US or CANADA to win.
a Rafflecopter giveaway

————————————————————————————-
*Disclaimer: I received a review copy of this book at no cost to myself.  I received no other compensation, nor was I required to write a post after receiving the book.  All opinions and experiences are my own!