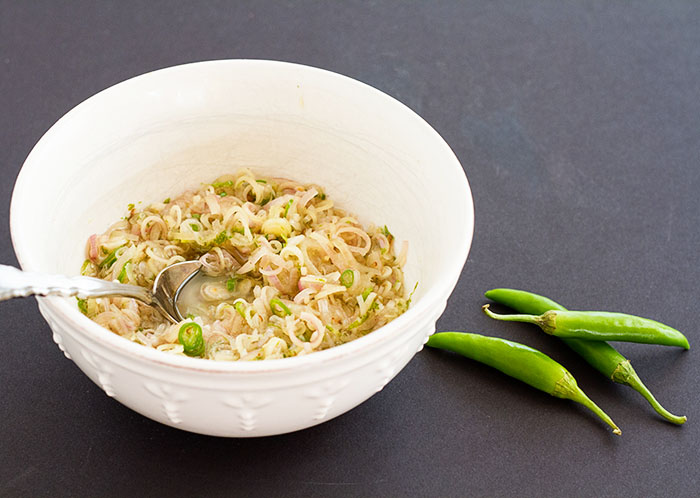 I am a chilihead, so I always have my eye out for new ways to enjoy hot chili peppers.  My newest chili recipe acquisition was a recipe for Balinese Sambal Matah.  My take on this recipe will be the next thing I submit to a site I recently found out about that I am super excited about—Jalapeño Mania.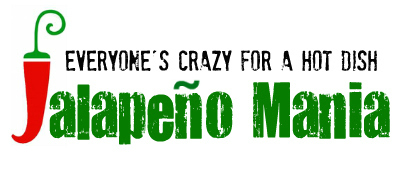 Jalapeño Mania is a free go-to recipe resource for pepper lovers.  It is a user generated resource—pepper lovers submit their food photos/recipes (bloggers, brands, chefs etc….anyone with a website with recipes to share!) to be included so other pepper aficionados can be inspired and try out new recipes.   Recipes are organized by pepper type on the site and on Jalapeno Mania's Pinterest boards, so that it is easy for you to find recipes that use your favorite pepper(s).
You can also save your favorites on the site.  Jalapeño Mania isn't just about jalapeño recipes; they love all peppers, even mild bells, dried chiles and ground chiles, too! As long as a recipe has one pepper ingredient, it's eligible for submission.  I've already started submitting some of my own favorite creations that include peppers and I selfishly hope you will too so that I can have even more recipe ideas!
Okay, now back to that sambal recipe!  Sambal is a sauce or relish typically made from a variety of chili peppers and ingredients such as shrimp paste, fish sauce, garlic, ginger, shallot, scallion, sugar, lime juice, and vinegar. They can be chunky or smooth.  Sambals are usually served as condiments for a variety of dishes and range in intensity from mild to hot. In the Indonesian archipelago, there are as many as 300 varieties of sambal. This particular sambal can be customized to fit your desired heat level by using more or less chili. Sambal Matah is a raw shallot and lemongrass sambal that originated on the island of Bali. Mr. Fuji and I traveled to Bali at the end of May and took a cooking class at a cooking school in a small mountain village.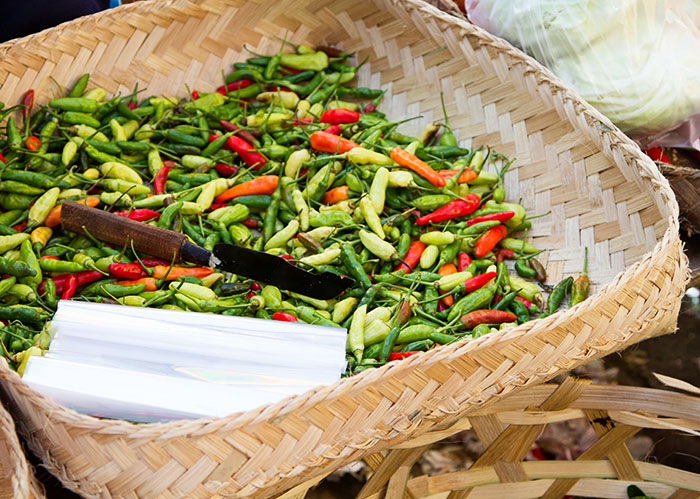 Sambal Matah was one of the dishes we learned to cook and I have adapted the recipe we learned to use ingredients that are easier for me to find. When I first read through the ingredients before we started cooking at our class it didn't look overly special, but after preparing it and tasting it the flavor proved me wrong. That's actually putting it mildly because I was blown away. It delivers a punch of flavor in a way that has me wanting to spoon this over everything. I made a batch this week to go along with a meal I was cooking for my dad as a belated Father's Day gift (we're currently visiting my parents in Southern California), and my parents' reactions were the same. You could practically see their eyes pop when they tasted it. Seriously people, it is crazy good.
Whipping up a batch is very simple. The hardest part is the time it takes to thinly slice the shallots, lemongrass, chilies, and ginger. Once chopping is done, all that's left to do is stir everything together with some fish sauce, salt, white pepper, coconut oil, lime zest, and lime juice. It is fabulous eaten with everything from noodles to fish. You could even have a simple snack of steamed rice with a bit of sambal matah spooned over it. And if you are a fried egg lover like me, it is AMAZING spooned over an egg cooked sunnyside up. Whip up a batch to nosh on while you hop on over and get ideas for future meals that feature chilies over on Jalapenomania. (Or submit your own ideas!)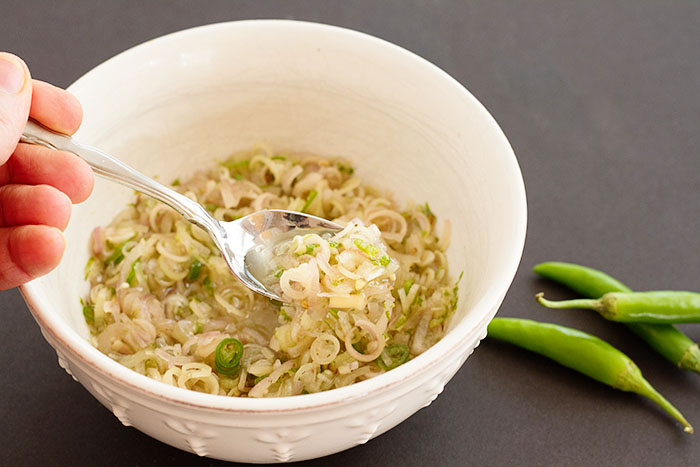 Print This Recipe
Sambal Matah (Balinese Raw Shallot and Lemongrass Relish)
Ingredients:
2 large shallots, thinly sliced
3 Thai chilies, thinly sliced
3 stalks lemongrass, tough outer leaves removed and white portion only thinly sliced
1 (1/4-inch long) piece of fresh ginger, peeled and finely minced
4 teaspoons fish sauce
1/2 teaspoon fine grain sea salt
1/4 teaspoon ground white pepper
Zest of 1 lime, finely grated
Juice of 1 lime
2 tablespoons coconut oil, heated until it is completely liquid
Directions:
1. Mix the shallots, chilies, lemongrass, ginger, and fish sauce together in a small bowl.
2. Add the lime juice, salt, and pepper and toss to combine, then let the sambal sit for 5 to 10 minutes to allow the flavors to meld.
3. Stir in the coconut oil and let the sambal sit for an additional 10 minutes before serving.
*Recipe Notes: The original sambal matah recipe that I learned to make used tiny fiery red Balinese chili peppers. When I went to the 99 Ranch Market near my parent's house they only had green Thai chilies (Bird's Eye chilies), so I went for those. You can use green or red Thai chilies with great results. Although I haven't tried it yet, I think it would also be delicious made with Serrano peppers. The original recipe uses a shrimp paste called terasi. Since I had fish sauce on hand, I substituted that for the shrimp paste. Finally, kaffir lime juice was used in the original recipe, but the market I went to didn't have any kaffir limes, so I used the zest and juice of a regular lime instead. Still delicious!
—————————————————————
*Disclosure:
I was compensated for this post by
Jalapeno Mania
.  My opinions and experiences are my own. Participating in this service is a no-brainer for me as a lover of peppers!