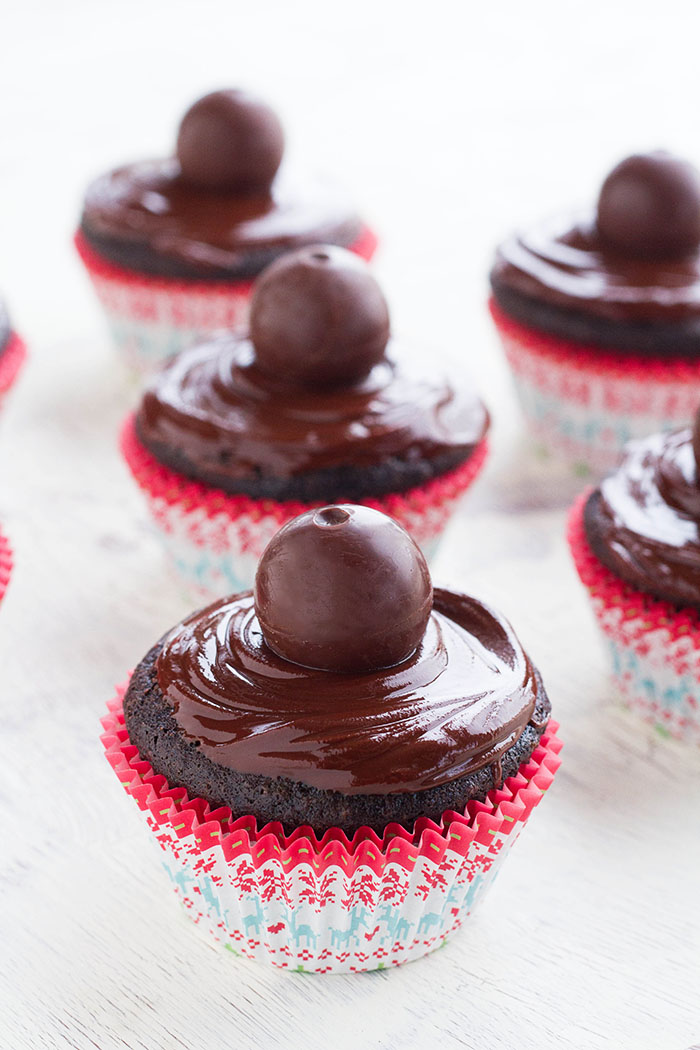 The countdown is on at our house!  My parents are flying in to Salt Lake City tonight, and my brother tomorrow night.  We're spending time with extended family tomorrow afternoon, and then my family and my in-laws are all coming over for Christmas Eve dinner.  I love getting to be with everyone for the holidays, but there are always so many little last minute things to get done, aren't there?  This month Kerrygold teamed up with King Arthur Flour for our blogger challenge, which was to dream up a cupcake recipe filled with the Yuletide spirit.  These Berry Fudgy Chocolate Cupcakes would be the perfect thing to whip up if you need an easy dessert to take somewhere over the next few days.  I love the combination of chocolate and berries during the holidays.  Plus you could decorate these cupcakes in all kinds of ways to make them festive!
This recipe was adapted from my mom's recipe for a chocolate cherry bundt cake that she makes that is divine.  Her recipes uses a cake mix, a can of pie filling, eggs, and chocolate chips and comes together in a matter of minutes.  My version takes a few more minutes, because the cake is made from scratch, but seriously only 2 minutes longer, because this cake recipe is easy peasy.  All you do is whisk all the dry ingredients together, then add the eggs and a can or jar of berry pie filling (there's a 3 berry blend from Harmons Grocery here that I love that has strawberries, raspberries, and blackberries in it) and mix everything together, along with a bit of almond extract.  Then you spoon the batter into cupcake papers in cupcake tins and bake them!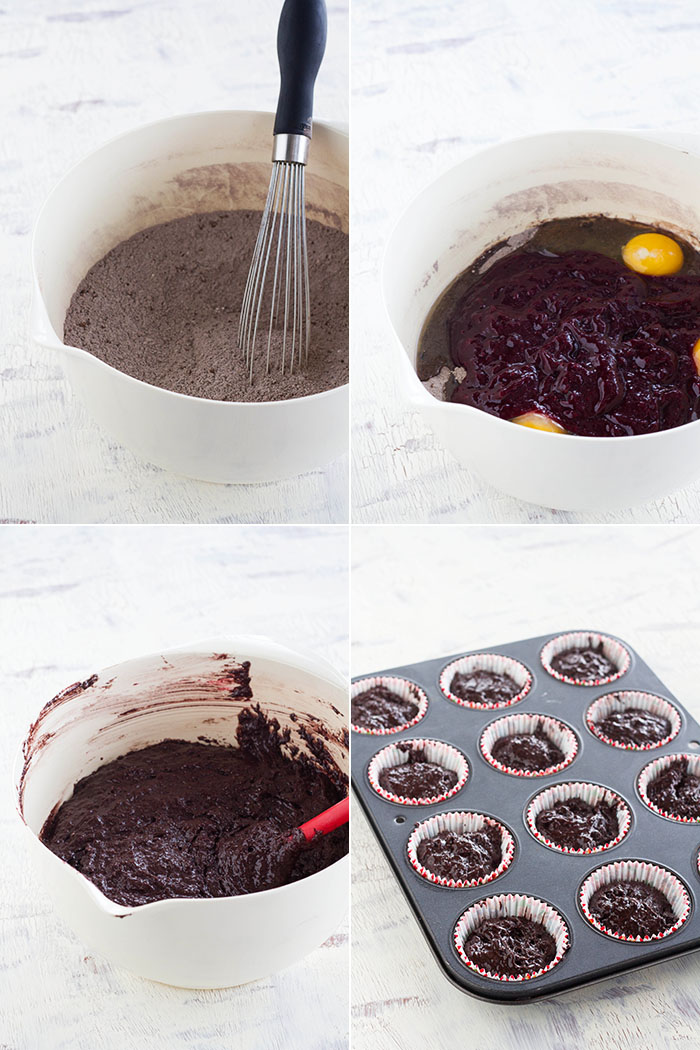 When the cupcakes have cooled all that's left to do is make a thick rich frosting by melting semi-sweet chocolate (or bittersweet if you're like me!) and butter together and spreading it on each of the cupcakes and then decorating them however you'd like.  Kerrygold's butter makes an especially delicious frosting because of it's higher fat content, which makes the frosting extra creamy.  Once the frosting sets it becomes harder, like a thin layer of fudge on top of each cupcake.  I topped my cupcakes with Lindor Truffles.  Lindt chocolate always makes me think of my grandma, because she always brought me a bar of Lindt chocolate from her trips to Germany back when Lindt wasn't easy to find here in the US.  She also loved Christmastime, so I thought this would be an especially appropriate Chritmas cupcake topper.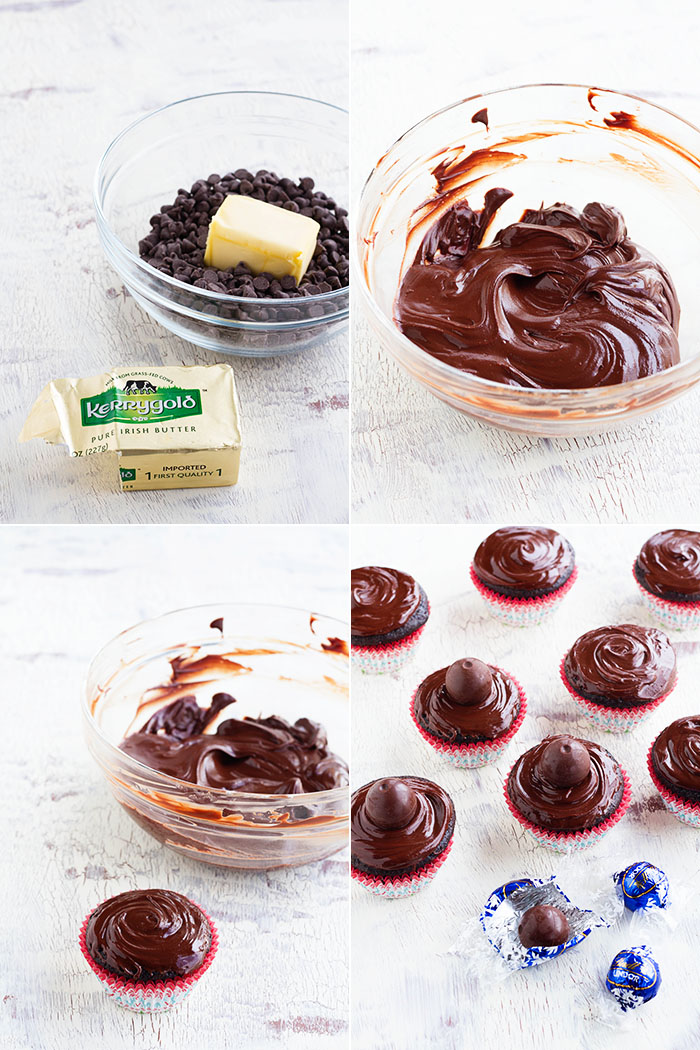 If you're looking for a last minute gift, you could also combine all the dry ingredients and package it in a glass jar and gift it along with a jar of pie filling, chocolate chips, and baking instructions! Merry Christmas everyone!!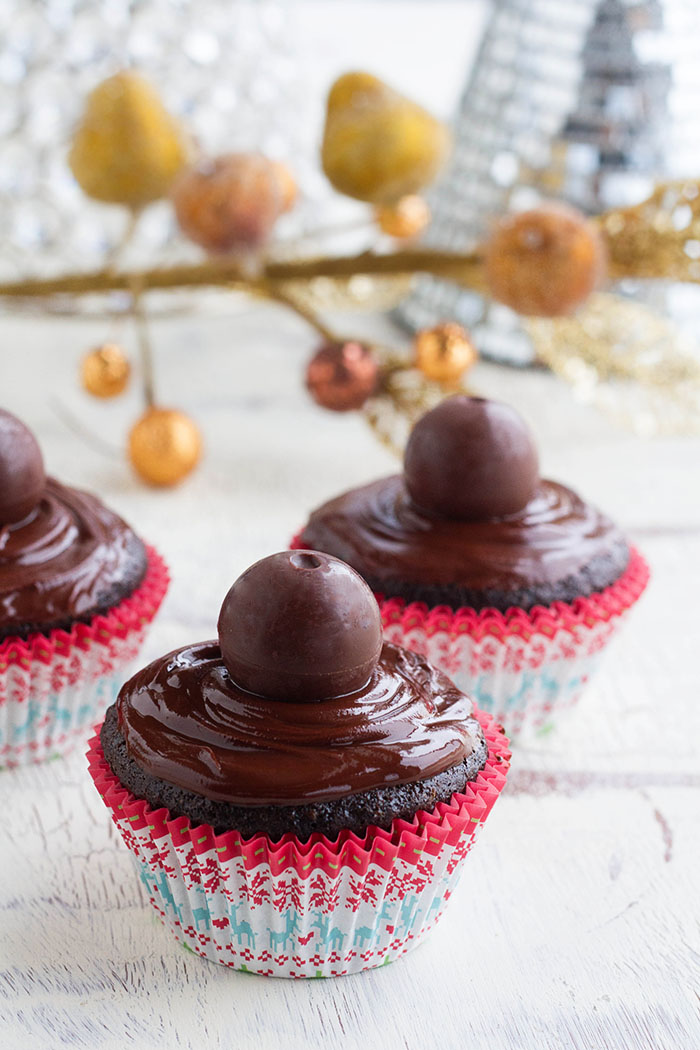 Print This Recipe
Berry Fudgy Chocolate Cupcakes
Makes 30 cupcakes
Ingredients:
1 3/4 cups all-purpose flour
1 3/4 cups granulated sugar
1/2 cocoa powder
1/3 cup instant nonfat dry milk
1 teaspoon baking powder
1 teaspoon baking soda
1 teaspoon fine sea salt
1 1/2 teaspoons almond extract
3 large eggs
21-ounce can of mixed berry (or raspberry) pie filling (or 22-ounce jar)
12 ounces semi-sweet (or bittersweet) chocolate chips, or finely chopped chocolate
6 tablespoons Kerrygold salted butter
Optional: chocolate balls, sprinkles, candycanes, etc.
Directions:
1. Preheat the oven to 350 degrees Fahrenheit. While the oven is preheating, place cupcake papers in muffin tins for 30 cupcakes.
2. Whisk together the flour, sugar, cocoa powder, dry milk, baking powder, baking soda, and salt.
3. Add the almond extract, eggs, and pie filling and mix together until well combined.
4. Fill each cupcake paper between 1/2 to 2/3 full with batter. (But no more, these rise quite a bit!) Bake the in the preheated oven for 18 to 20 minutes. Let the cupcakes cool completely before frosting them.
5. When the cupcakes have cooled, melt the chocolate and butter together in a saucepan over low heat, stirring constantly until the frosting is shiny and smooth. It will be fairly thick. Let the frosting cool for about a minute and then spread it over the cupcakes and decorate as desired. The cupcakes are ready to serve when the frosting has cooled and set.
——————————————————————————
*Disclosure: I was provided with Kerrygold butter at no cost to myself as part of Kerrygold's blogger program. I did not receive any other compensation for this post. All opinions and experiences are my own!