"Now, dearie, I will require a hot plate for my appearance on Professor Duhamel's program."
Russ Morash, who had answered the telephone in a makeshift office he shared with the volunteers at WGBH-TV, was momentarily startled, not so much by the odd request as by the odder voice. It had a quality he'd never heard before—tortured and asthmatic, with an undulating lyrical register that spanned two octaves. A woman's voice? Yes, he thought, like a cross between Tallulah Bankhead and a slide whistle. — Dearie, by Bob Spitz, p.3
Julia Child, a "larger-than-life" type figure, started out as a less compelling young woman—gangly, awkward and not particularly motivated to go anywhere in particular.  Yet she took charge of life, transforming herself into a woman who was brimming with self-confidence and commanded attention—not because she was a prima donna, but because she was magnetic and knew her stuff .  I'm a big fan of Julia Child, and have read every biography written about her that I know about.  My favorite was My Life in France, a memoir written by Julia and co-authored/compiled by Alex Prud'homme, her grandnephew, during the last 8 months of her life.  It was my favorite book about her, until last month, and then author Bob Spitz took over first place with his beautifully written book, Dearie: The Remarkable Life of Julia Child.  The book delves into Julia's life as no other book has.  It works through her life from beginning to end, including the story of her parents and of Paul (her husband), as well as a wealth of other stories about her career that I had never read before, and explores her insecurities in a way that helps the reader to understand how much of a triumph her life truly was.
After quickly devouring the book, I was curious to know how the author came to write it.  Bob Spitz is an award-winning author and New York Times best seller, and his articles appear regularly in a variety of magazines and newspapers, such as The Washington Post and O, The Oprah Magazine.  Although Spitz is an accomplished writer and journalist, Julia Child didn't seem to fit among the list of celebrities he had written about in the past, such as The Beatles, and so I was dying of curiosity to ask him about the evolution of the book when I chatted with him recently about Dearie via telephone.
Spitz explained that after he finished the book about the Beatles, he knew Julia would be his next subject because she had the two qualities he looks for: someone who is beloved, and someone who has changed our culture.  He said that when he began working on the book he thought, "I know this woman because I've just spent time with her two counterparts, Lennon and McCartney!"  Who would have thought that Julia had two male British doppelgangers?  But as Spitz explains, "Julia worked just as hard, excelled against the odds, was relentless in her work, and worked for incredibly long hours perfecting her craft, just as the Beatles did."
Spitz first met Julia in the 1990s, but was well acquainted with her before.  Spitz said, "My mother was a terrible cook—sorry Mom!  When Julia came on the air, my mom would watch the show, and she would sit there with a tablet on her lap and take down all the recipes and everything Julia said, and on Tuesday we would get that for dinner.  So my mom learned how to cook and I learned how to love food, thanks to Julia, as a young guy.  I watched her with my mom, and then of course I learned how to cook too and use all of Julia's recipes." (His favorites are  her boeuf bourguignon and roast chicken recipes, in case you were wondering!)  Then years later, in 1992, Spitz was in Italy writing a series of magazine articles for some American magazines when he got a call from a friend at the Italian Trade Commission who asked if he would be willing to be an escort for an older woman.  Spitz's response was an emphatic "no" until he learned that the older woman was none other than Julia Child.  Julia was 82 at the time and was traveling through Sicily.  She wanted to sample Sicilian food and visit a cookbook writing friend.  Her knees were bothering her and she needed a younger arm to hold on to.  So, as Spitz explained, "for three and a half weeks I did nothing but eat three meals a day and talk with Julia Child.  We talked about everything—about life, about food, about the impact of food on American lives . . . ."
Spitz greatly admired Julia and decided she needed a full-scale biography that captured her independent spirit.  Spitz said that while writing he had her voice in his ear.  He said, "It wasn't just that warble.  There was a seriousness about Julia with food and technique.  I had to combine that comic with the serious teacher.  I had to get the balance so you would hear the accurate Julia; the real Julia Child."  Harvard gave Spitz access to all of her private archives.  When he got there he found 126 boxes of all her private papers, her letters, her sketchbooks for Mastering the Art of French Cooking, all the original annotated television scripts, etc.  He said that he really "dug in" at Harvard and spent almost five months there going through all of the papers.
Spitz addressed Julia's insecurities:  "She was filled with self-doubt, especially after meeting Paul, who she recognized was intellectual and sure of himself . . . everything she wasn't.  He called her an empty vessel, and then he began filling up that empty vessel.  She was so receptive that she became what Paul was."  Spitz says that there is "no doubt that Paul Child took Julia McWilliams and made her Julia Child in more ways than just name.  He imbued her with all those qualities that she craved and gave her substance.  It was a fabulous marriage and an incredible romance.  Paul was this frustrated artist who could never really achieve any claim on his own, yet he loved being Mr. Julia Child.  She brought the celebrity he craved and he gave her the intelligence and sophistication she craved."  What a transformation that romance helped to perform!  At a time when convenience was a key-word when it came to American home cooking, Julia Child began convincing everyone to go back to basics, and make things from scratch, and French food no less; a message that seemed impossible to deliver to the American public at the time.  "Julia became famous just by being herself.  She was not a glossy star.  She never had media training to correct that voice.  She didn't have a battalion of stylists—in fact I think she wore the same three blouses on TV," said Spitz.  "She was someone you looked at on TV and felt you knew that woman and trusted her.  There was no pretense about her.  She stumbled sometimes, she joked sometimes . . . That was her secret.  She was just herself."  The result? "People invited her into their homes every week, and they wanted that women there, no matter what."  This also meant that she was "flameproof" when it came to political controversy.  She weighed in on some divisive topics during her days.  Spitz explained, "At a time when it had ruined the careers of Benjamin Spock and Anita Bryant, at the same time Julia came out, even more controversial with Planned Parenthood, and her fans on both sides of the aisle forgave her for it."
If Julia was still alive today, Spitz believes her message about cooking today would be about mastering technique, her ongoing credo.  He says she would say, "Don't watch the Cooking Channel or the Food Network.  There is no such thing as a rockstar chef.  You need to master technique, and it takes years.  There is no such thing as an instant chef."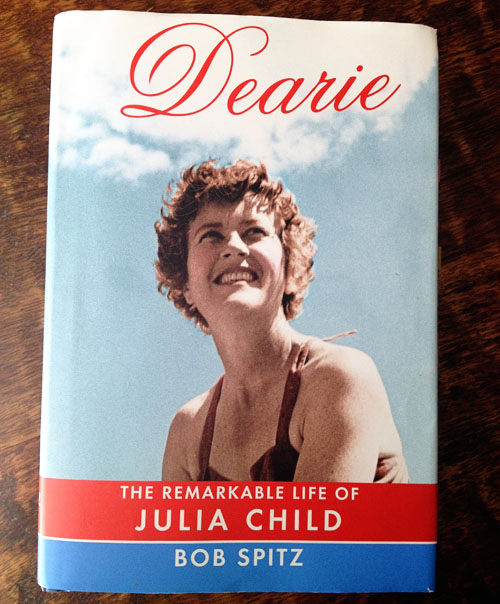 Dearie is a must-read—a book that will make you love Julia even more than you already did, or make you fall in love with her if you didn't love her already.  Spitz perfectly described her life when he said that it "read as an adventure story."  Spitz's enthusiasm for his subject will grab you.  His note in the Acknowledgements explains it all: "If I have to admit to one prejudice confronting this book, it is that I had a powerful crush on her.  Sorry.  Deal with it."  So pull up a chair and feast on the life of Julia Child.  Bon appétit!
———————————
Win a copy of Dearie!
One very lucky reader will receive a copy of Dearie: The Remarkable Life of Julia Child, by Bob Spitz, courtesy of Knopf Publishers.
To enter, leave a comment below before Friday, September 21st, 2012 at 11 pm EST (8pm PST)! This giveaway is open to everyone. The winner will be chosen via random.org.
———————————
* Special thanks to Bob Spitz for taking the time to chat with me.  I didn't think anyone could make me love Julia Child more than I already did.  Thank you for proving me wrong!