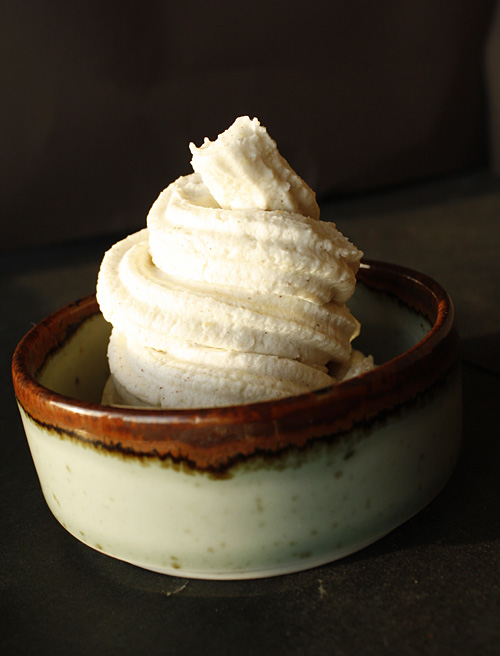 I have two favorite flavors of soft cream (i.e. soft serve) in Japan: black sesame and sweet potato.  If you had told me a little over 10 years ago that I would be saying that, I would have laughed at you.  But 10 years ago this month Mr. Fuji and I moved to Japan for the first time, and I tasted both of those flavors during our first weeks of adjusting and I was in love.  So it feels kind of wonderful and special that my amazing guest writer today is sharing a recipe for one of those flavors.  Kate is the author of Eat, Recycle, Repeat, a blog all about the search for health, happiness, and the best way to eat & celebrate life.  Kate is currently living in Japan (lucky girl!) and I got to meet her this summer during our trip to Japan.  She is an absolute doll, and the Fujilings took to her immediately and wouldn't leave her side.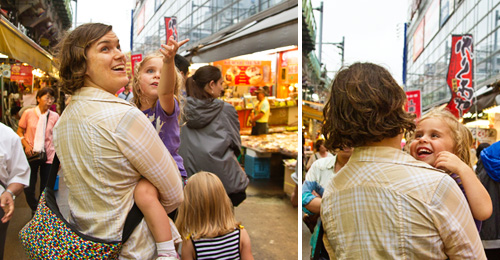 She even braved going to the zoo with us in some pre-typhoon rain and wind!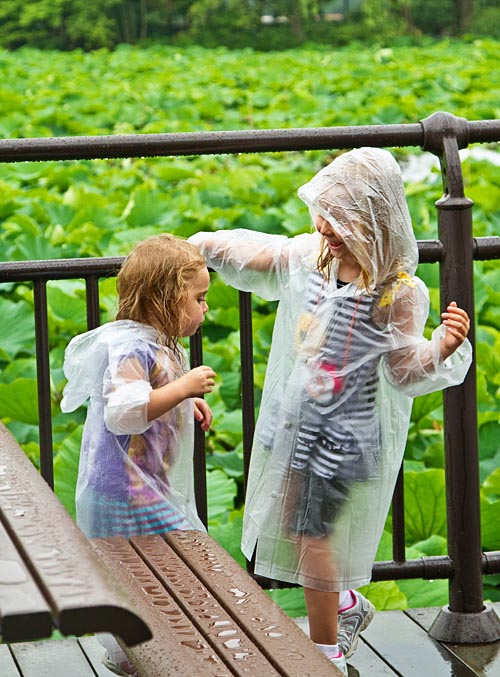 So, without further ado, I'm going to let Kate take it away and tell you about her creation.  Make sure you stop by her blog afterwards and say hello!  (You can hear more about Kate in our most recent Miso Hungry episode!)
————————————————-
One of the best parts of summer in Japan is the soft serve ice cream, or simply soft cream. When I first visited Japan in high school, there was many a sweltering day where I thought a soft cream cone was the only thing standing between me and certain death by sweating. I loved nibbling away at green tea and vanilla swirl cones while climbing temple steps, visiting Japanese gardens, and hanging out at the beach near the Pacific Ocean. Soft cream is everywhere in Japan, especially in the summer, and it comes in a variety of exotic flavors and varieties. My sister's favorite used to be grape soda swirled with vanilla. Beside the more common flavors of strawberry, vanilla, chocolate, and green tea, other flavors include Hokkaido milk (extra creamy), black sesame – my coworker's favorite, melon, soy sauce, ume (pickled plum), and wasabi. So eating ice cream in Japan can be not only a cooling treat but a culinary challenge.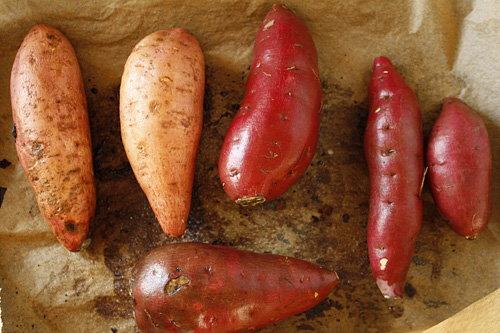 Since I can't eat dairy, I decided to take on the challenge of making my own version of soft cream. One thing I was never introduced to when I first came to Japan, however, was the absolute best food on the planet—Japanese sweet potatoes. These creamy little tubers with a maple-like sweetness are the perfect comfort food and so beloved by me that I use them to make friends on Twitter as @theyakiimogirl.  Now that I live in the countryside of Japan, I'm exposed to all sorts of sweet potato goodness, including sweet potato ice cream. I couldn't think of a better way to enjoy the rich, maple flavor of sweet potatoes in the summer. In fact, this soft cream saved me yet again after I worked all day in the fields harvesting rice last week!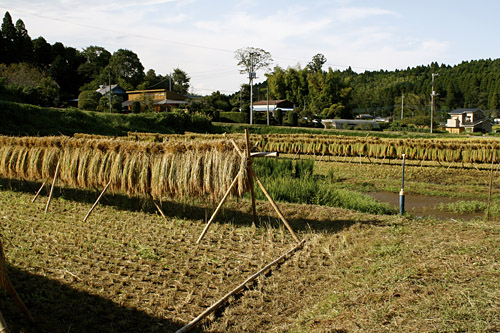 This sweet potato soft cream recipe is vegan and paleo friendly, and has several options to make it sugar-free or refined sugar-free. It's a healthy, guiltless indulgence, and I'm willing to bet it tastes better than the original version I see at my local market.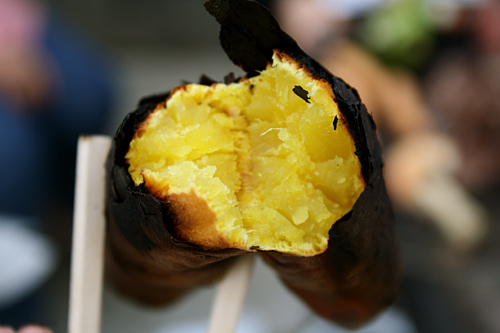 I know you can find Japanese sweet potatoes, or satsuma imo, at some Asian markets in the States. This recipe also works with the orange varieties of sweet potatoes more common in America. And, if you can get your hands on them, purple sweet potatoes, or beni imo, make the most wonderful purple shade of soft cream that has me dreaming of my upcoming trip to Okinawa. If there was ever a tropical getaway that needed a dairy-free sweet potato soft serve stand, it's Okinawa for certain. For now, create your own mini-island paradise with a scoop of this frozen summer treat.
Note: This recipe requires an ice cream maker. If you don't have an ice cream maker yet, I highly suggest investing in one, especially if you are dairy intolerant and still want to enjoy ice cream! There are tons of recipes out there now, and you can also buy good quality ice cream makers second hand or on sites like eBay. I recently just invested in one myself, for my Japanese apartment, because my family at home needed my old maker to keep up with their demand! It's a great activity for kids too, so treat them and yourself to a future of healthy indulgences.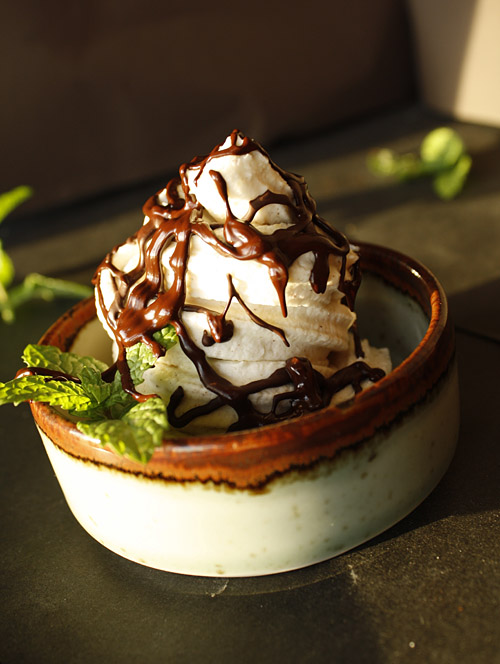 Print This Recipe
Kate's Dairy Free Sweet Potato Soft Cream
Makes 4 Japanese-sized servings
Recipe from Kate of Eat, Recycle, Repeat
Recipe Notes: This recipe is simple, but just requires some prep time. The day before I want to make it, I usually roast the sweet potatoes if I haven't already, soak the dates overnight, and make sure my ice cream bowl is in the freezer. You can use any variety of sweet potato here. If you can get your hands on some purple sweet potatoes, I suggest adding a squeeze of lime juice for a tropical flavor.
1 cup mashed sweet potato flesh, either roasted or steamed in the crockpot
1 (14-ounce) can full fat coconut milk, Native Forest is BPA-free
1/2 medium avocado
6-8 dates, soaked until plump or 15-20 drops liquid stevia, such as NuNaturals
1/4 cup almond or coconut milk
Remove the pits from the dates, if using. Blend all the ingredients together until smooth and creamy.  Add the mixture to your ice cream maker and freeze according to manufacturer directions. Mine took about 20 – 25 minutes. Serve immediately.
This ice cream is best eaten the day you make it—after all, you don't take soft serve home from the vendor and freeze it. That being said, I usually can't eat an entire batch on my own, so I freeze it in individual servings and let thaw for about 10 minutes. You can also re-blend the ice cream with a banana & milk of choice for a delicious shake!
————————————————–
Check out these other amazing sweet potato recipes from Kate, "the Sweet Potato Queen"!