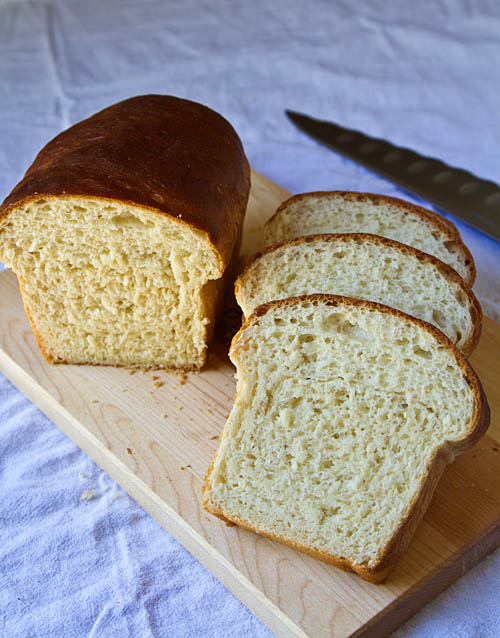 The first time Mr. Fuji and I moved to Japan I was quick to notice the sandwich bread, known as shokupan, in our local supermarket: cellophane bags filled with thick square slices of white bread, and no heels in sight—and when I say thick, I'm talking one and half inches thick!  Mr. Fuji told me the first time he lived in Japan, as a missionary, they would go to their local bakery and the owner would give them bags filled with the unwanted heels for next to nothing, because they didn't sell them with the loaves of bread.  (Random fact: In Japanese, the heels are called pan no mimi, which directly translated means bread ears.)  What surprised me even more than the thick slices or the missing heels, was the taste.  Shokupan was deadly good—slightly sweet, moist, and incredibly fluffy.  I realized that if I allowed myself to give in to my cravings for this delicious baked devil, I would soon be looking like the Pillsbury Doughboy's sister.  In the ten years since my first encounter with shokupan, I've learned some self-restraint.  My friend Noriko shared her recipe for milk shokupan (shokupan that uses milk in place of all other liquids in the recipe) a while back, which is so good that I only allow myself to make a loaf at a time, otherwise I risk going on a bread eating bender.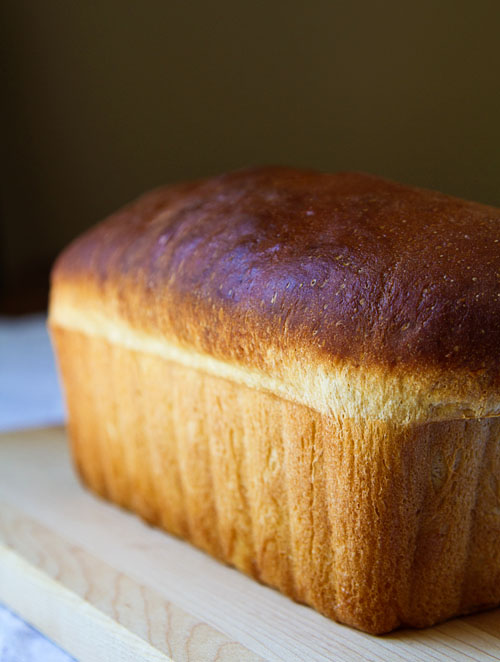 For years I have religiously used SAF Instant Yeast in my making, and so when Red Star (makers of SAF Instant Yeast) contacted me and told me that they were launching a new kind of yeast, I couldn't wait to try it!  I decided that the shokupan recipe would be the perfect test run of the new yeast.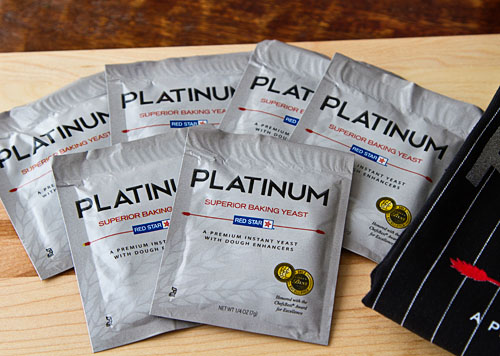 Red Star PLATINUM Superior Baking Yeast is a premium instant yeast blended with select dough improvers that are commonly used by professional bakers.  Red Star talks about how the yeast strengthens the dough and improves its tolerance to variations in kneading, rising, and flour quality, as well as increasing the amount of leavening retained in the dough and the oven 'spring' and finished volume of the baked product.  The day I made bread was a crazy day with lots going on, and so I figured it would be the perfect day to use the yeast, since I would be distracted and running around like a chicken with its head cut off.  If this yeast could get me through absent-minded baking, then it would pass the test.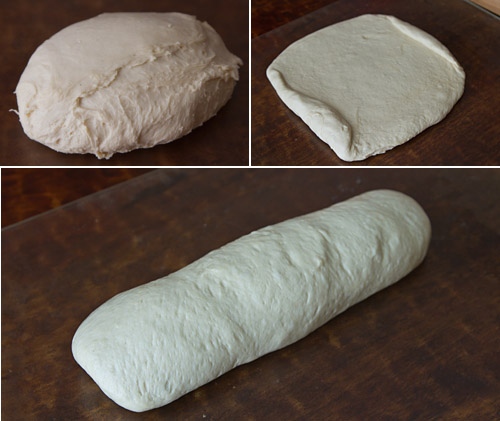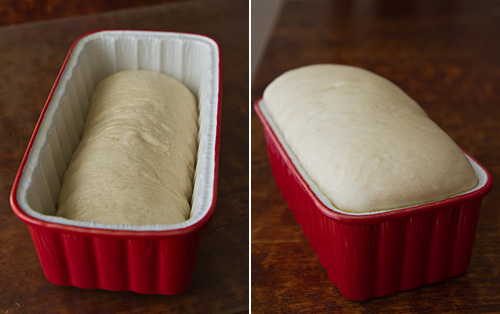 My children can attest that the bread did in fact turn out—I was worried no one else was going to get any bread because they loved it so much.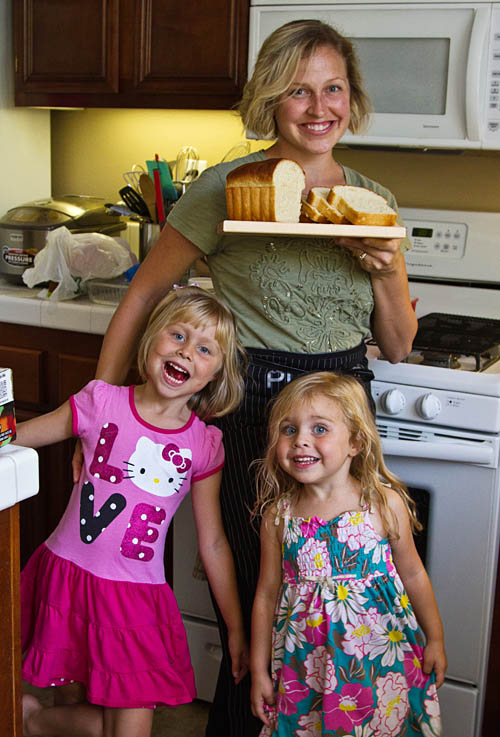 It was light, pillowy, slightly, and moist . . . just like the shokupan I fell in love with in Japan.  You have GOT to try the PLATINUM yeast!  In fact, one of you lucky readers will get to, because Red Star is sponsoring a giveaway! (See details after the recipe below.)
If you want a treat, make yourself some shokupan, and then find yourself a quiet corner to sit and close your eyes while you chew.  And don't worry, I sized the recipe to only make one loaf—I wouldn't want you to be tempted to go overboard or anything.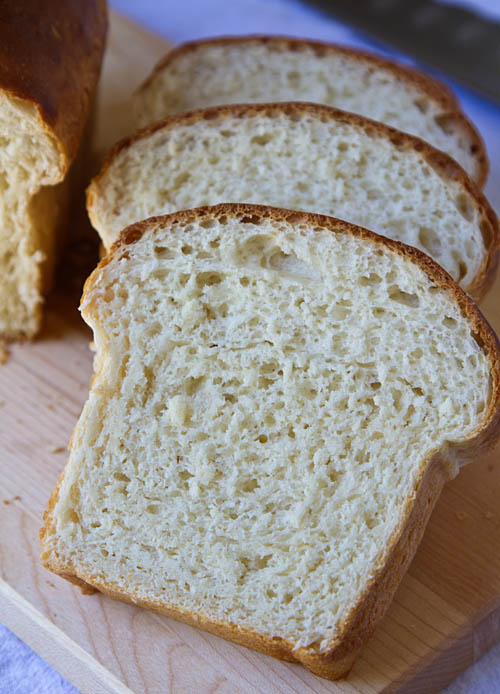 Print This Recipe
Milk Shokupan (Japanese Style White Sandwich Bread)
Makes one 1 1/2 pound loaf
2 1/4 cups bread flour
2 tablespoons granulated sugar
1 packet (1/4 ounce, 7 grams, or 2 1/4 teaspoons) instant dry yeast
1 teaspoon fine grain sea salt
8.5 ounces warm milk (120 to 130 degrees Fahrenheit)
1. Mix the half of the bread flour with the sugar, yeast, and salt in a large mixing bowl.
2. Add the warm milk, and blend, then mix in the remaining bread flour until incorporated. In a mixer, using the dough hook attachment, knead the dough for 5 minutes. Alternatively, knead the dough on a floured surface until the dough is smooth and elastic.
3. Cover the dough and let it rise until it doubles in size (about 1 hour).
4. Roll the dough out into a rectangle about 8 inches by 14 inches on a smooth, greased surface with a greased rolling pin (the dough will be sticky).
5. Fold over the short ends slightly, and roll up the rectangle, then place the roll, seem side down, in a greased bread loaf pan.
6. Cover the dough and let it rise in a warm place until the dough has risen to about 3/4-inch above the top of the bread pan.
7. While the dough is rising, preheat the oven to 390 degrees Fahrenheit.
8. When the dough is ready to go into the oven, brush the top of the dough lightly with some milk, then bake it in the preheated oven for 25 to 30 minutes (the top of the loaf should be golden brown and sound hollow when tapped lightly on top). Remove the bread from the oven and let it cool for a couple of minutes and then gently remove the loaf from the bread pan and let it cool completely on a wire cooling rack.
——————————————————————-
VIP Red Star PLATINUM Sample Package Giveaway!
— Giveaway is now closed.
[UPDATE]: Congrats to Ariel Welch, the winner of this giveaway! 
What's included in this prize pack–
Samples of Red Star PLATINUM Superior Baking Yeast
Snazzy pin stripe Red Star Apron
Wood Red Star cutting board
Coupons for Red Star PLATINUM Superior Baking Yeast
As a bonus, the winner of this VIP Package will also be entered to win a KitchenAid Mixer! The fabulous KitchenAid drawing will be held on November 12, 2012.
To enter: Leave a comment below!  Giveaway now closed.
Contest rules: The contest will close Tuesday, October 2nd, 2012 at 11:00 pm EST. The contest is open to residents of the US and Canada. The winner will be chosen randomly via random.org and notified by email. The winner will have 48 hours to respond before another winner is chosen.
——————————————————————
**Discloser: I was provided samples of Red Star PLATINUM Superior Baking Yeast to try, but opinions expressed are always my own!