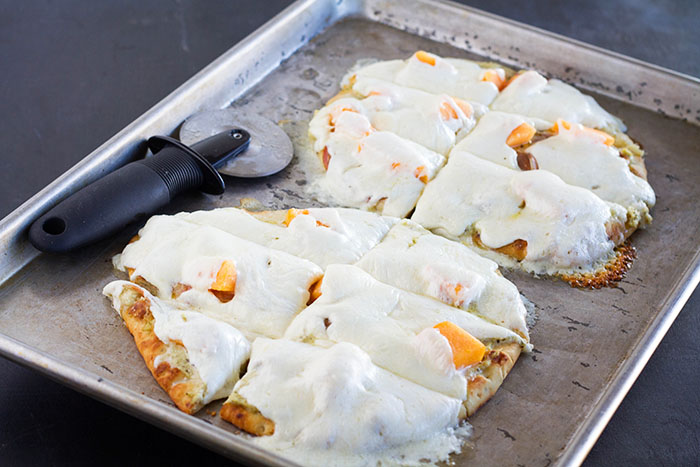 Last weekend Bug and I were at Harmons Grocery picking up provisions for the coming week and they had a few booths set up where you could sample different products.  Bug is never one to pass up free food, so of course we had to stop and taste.  One of the booths was featuring a pizza made with a variety of products from the store.  Bug inhaled her sample and then looked longingly at the remaining samples.  What's a mom to do?  I told her if she helped me make it, we could buy all of the ingredients.  So we walked out of the store with a very happy Bug and a few more things than were on my original list.  (Truth be told, when do I ever walk out of the grocery store without purchasing things that weren't on my list?)  This past Monday when it came time to make dinner, I pulled out what we had purchased: Stonefire Garlic Naan, Creminelli Calabrese, Harmons' freshly made mozzarella, Cucina and Amore's artichoke pesto, and fresh cantaloupe.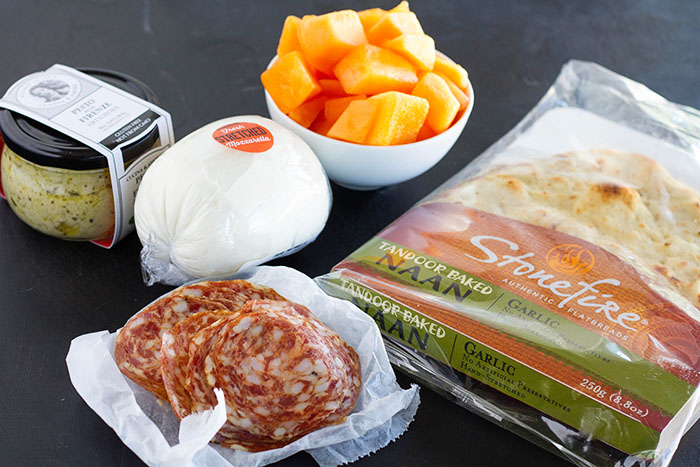 The Fujilings know that on Mondays they always help cook dinner, but this week they really stepped up.  I set the ingredients out and let the girls assemble the pizzas.  They were surprisingly meticulous about the task, making sure that one part of the pizza didn't get more cantaloupe than another, that the pesto was spread evenly, and the slices of fresh mozzarella looked "pretty." ("Girls, you do know that cheese is just going to melt and it won't matter, right?" *insert eye roll from Squirrel here*)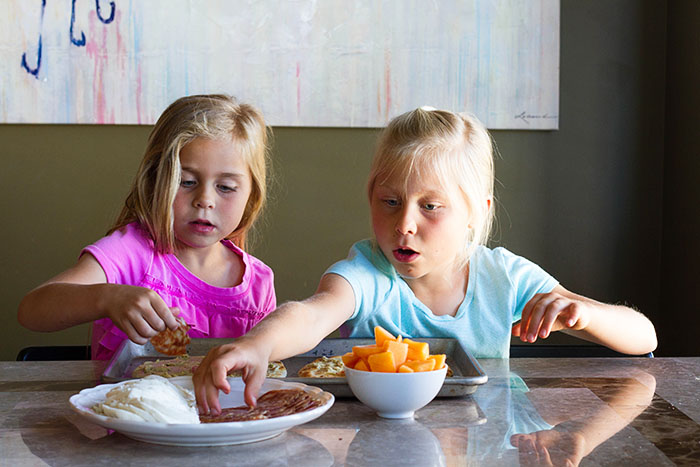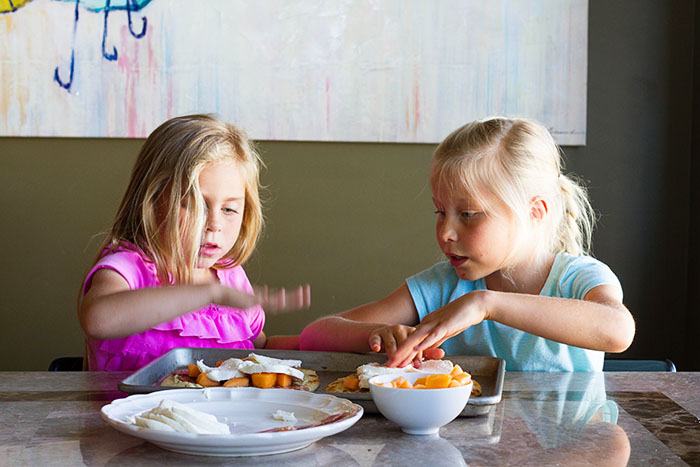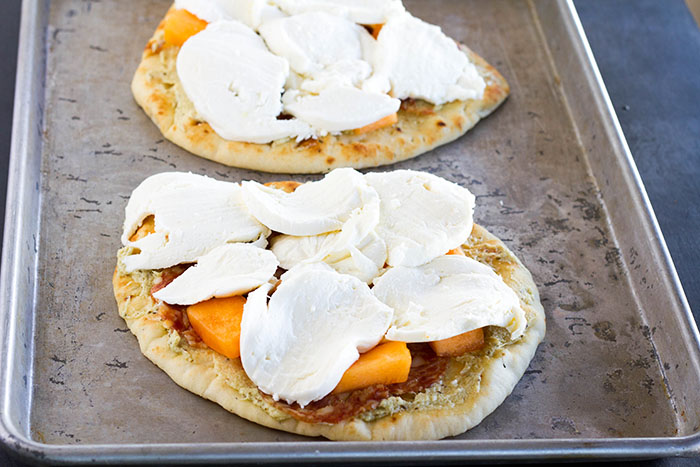 Then into the oven the pizzas went for a few minutes until the cheese was ooey gooey and everyone's tummies were rumbling.  The girls tucked into dinner with gusto.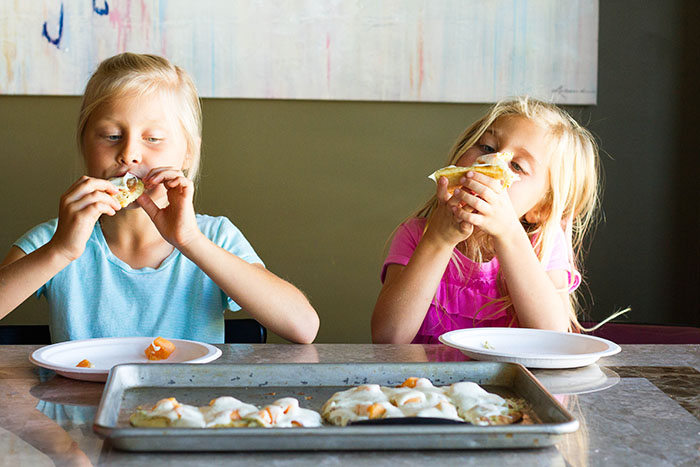 I'm not sure they would have eaten so eagerly if they hadn't been the pizza artists.  It's amazing what they'll eat when they have a hand in the preparation!  So here's the recipe, just in time to whip up your own next Monday for Kids Cook Monday!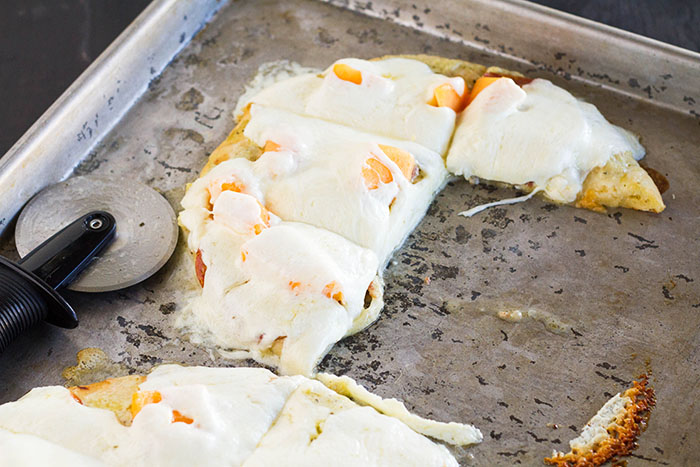 Print This Recipe
Cantaloupe Calabrese Naan Pizza
Makes 4 to 6 servings
Ingredients:
1 (8.8-ounce) package naan (our favorite is Stonefire Garlic Naan)
4 tablespoons artichoke pesto (we adore Cucina and Amore's artichoke pesto)
2 ounces calabrese, thinly sliced (we are devotees of anything made by Creminelli, and their calabrese is no exception)
4 ounces cantaloupe, cut into bite-sized pieces, no more than 1/2-inch thick
12 ounces fresh mozzarella, thinly sliced (if you live near a Harmons Grocery, they make it fresh and it's divine!)
Directions:
1. Preheat the oven to 400 degrees Fahrenheit and position a rack in the center of the oven.
2. Place the naan breads on a baking sheet. Spread each naan with 2 tablespoons of artichoke pesto. Arrange half of the calabrese slices on top of each naan, then half of the cantaloupe pieces. Finish by layering half of the sliced mozzarella over the of each naan.
3. Bake the naan pizzas for 7 to 10 minutes, until the crust begins to brown and the cheese is melted. Remove from the oven and let the pizzas rest for 1 minute. Then cut the pizzas into slices and serve immediately.
——————————————————————————–
*Disclosure: I was not compensated for writing this post and all ingredients were purchased with my own money.  We just love these companies!