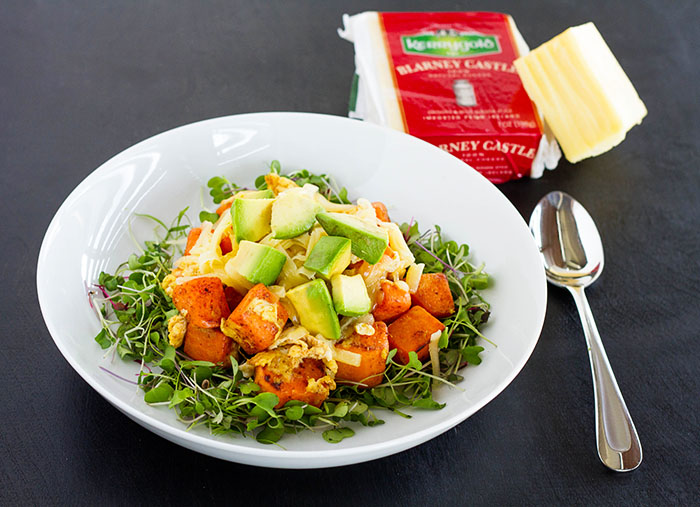 When it comes to breakfast, I'm a savory girl.  I used to love my French toast dusted with powdered sugar and drowned in maple syrup just as much as the next kid, but then we moved to Japan for the first time back in 2002 and my palate began to change.  Traditional Japanese breakfasts are savory, and as I was exposed to a very different idea of breakfast than the one I had grown up with, I began to crave those flavors, realizing that I felt better than when I started my day on a sweet note.  Don't get me wrong, I still love that French toast, but I enjoy it much more later in the day.  Another thing I fell in love with living in Japan was sweet potatoes.  The Japanese do fantastic things with sweet potatoes!  So when I found out that the next Kerrygold blogger challenge was to come up with a savory breakfast idea, I decided to combine my love of savory breakfasts with my love for sweet potatoes in one easy breakfast bowl.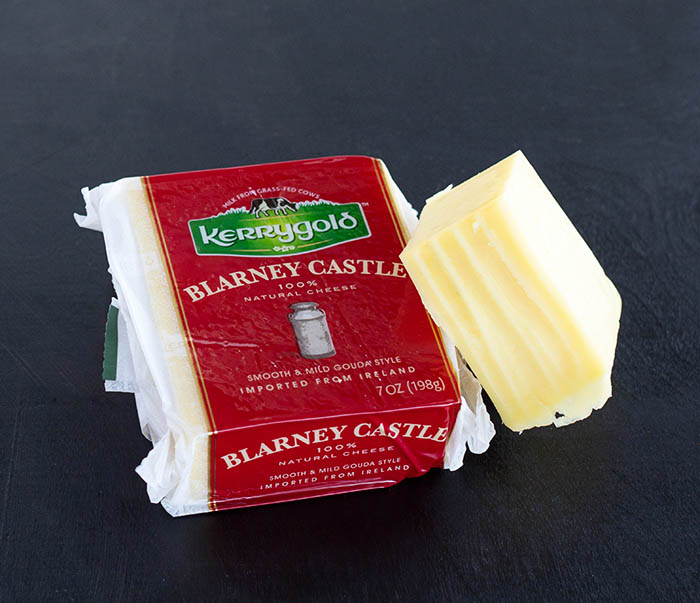 If you cook the sweet potato the night before, the cooking during the morning takes only a few minutes.  This breakfast bowl is made up of cubes of sweet potato that have been boiled until tender, then finished off in a saute pan with some butter, garlic, and beaten egg.  The sweet potato mixture goes into a bowl on top of a bed of microgreens (totally optional of course!) and topped with some shredded Kerrygold Blarney Castle cheese (a smooth and mild Gouda style cheese), chopped avocado, and any other toppings you might want to add.  (Squirrel says it's best with sour cream and Frank's Red Hot sauce on top.)  It's a hearty bowl that will be filling and will give you great energy to start your day.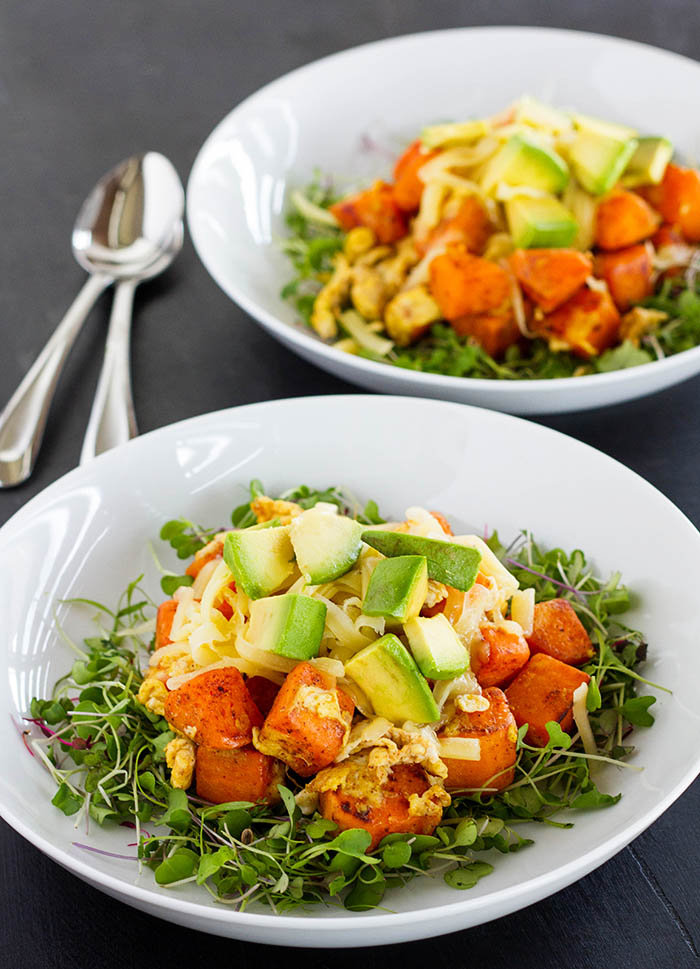 Print This Recipe
Cheesy Sweet Potato Breakfast Bowl
Makes 2 servings
Ingredients:
1 large orange sweet potato, peeled and cut into 1-inch cubes
2 tablespoons Kerrygold unsalted butter
2 cloves garlic, minced
1 teaspoon smoked paprika
2 large eggs, lightly beaten
Salt and pepper, to taste
1/2 cup microgreens tossed with 2 tablespoons lime juice, optional
2/3 cup shredded Kerrygold Blarney Castle cheese (smooth and mild Gouda style cheese)
1 avocado, diced
Additional toppings, as desired: diced fresh tomato, salsa, sour cream, thinly sliced scallions
Directions:
1. Bring a large pot of salted water to a boil. Add the sweet potato cubes and simmer until they are tender (about 10 minutes). Drain the sweet potatoes and dry them completely on paper towels.
2. Heat the butter in a large saute pan over medium high heat, then add the sweet potatoes and minced garlic. Cook the potatoes in a single layer, stirring them occasionally, until they are crisp and golden, about 5 minutes.
3. Sprinkle the paprika over the potatoes and give them a quick stir to coat, then reduce the heat to medium. Swirl the beaten eggs into the pan and toss to coat the potatoes. Continue tossing until the egg is cooked, then remove the saute pan from the heat and season the potatoes to taste with salt and pepper.
4. Divide the prepared microgreens, if using, between two bowls, then put half of the sweet potato mixture in each bowl. Top the bowls with the shredded cheese and diced avocado. Finish the bowls with additional toppings, as desired. Serve immediately.
*Recipe Notes: The microgreens are completely optional. I love the color they add to the dish and the extra texture. Instead of adding the cheese to the bowls at the very end as a topping, you could also add it to the saute pan and toss it with the hot sweet potato mixture before spooning it into the bowls.  Cook the sweet potato the night before and breakfast will come together in minutes the next morning!
—————————————————————————————————-
*Disclosure: I was not compensated for this post, but I did receive free products from Kerrygold to use in my cooking as part of my participation in the Kerrygold blogger program.