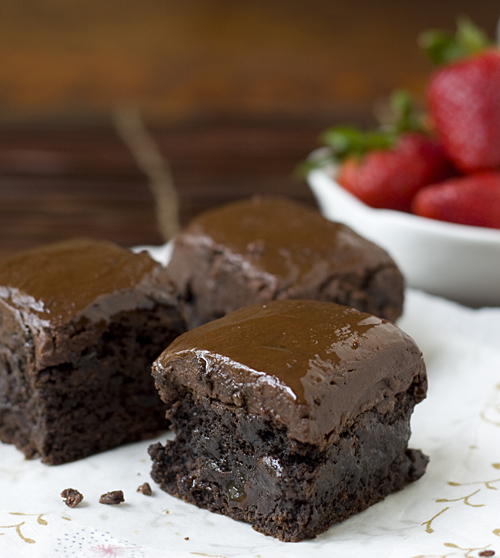 How do knives and brownies go together?  Well, you need a good knife if you are going to chop up 8 ounces of dark chocolate to make brownie batter, which is exactly what you'll need to make these decadent rich Dark Chocolate Buckwheat Brownies with Nutella Ganache!  Chopping a big chunk of chocolate into small pieces so that the chocolate will melt quicker is no easy task if you aren't properly equipped.  You need a good sharp knife that is comfortable in your head and that you have good control over.  My new favorite chocolate chopper is the Chopper Chef Knife made by New West Knifeworks.  I was recently contacted by New West Knifeworks to see if I would be interested in trying out a sample of their new knives, as they just moved manufacturing of their knives from Japan to the US.  I've tried out and written about their knives before, and so was interested to see what, if anything, would be different due to the new American manufacturing.  They sent me a two piece kitchen set to review—their signature Chopper Chef Knife and a Paring Knife.  I've been using the knives for a couple of weeks and love them just as much as the ones I tried that were made in Japan.  If it weren't for the stamp on the blade that says the knives are made in the USA instead of Made in Japan, I wouldn't have guessed there had been a change.  The knives are still just as beautiful as they were before, and the blades are extremely sharp, slicing through whatever you are cutting like butter.  The paring knife is fantastic,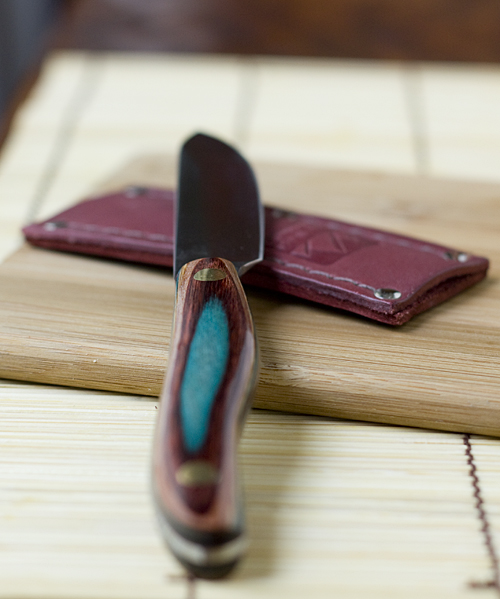 but I am most excited about the Chopper Chef Knife.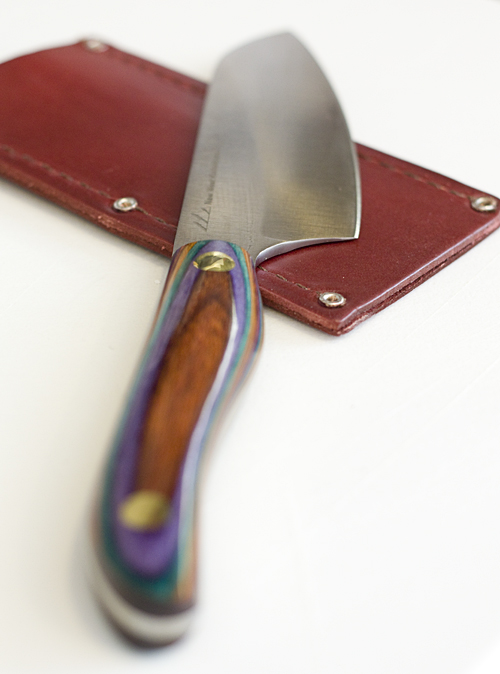 The chopper is specifically engineered to make chopping vegetables easier.  Although I love using it on veggies and tomatoes, using the knife to chop a block of chocolate into pieces is what I'm most excited about.  Not only is the knife nice and sharp, but the size and shape makes it easy to control the knife, helping prevent the blade from sliding off the chocolate at awkward angles, and making quick work of the task.  To really test its chopping strengths, I came up with a brownie recipe that includes 8 ounces of chocolate.  That's a lot of chocolate to chop!  Luckily, the chopper came through for me, and I was done chopping chocolate in only a couple of minutes.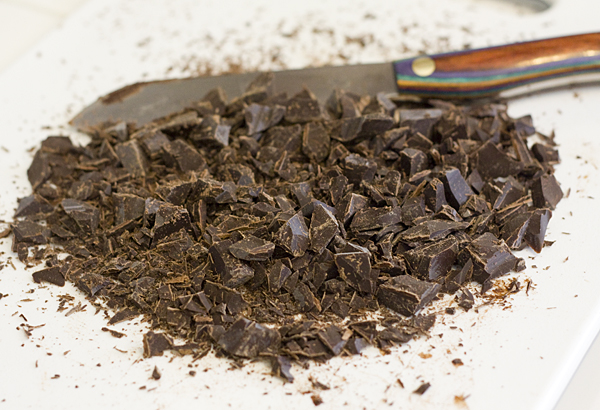 These brownies use part buckwheat flour, which helps give them a fudgier texture (and makes them healthier too!).  I topped them with a slightly sweeter Nutella ganache, to balance out the darker flavor of the brownies.  Due to the buckwheat flour rich in flavenoids and magnesium and the dark chocolate rich in flavonoids, these brownies are good for you.  Right?  See the giveaway information after the recipe for how to enter to win your own Chopper Chef Knife from New West Knifeworks!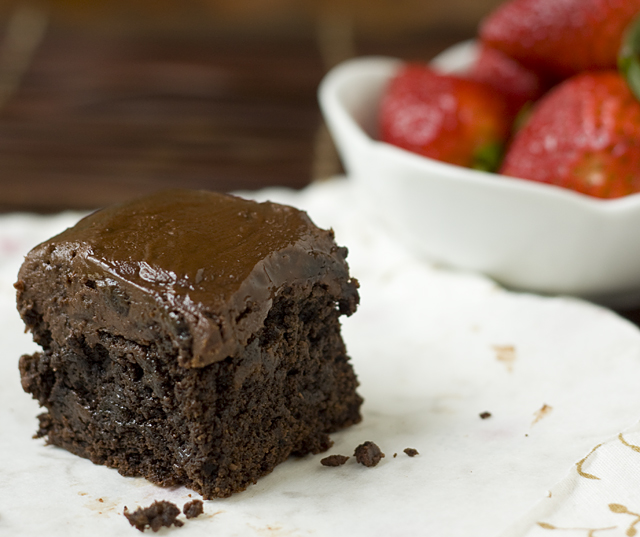 Print This Recipe
Dark Chocolate Buckwheat Brownies with Nutella Ganache
Makes about 30 servings
For the Brownies:
1 cup (8 ounces) unsalted butter
8 ounces bittersweet chocolate (70% cacao or darker), chopped
2 1/2 cups turbinado sugar
2 teaspoons vanilla extract
6 large eggs
3/4 cup all-purpose flour
3/4 cup buckwheat flour
1/2 cup unsweetened cocoa powder
1 teaspoon baking powder
1/2 teaspoon kosher salt
For the Nutella Ganache:
1/2 cup Nutella
2 cups semisweet chocolate chips
4 tablespoons (2 ounces) butter
2 tablespoons heavy whipping cream
1. Preheat the oven to 350 degrees Fahrenheit. Line a 9×13-inch baking pan with foil and lightly grease the foil.
2. Melt the butter and chocolate in a medium-size saucepan over low heat, stirring often. Pour the mixture into a large mixing bowl and whisk in the sugar and vanilla. Then whisk in the eggs, 2 at a time.
3. In a separate bowl, whisk together the flours, cocoa powder, baking powder, and salt. Add 1/2 of the flour mixture to the chocolate mixture, and stir well. Add the other half, and stir until just mixed.
4. Pour the batter into the prepared pan. Bake for 35 minutes, or until a toothpick inserted into the center comes out with a few moist crumbs attached. Place the pan on a wire rack to cool.
5. While the brownies are cooling, make the ganache. Combine the ingredients in a double boiler or in a microwave safe bowl. Melt together and combine. Pour the ganache over the top of the brownies and spread gently. Place in the refrigerator until the ganache is set.
————————————————————————————————————————–
New West Knifeworks Chopper Chef Knife Giveaway
New West Knifeworks is going to give one lucky LFM reader a Chopper Chef Knife!  To enter, all you have to do is head to the special LFM contest page and sign up to receive their monthly newsletter.  Contest registration is open through March 27th!